Unorthodox representations
A commentary on the portrayal of musicians in Netflix's miniseries, Unorthodox.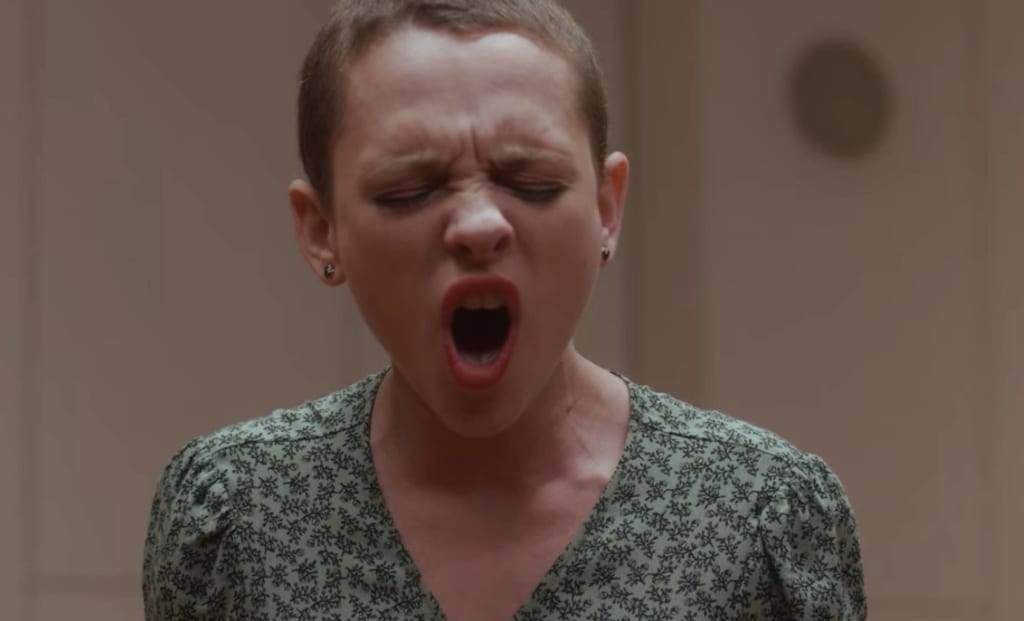 Shira Haas as Esther Shapiro in Unorthodox
SPOILER ALERT! I COMMENT ON THE ENDING EVENTS OF THE NETFLIX MINISERIES, UNORTHODOX, IN THIS ARTICLE.
I am a musician. I have always considered myself a musician. However, despite having attended a prestigious music school for university and having tried to find my own way within a music career, I have always felt stifled and hesitant on this path. My career in music thus far has been one of calculation and stealthiness. In this way, I can relate to the character of Esther Shapiro, played in Netflix's recent miniseries, Unorthodox. However, the portrayal of musicians and their work in this series is also something I wish to critique and discuss.
In the series, we are introduced to Esther Shapiro, a young Jewish girl raised in New York City's Williamsburg in a restrictive culture. Esther, we discover within the first few moments of episode 1, is a curious risk-taker. She is running away from a society that she finds can no longer support the lifestyle she wishes to lead. She flies to Berlin in search of liberty and peace from her previous life's metaphorical chains.
Once Esther lands in Berlin, the viewer is made aware that she took secret piano lessons, otherwise forbidden by her Orthodox Jewish community, while living in Williamsburg. Within Berlin, she stumbles upon musicians who happen to be enrolled in a prestigious classical music program. Esther befriends them and makes a plan to audition at the school, having never performed before.
In a scene where she is having dinner with her newfound friends in Berlin, Esther is asked to play the piano piece with which she intends to audition. After she plays the piano, her friend discloses to her bluntly that she will not be admitted to their school with her skill level. The friend states that professional musicians practice for their whole lives and that, essentially, Esther has forever lost her opportunity for success in the classical music performance profession.
After a montage of events of personal self-discovery, Esther's audition day arrives. In a turn of events, Esther announces that she will not audition on piano (it is implied that this is due to her friend's comment) . She decides to sing a song which, due to Hasidic Jewish rules which state that women may not sing, we must assume she has never sung.
With the summary of the series aside, I want to address some crucial aspects of music academia displayed within the series which I believe are generally misunderstood and are misrepresented by popular culture and even within the series itself. These aspects are touched upon only briefly in the series and, just like in other film and television portrayals, require further discussion and exposure.
First, professional music training in a more traditional, academic sense which is referenced in the miniseries cultivates a culture of constant, often uncomfortable and demoralizing competition and aggression. This is well portrayed by Esther's friend's comments about her piano skills. Within popular culture, it has only been touched on a couple of times thus far in films such as Damien Chazelle's Whiplash. Eight hour straight practice sessions and scheming to steal practice room time from others is not below many of the musicians I met whilst in my program. Being yelled at or judged publicly in an aggressive manner by teachers was also a frequent occurrence which affected both this author and acquaintances of mine in the studies of piano, voice, and strings.
I consider myself to be an objective person and like to separate myself from the cold, singular-vision mentality that this harsh culture creates. In fact, I found it difficult to maintain this objectivity in music school and pride myself on the fact that I have been able to rekindle it, albeit slowly and painfully, after graduation. As an aside, I find it ironic that Esther, who has just escaped her previous, allegedly "restrictive" life looks in aspiration at a life in classical music, an incredibly restrictive and comparably rule-abiding genre when considering other genres of music.
However, objectivity aside, I feel the need to mention another misrepresented and underexposed aspect of music academia referenced in the miniseries. Western academic music study is incredibly challenging and demanding in its theory and practice. It is a pursuit that requires physical and mental persistence often beyond the demands of other disciplines such as psychology or language studies. Class sizes are small or individualized with the goal of identifying any flaws within the musician's skills in order to develop them to the point that they are better than all of their competition. All of this is done despite the knowledge that musical genres are simply constructs and "better" musical skill does not always increase the enjoyment of music for the listener or the performer. In this way, academic performance musicians are the athletes of the music industry, the vehicles of music written by others and puppets that are subservient to the demands on the page in front of them. This is not to imply that the music they make is not worth something; there is a reason that people continue to attend music schools as opposed to studying other disciplines. However, in this author's opinion, performance is not the task of the true artist; the true artist creates original art.
Returning to the miniseries, the piece of lieder (German art song) which Esther selects, Schubert's "An Die Musik", is one which I sang in my second year program at university. Vocal pieces such as this one require months of study and practice in areas such as rhythm, pitch, tone, collaboration, diction, and interpretation (to be brief).
This is a matter that people outside of the music profession, and even maybe only outside of music academia, might otherwise pass off as inconsequential and without strong meaning or implication. However, for Esther to select this piece at last minute, especially after her friend's comment about classical musicians, seems to me a way to underrate and even dismiss the already niche and under- publicized skills developed gruelingly over decades which support the careers of many vocalists throughout the world.
In addition to the last-minute lieder selection, the panel for which Esther sings requests that she sings another, implying that they are impressed enough with her only slightly prepared performance that they wish to hear more. She responds to this by singing a Yiddish song, which we must also assume she has never sung, confidently and without hesitation throughout the piece.
I must reiterate that I still feel a connection to Esther's character in a way not having to do with music. Despite my disappointment with the miniseries' writer's choice to have her sing and succeed with barely any preparation, I enjoyed the miniseries and think that it makes a bold step forward in the name of social harmony between separated societies and women's liberation. These are pertinent issues within our time which, themselves, do not receive as much exposure as they deserve. I also think that the series was well-acted and that the story contains continuity and provokes interest.
That being stated, Western music academia is misunderstood by the general public and its students and graduates are undervalued in society. There is a mental prison that Western music academia traps many aspiring artists within, only to release them into a world which misunderstands and underrates their constant (and notable) struggle for greatness. It is enough to make many educated artists interpret this to mean that they have no skill or not enough and to inspire them to leave the profession and even the discipline altogether. This author also thinks that this is an issue that is contributed to by the public elementary and secondary music education in already developed countries such as the United States, Canada, Australia and New Zealand and the lack of objectivity therein.
Ultimately I think we need to start to consider whether this is the type of environment we wish to continue to cultivate for artists and musicians. What can we do to change this? We can learn about music. We can read, we can learn to play instruments (I mean really learn, as in set a goal and accomplish it because we can), and we can look at our successes and failures in music objectively. In this way, we can relate to all musicians more easily and celebrate them for the hard-working and heroic people that they are, carrying our culture forward one step at a time, as long as we support them to continue doing what they do with strong, true representations and celebration.