Travis Scott - 'Astroworld' Review
A New Kind of Amusement Park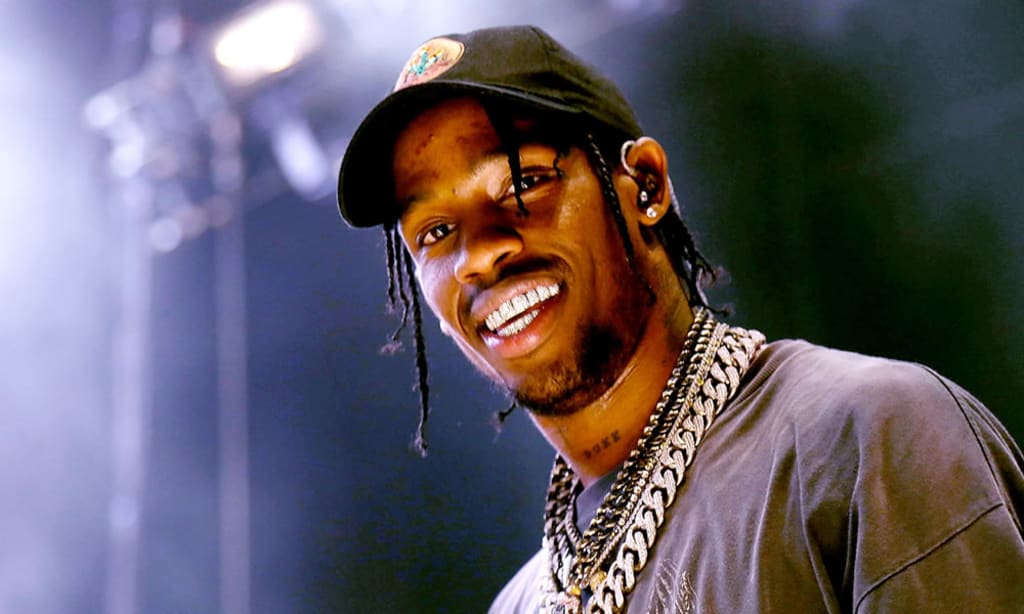 For his third album, Travis Scott assembled a multitude of producers and artists to craft a new kind of Rodeo. Scott's latest LP follows up Huncho Jack, Jack Huncho. With the help of go-to producer Mike Dean, along with WondaGurl, MurdaBeatz, Drake, Frank Ocean, and more, Astroworld is a zealous 17-track sonic theme park.
There's the delirious "StarGazing" with its intoxicating guitar arrangement and catchy, seemingly unending hook. Scott is the lone-host of this vibe, but there's plenty of star-power to come. The contributions of his peers are more than just features though. Their input—big or small—is organized accordingly.
Everyone is an instrument with a role to play on Astroworld, each vessel a piece of the larger exhibition.
From Frank Ocean's vocals on "Carousel" to Kid Cudi's humming on "Stop Trying To Be God", to Swae Lee's melodies sprinkled on "No Bystanders", "R.IP Dj Screw", and "Sicko", everything has a purpose. More so than Birds, there's a heightened attention to detail that makes for captivating twists and turns. Unpredictable and eerie at times, there are textures and layers to be explored and revisited.
Scott is a full-fledged super-curator on this project. An executive among producers, a director amongst rappers and singers. Sure he can make beats, rap, and croon with autotune; but his true talent lies in his oversight. It's this vision that separates the Dr. Dre's and Kanye West's from other names.
He's quickly approaching rare company.
Yet, for all of its grandeur, Scott's exciting roller coasters are compromised by cheap thrills at times. Some contributions don't live up to the hype, while the insertion of others is questionable. There's no better example of this than Drake on "Sicko".
His entrance feels like it's building towards something… and then comes the cliffhanger. Leaving something to be desired is a clever tactic if you come back with a right hook. But as much of a titan as he is, Drake's closing verse is unbelievably weak. You slept for "13 hours" from "half a xan"...? Was this supposed to be impressive or meme-able?
Then there's the Nav verse slapped onto the end of "Yosemite" that sounds distant. Did he phone this one in? It sounds like filler and it ruins a great collaboration between Scott and Gunna.
And on "Who? What?" Quavo and Takeoff get robbed. What's the point of including them for a shared forty-second verse? This track was the perfect Huncho Jack follow up but it's an opportunity not fully maximized. Quavo and Scott going back and forth would've made this more compelling.
Essential Tracks
"Carousel"
"Stop Trying To Be God"
"NC-17"
"Yosemite"
"Houstonfornication"
"Butterfly Effect"
"Can't Say"
"Wake Up"
"Coffee Bean"
"No Bystanders"
The Verdict
This is Scott's most ambitious project to date. He's a super-curator with an attention to detail unlike any other. Many of these tracks don't follow generic song structure and instead, bend and break the rules to Scott's whim. Each feature supports and amplifies this sonic-planet that he's thrust listeners into.
He's very much a rockstar all the way through, but he's more transparent about his life more so than he was on Birds on the Trap. He sends his condolences to Houston pioneer, DJ Screw and gets close and personal about his relationship and fatherhood. He's still a mega-crooner, but he tones down the autotune at times to deliver raw, unaltered vocals.
This is one of this year's best releases, and Scott's artistry continues to evolve and shift the landscape. This is an album that's been hyped for a long time… and boy did he deliver. Astroworld is an A-.