Top Five Dancing Videos of 2021 (So Far)
Yes, there are some repeat defenders...you got me.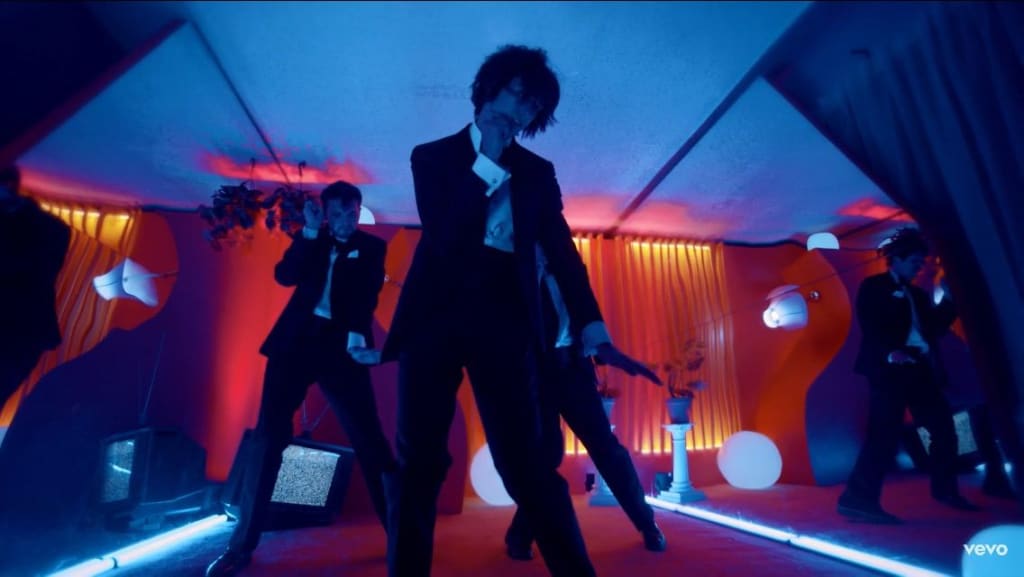 the half.alive crew talking, as usual to their sleeves in the coolest sets imaginable
If it ain't broke...my previous article here on the best choreo of 2018 went down so well I've been planning an encore - on top of which the last twelve months - let's just say I had some time become a certified dance sequence fiend. Award shows, music videos, talk show appearances - you name it, and I was all over it so that you may have a few minutes interest ha. So settle in.
So usual rules - it doesn't have to be a video of only choreographed work, but instead can feature a good few counts, I have danced since I was a child, and played music since before then so I also include what catches my ear, as well as my eye, and yes, some folk appear here once again since the 2018 OG, but what can I say, when it's good it's good.
Onwards! In no particular order:
Lisa: Money (and Lalisa)
The Blackpink alum is currently 1/4 of the most popular girl group on the planet, with their YouTube channel the most subsribed of *all* artists that currently...live, trade? Basically, think of the artist, they have more subscribers than them. Plus her first solo track 'Lalisa' has gone into the Guiness Book of Records as the MV with the most hits on the platform in twenty-four hours. She has an aura and talent that is irresistible whatever corner of the world you hail from and fans (Lovingly both of the band Blankpink - a.k.a 'Blinks' and of Lisa herself, i.e 'Lillies') have been calling for a Lisa-only turn since they debuted after a culminative decade of K-Pop trainee teaching between them in 2016. Yes, Rose, Jisoo, Jennie and Lisa are equally loved, and rightly so, they are a force - but there is a reason Lisa is called a 'dance machine'. This was soundly proved when she, faced with a video of an intricate K-Pop choreo she'd never seen before repeated it mottion for motion with her trademark swag within seconds of seeing it live on a popular South Korean TV show. Stoking the flames of future success her personal YouTube has dance covers of popular tracks she executes flawlessly with equal grace and grit in swiss knife utility by the talented choreographer and close friend, Cheshir Ha. This set of four videos and a movie (chill, Community fans) trended worldwide and her channel is lousy with followers who are as much there for her and her famed dancing career, as her K-Pop one.
South Korea has it right when they allow/maintain K-pop artists to have brief solo forays, and sub-units between themselves so that every kind of fan is pandered to, and whilst all members of Blackpink are supermely talented, it seems the Lisa's dual offerings of Money and Lalisa reached that little bit further. Money, shared above is a masterclass in swagadosia, but also check out her 'Lalisa' for the just as breathtaking set pieces, badass lyrics and her usual water-like choreo complete with super cool nods to her Thailand heritage. I hope we'll be talking about Lisa and Blackpink way into the future, overachievers as they are - mere K-pop flash in the pans they are not.
half. alive : What's Wrong
Yes, yes I know - half. alive, the Californian chirpy existentialists made it onto the 2018 list when the algorithm delivered them to me. Actually, the day after I got my ears pierced for the first time at the ripe old age of 28 - I literally spent the night replaying 'Still Feel' trying to reinterpret their myriad movements and if it really was all one shot. They took a small break, but came back, just as poetic ('What's Wrong' lyrics lovingly referencing a poem front man Josh adores), groovy and be-tuxedoed than ever before.
This particular video is not the MV as such but has more choreo than the excellent original with once again a one shot theme and backup dancers as tuxed as the band, and just as eccentric - no one group of people have been so groovy in a bow tie as Janelle Monae has and will be. Once again it's all shapes, reveals, and moments of ennui as they reference with their movements a sense of irritable irascibility whilst managing to be both on beat and so terribly cool. Performed especially for the Jimmy Kimmel show, they had a set built for their foray into the intellectualism of the song along with those groovy drums, and it feels like a real sophmore effort from their slightly less but no less extraordinary choreography for 'Still Feel', though it repeats their motifs of trying to explore inner turmoil in repeated action, as if it's their default, fugue state. Especially love the rocking from side to side in low level 'distress' complete with the sleeves of the tuxes to their brows. To the beat. Always to the beat.
Doja Cat feat. SZA: Kiss Me More
Ah Doja. I bloody love her. With her edgelord sense of humour, prediliction to never take herself too seriously (seriously. if you have a moment look up Doja's 'Trash Man' on YouTube - you won't regret it. It's her magnum opus) mixed in with her ferocious talent, so wide ranging that she's been nominated as best pop artist for her tracks that are more pithy and sexy raps than they are poppy, and best R&B for her undeniably sultry pop infusions. It seems she has the music industry confused on just how exactly to celebrate her, especially when she insists on so flawlessly featuring on her own songs, her rap timbre so different from her soaring singing voice: see her 'Addiction', 'Say So' and 'Streets' for references. On top of this Doja has been dancing since she was tiny, and is therefore a triple threat, a boss and one of the best all round talentresses that we have and I won't be taking questions at this time.
Her frequent collabs with her talented choreographer Full Out Courtland (the contemporary dancer in me still likes to snigger at that) are always their shared fingerprint of their dual talent by the rich tapestry of her movements that go from pop and locking territory to broadway in a second,effortlessly and somehow always so wittily. Their collaboration is obviously born out of like and synchronisation and I personally dig when the star and the behind the scenes star aligns so. Another feature of his work is her amazing backup crews in some kind of outfit that almost always has their heads in some kind of contraption, here as planets orbiting Doja for her 'Planet Her' album aesthetic, duh. Anyway, it was a toss up between this and her Grammy performance with a cyber punk remix of 'Say So' with her in head to toe Gautier leather complete with her backup dancers, too, in leathers and motorbike helmets complete with LCD cat ears. Obviously. But this performance for Billboard just edges it for the sheer command she has of that stage - 1:59 for example has her step-bul-changing effortlessly to the beat, queen of sheba style. Let us also not forget the undeniable joy of but added SZA and this show, for Billboard is something of their victory lap of 'Kiss Me More' - an ode to yes, frenching, that became, quite rightfully song of the summer. Planet Her is also my album of the year so far, by the way. Fight me.
BTS feat. Megan Thee Stallion: Butter
A short one, yes, but packed with flavour and intention. Sure, Butter's main video has some excellent choreo moments, but this ode to Megan's verse on the remix is all isolation, all the time. Masterfully undertaken by the '3J's' of the superemely popular K-pop group; left - J-Hope, Centre - Jungkook and right - Jimin, some of the best dancers in the world, do Nick Joseph, American native and his detailed and extravagent choreo, justice. Just check out the hand and finger isolations in that one bit! Phew! Try slowing it down frame by frame, you still won't get it. We are only mere mortals after all.
I honestly thought the dance masterclass in funk given by BTS in Dynamite, their smash hit of 2020 could not be beaten, even with their MJ inspired dance break at a Korean award show later that year that seemed to defy gravity, but come on. Watch this under a half minute clip and tell me it doesn't make you dizzy. And/or smile. Oh Jimin. He's so dreamy.
Tik Tok - Dinero : Trinidad Cardona
No. Uh-uh. Shut up. Watch the clip before you judge. I'll wait.
They are amazing aren't they! You can't deny! TikTok user @reginaeigbe knocks it out the park, or perhaps it's better to say car park with these orginal handful of eight counts to a brief sensation a track sometimes earns for itself on the app. Everything here is nailed from the hip isolations in the first four counts, in perfect sync with that sort of relaxed ability that really single out the gifted from the amateur - the subtle sway of the hips, and the reflection of the arms, elbows in line with your basic cha cha to left and right - smooth. Which is what they are even before the beat takes it up a notch and we really let rip. This is dancing done right - characterful, full of verve and spice, but executed perfectly both individually and as a group. For as short as this clip is, it tells you everything you need to know about being in a crew, a chorus line, a company - whatever - it's about dancing as well as you can every time and lifting eachother up in the process. No one is trying to outdance anyone else, and the effect is like an extremely competent ripple on water your eye glides over for that seratonin hit. Plus the are all cool as all hell. Trinidad Cardona's 'Dinero' has never been so blessed.
And hey, you might like to try after sitting down to read this? Tik Tok also does tutorials, Just a thought.
I guess ending on one brilliant tik tok is to show that you needn't sign with an agency to be cool as hell on the internet, you just need an app and the ability to pull it off. So click off this article and get those leg warmers on, you have some big (jazz) shoes to fill.
Keep dancing,
J x
About the Creator
I am a freelance writer, playwright, director and lecturer from London. Self professed nerd, art lover and Neurodivergent, vegan since '16, piano player since 7 - let's see...oh and music, lots and lots of music
Reader insights
Be the first to share your insights about this piece.
Add your insights