Top 10 Water Speakers to Up Your Listening Game
Music is fun, so why shouldn't your speakers be fun too? These cool water speakers will bring a whole new element to your listening experience.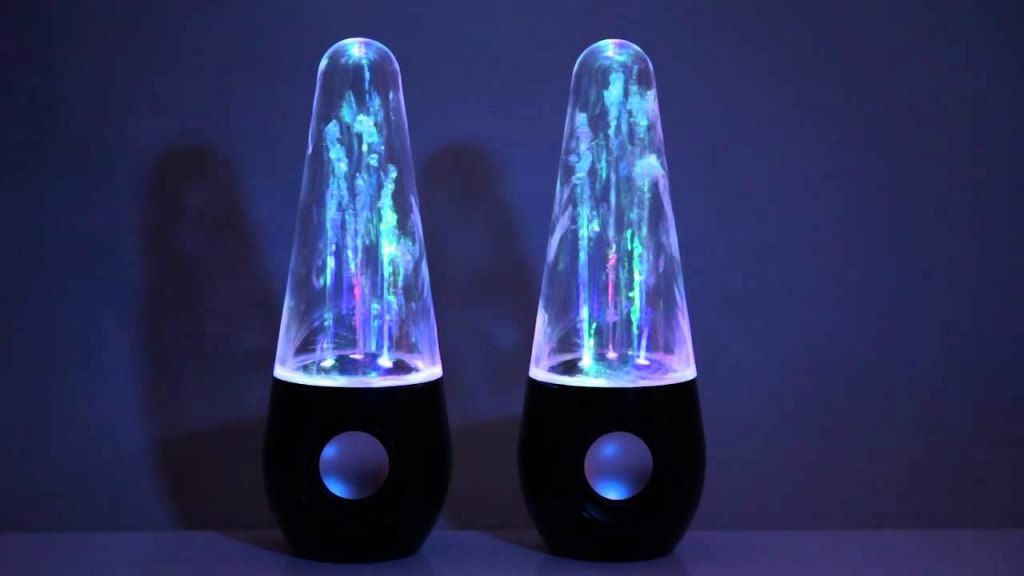 Remember when two of the coolest things in the world were lava lamps and that Windows program that made change designs to match your music? Well, those were definitely two of the coolest things around in the 90s.
Now, we have even cooler options: water speakers. When you plug in your music and play through these speakers, the beat will make water inside dance. Add some LED colors, and you have a real party-in-a-speaker going. If nothing else, these will certainly be among the most unique gifts for music lovers you'll ever find.
Aolyty's blacklight show-inducing water speakers make for a striking contrast between the black background and the bright LED lighting. You can connect them to a phone, computer, MP3 player, or just about any other device to add a little extra fun to your day. These speakers also have a headphone jack, so you can enjoy the light show without bothering your roommates, neighbors, or family. The thin rectangular design also makes them easy to fit in any space, from your desk to your nightstand.
With these speakers, the height of the water changes with the volume, so you can crank it up to reach the top, or keep it low for a more bubbling, mellow water show.
For a light show on a pedestal, check out this tower-shaped water speaker from NAXA Electronics. This speaker is designed to stand on the floor, so you don't have to worry about finding desk or display space. It's also wireless, giving you even more freedom in placement.
It has all the perks of a water speaker—LED lights and dancing water—as well as featuring FM radio, so your range of music to hear and lights to watch is never limited. Bluetooth capabilities allow you to connect your own music as well, mimicking any of the best portable bluetooth speakers for a high quality music experience that's as visually pleasing as it is aurally.
SoundSOUL's nine-inch water speakers let you bring the water show wherever you go. The small size means they are light and easy to pack or carry, so you can take them with you to spice up any party or gathering; while their blue color provides an extra splash of interest, whether they're on or off. They're also perfect for adding a little fun to your work desk or bedroom, without taking up all your space.
With a standard 3.5mm audio connection port, they are compatible with most devices, including Apple products, Android phones, MP3 players, and more. At a great price, they make a perfect fun gift for yourself or others without breaking the bank, or having to wait until the next Amazon Prime Day tech deals come around.
It's hard to resist the stylish, modern bullet design of the Svance dancing water speaker. This device boasts LED lights in blue, green, and red for a mesmerizing music experience.
Like many a speaker on this list, this device is Bluetooth compatible, making it easy to connect wirelessly to your music devices. That doesn't mean you only have one option though—you can also plug your phone, MP3 player, or other device into its aux port for direct connection. If that's still not enough for you, you can even use a micro SD card.
Svance also offers a one-year warranty with purchase, so you don't have to worry about it wearing out.
If you're like me, you love the look of a lava lamp. It's cool in its own right, and has a definite element of nostalgia to it. So if you want something that does a little more than sit there looking cool, but love that classic lava-lamp style, these wireless water speakers from Sharper Image have you covered.
You have the option of connecting your music via Bluetooth or aux cord, so you can play your music from whatever device you wish. This 90s-styled speaker is also wireless and rechargeable, so you can take it with you anywhere without a hassle—carry it with you from room to room, bring it to a party, or even take it to work to break up the monotony.
The six different colors of LED lights that light up these dancing water speakers make for a real rainbow of a light show. They're USB powered, so there's no need to worry about changing batteries or recharging, and no risk of your speakers dying mid-jam.
A bit larger than SoundSOUL's nine-inch option, these speakers are perfect for setting up in your room, office, or living area for a great sound that fills any room.
These dancing water speakers by E-Joy provide you with dancing lights, moving with the beat of your music. With all the connection cords included in purchase and four multi-colored LED lights, this budget-friendly option gives you the feeling you are standing in front of the Bellagio just as the sun sinks into the sky.
BeFree's LED Bluetooth system is a whole new take on the colorful appeal of lava lamps and water speakers. It features a wide range of LED colors in ever-changing patterns, for a light show you can' t look away from.
This is a great option for the audiophiles out there. If you love the look and vibe of water speakers, but hesitate over the size and quality selection, this 3-piece system might be the perfect option for you. The extra speaker power means you're sure to fill up the room with quality sound, while maintaining that neon-lit, lava-lamp vibe.
This speaker is a highly variable, uniquely designed entertainment option. It offers bright rows of LED lights to make any room or area feel like a nightclub, while the separate central water square creates a fun, dancing fountain. Because of the separated design, you can also choose to turn off the water, the lights, or even both, and just use it as a quality speaker for your music. The dual-stereo speaker will give you a big sound, but fits comfortably on a desk, dresser, or even nightstand.
Like many speakers on this list, this system offers a fun array of LED lights, working with a dancing water fountain to make quite the light- and water-show. But this Xcellon stereo speaker system adds an extra layer of fun with the option of adding lightweight, colorful beads to the water. The beads will expand in water, and dance and swirl with the beat of your music as you play it.
product review