Top 10 Songs for Physical Fitness
How Music Helped Me Improve My Physical Health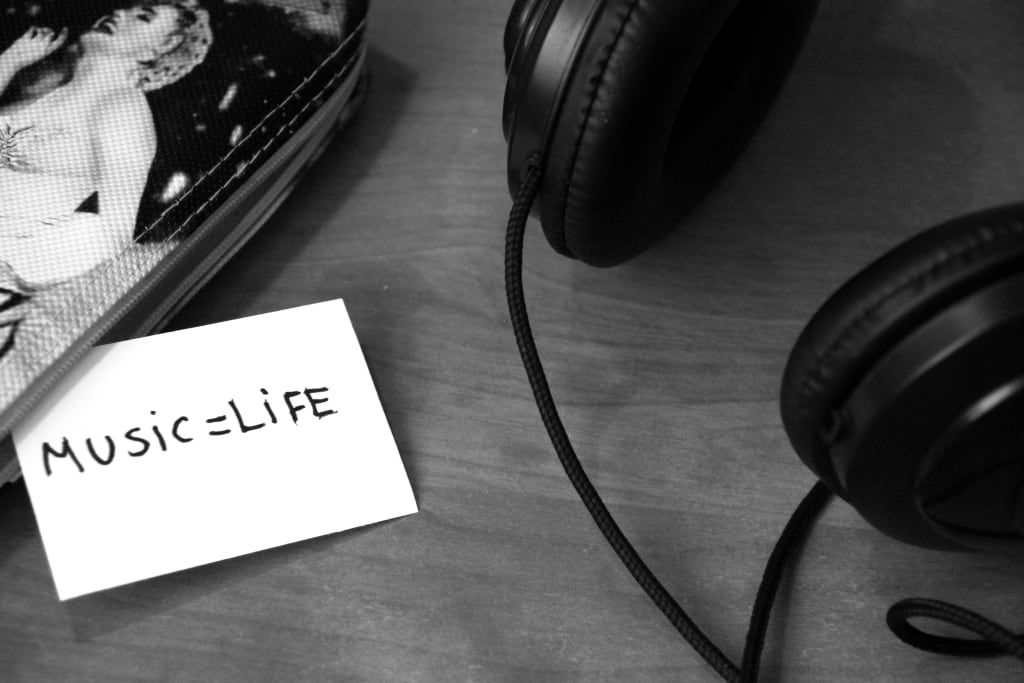 © Public Domain
Top 10s
1. "Lose Yourself"
(Artist: Eminem
Release Year: 2002
Creators and Producers: Marshall Mathers and Jeff Bass)
Being a core Eminem fan, there was no other reason for me to start with someone else's song. "Lose Yourself" is a song that instantly gives me inspiration. Though the lyrics are meant to be for Marshall Mathers' own journey in music industry, it is very much motivational for anyone trying to achieve any goal in his/her life. When I start with this song, I know that it will surely boost my energy levels and charge me up for the upcoming gymnasium session. The best thing about this song is that it has very remarkable music with lyrics having almost every word rhyme with some other and that too with keeping their meanings straight. What a beauty! I can literally feel the struggle in his lyrics and easily relate to his/her workout difficulties and hence gradually starting and finishing the workout session successfully and that makes this the top song to start my workout/yoga with. It really makes me forget the stress from the day.
2. "Dhoom Again"
(Artists: Vishal Dadlani and Dominique Cerejo
Release Year: 2006
Music Credits: Pritam and YRF Studios)
"Dhoom Again" is the title song from Hindi movie Dhoom 2, a movie of Dhoom series. This song is mainly in English with just the chorus part being in Hindi language. The song is usually second in my workout playlist, as it has the ability to make you do your exercises in a rhythm. The tempo allows you to work efficiently with the rhythm of its beat and keep the workout going at a steady pace! It has the perfect combination of high and medium pitched notes, that just overwhelms you, especially during a cardio session. Pritam, the music director, is often known for some of his special effects in his songs that refresh your mind and helps you focus on the warm-up.
3. "Lagan Lagi"
(Artist: Sukhwinder Singh
Release Year: 2003
Movie: Tere Naam
Music Credits: T-Series)
This is one of the best songs in my playlist. From this song my playlist goes towards more fast paced songs, which according to a research, help distract from the fatigue and accomplishbetter exercise results. Sukhwinder Singh's high pitched voice along with the repetition of the main part of the song is a perfect remedy to my routine tensions, at least for some time! This kind of a song provokes a boost of energy in my body and sets me off to a more intense workout. By the end of the song, I usually finish my cardio and move on to other exercises, but I would not be feeling fatigued yet.
4. "Deewana Tera"
(Artist: Sonu Nigam
Release Year: 1999
Album: Deewana)
How can I forget Sonu Nigam's "Deewana Tera," when it comes to my workout playlist? This song starts with a very soft and romantic kind of music and gradually it goes high and loud. I need this song to kick start my intense exercises. Having already listened to "Lagan Lagi," I am usually in the mood of keeping that stamina and mood go on for the rest of my session and this is where this song comes in. The music, his soothing yet firm voice, and the lyrics of the song let me forget the pain of weights I am lifting and encourages me to add more weights gradually on a typical weightlifting kind of a day of the week. On other days, they keep me motivated enough to finish my sets of body-weight exercises.
5. "Chop Suey"
(Artist: System of a Down
Album: Toxicity
Release Year: 2001
Genres: Metal, Alternative Metal)
This might sound strange to some of the music listeners, but this song has a very special place in my workout playlist. System of a Down is known for their out of the box thinking in music composition, energetic songs and that is same the reason, I have put this song next in the list. The lead singer has an impeccable style of singing and he has justified that in this song. It totally charges me up during my heavy exercise session, still keeping me in the mood of finishing what I have started. I feel the resistance to leave my sets unfinished. It reminds me that "now is the time to go for that next big, scary looking equipment!"
6. Love Me Like You Do
(Artist: Ellie Goulding
Album: Fifty Shades of Grey (Original Motion Picture Soundtrack)
Release Year: 2015)
Just like the "Deewana" song, this song starts on slow, romantic notes. This song also fires up later and the pattern follows. There are very few romantic songs out there, which actually fire me up with enthusiasm. Ellie has now successfully encouraged me to continue working out, despite becoming affected by the fast paced exercise done during the previous three songs. It gives me time to relax between my sets, when it goes again on lower pitch and gives me an overall satisfaction of a perfect and complete workout session. Because small breaks are equally important as those energy boosts! It thus enables me to perform at my full efficiency. When I am exercising, I realize that this is the time, when I am on the peak of motivation and I just want to go on.
7. "Vande Mataram"
(Artists: Badshah, Taniska Sanghvi, Daler Mehndi, Divya Kumar
Movie: ABCD 2
Release Year: 2015)
"Vande Mataram" is a Hindi song from a recent Bollywood movie ABCD 2. It is exactly the song I want at this time of session. It is to note that this song is created to give a sense of patriotism (the Original 1950's "Vande Mataram" song being India's national song) with a modern touch of musical instruments in today's time. When I reach at this point of my workout session, I am usually draining my energy faster than ever. That is why anything that uplifts my spirit, is really helpful—let it even be the feeling of patriotism, too! It is one of the most motivational songs of Bollywood. Since that was a movie based on dancing, even during the movie scene, when it is played, it heightens the confidence of the dancers and eventually make them perform better!
8. "Breathless"
(Artist: Shankar Mahadevan
Album: Breathless
Release Year: 1998)
One of the most iconic songs of "Indian Album Culture" is Breathless. Those who haven't listened to it, might think of it as a Hindi version of Eminem's "Rap God"—which is considered to be the world's fastest song with highest numbers of syllables. Shankar Mahadevan's "Breathless" is a beauty in itself. It flows like a bullet train and yet he is very clear and audible enough to make the most of the lyrics! This comes in handy when I am almost ready to give up on my exercises. It stimulates the leftover life in me and lets me finish the remaining reps and sets. It refreshes my mind from any negative thoughts and virtually leads me to the light.
9. "Till I Collapse"
(Artist: Eminem
Featured Artist: Nate Dogg
Movie: Real Steel
Release Year: 2002
Genre: Hip-hop/rap)
How can I end my high energy streak of songs without an another Eminem song? "Till I Collapse" is practically made for the gym-o-holics like me. This song has the best combination of lyrics and music that I need, when I am doing the last exercise of the day. The lyrics say, "...and get that motivation to not give up, and not be a quitter, no matter how bad you wanna just fall flat on your face, and collapse." I do not have to say more how the rest of the lyrics go—you get the idea. This is probably the last song on my "energy playlist." The next and the last song of the entire playlist plays, of course, when I am winding up my session and having some satisfaction of a successful gym day.
10. Criminal
(Artist: Britney Spears
Album: Femme Fatale
Released: 2011
Genre: Pop)
I am now done with my stretching, cardio, and all the exercises. I now want some time to relax mentally and physically before I go home. What comes to my mind? Pop Music! Britney Spears has always inspired me with her voice and music in her songs. "Criminal," in my opinion, is her best song to end your day/workout with. The starting tune of the song reminds me of some old Bollywood movie song and the rest of the song is just so soothing that I might want to fall asleep on that side bench of the gym. It just not only relieves most of my fatigue from the long and continuous session, but also makes me feel content.