Tom Petersson Explains Why Cheap Trick Has Staying Power
And, How Nashville is About Much More than Country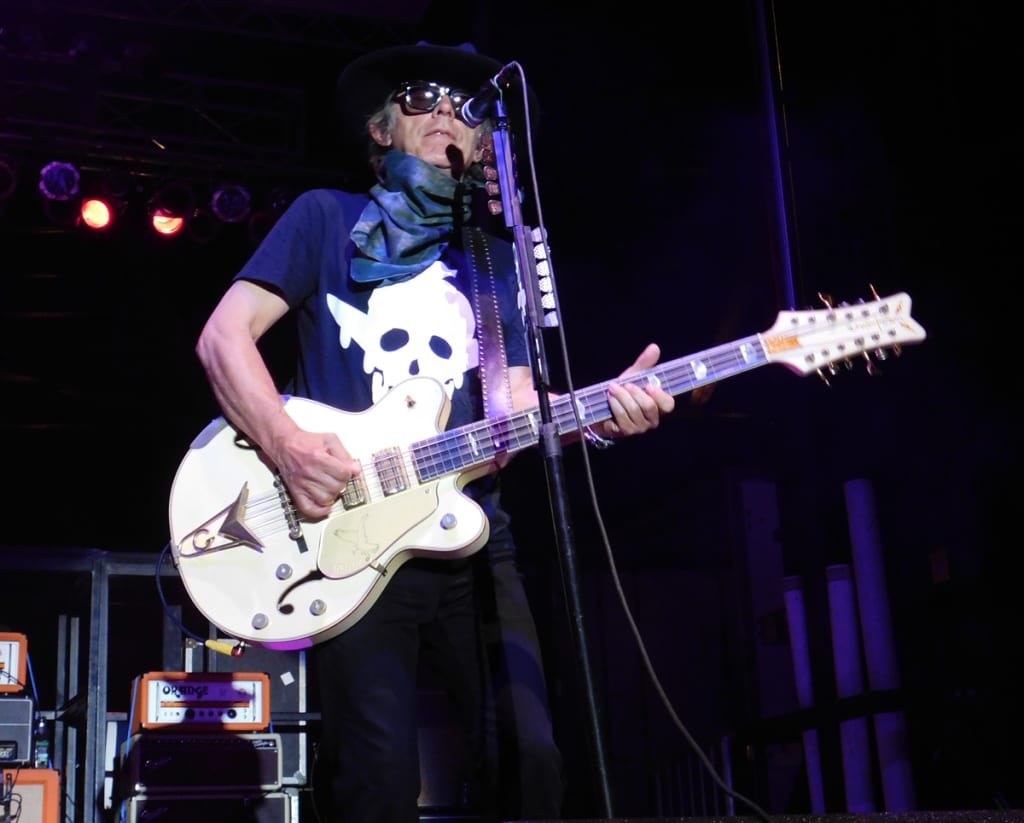 Cheap Trick is one of the few bands who never really stopped performing and recording over the past 40 years. Their songs are all written as a collaboration of the four band members: Tom Petersson, Robin Zander, Rick Nielsen, and Daxx Nielson, Rick's son, who replaces Bun E. Carlos.
After a slow down since the 1980s, Cheap Trick is getting ready to release their third album in two years, while still touring. Bassist Tom Petersson sat down to talk about the band's longevity, their songs, and his life in Nashville.
One-on-One with Tom Petersson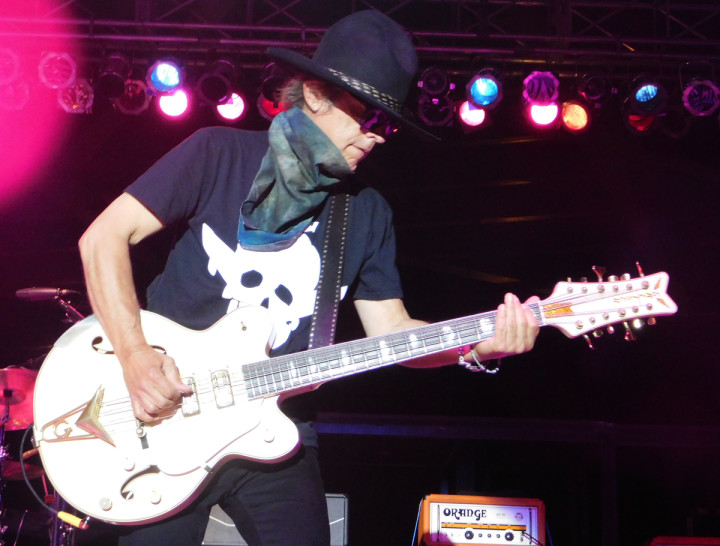 Marcia Frost: As you can hear, my voice is kind of gone. I did too much singing at the show in Peoria.
Tom Petersson: You liked it. Good.
MF: Definitely!
MF: Tell me about the songs in the new album and what inspired them.
TP: We write songs and work on material all the time. We've got a backlog of ideas, things that are current, things past, and a combination of everything we have done over the years. We always have a lot of unfinished ideas. The stuff that you play for the band doesn't always strike everybody, so, you go on from that.
You'll hear sometime later on, 'that one idea you had was really great.'
So, it's really from all over the place. We don't sit down, totally from scratch with nothing, and sit there and do it from that point on. It's just a continuous process. It's really what we do.
MF: I really like "Long Time Coming" and "Floating Down" is an interesting ballad.
TP: I didn't consider it to really be a ballad, but, I guess, compared to the other stuff, it is.
MF: How do you get four different people to agree on the words and music to a song?
TP: You're in the room at the same time. People are going, 'this would be a good line,' 'oh, that bridge, I've got this idea.' If you're in there all together and the song gets finished, that's how it happens.
MF: You've done two albums in the last two years. You haven't done that in 20 years. Did you ever think back in the 70s you'd be putting out back-to- back albums 40 years later?
TP: We used to do two albums a year so it's not really a big thing. In 1977- 78, we were averaging 290 playing dates a year. That's not including traveling and doing two albums a year. This is like a pleasure cruise, an album a year!
MF: But, you haven't done that since the 80s, when you were all 30 years younger.
TP: It's because we haven't really had a label behind us that wanted to do that. Now, we've got Little Big Machine, Scott Borchetta, who it turned out was a big fan of ours from the 70s. He had seen us a bunch of times and he was in bands. It's his record label and he can do what he wants, and he likes our band. He knows we've got a lot of material. He'll hear something and say, 'What is that?' I'll say, 'that was rejected here,' and he'll say, 'Oh, my god… do it.'
You just never know. We have songs that didn't make our first album, like 'Surrender' and 'I Want You to Want Me.' We thought, "Nah, no one's going to want those.'
MF: (laughter) Well, I'm glad you did put it out there!
TP: No one really knows what they are doing. We've got a lot of bonus tracks on the new record. Some of those songs are people's favorites. Who knew?
We are so close to it that we don't know. We really work closely with our producer, Julian Raymond, and he becomes involved too. Maybe not quite as much, but he's like a fifth band member, honestly. We're in there all together. We don't have any input from the record label, or our management. It's just the five of us, the band and Julian. We do what sounds good to us.
MF: Rick (Nielsen) said you were planning on going right into the studio again after this tour. Is that true?
TP: Well, we've already. Since this record was released in June, we've completed a Christmas album. That's coming out soon. So, it's three albums in two years. Then, after this tour, we'll go back in the studio because we have to release another album next summer and we want to stay on top of it.
Honestly, our hobby is music. We love playing songs, writing songs, and listening to music. It's really something that we love, so it's not a hardship to us to do records. That really is the thing to all of us. That's what lasts. It's got to be as good as you can possibly do. Whether it's successful or not, that's something we have no control over and we have no idea what people actually want to hear.
MF: You re-released 'I'm Waiting for the Man' in April featuring you. It's not a typical Cheap Trick song. Why did you decide to re-release it?
TP: That was our label's idea. It's just such a cool song. It's an old underground song. We used to do it in clubs and stuff, but we hadn't done it for a long time until recently. It's one of those things where it just got such a great reaction. There's just something about it. Lou Reed wrote it. There's no real reason why we did it.
Petersson Talks About Nashville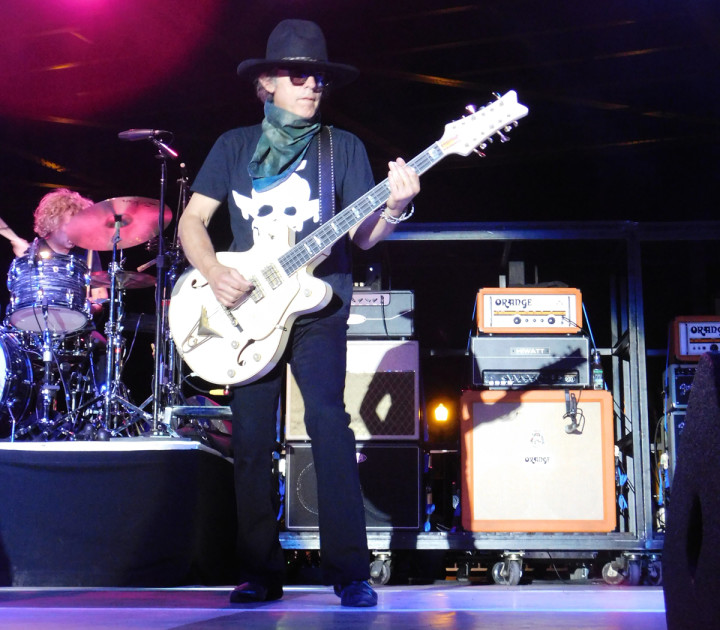 MF: Are you still living in Nashville?
TP: Yes.
MF: What's it like being a rocker in the middle of country music?
TP: Well, there are so many artists living there it's not even mainly country. There's lots of every genre, every type of artist lives there. I'm not into the country scene so I don't have any real connection. I know plenty of people who are in country bands and things.
I think, mainly, most of the young country players are into heavy rock. Half of them have mohawks, they're into punk, they're not strict lovers of Ernest Tubb. None of them are wearing suits, like Murray Stewart. That's gone from being the norm too, 'what's that weird thing these guys are doing.' That's the old school country, which was great. You know, Johnny Cash, and all that.
MF: You said there are a bunch of other rockers down there too.
TP: Oh, come-on, yes! Everybody lives there. I saw Nick Lowe down there with Los Straitjackets. It must have been last Christmas. He said, 'Yeah, I love coming to Nashville because everyone I know lives here.' It's kind of like a running joke.
You don't really see the big country artists out on the street playing the little clubs. The one person you do see all the time is Vince Gill. He's great. He comes in and sits in with everybody. He's so damn good everyone gets scared if he comes in, they all say, 'I should have practiced more.' So many great guitar players and a lot of them are quite intimidated.
MF: Any off the radar places you'd recommend in Nashville?
TP: I don't know if they're off the radar, but I love this club called The Family Wash. It's in East Nashville. East Nashville is probably the biggest scene for alternative. A lot of musicians live in East Nashville. Family Wash is great. The Basement, Grimey's Basement, is a vinyl store with a club down below. Another club, called Basement East, that's on the other side. There's a ton of clubs and so much every night, with competing acts in so many places. Some of the bands that live there will just go out and play for tips in small little places.
What's interesting, and I've never seen it until I moved there, is Writers in the Round. It's all these different songwriters sitting in a circle. Someone would say, 'I wrote this for Jason Aldean and it was number one for 800 weeks." There's also up and coming people, teen writers, all different stuff. It's just one song at a time, so if you don't like something, it's over in a few minutes. It's so funny because some things are so great and you can see why the person is so successful and some things you say, 'Wow, that was a hit? That was terrible!' (laughter)
Most people start off wanting to be the artists and then continue as writers, but there's all sorts of combinations of that. There's so many country artists there from years ago and they've got kids and grandkids and they're all mainly rock and roll people… rap and rock and punk. They're not necessarily into old school Grand Ole Opry country stuff, although their parents and grandparents would be.
MF: Any chance you'll go back to Budokan?
TP: Yes, there's a good chance of it.
MF: That's all I've got. Anything else you'd like to add?
TP: When am I going to see you at a concert again?
MF: I know you were busy and I didn't come back to meet you this time. I'll make sure I cover another show soon for Beat!
interview

Marcia Frost
I am a well-published lifestyle journalist, who specializes in travel, food, and wine. I also wrote about music as a teen in the late 70s & early 80s. I'm back at it again, mostly writing about the same bands I covered decades ago!
See all posts by Marcia Frost →