This Land Is Your Land - Avett Brothers take on Woody Guthrie classic
Song with a long history features rare 4th verse.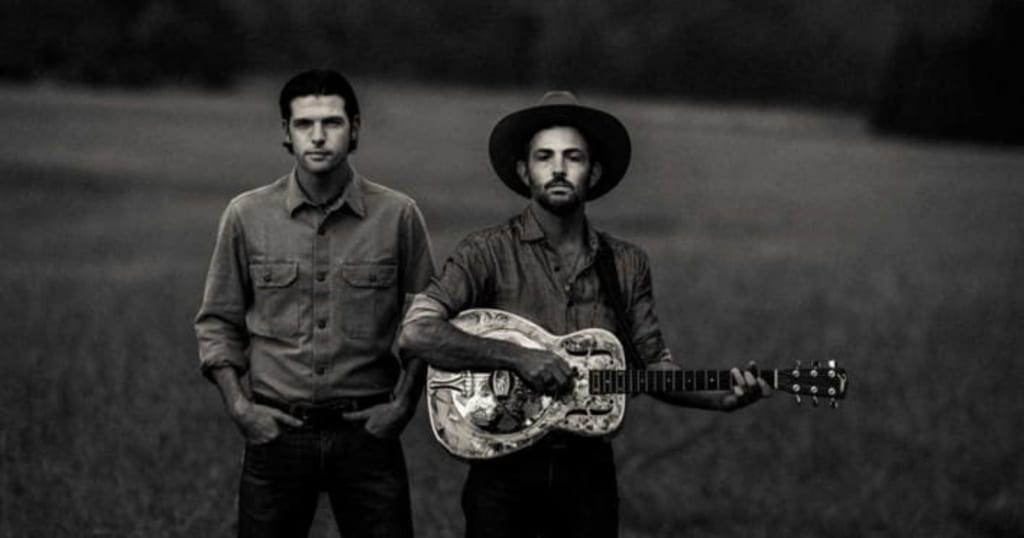 Riding high in the Americana and the Folk Charts with their in July released "THE GLEAM III" album and its rather dark and somber mood, their new single, an adaptation of the Woody Guthrie classic, "This Land Is Your Land" stipulates less of a call to arms and more of a hopeful beacon of (becoming) a unity (again). This sentiment is also propagated by the beautiful black and white video, Samuel Bayer helmed.
The political anthem, written in a furor by folk hero Guthrie against Irving Berlin's "God Bless America," and borrowing a melody from the Carter Family's "When The World's On Fire" - which was based not only on Baptist-Church and probably African-American influences - isn't really a staple in the Avett's live show repertoire and does not stem from their latest release, but happened more out of synchronicity.
Enter award-winning visual artist, Samuel Bayer, a photo- and videographer known for his music video work (Nirvana - "Seems Like Teen Spirit"; Green Day - "Boulevard Of Broken Dreams" and many others - Drivin'N'Cryin's "Smoke" being an all-time favorite of mine) as well as commercials (for instance his unforgettable, Emmy-award winning Chrysler Superbowl Ad "Born Of Fire", an Ode to Motorcity Detroit with its native son, Eminem from 2011) and his commercially as well as critically-lauded excursion to the silver screen with a remake of the horror flick "Nightmare On Elm Street."
Working on a documentary about the COVID virus, Bayer, inspired by listening to the Avett Brothers' music, wanted to hear them do their version of this American classic as he explained in the press release accompanying the new single:
"While visiting testing sites in vulnerable populations, I was listening to The Avett Brothers music and was inspired to make a music video. I contacted them and told them I wanted to hear their interpretation of Woody Guthrie's classic anthem. This is a hopeful video during a time where the Country is so divided and I hope Americans will be inspired to be thoughtful during this trying time."
Filmed in Los Angeles, New York, New Orleans, and the Navajo Nation and ultimately at the home of the brothers, in North Carolina, to film their performance, the video mostly speaks with its lovely black and white videography honoring diversity as well as unity. Watching the video on repeat since this morning, I had to stop it several times to really cherish many of the portraits depicted in the video.
Another nice touch is that the Avett Brothers included the often left out 4th, rather political, verse about property ownership. They did omit three others, namely the third, the fifth, and the also political 6th verse about hunger and poverty in the US.
Was a high wall there that tried to stop me
A sign was painted said: Private Property,
But on the back side, it didn't say nothing
This land was made for you and me.
This is an interesting concept as e.g Swedish law allows you to camp on private property for at least 24 hours and as the revenue of Norwegian oil - extracted from Norwegian lands - benefit the whole population in the so-called oil fund, instead of a single corporate entity making a profit at the expense of all the people who own the land. That fund is now being transferred into more conscious investments and away from coal.
In the press release, Seth Avett commented, "Samuel has highlighted the timelessness of perhaps the most quintessential American folk song by creating a timeless music video marrying performance with the most lovely imagery of American people. We are honored to be a part of such an endeavor in the like-minded spirit of unity and love."
About the Creator
Photographer, Journalist, Blogger, Music Business Consultant, Rancher, Cook & Baker, Lover #amucomm
Reader insights
Be the first to share your insights about this piece.
Add your insights