The Spookster Soundtrack
For Halloween parties that include all ages!
Did you hear that screaming? Did you think you were dreaming?
Did you hear how she yelled? How it sounded like Hell?
It was actually the sound of me, when I read what this challenge was about.
R.I.P. to my love's eardrums. He really liked them.
Let me make an enormous understatement: I love Halloween. I mean, I have been romantically involved with this holiday my entire life. The costumes are my personal favorite; I love to visit the seasonal section of every store and hunt for costume pieces for low prices and put concepts together. I love to find discount Halloween stuff that I can use for decorations and photos. I love decorating the house, making Fall meals, baking Halloween cookies, watching Halloween movies and shows, and of course, hearing Halloween music.
Four years ago, I partnered with a man who loves Halloween more than I do, which has been the greatest improvement on my enjoyment of the holiday by far. Everything I already loved was amplified, which (in turn) amplified my discovery of more things spooky in music and films both.
Besides loving Halloween, we both love music (who doesn't?) and our relationship built itself on the foundations of our mutual love for the same songs.
Imagine the kinds of playlists we make for Halloween. This is my moment, my challenge, my holiday, and my absolute passion.
I mean, we are such fans of Halloween that our four children call our bedroom "The Halloween Room." Not Mom and Dad's room; just the Halloween Room. Literally all. year. long. Let me explain: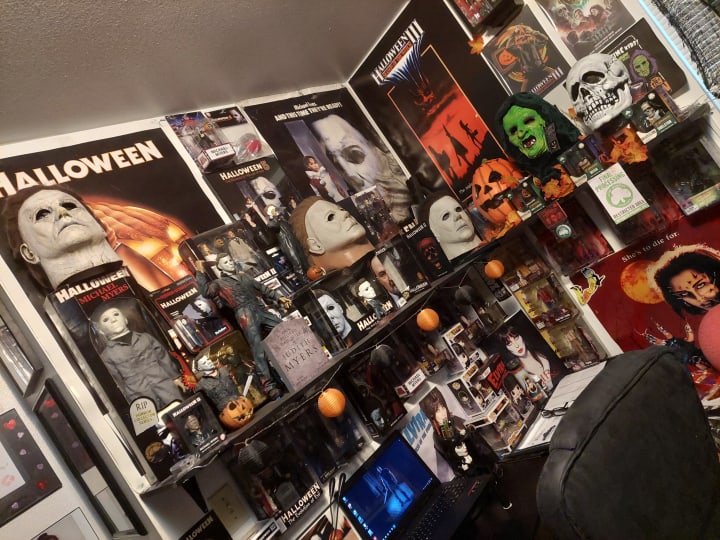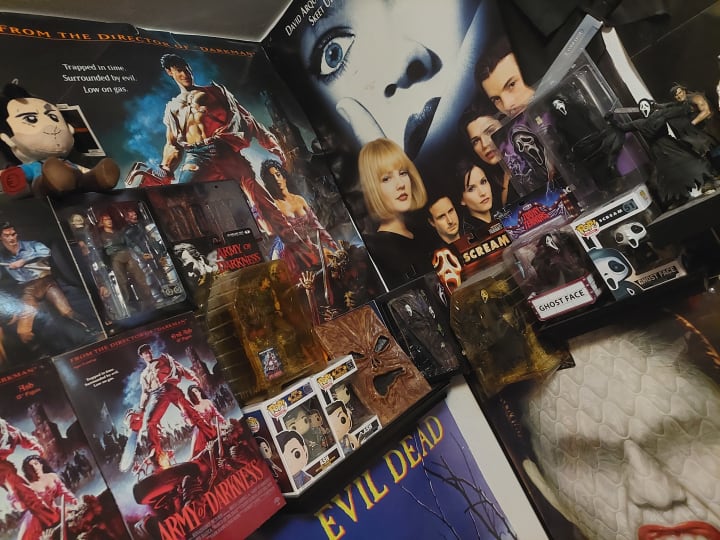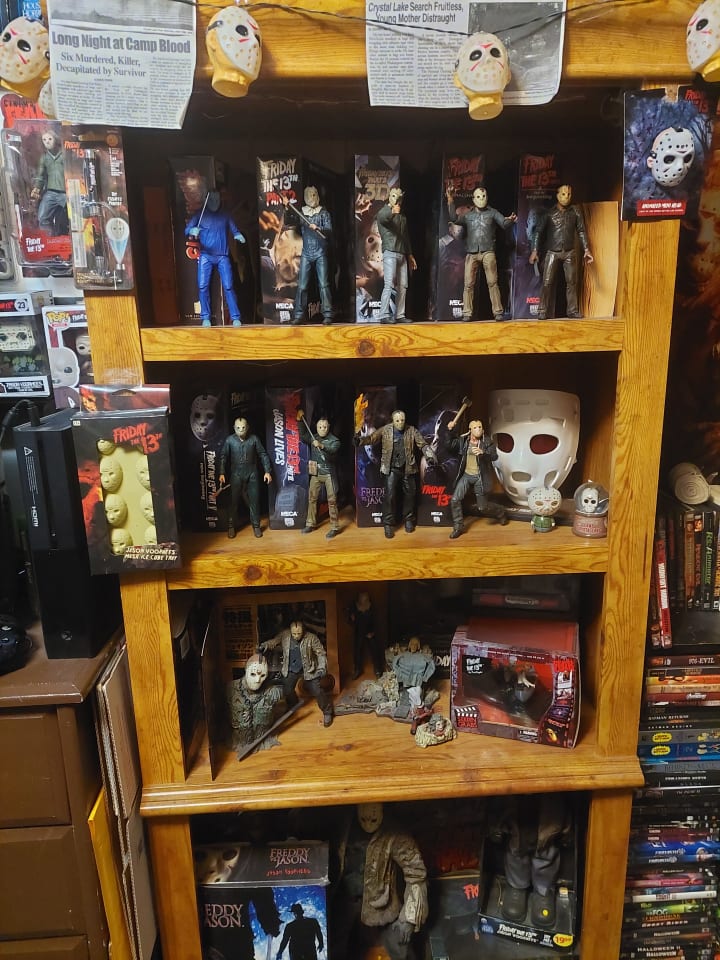 So, to clarify: we like Halloween a lot.
So much so, my partner has a full schedule of viewings for the family typed out and saved on his phone so we don't forget one of our favorites. We have already watched a documentary on how to make a haunted house and the phenomenal film Beetlejuice, but we still have to hit some major favorites like Halloween Claymation, Dear Dracula, Halloweentown, and some special films for the parents like the classic Halloween franchise films (especially part three, because it's one of our favorites). We're scoping out local Trunk or Treat events and ghost walks and tours for the upcoming month as well, hoping we find time for all of these things for our family.
In between films and events, we take family car rides often, so we have at least two Halloween CDs that we created for the family to enjoy. Is there anything cooler than driving a minivan and blasting spooky rap?
Pfft. No.
Halloween parties are fun for adults only and for all ages. I will never discredit the enjoyment of Halloween with adults, in adult settings, with boozy beverages and mature tunes. My playlists are for everyone. They may be kid friendly, but honestly, these songs can be heard at any age level and be fun. I get a huge grin when I hear Elvira or whimsical tunes like "Spooky Scary Skeletons" and I don't have to be a kid to enjoy it.
This isn't just for parents, guardians, or families with children. This is for the two guys with dogs as their kids, the single dad with a passion for singing, the part-time college student working at a gas station, and teenagers who might act "too old" for Halloween!
So, party on dudes, and check out all of the best Halloween songs ever from a couple of self-proclaimed experts! These are the songs you need to listen to before you hit the party supply store for your get together (don't forget the apple cider, man.) These are the songs to get into the real SPIRIT of the holiday.
Elvira - Monster Rap
The Mistress of the Dark is a staple for your Halloween party. She is everything we love in a dark queen, everything we should aspire to be as a goddess of gloom. The Monster Rap is upbeat, playful, fun, and really gets your body (dead OR alive) moving to the groove of spooky love.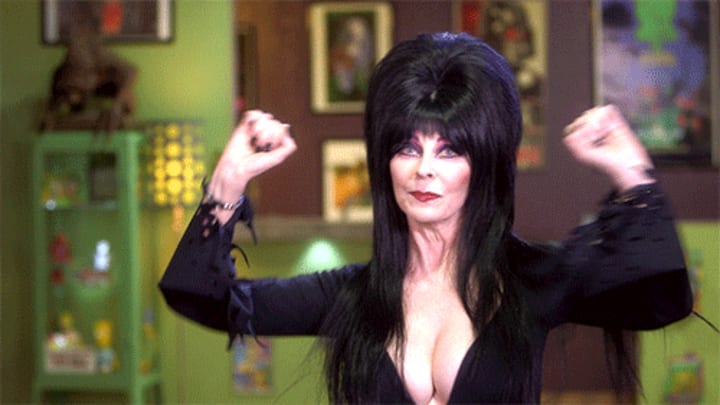 Ghostbusters Theme
Ghosts are a HUGE part of Halloween, and it wouldn't be the same if you forgot the theme to the hit movie Ghostbusters!
A classic that everyone is sure to love, as there probably isn't a soul alive who hasn't heard of the Ghostbusters. And if they haven't, hurry and let them know who they're gonna call!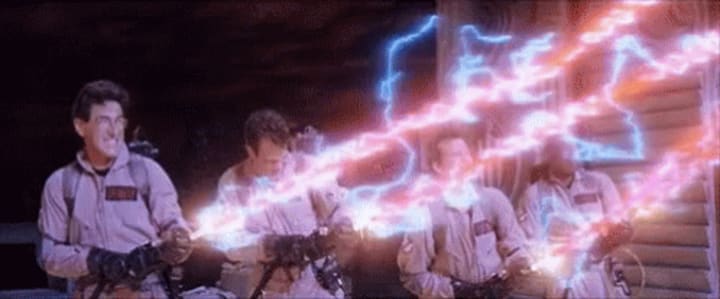 China Anne McClain - Calling All the Monsters
Another upbeat and totally danceable song for Halloween, China's "Calling All the Monsters" is modern and fun with so much energy you'll think she could reanimate Frankenstein's monster.
Don't let her age fool you. China has all the right spooky vibes she can give you party. She's a stellar talent! And if you take some time to watch her music video above, you'll love the choreography that involves the monsters she's calling!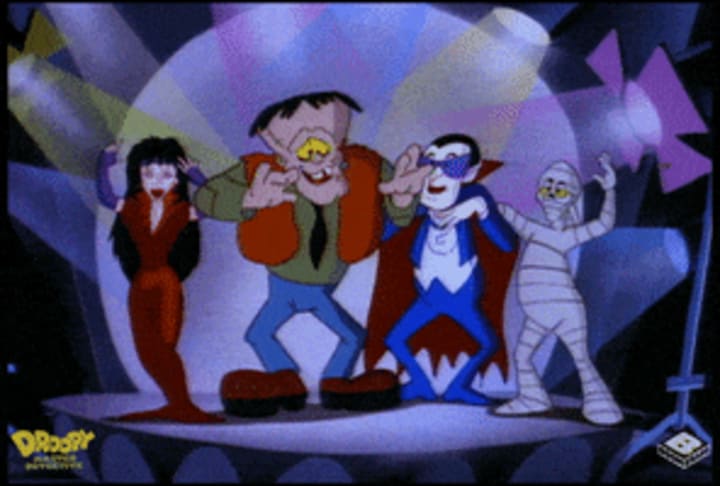 The Halloween (1978) Theme Song
With no lyrics at all, the spooky vibes of the musical theme for the first Halloween movie that released in 1978 is a great break from upbeat dancing to give you a chance to skulk around the party in search of someone to scare half to death.
It has all of the right tones in its presence, even for the kiddos who might be lurking in the shadows. Even if you're not a Michael Myers fan, you're bound to gain fans of these Halloween sounds!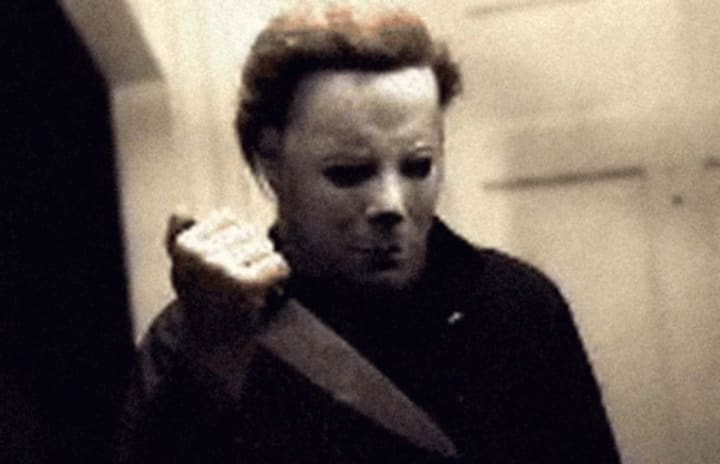 Spooky Scary Skeletons
Every party needs to pay homage to the classics, and after the scary song of the Halloween films, bring your party back up to only slightly dead by sharing Spooky Scary Skeletons with your friends and family. Ghouls and goblins will appreciate the tune about their Skeleton friends who can send the shivers down your spine anytime!
Then dance, dance, dance until you die!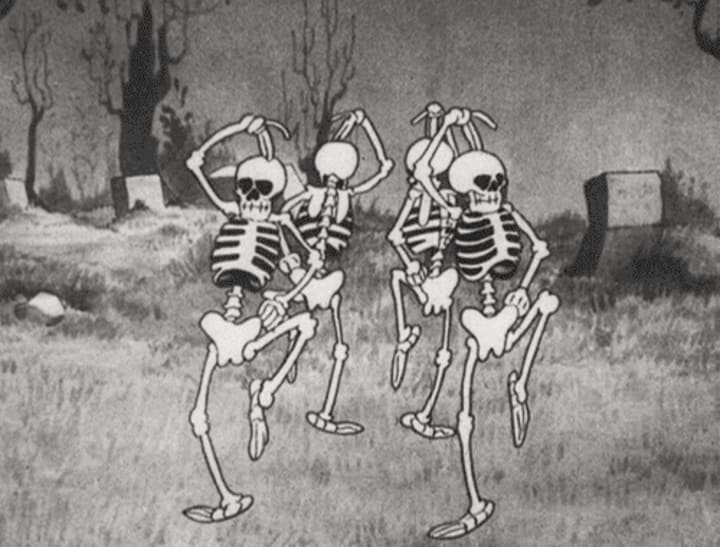 Speaking of dancing 'til you die...
The Sanderson Sisters in Hocus Pocus - I Put a Spell on You
Sure, the witches wanted to kill an entire town's worth of children for their own immortal desires, but this song is spellbinding in the perfect way for a scary event. Winifred enchants the entire audience in her tune, so enchant your party-goers with something to sing along to and dance (until you're slightly tired, maybe, but actual death not recommended.)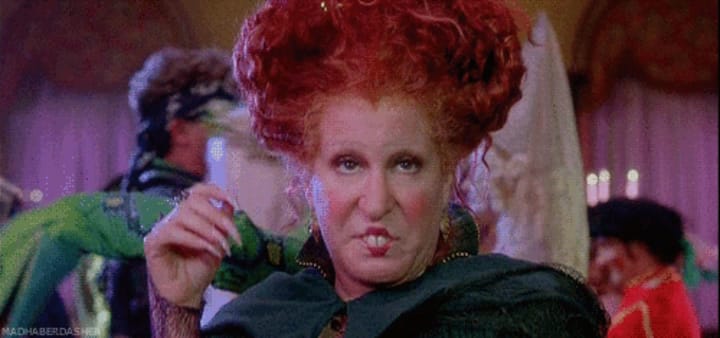 Michael Jackson - Thriller
Is there much I need to say here? We all know this is the best Halloween song ever, so I'll just remind you: don't forget this one for your party, or the zombies might come find you.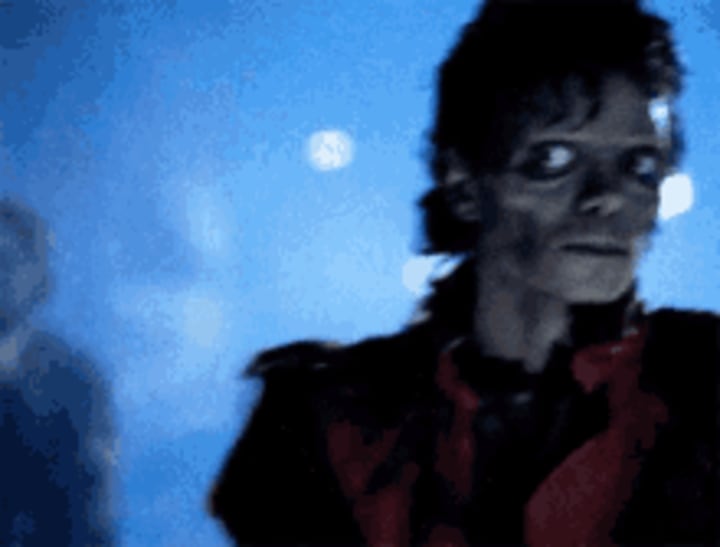 DJ Jazzy Jeff and the Fresh Prince - A Nightmare on My Street
Another classic song from Will Smith and DJ Jazzy Jeff, this song pays homage to the horror franchise Nightmare on Elm Street. Even if you aren't a huge fan of the franchise, this rap song can give your Halloween soiree a different beat to move your hips with. The video is very cheesy, the song itself is definitely just as corny as the video, and it is everything you want for your gathering.
Even if you weren't in the generation that grew up with the Fresh Prince, the song is worth an add to your playlist. The rap comes with haunting sounds that create the exact atmosphere you want.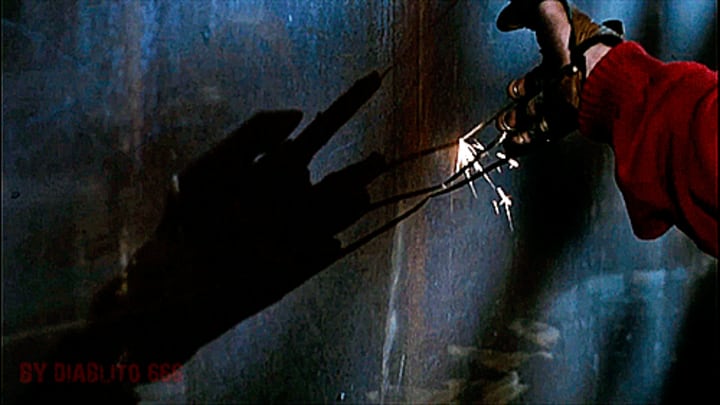 Rockwell - Somebody's Watching Me
You can dance to it, most people know this song because of its vast popularity, and the vibes of the music are every level of "rockin' Halloween party" you could possibly ask for. Halloween is supposed to bring out the undead and the spooky stalkers of the night, and the song's lyrics about feeling like you're being watched are exactly what you want to hear at your pumpkin bash.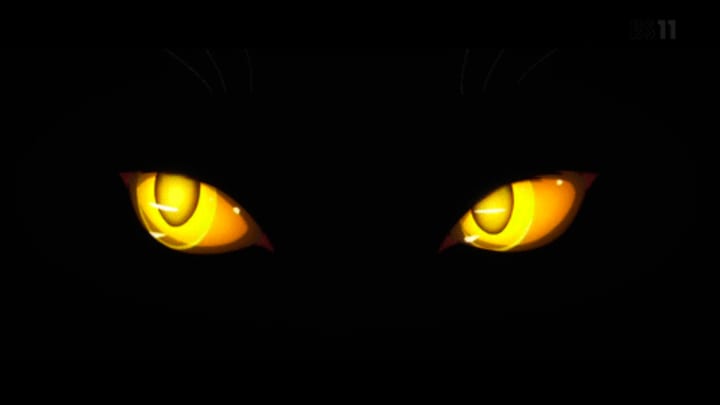 Rest in Peace - Theme for WWE Wrestler 'Undertaker'
Is it weird? Maybe. I don't care, though.
You want scary songs, you have to throw in some instrumentals to break apart the upbeat dancing tunes, and this is one of those songs.
It's like attending a funeral without anyone having tragically demised. Undertaker's theme sounds like a slow, spooky intro and as the music ascends into stronger sounds, your guests will be peering around the room to see what monster is trying to make a grand entrance. Trust me, the musical composition of these themes are a lot of fun to experience around the best holiday ever.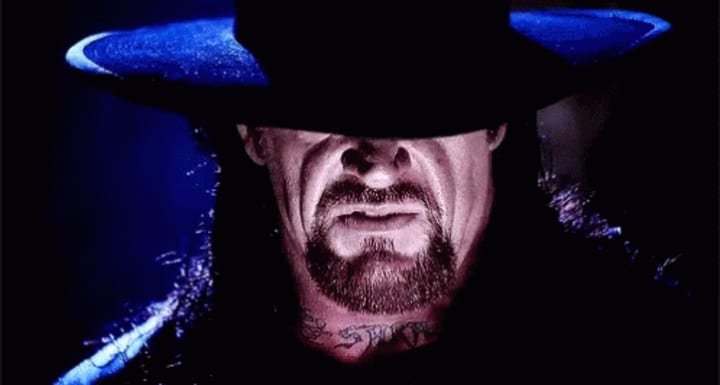 Bobby "Boris" Pickett and The Crypt-Kickers - Monster Mash
You cannot have a party without the Monster Mash. Like "Thriller" by Michael Jackson, this is a staple, and it is not negotiable. The spirits command it!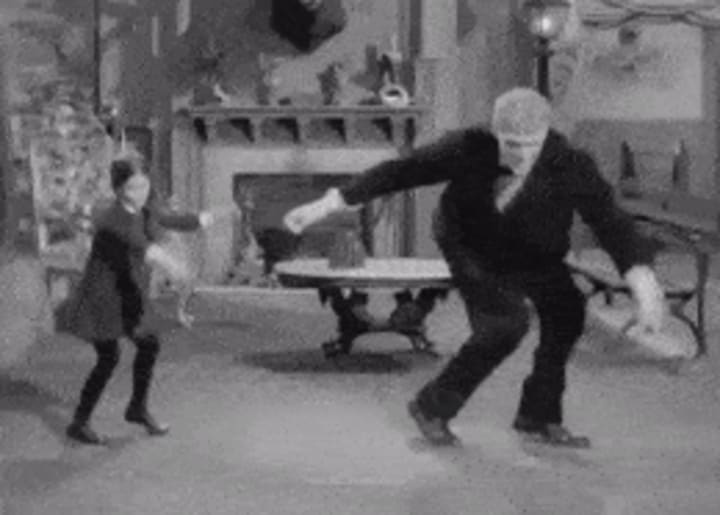 The Citizens of Halloweentown - This is Halloween
The Nightmare Before Christmas is the best holiday film because it can double for Halloween and Christmas both. However, since we're focusing on Halloween, consider this song for your playlist this October.
The ominous music, the citizens of Halloweentown sharing their roles in the darkest night of the year, and one of the best movies ever created by Tim Burton are guaranteed to be a smash!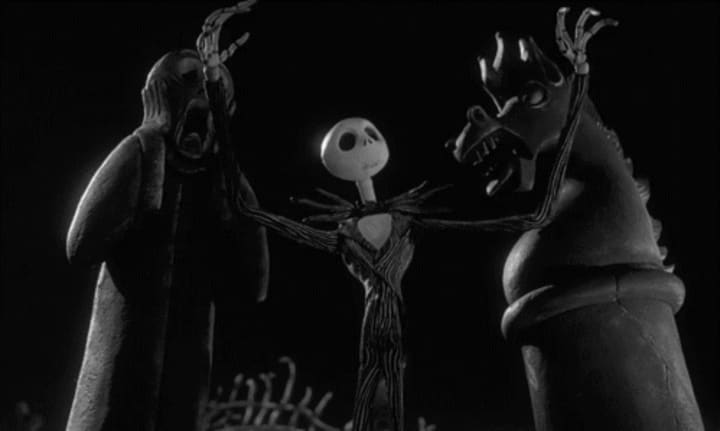 The Addams Family Intro/Theme Song
Theme songs for spooky shows are underrated for Halloween playlists, especially with the Addams Family. They're an unusual family all year around, but they fit in pretty well with your Halloween playlist songs! Don't forget to throw their theme music in for a pause to appreciate the best family to ever exist in television.
Not to mention, the more classic the song, the spookier it sounds (I mean, I think we can agree the muffled tones of 50's and 60's music creates that vibe, don'tcha think?)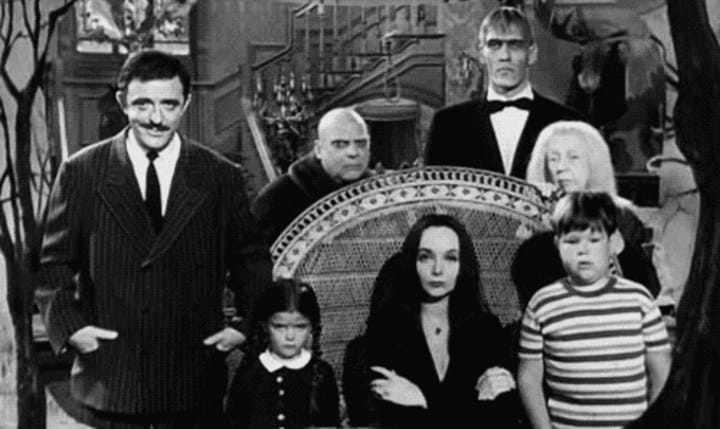 The Rest of the Playlist
The thirteen songs (because it has to be 13, everyone knows it's a lucky number!) listed above are just the start to your playlist.
Below, I have more goodies to add on, with videos to some of my favorites while others receive honorable mentions.
Alice Cooper - Feed My Frankenstein
Werewolves of London by Warren Zevon
Love Potion No. 9 by The Clovers
Dead Man's Party by Oingo
Fifth Harmony - I'm in Love with a Monster
Little Demon by Screamin' Jay Hawkins
The Munsters Song
Dead Man's Party by Oingo Boingo
Aim for the Head by Creature Feature
Haddonfield by Wednesday 13
Oingo Boingo - Weird Science
So whether you're throwing a bash for braindead bats or a pumpkin party for pretty princesses, these songs cover all your musical needs. From haunting tunes to dance-worthy swoons, you're bound to have everyone on the move. Don't stop dancing or making a scene for your ghoulish playlist on Halloween!
About the Creator
I write through the passion I have for how much the world around me inspires me, and I create so the world inside me can be manifested.
Mom of 4, Birth Mom of 1, LGBTQIA+, I <3 Love.
Reader insights
Be the first to share your insights about this piece.
Add your insights