The Other Side of Love with The Beatles: An Anti-Valentine's Day Playlist
Less 'She Loves You' and more she probably hates you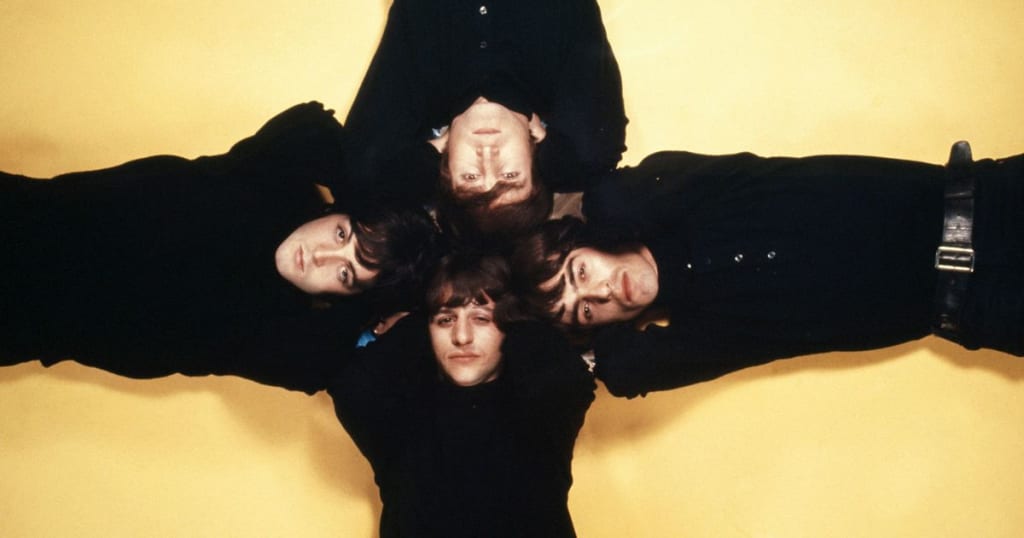 The Beatles became famous with their simple, saccharine tunes about love.
'I Want to Hold Your Hand', 'She Loves You', 'Love Me Do', and 'From Me To You' not only brought them fame, it also showed that few bands were better when it came to encapsulating the joyous feeling of love within the confines of a three-minute pop song.
However, even from the early days, they also showed themselves adept at capturing the other side of love.
The heartbreak. The pain. The confusion.
In fact, there are just as many songs in The Beatles' back-catalogue about love turning sour as there are about how wondrous romantic love can be.
That's why The Beatles are ideal for Valentine's Day.
If you're head over heels in love, it's not hard to create a playlist that will make your other half swoon. However...
If you're single, or if you're in full 'I hate this day' mode, then there's plenty of tracks for you. Songs that will remind you that 'love' very often sucks.
It's really not difficult to create a 'Beatles' Anti-Valentine's Day Playlist.' In fact, it'll arguably be the definitive 'Anti-Valentine's Day Playlist.'
Let me show you:
1. 'For No One' (1966)
The Beatles' early albums were full of energy, but lacked craft. However, by the time they created the majestic 'Revolver', Lennon and McCartney's songwriting was not only hitting its stride, but the band had begun to fully embrace the possibilities of the recording studio.
The irony was that, despite their experimentation, The Beatles at their best were also The Beatles at their most simple. And this is never more true with Paul's haunting 'For No One.'
It's a straightforward song about a woman who is no longer in love with a man. The only problem is that he is obviously still in love with her.
And it's killing him.
It's the perfect song for anyone who's ever been dumped, and watched their former partner carry on with their life as if nothing has happened.
You stay home, she goes out

She says that long ago she knew someone but now he's gone

She doesn't need him.
Words such as 'dead', 'gone', 'nothing', and - of course - 'no-one' are sprinkled throughout the song, emphasizing how little she now needs him. If you've ever been wracked with heartbreak, and asked yourself the question, 'Did I even ever matter to them at all?', then this track has been written for you.
If you're lonely this Valentine's Day, stick this song on, and have a brief reminder why being single isn't necessarily a bad thing. If nothing else, at least you don't have to endure the agonies of the man in this song.
2. 'The Night Before' (1965)
One of the joys of The Beatles is their dissonance: Sometimes, a song that 'sounds' incredibly sad is - if you listen to the lyrics - actually uplifting; conversely, some of their fastest, rockier songs are actually pretty bleak.
Such as 'The Night Before.'
It's the perfect companion piece to 'For No One', and yet again explores the confusion that comes with the end of a relationship, about those promises that were made but never kept.
Were you telling lies, the night before?

Was I so unwise, the night before?

When I held you near you were so sincere

Treat me like you did the night before
If you're looking to for a reason to avoid love, if you want to rebel against everything Valentine's Day represents, listen to this. And listen to it loud.
You might be single, but at least you're not being disappointed. At least you're not enduring those broken promises made on that metaphorical night before.
3. 'I'm a Loser' (1964)
If there was ever a song that captured Lennon's dichotomous psychology, it's this one.
Yes - technically, he's singing about 'losing' someone he loved - in that respect, he's literally 'a loser.' But - c'mon on - no-one's fully buying that.
The song is outwardly brash, yet - lyrically - full of self-loathing. It's John Lennon encapsulated in one song.
It also perfectly captures the self-hatred we feel when we lose someone we love due to the mistakes we made; we all feel like losers in the aftermath of a relationship that's imploded, even more so if we were culpable.
Especially when we know that our partner was special, different.
Of all the love I have won, and have lost

There is one love I should never have crossed

She was a girl in a million my friend

I should have known she would win in the end.
But... but...
We're not.
None of us are losers simply because a relationship failed. They fail everyday for a myriad of reasons. None of which make us 'losers.'
And there's 7.6 billion on this planet; despite what Lennon is trying to tell us, the simple fact is that no one is irreplaceable.
If you're feeling lonely, and need to be reminded of the nonsensical, psychological turmoil a failed relationship brings, stick this track on.
And firmly tell John, "No; you're not a loser. And nor am I."
4. 'She's Leaving Home' (1967)
This song is not directly about the loss of romantic love.
It's about a young girl running away from home. It primarily focuses on the parents' loss, their hurt, and confusion. They gave everything they could to their child, but it counted for nothing.
However, substitute 'parents' for 'partner' and you've got a song that is ideal for Valentine's Day. A little reminder that you can give everything, and still have it mean nothing.
We've all been there, willing to cross oceans for someone who wouldn't cross a puddle for us. And was it worth it?
She... (we gave her most of our lives)

Is leaving... (sacrificed most of our lives)

Home... (we gave her everything money could buy)
Ultimately, no.
If you need a reminder on Valentine's Day that effort isn't always either reciprocated or appreciated, this song is perfect. An extended exploration of why love doesn't always give in return what it takes.
Despite not actually being about relationships, it's arguably one of the most anti-love songs ever. The English poet John Donne famously said that "no man is an island." 'She's Leaving Home' shows us that sometimes being an - emotional - island isn't a bad idea; the less we give, the less hurt we receive.
And that's why this song is ideal for this playlist.
5. 'I'll Follow the Sun' (1964)
Another strangely upbeat-sounding song that is actually about loss.
But, there's a reason why I've chosen this to close the playlist; it hints at life after loss. You can wallow forever, choosing to remain under those metaphorical clouds of sadness whose rain soaks you to the skin, or you can follow the sun.
It's about moving on.
And, unlike 'I'm a Loser' or 'For No One', this songs turns the tables: Here, it's not about losing the person you knew was one in a million; in this track, you're the one, the special one.
Some day, you'll know

I was the one

But tomorrow may rain, so

I'll follow the sun.
You are the one you will be missed. And, one day, the other person will see that.
However, by the time they do, you've gone; you've followed the sun.
And that's the important thing. Not the love lost, but what happens afterwards.
No matter how distraught a relationship may make you feel upon its conclusion, life will one day be good once more. All you have to do is choose to follow the sun.
It's the experience of post-traumatic growth summed up in less than three minutes. And the joyous affirmation that happiness does not require romantic love. A truth you might need reminding of this Valentine's Day if you find yourself alone.
Just follow the sun; you'll be okay.
Not for the first or last time, The Beatles showed us that love is not always what it is so often, and so loudly, proclaimed to be. As brilliant as they were at crafting songs that captured the beauty of love, they never shied away from revealing its darker side.
The side that leaves you broken, spent, and wracked with misery.
That's why they're perfect for Valentine's Day.
Or even an Anti-Valentine's Day.
That's why I'm listening to John, Paul, George, and Ringo today.
And, as I do so, I'm making a conscious decision to follow the sun.
----------------------------------------------------------------------------------------
If you've liked what you've read, please check out the rest of my work on Vocal. Among other things, I write about film, theatre, and mental health: The story of my admission to a psychiatric ward, and my attempts to rebuild my life following my discharge, starts with 'Flow: The Psychiatric Ward.'
You can also find me on Elephant Journal and The Mighty.
If you've really liked what you've read, please share with your friends on social media.
If you've really, really liked what you've read, a small tip would be greatly appreciated.
Thank you!