The Noisy Ensemble of HEALTH's "DISCO4."
An Album Review by J.C. Embree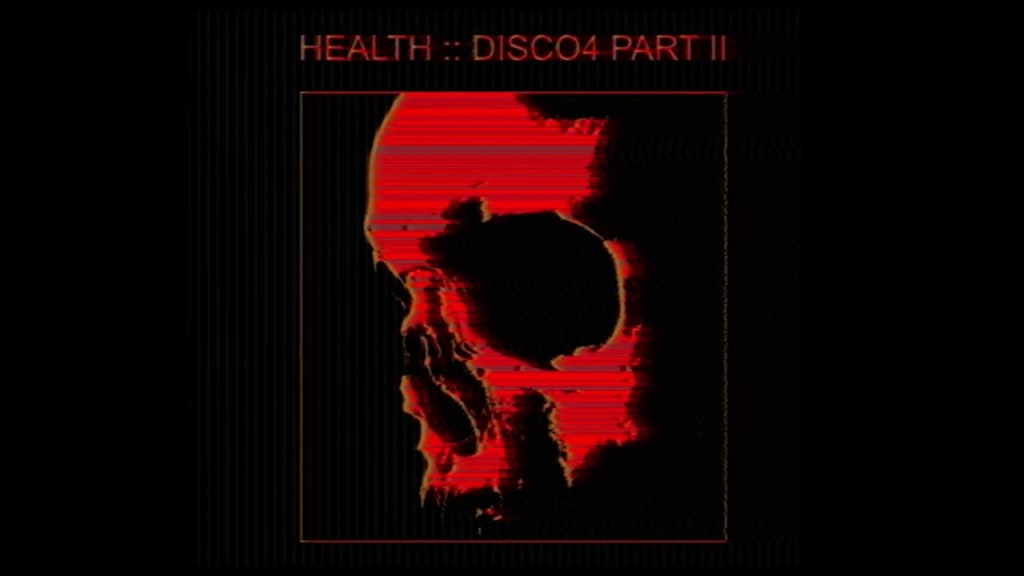 Synth/noise-rock band HEALTH have a new album, and it's an echo chamber with a myriad of voices in the realms of the obscure and the accessible, for both those who prefer the rough and the clean. You may know Health's sound, which weaves seamlessly between the industrial and the electronic (yet rarely strays from the chaotic) via their tracks in video games such as Max Payne 3, Grand Theft Auto, or Cyberpunk 2077 or perhaps their partaking in film/television such as Atomic Blonde or, strangely enough, 13 Reasons Why. But they should not be overlooked in terms of their listenability outside of those other mediums. They've released four albums prior to the two-part album that this article is about, ranging from the noise rock to EBM to pure synthpop with no distortion in sight.
I managed to discover HEALTH thanks to a Spotify ad for a new Lamb of God track a couple months ago, sometime between the first and second release of "DISCO4." A new single appeared to me in encouragement of Lamb of God's new music, and upon clicking I realized not only that it was truly a single by HEALTH, but that the single was composed of three tracks, each one with a new collaborator; the first title track was "COLD BLOOD" with Lamb of God, a band I'd enjoyed for almost a decade.
The other two collaborators, however, confused me a bit– one of them was the Nine Inch Nails, a band that has enticed me on some level since their Twin Peak appearance, but I didn't feel correlated to Lamb of God much at all. The other guest-musician was the internet-sensation Poppy. I hadn't seen or heard anything about that performer in years, and I only knew she existed via my coworker at an old job shoving their phone screen in my face and saying, "Look at this, it's so weird…"
Nevertheless I listened to all three tracks in time, and garnered an appreciation for all of them for different reasons. While I cannot attest to consistency in the Poppy-included song, the Lamb of God and Nine Inch Nails songs seemed to be as chaotic as ever, in both their distinctive industrial and/or groove metal ways.
But both of them manage to incorporate the unexpected, and this is where HEALTH really shines; whereas many bands collaborating on tracks, adding up likely to up to eight people working on a single song, these three HEALTH collaborations perfectly meld their far-ranging sounds to incorporate what levels of distortion or synth or clean vocals would fit the song best. "COLD BLOOD" is likely one of my favorite Lamb of God tracks these days.
Naturally I had to learn more about HEALTH. And the more I dug into them, the more I found they have a great deal of curiosity toward their craft, and while they have "safer" default sounds, they seem to be adamant in not sounding the same album to album or even song to song. This may explain why almost every track on "DISCO4" (both parts) features a versatile catalog of guests co-helming the song. Many of the artists I was already a big fan of (The Body, JPEGMAFIA, Ghostemane and Nine Inch Nails) many that I was merely aware of but was yet to explore (Xiu Xiu, Full of Hell, The Neighbourhood) and plenty that, while I was unaware of them, managed to not only identify themselves in their collaborative efforts but to be thoroughly impressive (Ekkstacy, Street Sects, Perturbator).
While I have not thoroughly researched every collaboration, it is worth noting that the ones I already loved and the ones I would later explore further all seemed to carry a consistency not in genre but in willingness; most albums I've listened to by these artists are distinct from the last in terms of genre and overall sound. Experimentality seems to be an agile way to get the attention, approval, and even the co-signature of HEALTH. They bring together bands that are willing to risk either making a bad album or at least losing people who demand consistency in sound. And while HEALTH show chameleon-like abilities in blending into songs of artists who all seem very different, I still believe one could listen to "DISCO4" and still have a good idea as to what the other HEALTH records sound like, and that's most simply put as a surreal balance between the rough grit of everyday life and the calming dreamy soundscapes that we retire to in our heads after a long day.
"CYBERPUNK 2.0.2.0.": for example, is as good proof as any to the unconverted that HEALTH doesn't need collaborative efforts to make quality music. Through an eerie hallway of neon synth we hear the voice of falsetto vocals echo through, creating a bizarre balance between the comforting and chaotic; part of the listener wants to relax, but they're too on edge.
And the rest of the album seems to pick and choose between those two settings of anxiety, leaning one way with Poppy, whose melancholic vocals on "DEAD FLOWERS" ring to thoughts of grief and mourning, or The Soft Moon's collaborative work on "COLORS" where the latter's electronic work descends the album from the assuredness of Jake Duszik's vocals into spiraling instrumentals only to be then greeted by The Soft Moon's harsh whispering vocalizing.
HEALTH is clearly disinterested in any label, but mostly just interested in everything on the spectrum of the experimental, the harsh, the absurd and blatantly insane. Some tracks are almost wholly on the increasingly versatile spectrum of hip-hop, such as the trap workings of Ghostemane, or electronic/synth workings over what sounds like standard lyrics from JPEGMAFIA; and other times they decide to play metal and grind, filling the spaces of their track with Full of Hell entirely with some level of distortion and contesting Duszik's vocals with The Body's Chip King on "AD 1000."
If there's any single thing to take away from this review, it would be that there is something on the two-part "DISCO4" for almost anyone. Fans of synthpop, electronic and EDM looking to get into harsher things may find this to be a great introduction, whereas fans of noise rock and grind may receive similar treatment when they'd like to slow down their tastes. And that's without mentioning the sheer obscurity of some of these collaborators, such as Ekkstacy and NOLIFE, both of whom leave the listener with samples of what may be to come in their growing discographies.