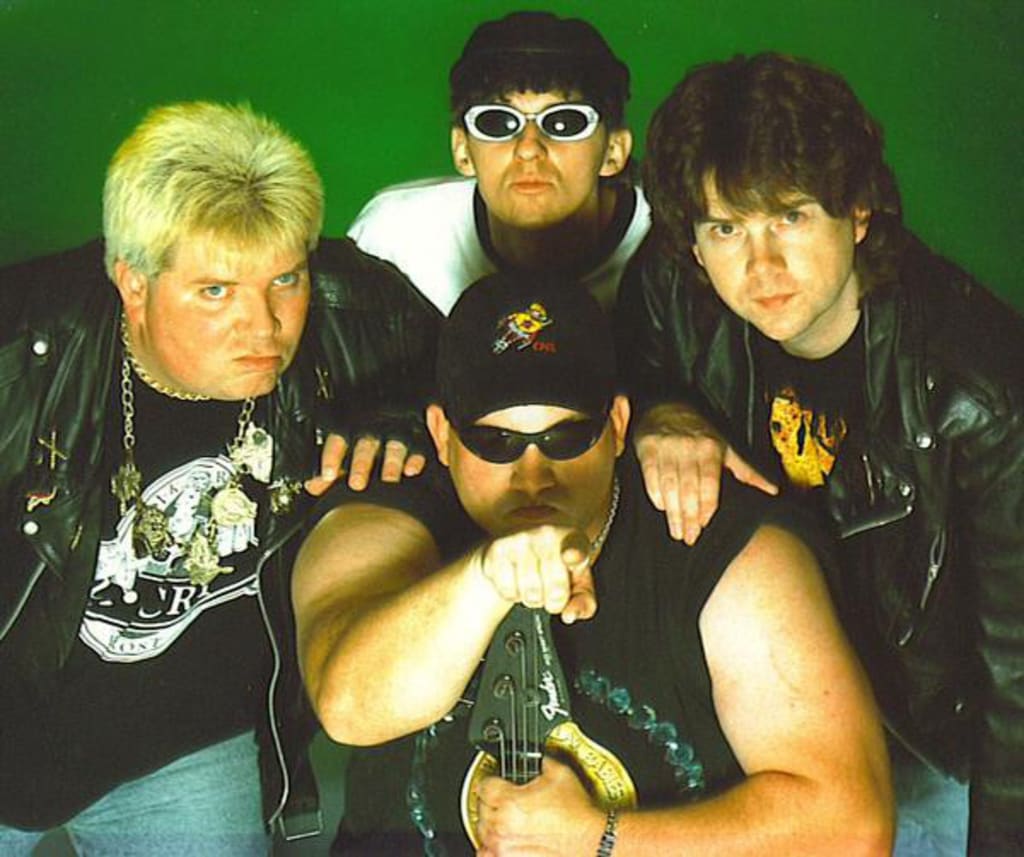 Sloppy Seconds: (L to R): BA, Ace, Steve, and Boba Jam.
I first saw "junk rock" punk rock legends Sloppy Seconds at the corner of Tenth and Bozart St in Indianapolis, in a neighborhood that was bad then and is undoubtedly worse now. That was at a rundown theater from the 1920s called The Emerson. I can't really ascertain if it is still there or not, but it went on and on for decades.
The event was the taping of a live recording, with an NFL photographer there to photograph the slam dancers, and, yes, I am the lone, little kid voice still singing the "Pop My Dick" song after everyone else has quit. And I got a tiny snapshot of me standing against the stage. (And Jerry, a black dude in a Bad Brains shirt that used to front a band called CHIN. We played with them once. He's in there, too.)
Those were the days of youth, back before heart disease, and the weight of decades of life conspired to crush fun out of my world. I never grew up "normal" I guess. But, that night, I was on top of the proverbial shit heap of the world, getting the hell beat out of me: stage-diving, slam dancing, dipping into a world I always suspected was there, but hadn't really experienced first-hand yet: the world of PUNK ROCK.
My friend, the one I went with, at least one of them, is dead now. Has been for years. Time is unforgiving; time marches on.
Last night I had a dream I was at a Sloppy Seconds show in a gym. It was virtually empty, except for a coterie of admirers hanging to the edges of the wall. Now, a lot of people are unaware that I do almost EVERYTHING based on dreams: writing, art, recording, the books I read, and the movies I decide to watch. I suppose that makes me a "surrealist." My psychiatrist just seems to think it means I need my meds upped.
What do I want to say about this period of my life? That I was stupid and never fit in, even with the "misfits" of punk rock? That Sloppy Seconds represents one era, one small window of time that seemed as if, realistically, anything was possible and the whole world spread out in front of me like a vast banquet of pizza and beer that would never end. But end it did.
Their music is poppy punk, like the Ramones (which they adulate, even having a song about the death of Joey Ramone), and their lyrics don't touch on the serious very often. They aren't exactly Crass, to be brief. They write about ice cream men, Zero Bars, pizza and beer, porn star Traci Lords, and their favorite Saturday Morning action shows. They are (or were) the fattest band I'd ever seen, and this was in an era when rock musicians were all expected to look like Axl Rose. You know, to quote one stand-up comic: a "skinny dirtbag in a leather jacket look." But not FAT. Not rock n' rollers.
But B.A., the singer, was living large. So was Boba Jam, the bass player. The drummer, Steve, was not HUGE, but no little thing, either. The only skinny fellow was the guitar player, Ace Hardwhere, and he replaced "Dr. Roadkill," a guy that weighed almost four hundred pounds I think. (A friend once commented that he thought the good Doctor quit the band just because he got "too fat to play.")
I don't want to come off as a pathetic guy still trying to live through the shadows of his former youth, like those old farts that still dress like James Dean or something. I'm curious what the appeal of punk rock was in 1995, 96, 97. Why did it explode again, along with the other aspects of underground culture (piercing, tattooing, unkempt and disheveled clothing) that had remained safely buried during the era of Reagan, "Family Ties," and Motley Crue? One has to shrug.
Did we see, or foresee, somehow, in the coming decades, that life would go online, terrorism would blow down and defeat the myth of American supremacy, or that there would be a wave of mass shootings to rival anything before experienced socially, and culturally? Was there some force, some psychic projection, into the dystopian future of Columbine, the Economic Crash, and Covid-19? We young ones must have realized that power was slipping from our grasp, that the future would be, to quote Ian McKaye, "the adult crash," in a way more powerful and real than many of us could conceive.
I should note that: As of 2022, Sloppy Seconds is still performing, according to their Facebook page. I should further note that one of the most definitive, beautiful things I have ever witnessed was a guy I know kissing his girlfriend right before the band started playing, right before the pit went into full swing. It was a moment I'll never forget; they could almost have been Sid and Nancy.
You can't go back again. Once time has moved on, it has moved on. Gone are the days when I could go to a Sloppy Seconds show, or any punk gig, and get the hell beat out of me for two hours. The EMTs would be carrying me out on a stretcher, I'm afraid.
Fuck the World (I'm Hanging Out With You Tonight)
The above line is actually from a song by The Queers. I can't hop into a time machine and have all the faces and memories come back to life for me. Some of those people are dead now, actually long gone. Many of those kids have grown up, traded in mohawks and leather jackets for suits, golf bags, and a home in the 'burbs, and don't want to look back on a time when they had purple hair, spiked wristbands, and a penchant to panhandle. Oh well. I have no choice. "He must go whom the Devil drives," and all that.
I rooted around for a few lyrics (uncertain as to how many I can post and get away with as far as "fair use") and decided that there is ONE song, and one song only that epitomizes Sloppy Seconds, their message, and the whole era for me. And all the faces that flit through an old man's mind at four in the morning.
It's called "Human Waste":
The World is a wasteland from Greenbay to Graceland,

There's no one fit to lead the human race.

And You all know that we are the throwbacks [...]

The ever-growing face of human waste!
Note: the above has been slightly edited because of a politically-incorrect term I'm not certain Vocal will allow me to use. I hear this song, and images, faces, sights, smells, and sounds come flooding back. Sweaty bodies, dirty leather, clove cigarettes, and spilled beer. And the memories of a generation, a time period trying to find itself. And failing.
Love and napalm, Tom B.
Sloppy Seconds - Human Waste
About the Creator
Author of Haunted Indianapolis, Indiana Ghost Folklore, Midwest Maniacs, Midwest UFOs and Beyond, Scary Urban Legends, 50 Famous Fables and Folk Tales, and Notorious Crimes of the Upper Midwest.: http://tombakerbooks.weebly.com
Reader insights
Be the first to share your insights about this piece.
Add your insights