Playlists
The 'List: 1978 (40 Years Ago)
A Look Back at the Biggest Hits 40 Years Ago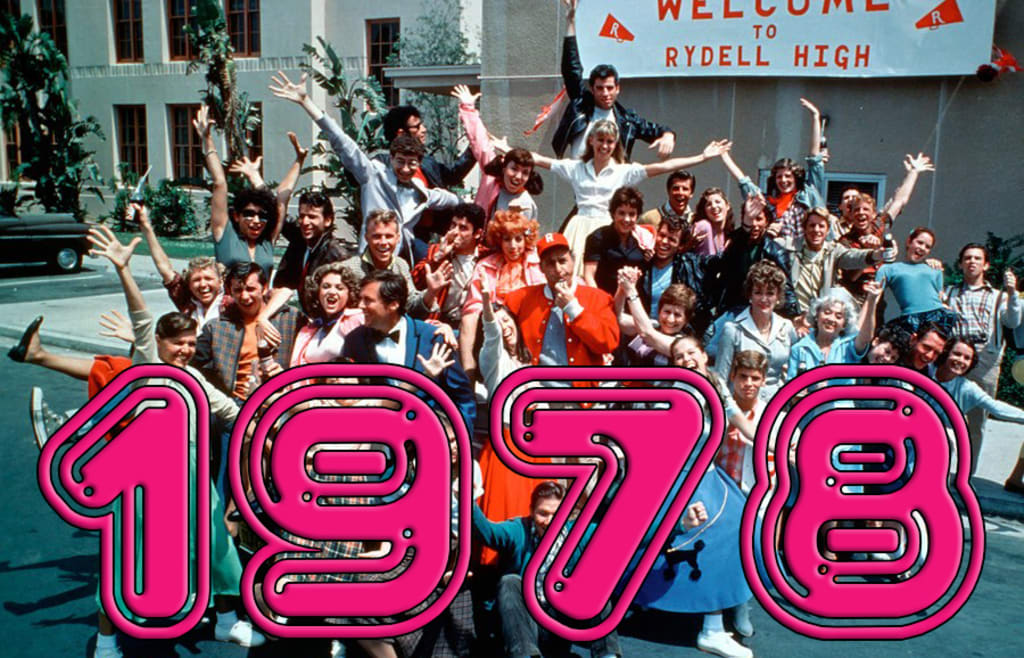 Hello, one and all, and Happy New Year.
So...we're now in 2018! We survived the first year of the Trump Administration, which, I will keep mum as to where we are headed with said presidency. In the meantime, I'd like to take a look back at the music that was popular over 40 years ago. Yes, as luck would have it, disco still reigned supreme on radio and on the charts, but the burgeoning of punk rock, as well as the rise of hard rock and metal and the massive popularity of country music crossing over, began to counter the era of bass and backbeat.
Three movies dominated the year: Saturday Night Fever, Grease and Halloween. The John Travolta disco movie was still going strong at the start of the year as the soundtrack ruled the airwaves until the late spring of the year. But, another John Travolta movie was poised to rule the summer and that was the film adaptation of the Broadway show, Grease, which co-starred then-pop princess Olivia Newton-John. The film's soundtrack would also trail the bestseller status of Saturday Night Fever and scored massive hits and cement John Travolta's movie star status. In October, a movie maverick named John Carpenter would scare the living daylights out of all of us with his shoestring budget horror masterpiece, Halloween. Actually, in December, the first official mainstream superhero movie was released. Superman: The Movie would break box office records in its initial release and create a star out of its lead actor, the late Christopher Reeve. But, there was a strong backlash and major controversy over a string of deaths involving youths who were jumping to their deaths out of windows. Many attributed the hysteria to young people who had seen the film previously and attempting to fly...only to have gravity tragically prove them wrong.
Other facts from the year:
David Berkowitz a.k.a. "The Son of Sam" was sentenced to life in prison for murder.
Serial killer Ted Bundy was captured that year.
Porn czar and Hustler magazine publisher Larry Flynt was shot and left paralyzed leaving a Georgia courtroom on obscenity charges. His life would be a Milos Forman film in 1996, starring Woody Harrelson and Courtney Love.
Cardinal Karol Wojtyla replaces Bishop Albino Luciani as Pope John Paul II when Pope John Paul I (Luciani) dies of a heart attack just over a month into his new role in the papacy.
The Space Invaders video game was incepted.
The "Atari" company revolutionized the home video arcade.
LGBT pioneer Harvey Milk was assassinated along with Mayor George Moscone in November by disgraced Board of Supervisors member Dan White, who would coin the phrase: "The Twinkie Defense."
Fads included Mexican Jumping Beans, Daisy Duke Jeans named after the popular Dukes of Hazzards character, 8-Track Tape players were waning in popularity as the advent of cassette players took over. Trans Ams and streaking (running into events in the nude) were still popular, but eventually faded as the year was up. Nerf balls and Pet Rocks were still a thing.
Kobe Bryant, Ashton Kutcher, Zoe Saldana, Katie Holmes, James Franco, John Legend, James Corden, Usher and last year's chart-topper Luis Fonsi were all born that year.
Other Popular Movies of the Year
Close Encounters of the Third Kind
National Lampoon's Animal House
Jaws 2
Damien, Omen II
The Buddy Holly Story
Dawn of the Dead
The Boys From Brazil
Invasion of the Body Snatchers
Heaven Can Wait
Star Wars Episode IV: A New Hope
Revenge of the Pink Panther
The Lord of The Rings (Animated Film)
The Deer Hunter
Midnight Express
Top Television Shows
Laverne & Shirley
Three's Company
Happy Days
Barney Miller
Alice
The Love Boat
One Day at a Time
Taxi
Eight Is Enough
Soap
60 Minutes
The Incredible Hulk
Charlie's Angels
CHiPs
Diff'rent Strokes
And now...for the music.
Cherry Picks.
The late one-time member of Fleetwood Mac left the group at the height of their initial popularity, but bandmates Lindsey Buckingham, Stevie Nicks, and Christine McVie added harmonies and arrangement to the song. It took a slow climb to its peak position at number eight on the Billboard Hot 100.
The Grease soundtrack gave us a can't-miss hit with this movie cover of the Broadway show song as told from the POVs of the musical's main characters, Danny Zuko and Sandy Olssen as Danny brags about "doing it" with Sandy on the beach, whereas Sandy gushes about the romantic day at the beach with Danny. The cast adds anecdotal questions about the date/fling. "Tell me more, tell me more..." It would be John Travolta and Olivia Newton-John's second hit after their number one duet together, the original song: "You're The One That I Want."
A sweet pop ballad by one the decade's guiltiest pleasures. It begins with a whistle and has a simple melody and hook before going all Broadway-style on us with a killer finish. One of many signature hits from the Brooklyn, NY native in the 1970s, which cemented his status as a hot act from said decade...which, for you all, can be either a good thing or a bad thing.
This band from Melbourne, Australia were known mostly for their rock hits and stadium rock aura. But, they would score their biggest hit with this jazzy pop change of pace record. It was a tribute to 1940's bandleader Glenn Miller.
The main hook was Raphael Ravenscroft's classic saxophone solo, but what always intrigued me was this was a song that barely had a title when I remember hearing it. Another question is who played the flute in the beginning of the song? Strangely, it's the sax solo that stands out in the entire song. The late Rafferty was the lead singer and guitarist for the UK rock band Stealer's Wheel and the lyrical content song was pretty self-explanatory: alcoholism.
Another enigma song that caused it's fair share of controversy, as many "short people" objected to the lyrical content of the song. Newman, who would score a top-3 smash with this novelty record made it very clear the song's irony and intended purpose: exposing prejudice. Eagles members Glenn Frey and Timothy Schmit sang backup in the bridge. Newman has grown into a prolific award winning movie composer since then.
A slow folk/pop song by the one-half of the popular 60s folk/rock duo Simon & Garfunkel. It would be his last top 10 smash of the decade. He would score another big hit in "Late In The Evening" in the 1980s from his movie debut One Trick Pony and win a Grammy for his 1986 album: Graceland.
The UK guitar god went top-3 with this blues/grass roots rock hit which was released on the RSO Record label which was home also to the Bee Gees and Andy Gibb, who were known primarily for their disco hits. Yvonne Elliman, who would also have a hit that year with "If I Can't Have You," sang backup vocals on this track. It's considered one of Clapton's signature hit songs.
This lilting synth-pop ballad would score McCartney's band Wings, their last number one of the decade. At this point, it's been debated if the band lineup had become a trio. But, McCartney's then-wife; the late Linda McCartney's backup vocals feature prominently.
The late disco queen from Boston, MA and my first ever pop idol would score two of the biggest hits that year: a cover of the Jimmy Webb song "MacArthur Park" made famous by Richard Harris, but this hot confection was the theme from a movie she starred in: Thank God It's Friday. It would be the only known disco hit to win an Oscar for Best Original Song — ever!
The one-time frontman for the 60s pop/doo-wop vocal group, The Four Seasons, would reunite with his group briefly in the 70s, but he would score two number one solo hits. In 1975, it was with a ballad called "My Eyes Adored You." His final solo number one was this Barry Gibb (Bee Gees) composed hit for the popular smash musical movie of which its title comes from. Interesting fact: director Randal Kleiser hated the song and still does to this day!
The Bee Gees would also see younger brother, Andy, score a string of big hits, many of which were composed by his older brothers, Barry, Robin and Maurice. This would be his last number one smash and his biggest chart-topper to date. Sadly, when disco became a passing fancy, Gibb found it hard to transition to a more mature sound in the 80s, along with the advent of new wave and MTV ruling the airwaves. He was the co-host of the hit show Solid Gold, but his demons and drug habit took a toll on his life and health. He would eventually pass away at the age of 30 in 1988: ten years later. Sad indeed.
This Richmond, KY band were big on the country music charts, but never made a dent on the pop charts — until they changed their sound format to soft rock and landed the year's biggest smash with this disco-ey/soft rock ballad. It would stay atop for seven weeks and, also, be their last official smash hit ever. They are still active and tour, despite numerous band lineup changes.
With soft rock still scoring as a music genre, this L.A. band ran the gamut of changing their rock format numerous times, until this ballad finally gave them their first paydirt hit. A song told from the POV of a man who runs into his old lover and admits to still holding a torch for her. Hey — it was the 70s! Sensitivity it seems has been outlawed into today's pop music!
And finally...
The Saturday Night Fever craze had reached its peak with this smash disco classic as the Bee Gees had their biggest and longest-running number one hit with this hit. They would score three more number ones in 1979: "Too Much Heaven", "Tragedy" and their final one, "Love You Inside Out," as the 1980s basically froze them out and they wouldn't have another top 10 until 1989 with "One," not to be confused with the Metallica hit of that year.
But...the time machine isn't ready to return us home yet!
Honorable Mentions
This NC native had a one-hit wonder disco smash with this empowerment anthem which preceded Gloria Gaynor's hit song: "I Will Survive" and has been a staple in many Gay Pride Parades since.
The Swedish super group's last official top ten hit of the 1970s as the 80s drew near and proved uncertain if they would make a dent. They disbanded in 1982...and we've been waiting for the reunion ever since!
Another sweet lilting R&B ballad that rumor was — was inspired by Lionel Richie's father's passionate love for his wife (Richie's mother). It was the Tuskegee, AL group's first number one.
The greatest rock band out of the UK (second, of course, to the Beatles) had their last number one of the decade with this rock/disco ballad. Apparently, many rock artists dared to test the disco waters...and some scored (like this one), while many didn't. At least, those who were fearless enough to try.'
Lastly, a song that brought two female members to the forefront of the disco era as one played electric guitar and the other bass (Janice Johnson and Hazel Payne). The song was a true story about their mistreatment at a USO performance where the soldiers leered at the female musicians and balked at a "disco act" opening for them.
To a prosperous and happy year in 2018!
Happy New Year 2018!