The Lijadu Sisters
The Obinrin (women) of Afro-beat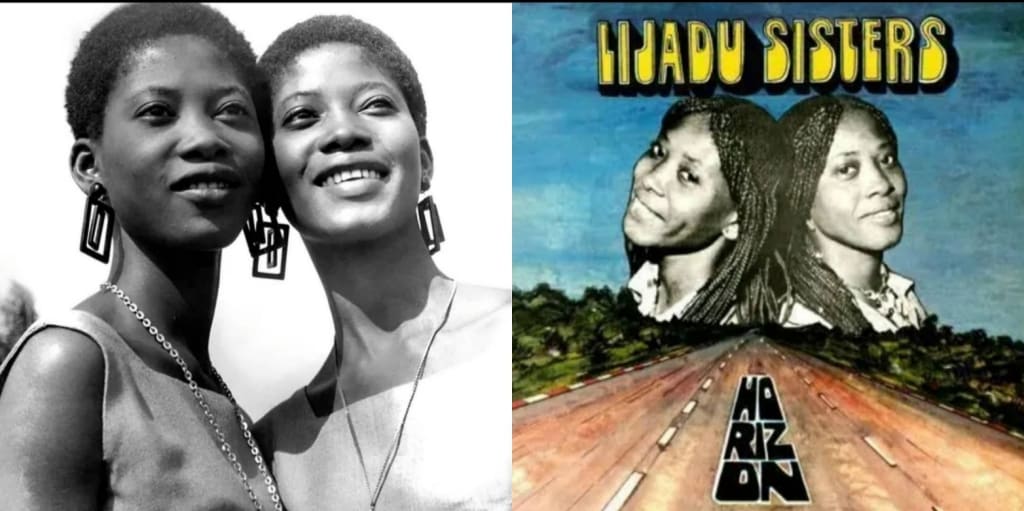 Taiwo & Kehine Lijadu (Photo Pade Aladi) 'Horizon Ulimited' 1979 album cover
Lijadu Sisters
If you have never heard of them or their music and you enjoy African-influenced beats, then you have missed something. Before Davido, Burna Boy, Niniola and Yemi Alade there were the trail-blazing Lijadu Sisters who blew up Nigeria and the wider world with their late 1960s and 70s Afro-funk/beat/acid fusions blended with reggae and soul.
Kehinde and Taiwo Lijadu, identical twins were born in Jos State Northern Nigeria in 1948. They loved to sing off the bat, encouraged by their mother Adelaide who bought records of consummate artists like Ray Charles, Aretha Franklin and Miriam Makeba. For Kehinde and Taiwo there were no limits to their music listening palate, their mother encouraged this.
They grew up in the city of Ibadan where HighLife music filled the streets and marketplaces. The sisters continued testing their voices and range, playing with harmonies and rhythms, this was their unwitting rehearsal ground.
Beginning their career as popular studio session musicians the inevitable happened when The Lijadu Sisters released their breakthrough single IYA MI JOWO/JIKELE MAWENI 1969 on the Decca Label. This also became the title of their first album, laced with iyere-peppeh Nigerian funky style rhythms and talking drums. The Lijadu Sister brand took off.
The career of the sisters was guided and influenced by mega-musicians and fellow Nigerian artists such as trumpeter Victor Olaiya, saxophonist and bandleader Orlando Julius, music producer Lemmy Jackson and bandleader and Afro-beat architect Fela Kuti also their cousin. Fela's fabulous Africa 70 Band at one time included infamous Cream drummer Ginger Baker who also influenced their international career.
Lijadu Sisters key music period was between the late 60s and 80s with 6 album releases, worldwide appearances, collaborations and exposure. They were not afraid to use their music to highlight societal, political differences and power imbalance. In 2014 Kehinde stated during a Lijadu Sisters documentary (Lijadu Lessons) "I will forever be the mouthpiece of those who are oppressed worldwide" One of their songs 'Erora' which featured on their 1979 'Horizon Unlimited' album, speaks distastefully of wealthy elitism in their country. The song laced with irresistible African percussion builds to a steady crescendo as if to drive the point home. The sisters were vocal in their life and songs about the disparities between men and women and they challenged traditional roles and expectations of women.
Love songs of course are an important part of Lijadu repertoire whether love songs to their parents, their country, for that special someone or to God. The sisters sang in English but also brought to life the beauty of their mother tongue, Yoruba as well as other Nigerian dialects.
The magic was not only in Lijadu music, the sisters' presence was beguiling, flirtatiously free, and they were stylish fashion trend-setters who wore impressive identical outfits.
Taiwo and Kehinde moved to Brooklyn in the late 80s deciding to live a more private life, releasing their last single in 1997. In later years they made featured appearances. Their Brooklyn home, an African shrine away from home was bursting with cultural and spiritual artworks, large-framed photos of their beloved 'mama' other family members and memorabilia of their amazing career.
On the 9th November 2019 Kehinde sadly died following a stroke, she had previously been diagnosed with breast cancer. She was 71 years of age. Taiwo, now one, on the day of her twins' burial and church service she performed her sisters last rites wearing the same outfit as Kehinde for the last time.
The Lijadu Sisters name stands firm with the names of cream of the crop Nigerian Afro-beat pioneers and innovators who of course are men. These were young women who relentlessly pursued their calling in the male-dominated African music industry of the late 60s and 70s!
Their voices singing in tight unison or harmony framed with ancient West African instruments to modern bold synthesiser liks is their legacy and imprint on the world. This music has always been known to those who know even with a sampling from NYC rapper Nas (Life's Gone Low Nas 2007 sampled from Lijadu Sisters 1976 track Life's Gone Down Low)
They have laid a shining pathway for Nigeria's plethora of female artists to follow, let alone the wider African continent and those inspired globally by The Lijadu Sister's music. But, it appears that their legacy and contribution is dimmed. On 'Googling' Nigerian female pop singers the Lijadu Sisters names do not appear in the primary selection or in the Wiki 'Nigerian Female pop Singers' or 'Nigerian Female Singer-songwriters' categories. Seems some redressing is in order!
Discover or revisit the Lijadu Sisters music and enjoy. Dance even!
(14) The Lijadu Sisters - Life Is Gone Down Low - YouTube
(14) Lijadu Sisters - Erora - YouTube