The Intersection of Black Femininity and Queerness
13 artists to add to your playlist this Pride Month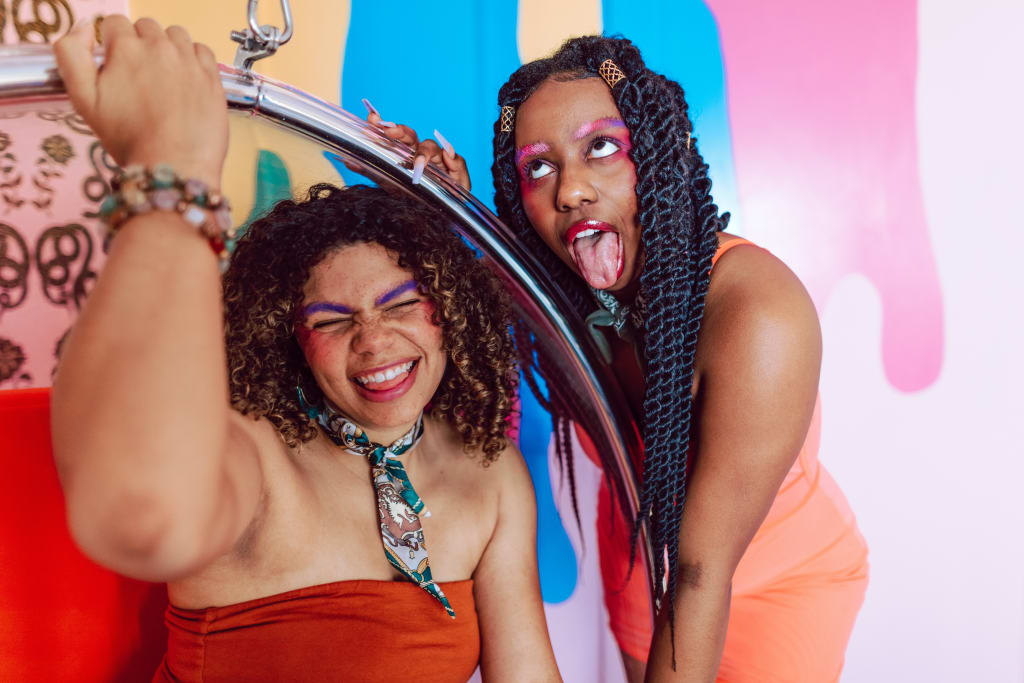 Photo by RODNAE Productions on Pexels
I grew up curious and queer. Out of place amidst the expectations of a violently heteronormative and denominational country. When I got accepted to attend an all-girls secondary school, I distinctly remember family members joking: "Don't become a lesbian. We'll disown you." Haha, super funny. This was the early 2000s when being a member of the LGBTQIA+ community was still something you whispered about in hushed tones and hid relentlessly from your family and friends. There was virtually no queer representation in the media and even less so for those who happened to be queer and black (at the same time!).
Black women are underrepresented in the music industry and frequently pigeonholed in musical genres labelled by the general public as "very black" or urban (which is the politically correct way to say " very black" in the music world). They are subject to harsher criticisms than their white peers, and this treatment becomes worse the darker the shade of their skin. In music, we are generally quicker to accept white mediocrity than black mediocrity; black musicians must be excellent while we accept and praise "just okay" for their white counterparts. Moreover, music about black women often casts them as undesirable, loud or hypersexualized objects for the use and disposal of the male gaze. Today, I thought we'd circumvent that path by highlighting the music of some of my favourite artists who are not only superbly talented but are also innovators for the representation of black femininity in the LGBTQIA+ community.
Rhythm&Blues
I adore R&B. I grew up consuming the genre and would frequently spend Sunday evenings listening to a local radio show that held a call-in section, allowing listeners to request R&B songs for their significant others. Typically, these songs focused on male-female love, which I didn't hate as a bisexual woman, but it always felt like at least half of my experience wasn't present in this music. Please find enclosed the queer trailblazers leading the charge for a redefinition of the genre of R&B to be inclusive of different voices. It is refreshing to see women singing about love, heartbreak and the joy of loving other women.
1. Tiara Thomas - I Need
No, there's no coming out story. I live in my own world and I've always done what feels good for me. When I was in kindergarten, a girl named Jasmine kissed me. I liked it. That, "Hmmm I liked that" was my first memory of crushing on a girl. But I've dated men and liked that too.

- Tiara Thomas, Billboard
Tiara Thomas is an American R&B singer who's criminally underrated. Despite winning both a Grammy and an Oscar this year for her work on H.E.R.'s Song of the Year "I Can't Breathe" and for co-writing "Fight For You" from critically-acclaimed film Judas and the Black Messiah, people don't rave about her enough. Her music is incredible, and there's not one skippable song on her FWMM album. While her music often features themes of love and attraction towards both men and women, she is adamant about not labelling her sexuality for fear that it takes precedence over the quality of her music. And her music, to reiterate, is absolutely amazing! Couldn't recommend it enough. Here is my current favourite song from her FWMM album.
2. Kehlani - Serial Lover
"cuz i keep geddin asked.. i'm queer. Not bi, not straight. I'm attracted to women, men, REALLY attracted to queer men, non binary people, intersex people, trans people. lil poly pansexual papi hello good morning. does that answer your questions?"

- Kehlani
Kehlani is an American R&B singer from Oakland, California, previously a member of the group Poplyfe which placed 4th in the 6th season of America's Got Talent. I'm going to run out of adjectives for describing music very quickly, but I adore Kehlani's music and my favourite song changes daily. Her latest album, It Was Good Until It Wasn't, is such a mood and decidedly unskippable. Kehlani identifies as queer and has expressed love for men and women. Her songwriting reflects that. She has spoken at length about the backlash that she received regarding her gender expression because she had a baby with a man. But her music heavily promotes the fact that love is love (is love is love!) and doesn't need rigidity and rules.
3. Jamila Woods - Blk Girl Soldier
I think the most important thing, especially for artists from marginalised communities like artists of colour or queer artists, is for there to be as much authentic representation as possible.

- Jamila Woods, Loud and Quiet
Jamila Woods is an American R&B/Soul artist, poet and activist hailing originally from Chicago. She is openly queer, and her music is peppered with narratives about love, beauty, race and the experiences and hardships of black women. She sings about self-love, loneliness, pain and inner strength. Her music is a song to my soul. It feels like a chill Sunday night, tucked in bed with a glass of wine and a great book. Perfect.
4. Oya Noire - Slow Down
My goal is to become a queer icon and use my platform to encourage people to love being who they are. I want my audience to use self-expression with everything they do as I showcase my love for beauty, fashion and music.

- Oya Noire, Voyage LA
Oya Noire is a gem I discovered recently when Spotify randomly shuffled to recommended songs. Thank the heavens it did! I'm still making my way through her excellent discography two weeks later. She is a Haitian-American R&B artist and a self-proclaimed queer icon. Oya is a lesbian, and her songs focus specifically on sapphic love. She has the voice of an angel, and her music is reminiscent of older R&B. It is soulful, heartfelt and makes me feel all the feelings (sorry, it's 5 AM when I'm writing this, and words escape me). I highly recommend taking a deep dive into her music. Here's my newest love, "Slow Down."
5. Kelela - Better
Instead of you defining it, it's me defining it, yeah. As a queer black woman, it means the world to me, because I've experienced what it feels like to be a queer black girl growing up in the US. So all I'm thinking about when I write is - is it gonna be a safe thing for them to sing? Can they get in their car on a shitty day and sing this song and feel really good about it? That is basically what I'm trying to make sure of - that even when it's sad, it's really empowering somehow.

- Kelela, The Quietus
Kelela has been on my radar for a very long time, and I wish more people knew about her music. She is an American artist whose music incorporates elements of pop, EDM and R&B. It's challenging to describe her music with one particular genre as her sound is so multifaceted. She openly identifies as queer and has previously spoken about the struggles black women in the LGBTQAI+ community face in the music industry. I would describe her style as very eclectic, surprising (but in a good way) and consistently enjoyable.
Honourable mentions: Asiahn, Kaiit, Tanerélle, UMI, Kaash Paige
Here's a playlist containing some of my favourite R&B songs by these artists:
Rap
Rap has historically been a boys' club. Even with the breakthrough success of the likes of Lil Lim, Nicki Minaj, Eve and the recent explosion of figures like Megan Thee Stallion and Doja Cat, it still is. An air of hypermasculinity continues to permeate the genre, and attempts at incorporating LGBTQIA+ messaging have been met with ire and apprehension. What's more, with the newest crop of rappers, there are very few mainstream queer female voices.
6. CHIKA - Industry Games
CHIKA is an American rapper, poet and actress, originally from Alabama. Another recent discovery of mine, thanks to a Spotify shuffle. Seriously, Spotify shuffles save lives. She has such an interesting sound and is an incredibly talented rapper. No shade to some mainstream female rappers, but I do not understand why she doesn't get half the credit they do when she's just as talented. CHIKA's debut EP, INDUSTRY GAMES, is immaculate. Every single song. Her flow and voice are so memorable. She identifies as bisexual and incorporates aspects of her sexuality into her sound. Highly recommend.
7. Angel Haze - Weight
Angel Haze is an American rapper and singer and has been out for a while. I think she was one of the first black, queer rappers that I ever listened to. Haze has openly identified as pansexual and agender for many years (but prefers the pronouns he/she versus they). I loved her music when I was younger and have only recently started getting back into it. She has such a unique sound and bars for days! Her song "Werkin' Girls" brings back so many memories. I remember belting this at the top of my lungs in my room and feeling like every bit of the bad b*tch I was. But that was eight years ago, so here's a link to her latest single, "Weight," which is also incredible.
8. Dai Burger - Vitamin P
Dai Burger is a rapper from Queens, New York. She is openly queer and often raps about sapphic love and sex. I'll admit it was jarring to hear a female MC rap so unabashedly about sex with other women because I'd never heard that before. It was simultaneously surprising, exhilarating and empowering. Her sound is very dynamic, and her style drips with charisma. I never know what to expect from her, and it is so much fun working my way through her discography.
Honourable mentions: Quay Dash, Siya, TT The Artist, Syd
Here's a playlist containing some of my favourite rap songs by these artists:
Rock and Indie Pop
Not only are the genres of rock and indie pop predominantly (though not exclusively) heteronormative, but they are also overwhelmingly white. Space is hardly made for black, straight artists, much less queer ones, which sucked because these genres represented most of the music I actively consumed as a young adult. Growing up, I would've loved nothing more than to see a black girl with colourful hair and crazy, dramatic makeup belting her heart out to an insane guitar riff. It didn't happen for me as a kid, but I am so grateful and happy that we live in an era where young black girls can see representation like that on stage within these genres. Here are my top picks.
9. Meet Me @ The Altar - Garden
I first discovered this band by chance on Twitter a few months ago and haven't stopped listening to their music ever since. They are a pop-punk band comprising three women of colour, two of whom identify as gay. Not only are they slowly breaking down all manner of racial and gender barriers in the pop-punk scene, but their music is also incredible, and we need to talk about it! Their sound is fun and upbeat. Their style is vibrant, loud and colourful. When I listen to Meet Me @ The Altar, I'm instantly taken back to the early 2000s Fall Out Boy-Avril Lavigne-Paramore-esque era (which was the best era!). It feels like nostalgia but also oddly like the future. It's so difficult to describe, but you should definitely check them out!
10. Big Joanie - Fall Asleep
Big Joanie is another recent find for me. And when I say 'recent,' I mean yesterday. One of my Daily Mixes on Spotify contained a song by them, and although I haven't had time yet to fully explore their body of work, I felt the need to include them on this list. They are a British queer punk band consisting of three black women formed in 2013. Their music (at least the few songs I've listened to) is laden with messages about feminism, blackness and navigating difficult circumstances while remaining true to who you are. I'm so excited to hear more of their music.
11. WILLOW - Wait a Minute!
I've been a fan of WILLOW since "Whip My Hair" (if you know, you know), and I am so excited by the pop-punk turn that she's decided to take in her music recently. It's edgy, colourful and suits her overall aesthetic. It's also very, very good. Willow has spoken at length about her bisexuality and the importance of self-acceptance and embracing who you are. Her new music reads as an extension of these ideals, and I'm going to be honest, I'm a little obsessed with it.
12. Arlo Parks - Black Dog
Arlo Parks is my favourite artist at the moment. Her album Collapsed in Sunbeams is a masterpiece; there's not one song on there that I'd skip over. She is a British singer and poet. Her music is a tad difficult to pin down in terms of genre. I considered chucking this into my R&B category, but it's so much more than that. Arlo's sound is unique and strikes me as a mixture of Indie Pop with some elements of R&B and Folk. She is openly bisexual, and many songs on the album revolve proudly around the love of women. Her voice is stunning, and I can't recommend her music enough.
13. Joy Oladokun - Sunday
Joy Oladokun is an American singer originally from Arizona. Like Arlo Parks, I also had a hard time deciding what category to fit her music in and similar to the conclusion that I came to with Arlo, it's complicated. It's R&B but not really R&B, Pop but not exclusively Pop, Indie but not fully Indie. Whatever it is, it's fantastic! Her latest album, in defense of my own happiness, dropped this morning (literally), and it's already on the rotation. There is something so refreshing, joyous and beautiful about her sound. She identifies as queer, and the themes that run throughout her work reflect this. She speaks about blackness, queerness, family and love. Her work just does something to the soul.
Honourable mentions: NANí and Kendall!
Here's a playlist containing some of my favourite rock/indie-pop songs by these artists:
Closing Thoughts
To get in front of the brimming objection that at least one person reading this will make: blackness and queerness and the intersection of the two matter. Music is beautiful storytelling and reflects the world that we live in. If we consistently see messaging from only one group of people, then that narrative becomes the only one dominating the media. Intersectionality in music calls on us to consider the overlapping identities that influence people's enjoyment of life at any point in time. I am a queer person, even if it's still tough to say that out loud sometimes and impossible to admit to my very religious family. I'm also a black woman, and growing up, I would've loved very much to have seen people that looked like me and identified as I did in music. I consider myself blessed now that I can. I hope you enjoy the music that I shared here (I certainly do) and add at least one of these artists to your Pride Month playlist!
---------------------------------------------------
If you liked this post, please be sure to like this post! If you're able to leave a small tip, it'd be greatly appreciated and also, feel free to check out some of my latest stories. I recommend starting with this one:
playlist
22 years old literally, about 87 at heart. I write about self care, university life, money, music, books and whatever else that piques my interest.
@laqueshabailey
Receive stories by Laquesha Bailey in

your feed