The Infamously Gaudy, Glossy, and Glamorous Era of Pop Music
Second Place in Musical Decades Challenge
In a time of MySpace and indestructible Nokia phones, pop music came into its own.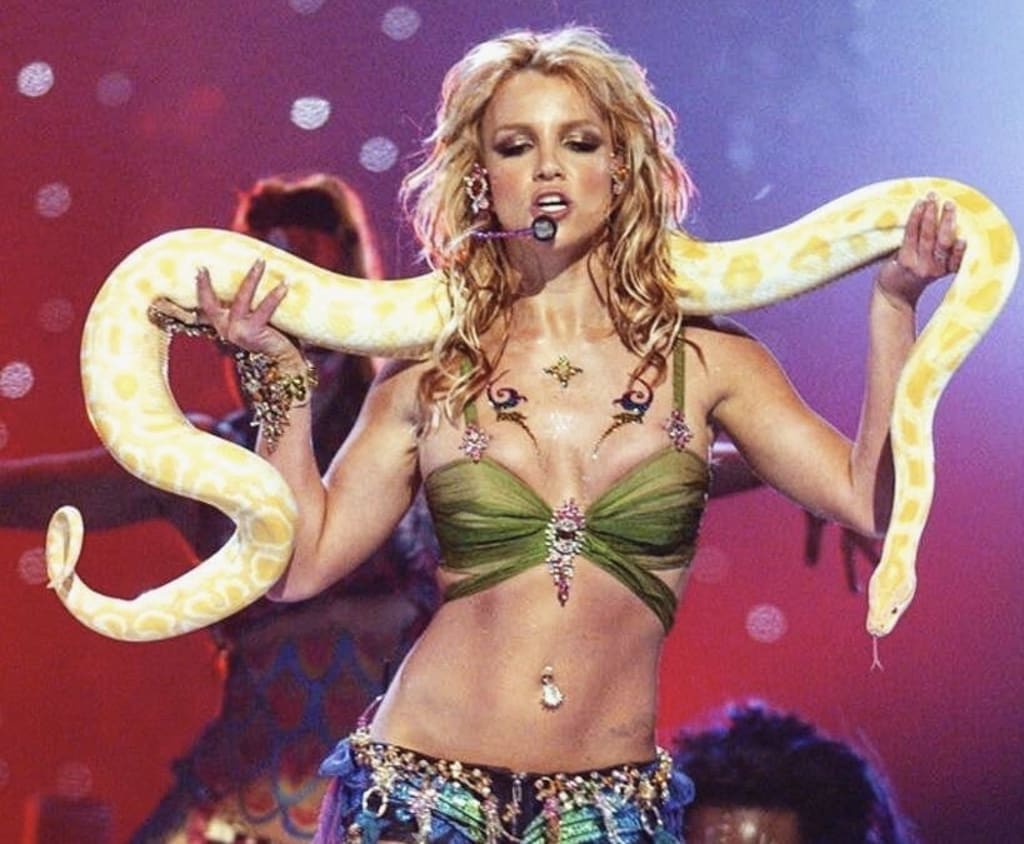 Britney Spears at the 2001 VMA's, photo by Kevin Kane
It's 2009. You French kiss your middle school crush Alex for the first time while Usher's "Love in This Club" blasts from his family desktop's crappy speakers. On your walk home, you play "Fergalicious" on your hot pink iPod Shuffle. Later that night, you watch the music video for this song called "Paparazzi" by Lady Gaga with your best friend. Honestly, it's pretty weird, but you like the song anyway.
Critics and fans alike often trash on the 2000s for being, well....trashy. But songs like "Disturbia", "Hips Don't Lie", and "Chasing Cars" remain the soundtrack to some of our best (and worst) coming of age moments. I mean, I can name at least 3 people off the top of my head who I remember consoling as they cried to "Bleeding Love" by Leona Lewis. Yes, it was usually about a boy with cystic acne who hadn't discovered deodorant yet, but the point still stands. These songs, while they may seem cringey to some, are often masterpieces in their own right.
Let's be clear on one thing: the 2000s were major for the world of pop music. In the 90s, we had Spice Girls, Destiny's Child, and TLC (just to name a few) who paved the road for the pop girlies to come. But it was the 2000s where both groups and solo acts alike really went all out. It became about the experience of a song, not just the notes and lyrics. Music and performance art finally exploded in a head on collision of glitter and low rise pants.
When I say performance art, I mean performance art. We all like to clown on Lady Gaga for the meat dress, and the Kermit the Frog dress, and then the unbrushed wigs, but let's not forget how she absolutely ate the 2009 VMA's up. Vocals, choreo, storyline, set design, light gore but make it sexy -- she raised the bar into heaven when she did this. Regardless of this performance in particular, you have to be kidding yourself if you think "Paparazzi" was not the most iconic song of the decade. Dare I say, even the century.
Lest we forget the niche pop bops that still play in your local Michael's Art and Craft stores. I'd like to bring V V Brown's "Shark in the Water" up to review as well. To me, this is one of the most pivotal intersections of pop music and teen television. Every mildly depressed 90s baby had a Degrassi phase at one point, and rightfully so. While Degrassi may have been the precursor to Riverdale, and while "Shark in the Water" may not have been on the playlists for middle school dances, the concept stays unmatched.
This video even circulates on Twitter every 3 months at least, with some variant of the caption "the summer this released was the best summer ever". Even the comments on the YouTube video consist of people lauding this as the best TV promo of all time. "Shark in the Water" being played every 45 minutes on Teen Nick truly molded an experience for thousands of people. This intersection of music and TV marketing was so good for both the song and the show that V V Brown, who was previously an underground artist, received gold status for the song in both the US and France. The episode "My Body is a Cage" from this season of Degrassi won a Peabody Award, and was nominated for both a Creative Arts Emmy Award and three Gemini Awards.
Beyond live performances and television promo shorts, the 2000s were the medium for some of the most iconic music videos to this day. I remember the modern fairy tale diatribe that was the music video for "You Belong with Me" by Taylor Swift and gagging at that little dress she had on. Where would we be as a society if not for Vanessa Carlton's absolutely meme-worthy "A Thousand Miles" music video? And while we talk about meme-worthy, I still wake up in a cold sweat with nightmares about Evanescence's "Bring Me to Life".
I would say Beyoncé's music video for "Singe Ladies" is arguably one of the best music videos to date, but I don't really want to hear anyone arguing against me here. So Beyoncé's "Single Ladies" music video is the best music video to date.
Beyoncé has been absolutely unmatched as both a musician and as a visual artist, and "Single Ladies" is the epitome of her iconicism. In a decade of big budget music videos with over the top special effects, dozens of wardrobe changes, and brand sponsorships, Beyoncé really said, "I'll give you a music video." She gave us minimalist wardrobe without being boring, gave us choreo without feeling forced, and worked the hell out of that black and white filter. A lot of the pop girls could never. To this day.
Coming out of the 90s and still keeping it cute was a struggle for a lot of 2000s musicians. We saw way too many thongs on way too many red carpets. Way too many jeans layered underneath skirts. Way too many paperboy hats.
The undisputed style icon of the decade? None other than Britney, bitch. She made any outfit work for her, from her infamous t-shirt reading "DUMP HIM" across the chest, to her vibrant velour sweatsuits. Britney, unlike others, didn't need to constantly be covered in glitter or elaborate costuming, hair and makeup. Even on the album art for "Oops!...I Did It Again", Britney goes light boho with a matching linen set, beachy blonde waves, and flawless everyday glam makeup. With a song like "Oops!...I Did It Again", it would have been so easy to go low rise vinyl skirt and faux fur jacket, overly glossy pink lips, pin straight blonde extensions, and diamond accessories. But our 2000s pop queen Britney knows the golden rule of "Less is more. Sometimes."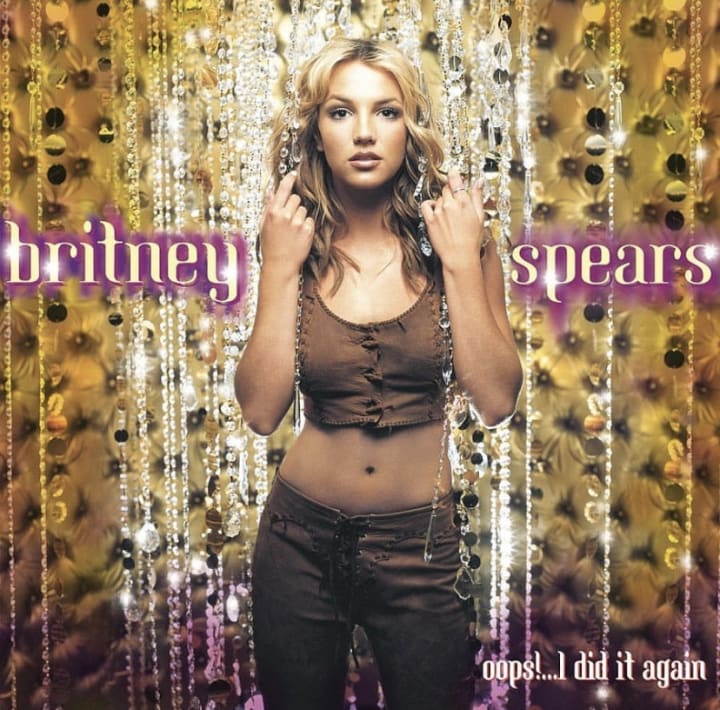 Call it what you want: shallow, bland, processed, over the top, manufactured hits. But I'd be hard-pressed to find a single person on this planet who didn't make a memory to "Beautiful Girls" by Sean Kingston or "Love Song" by Sara Bareilles. If you bought from Hot Topic, maybe it was a Fall Out Boy track for you. Or maybe you were more of a Plato's Closet practical cute so it was The Yeah Yeah Yeahs for you. We may look back at the lyrics or outfits of this musical era and recoil, but the blueprint that artists the 2000s laid is still in action for musicians even in 2020.
No matter who you are, if you were born before the year 2000, there's a song from these 10 glorious and gaudy years that speaks to you in some way. That reminds you of your first love or old friends, mall dates or nights home alone. Maybe you find yourself now grown up with a real job still watching old Xtina music videos on YouTube just to feel something. For me, I have a whole Spotify playlist labeled "TAKE ME BACK!!!" with bops from Katy Perry, Kesha, Avril, and Rihanna. That's the beauty of 2000s: music that you can touch, feel, see, and listen to, whenever, wherever, and whoever you are.