The Firebirds
The UK's hottest doo wop group!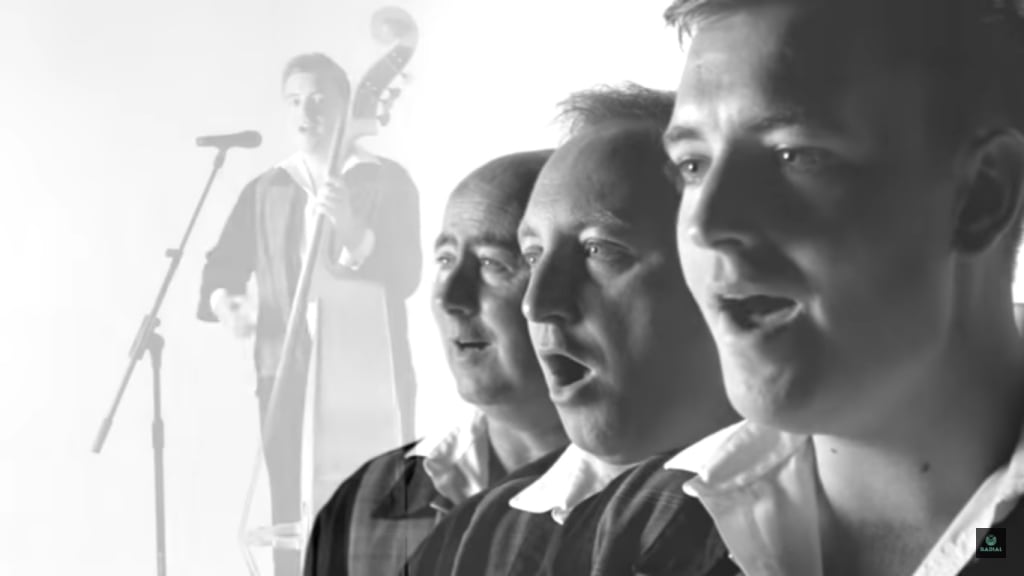 Still shot from the Firebirds' "I Wonder Why" music video
The beautiful thing about doo wop music is how deceptively catchy it is. Just about anyone can hear the drums, guitar, saxophone, and crooning coming from their speakers, and it'll put a smile on their face. The feeling is no different whenever I hear the Firebirds, who are the hottest doo wop revival group in the UK and one of my all-time favorite bands!
I was bitten hard by the nostalgia bug when I first listened to the Firebirds 9 years ago. Their cover of "Dance Girl Dance" by Norman Fox and the Robroys was second to none. It still is. There's no doubt about it, and I'll even say that at least a dozen of their covers are just as good, if not better than, the originals.
The Firebirds formed over 35 years ago in 1981. That was 13 albums, hundreds of songs, and many memories ago. Very few doo wop, rockabilly, and oldies revival groups last more than a couple of years, so it's refreshing to see the Firebirds still in action. Like the Diamonds, Jefferson Starship, and even the Sons of the Pioneers, some musical groups live on and even outlive their founding members.
The lineup of the Firebirds has changed over three decades as the band has had anywhere between four and six members at a time. Today the band has three members: young front man Dan Plummer, who plays bass and does lead vocals; Jim Plummer, lead guitarist, backup vocalist, and veteran of the group since 1988; and Jason Bryant, who's previously played guitar and is their current drummer. The band's founder, John Plummer, is the father of current front man Dan and kin to lead guitarist Jim. All of the Plummers and Bryant are knowledgeable, accomplished musicians. They're classically trained and can also play an eclectic range of modern musical styles from punk to soul to blues.
There are dozens and dozens of videos on YouTube with tracks from the Firebirds. These include several dozen videos of the band performing in a studio or at an intimate, quiet venue. They have one authentic music video for their latest cover of "I Wonder Why" by Dion and the Belmonts. I enjoyed every bit of the three-minute video. It was tastefully shot in black and white in what looks to be a sterile white studio, which is nicely juxtaposed by the creative use of stage light glare and shadows behind Dan and the guys.
The sound of the Firebirds' cover is true to the original, which must have been tougher than it sounds because three men successfully pull off multiple 4-part harmonies. There are many up-close action shots of Jason Bryant absolutely throwing it down on the drums, of Jim Plummer playing the hell out of his guitar, and Dan swinging his tall bass back and forth while moving to the beat. Dan has a smooth tenor voice that's pleasant to hear and even verges on sounding innocent, which only strengthens the nostalgic sound and energy they were obviously going for. Too many revival artists try to croon deep and long like Elvis Presley or Paul Anka instead of letting people fall in love with their own unique voice. Kudos to Dan.
This was the music video I shared with a friend of mine who said, "You can't hear this kind of music without wanting to smile." She's absolutely right! The black and white color choice worked out well and the sound quality of the recording was good, especially with Dan's voice. I suspect Dan will be front man for a while to come, and I sincerely hope the group does more professional music videos.
The Firebirds are one of the few cover bands and doo wop/oldies revival groups smart enough to record as much of their work as possible. They have their own record label, Rockville Records, which produces their albums on CD as well as their other merchandise. Under the Rockville label they've released 13 albums, including 11 studio albums, 1 live performance album, and the recent "Early Years: 1981-1991." For those new to the group, two great albums to start with are Doo Wop Volumes 1 (2007) and 2 (2011).
The Firebirds don't come close to what people would consider "famous." However, the group is definitely internationally recognized and has a cult following that includes the nostalgia-chaser writing this review. The band is based out of Bristol and still regularly performs at clubs and pubs all over the UK. They've toured Europe multiple times and have even performed around the world in places like Brazil. The Firebirds' only scheduled USA appearance for 2017 is April 15 at the Rock and Roll PartyinAlabama. The Firebirds hardly ever leave Western Europe, so American doo wop lovers east of the Mississippi and south of the Mason-Dixon Line should jump at the opportunity to see one of my all-time favorite groups perform live.
About the Creator
Freelance writer. Served as a reserve soldier. Occasionally works as a private contractor. Senior Contributor for the Libertarian Party of Nevada blog.
Reader insights
Be the first to share your insights about this piece.
Add your insights