The Devil's Music? Or Just Good Music?
Dead Poet Society's The Exclamation Album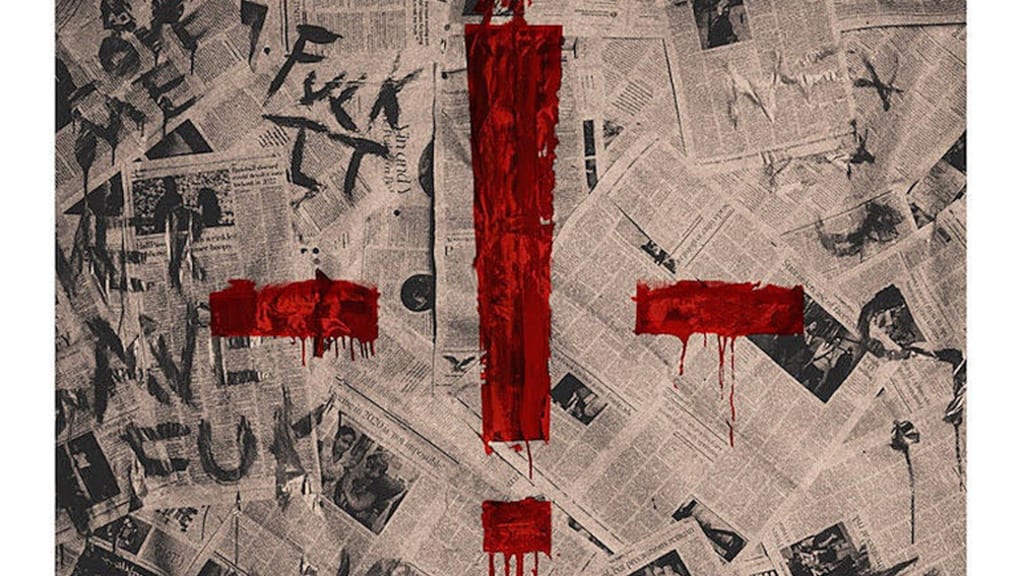 Cover Art For The Exclamation Album
So let's start off straight here. I first listened to a track off the Dead Poet Society's The Exclamation Album because it popped up at random on Spotify radio. I saved it. I let it play a few times and then I inevitably forgot about it. Cut to my days binging Catfish and the Bottlemen and Nothing But Thieves, I finally take a look at their artist page. What did I learn, you may ask? Well, I learned that it isn't just My Chemical Romance that can say the word fuck every other lyric and get away with it at high speed.
There are plenty of bands that have the basics going for them. And contrary to popular belief, it isn't anything "extra" that makes a good album. It's honing those basics in a way that is specific to the musician. Just like a writer has their voice, so does any other kind of artist. I think this is what Dead Poet Society does so phenomenally well. The lyrics, of course, are intense and passionate. But there is a definition to every song that I rarely see in any genre of music. A confidence that can't be taught, only honed from years of life experience.
It's difficult to be unapologetic in any career. But let's face it, the arts especially are cutthroat unless you're living in a million dollar apartment in New York City and writing songs with Justin Timberlake. How many people are going to tell you it's not worth it? A lot. How many of those people will likely be friends and family? A fair percentage. Hell, my mother told me today that she's always been afraid of my becoming a starving artist. She was right, but at least I get my shits and giggles out of it. I could be doing something miserable. Like accounting. Can you imagine?
But this is exactly what Dead Poet Society excels at. Being completely unapologetic with their music. Which is what rock has been about since its inception. When my mother was seventeen, people were forced to order random LP's from Columbia House and the like. You didn't know what was going to be good, you judged by the cover and ordered whatever fit your fancy. My mother often tells me she was lucky not to have parents who believed rock music was a form of devil worship. Which, in those days, that was ALL rock music. And why is that? Because our culture is allergic to confidence of course. Especially when it doesn't fit the status quo.
Straight off from track two, Dead Poet Society's 2021 album doesn't negotiate its terms in any way. With a searing guitar opening, it establishes dominance and power over the entire album. This is what you want on any record and it's going to look different based on genre. But I can say with absolute clarity that The Exclamation Album does it perfectly in terms of rock.
And of course, there's no talking about The Exclamation Album without mentioning its top three tracks. CoDA is undoubtedly a personal favorite. Filled with shrieking guitar riffs and rage induced lyrics, Jack Underkofler carries the song through until the end like no one else could. It's obvious he wrote the song by the way he belts out every word as if it physically pains him. And Will Goodroad's skill as lead guitar? We all know I'm a sucker for a man plucking strings, but that is one show I don't plan on missing in my lifetime.
American Blood is arguably the most mellow track on the entire album, staring out soft and losing a great deal of the rage Dead Poet Society had shown us from the albums opening. Granted, we still get some excellent notes that love to make our ears bleed, but American Blood listens like a ballad and feels like one too.
Last, but certainly not least, we have intoodeep. As someone who grew up in poverty and ended up in college through some miracle, I have to say this one had an impact on me. Aggressive? Yes. Fucking honest? Absolutely. This song seemed to be more about those moments when life fucks you over than anything else. And if that's not relatable, I don't know what is. From the lyrics to the drum beats to the the guitar solo halfway through, this song makes me want to skip town and never look back. Independence is freedom, something Dead Poet Society seems to understand better than most.
So what can I say? I'm a harlot for this band and I don't think that's going to change anytime soon. So if this is what worshipping the devil through music is, then judge me all you want. Just like this album, I have zero regrets.