'The Demon' Summons You to the Ultimate Halloween Rock Bash
Enter at your own risk because we Love It Loud!
KISS Concert Opening Montreal March 2019 (Kiss Official YouTube Channel)
You're pressed inside a screaming mob – a virtual comic con of diehard rockers who are "Dressed to Kill" with black-and-white face paint, long, ratted wigs, and mile-high platform boots.
Who are you? In this place, you're a member of the KISS Army. The frenzy builds as you punch your fist in the air – your silhouette lit against a waving sea of cell phone lights cutting through the inky, echoing darkness.
The announcer yells, "You wanted the best! You got the best! The hottest band in the world! KISS!"
The crowd goes wild as the curtain drops to an explosive pyrotechnic display – hot orange flames burst into the air, smoke floods the stage, fireworks blast against a backdrop of roaring thunder and flashing lights.
The Demon, Starchild, Spaceman, and Catman descend from the sky on platforms– in full KISS makeup and Kostumes.
More ear-splitting screams melt into the first wails of an electric guitar and the Demon starts wagging his long, serpentlike tongue.
IT. IS. ONNNNN!!!!
It's Rocktober - and the only thing better than enjoying a live KISS concert on Devil's Night would be if Gene Simmons himself hosted an exclusive Halloween Rock Bash for you and your crew.
I kind of know what that's like – sort of.
Put it this way, when your brother scores a grand or two at local costume contests and also gets stopped on streets and at traffic lights because somebody just has to have a selfie with "Gene Simmons" – a wickedly wild Halloween Rock Bash simply has to take place each year.
At least in my family, we don't mess around. Halloween is a Red-Hot Rock and Roll Spooktacular.
What other kind of music is there really, on the scariest night of the year?
From its early 50s origins and Elvis Presley's pelvis-thrusting, hip-gyrating hysteria-inducing moves - rock songs were dubbed "taboo." Anything taboo - well - sounds pretty wicked. Wicked works well on Halloween, right?
Now, let's get ready to take a walk on the wild side.
Tonight's venue is a 100-year old Victorian haunted house. Watch out for bats in the belfry and the witches churning a large cauldron of hounds of hell brew. Cross the lawn if you dare - a bevy of bloodthirsty ghouls eagerly awaits your unsuspecting arrival.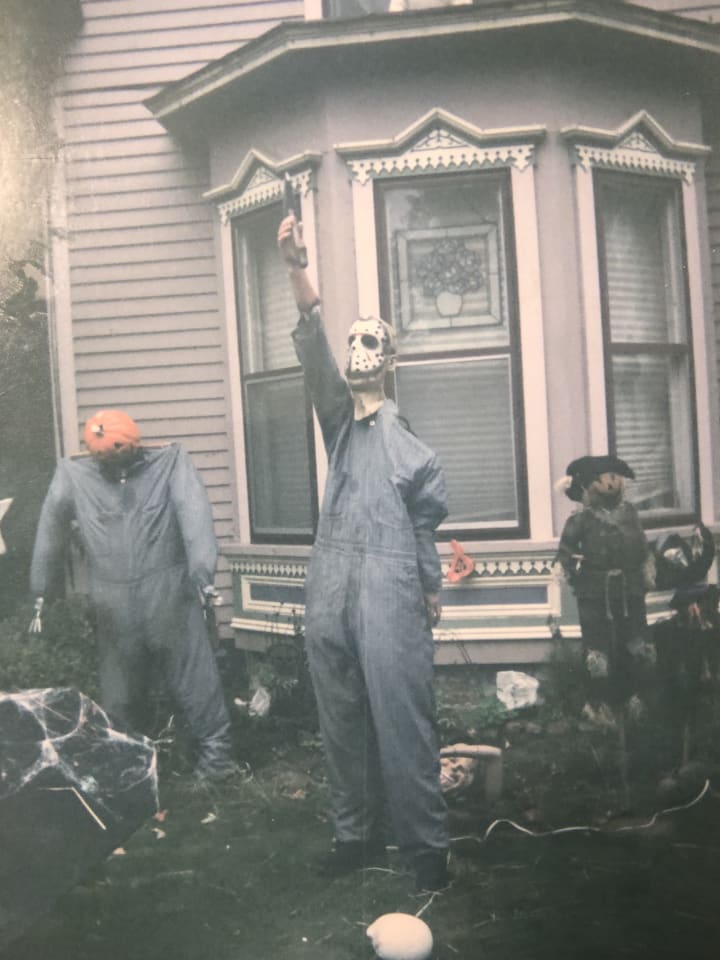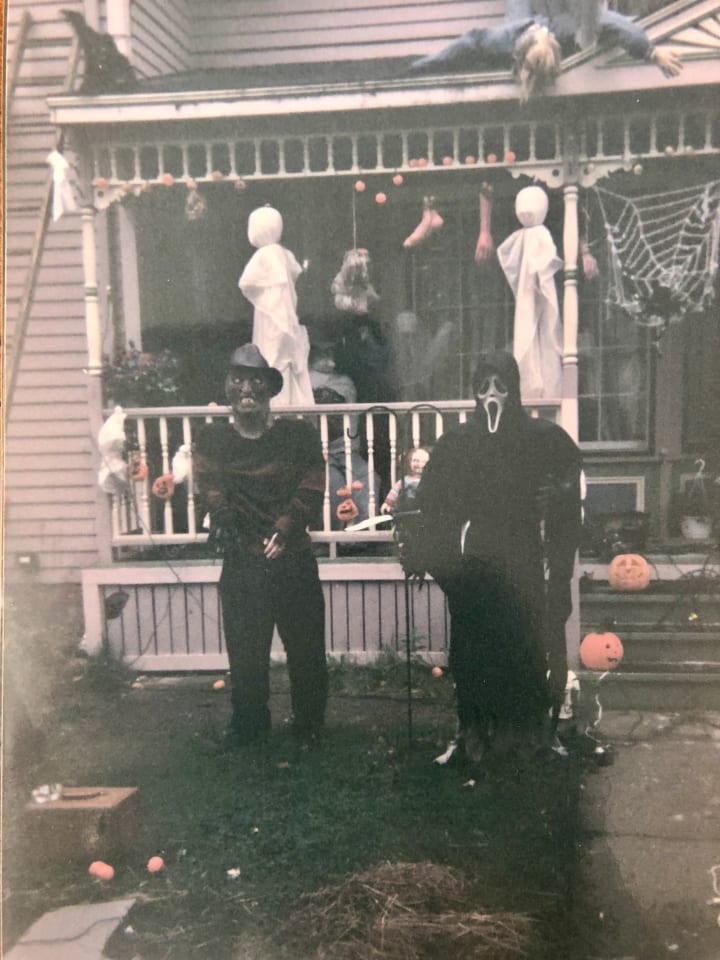 Hear that rustle? "Ch, ch, ch, ah, ah, ah..."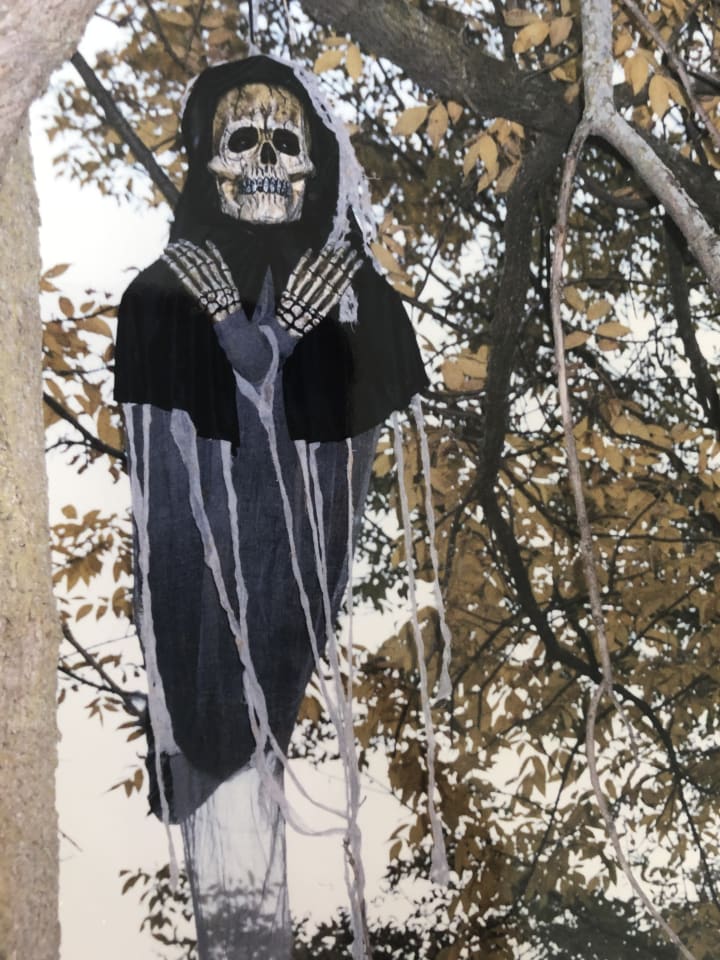 Specters lurk within the trees,

And the Grim Reaper has released his keys,

So mark this ghostly, morbid scene, with Rock Music's primal midnight scream.
And now, get ready to blow your speakers and your minds with the Ultimate Halloween Rock Bash Playlist.
No. 1 "Runnin' with the Devil" - Van Halen
"Yeah, yeah. It's not one of ours," our gracious "Demon" host admits. "But 'Runnin' with the Devil' is one of Van Halen's best." #RIP Eddie.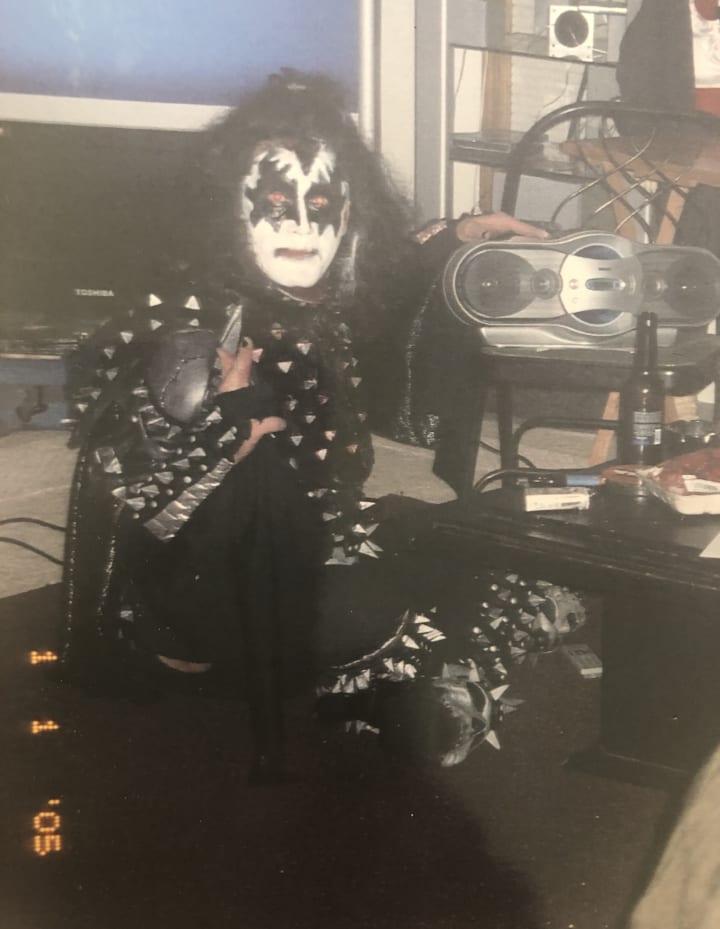 "Let's keep this spookfest rolling!" he growls. "I'm pressing play for the next track on this boombox and you know what I'm going to ask you to do, don't you? That's right! C'mon!"
No. 2 "Shout It Out Loud" - KISS
"If you don't feel good every way you could

Don't sit there broken-hearted (sit there broken-hearted)

Call all your friends in the neighborhood

And get the party started (get the party started)

Don't let them tell you that there's too much noise

They're too old to really understand

You'll still get rowdy with the girls and boys

'Cause it's time for you to take a stand yay

Shout it, shout it, shout it out loud

Shout it, shout it, shout it out loud

Shout it, shout it, shout it out loud

You got to have a party

Shout it, shout it, shout it out loud ..."
Yeah! Way to get the blood pumping through your veins to entice the creatures of the night ...
Let's just see about the next track, shall we?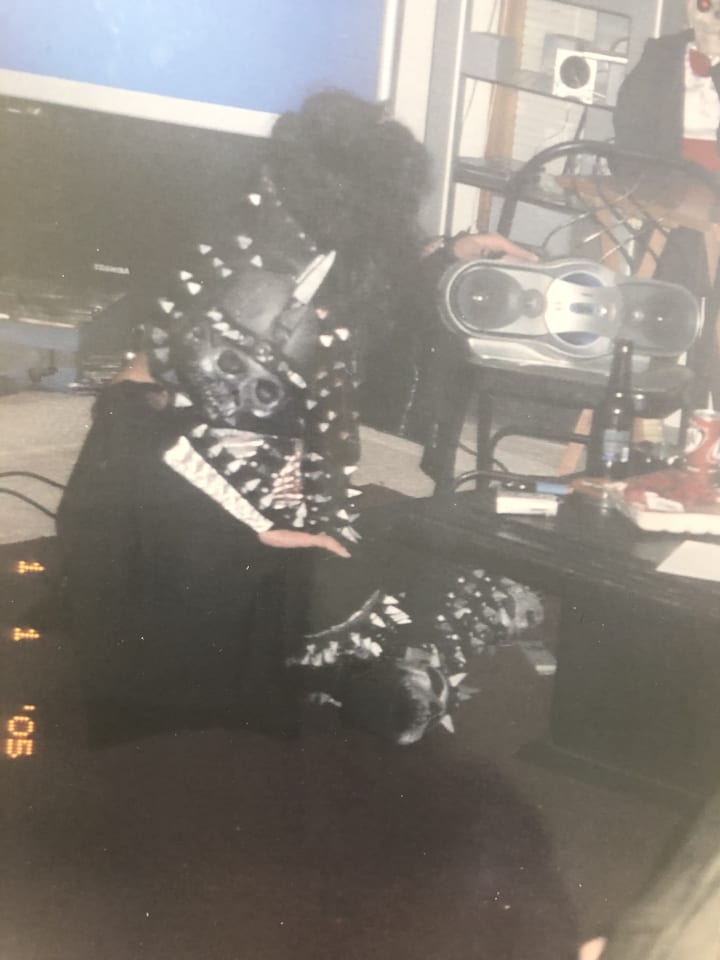 No. 3 "Hotel California" - Eagles
Here's an eerie rock classic for all lost souls who are traveling down that dark desert highway. Up ahead in the distance, you see that shimmering light - but watch out - all hotels on Halloween are not equal. Should you stop? You may want to think twice because at the "Hotel California" you can check out anytime you like - but you can never leave."
No. 4 "Dark Lady" - Cher
Black magic. Mesmerizing spells. Harrowing danger. Irresistible charms. Step right into the Fortune Teller's tent and let her peer into her murky crystal ball and see your future - which we predict is filled with a lot more rock!
What was that? You're looking for a zombie tune? Ha! You read my mind! But before the Demon queues it up on his trusty Boombox of Doom, let's give it up for our resident Halloween Rock Bash's Zombie Mama!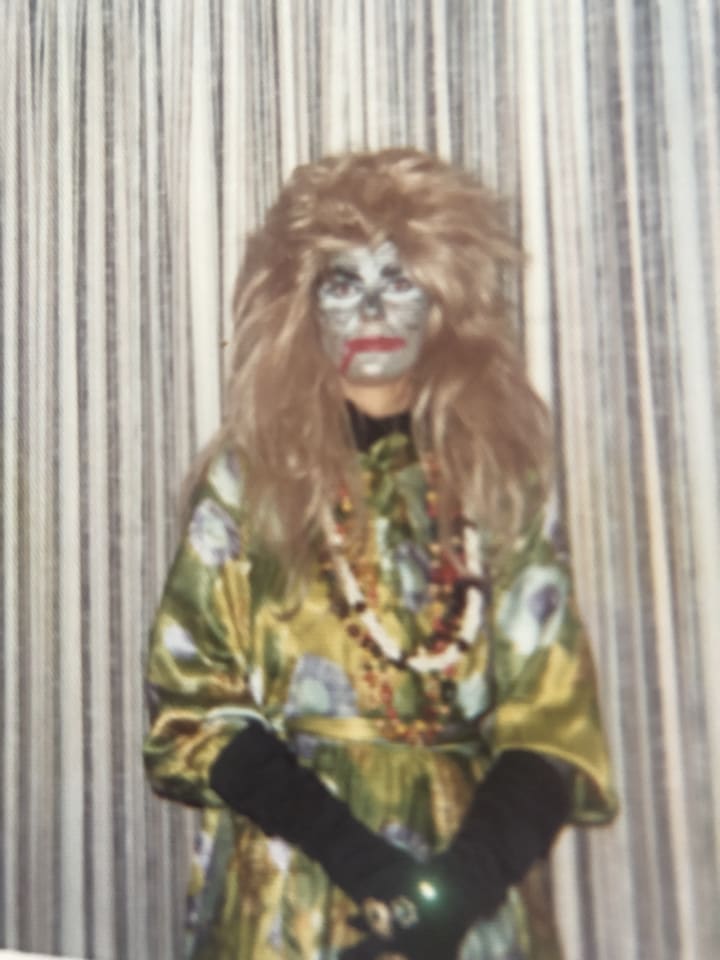 I've got it - I've got it - trust me! One flesh chomping zombie track for a tasty little midnight snack.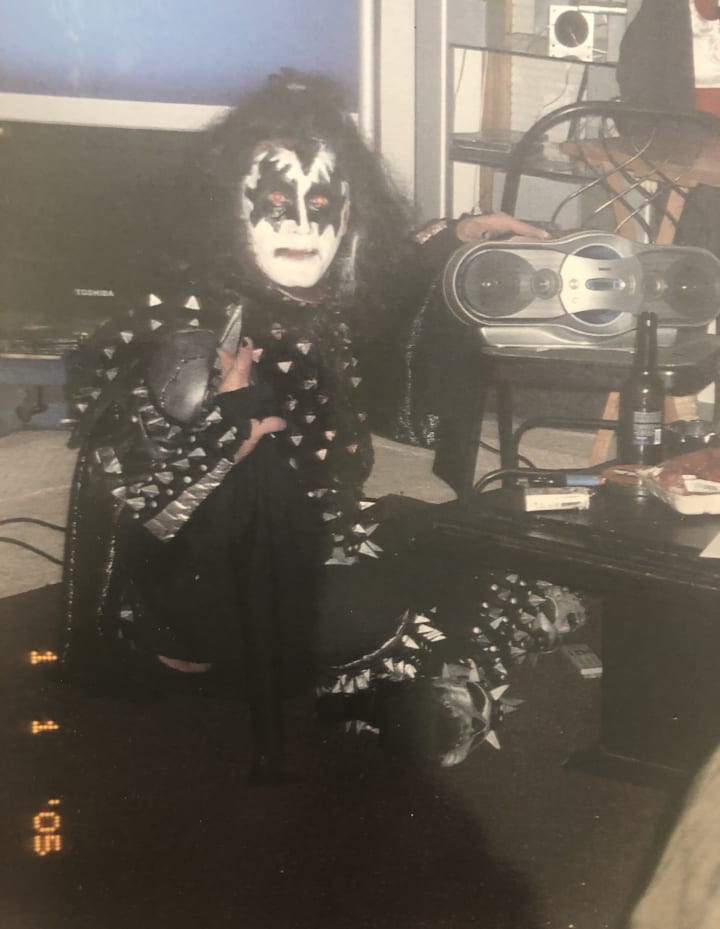 No. 5 "Heads Will Roll" - Yeah Yeah Yeahs
All wayward flesh-feeding foragers are crouching their rotting corpses behind bushes and trees hoping that by the end of this wicked Halloween soiree some Heads Will Roll so they can fill their slimy guts.
The party's in full swing now. Lots of friendly folks are arriving - all decked out - really getting into the spirit of things!
There's a KISSing both. How sweet!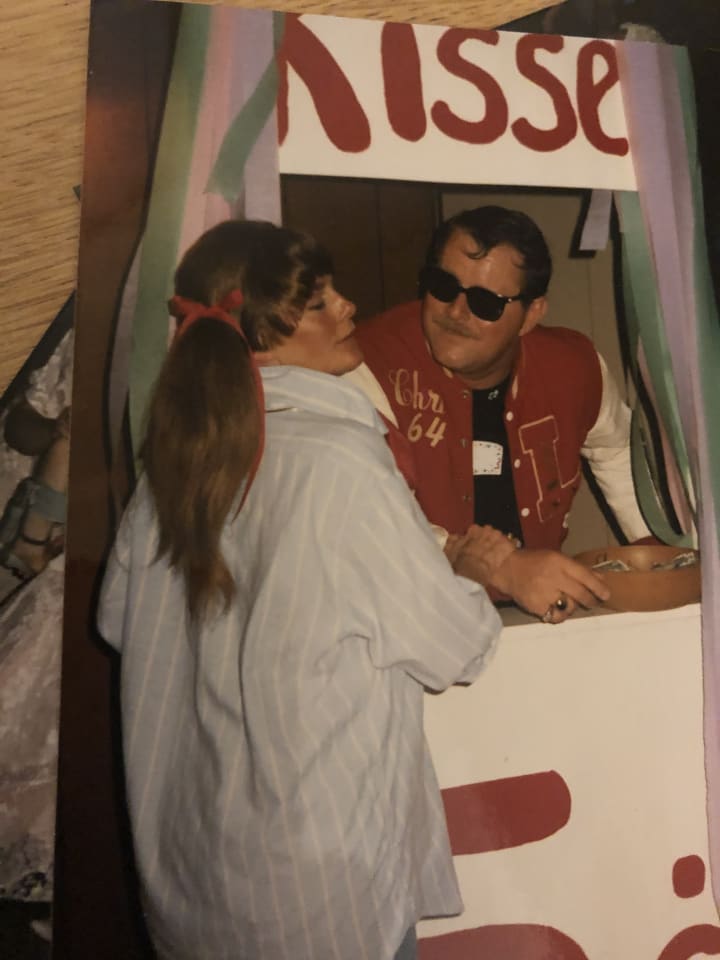 Wait. What. The. Hell. Is. That?
I say "what" instead of "who" because clearly, this thing's a fiend that I wouldn't want to meet near a dark manhole. Yet - here he is at this party - just doing a little maniacal mingling.
Warning: Fear of Clowns triggers ahead - look at your own risk.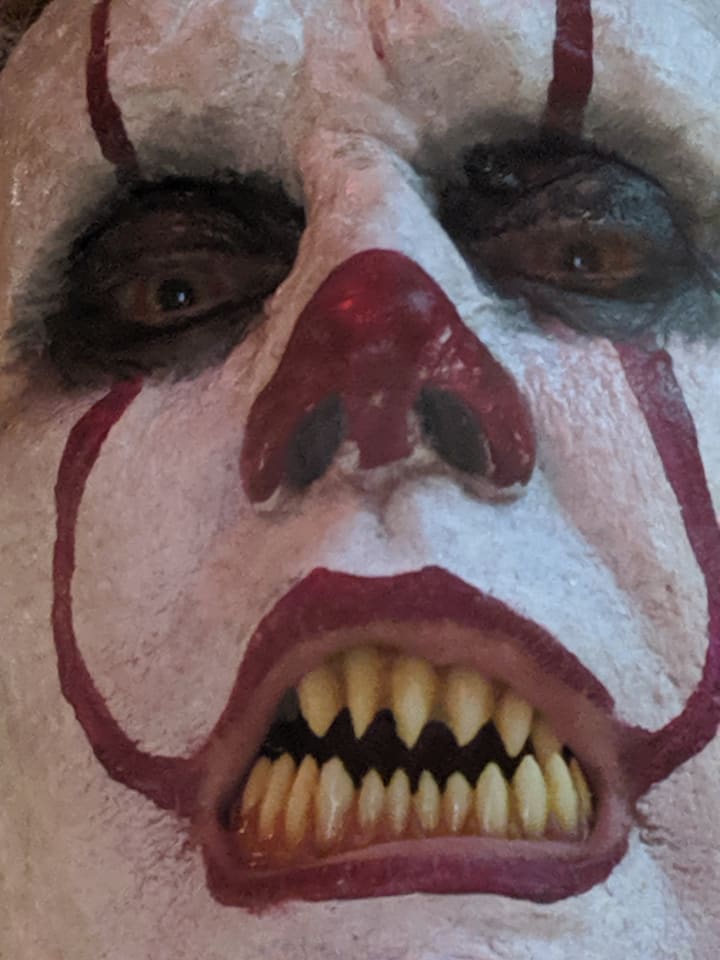 All the world does NOT love THIS clown. Yet, I find myself singing (in jest, no less):
"Clowns to the left of me,

Jokers to the right,

Here I am

Stuck in the middle with you."
No. 6 "Stuck in the Middle with You" - Stealers Wheel
It's a vintage rock jam. For those Godforsaken clowns.
Seven is a lucky number, right? And maybe we all need a little good luck on the one night a year that's dedicated to ghosts, goblins, vampires, and all manner of otherworldly creatures.
This is your host, "The Demon," signing off with one of the hottest rock songs in the world. That's right - let's hear it:
"I wanna rock and roll all night, and party every day."
No. 7. "Rock And Roll All Nite" - KISS
Happy Halloween - Never Stop Rockin'!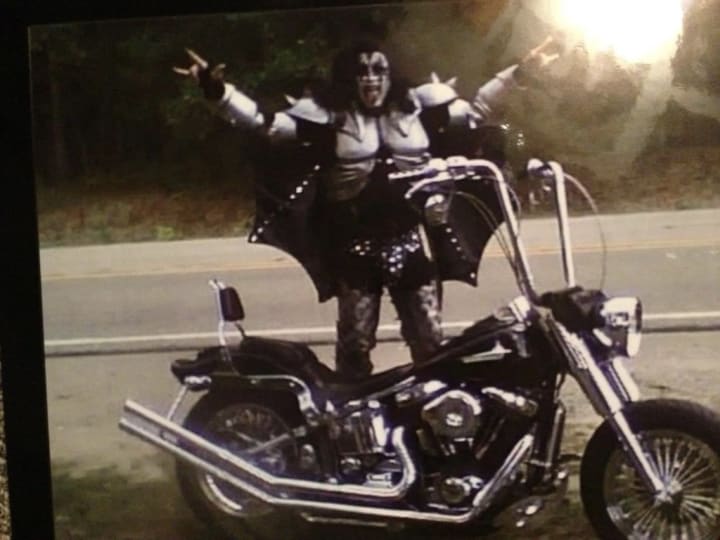 The Demon's Ultimate Halloween Rock Bash Playlist
1. Runnin' with the Devil - Van Halen
2. Shout it Out Loud - KISS
3. Hotel California - Eagles
4. Dark Lady - Cher
5. Heads Will Roll - Yeah Yeah Yeahs
6. Stuck in the Middle With You - Stealers Wheels
7. Rock And Roll All Nite - KISS
Reader insights
Be the first to share your insights about this piece.
Add your insights