The Definitive Elton John Cover Playlist
BEAT reveals the ultimate Elton John covers playlist.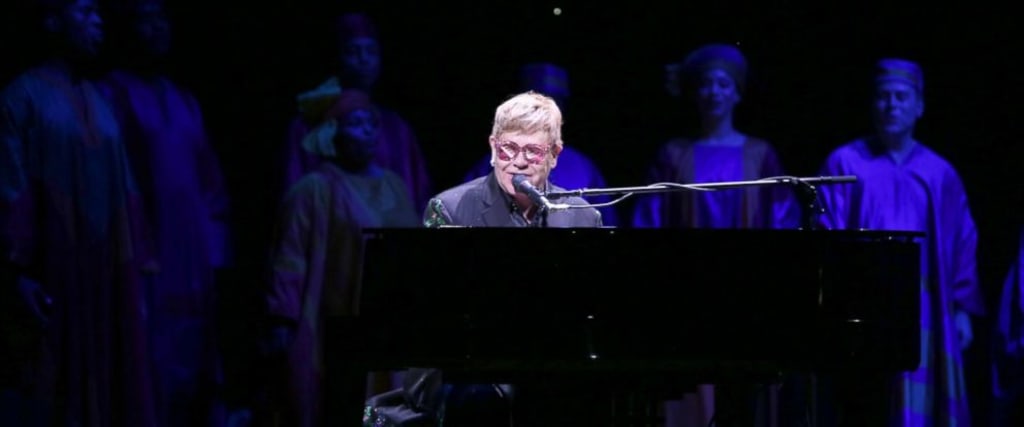 Recently, Sir Elton John returned to Broadway to help The Lion King celebrate its 20th anniversary with a rousing rendition of "Circle of Life."
Hundreds of artists over the years have paid homage to the legendary singer and his legendary collaborators Bernie Taupin and Tim Rice's tunes.
Beat has created its own playlist by picking out the best covers from some of the music industry's greatest voices.
The Queen of Rock kicks off our list with her rousing version of "The Bitch is Back." Ms. Turner recorded the tune twice: once for her 1978 solo studio album
Rough
and in 1991 for
Two Rooms: Celebrating the Songs of Elton John & Bernie Taupin
. But nothing could prepare audiences for her fiery duets with Sir Elton John on the track during 1995's VH1 Fashion and Music Awards and the 1999 VH1 Divas Live special.Phil Collins delivered the greatest performance on the
Two Rooms
album with his interpretation of the Tumbleweed Connection's final song, "Burn Down the Mission." Between the drum solos and the fantastic music arrangement, this was definitely the track that made people want to dance.Like Tina Turner and Phil Collins, rock icons The Who were invited to be a part of the
Two Rooms
recording process. This 1991 recording was the last to feature founding member and bassist John Entwistle. The Who's "Saturday Night's Alright for Fighting" showcased Roger Daltrey at his vocal best and Pete Townsend's superb guitar solo. In addition, the group included a few bars of "Take Me to the Pilot."
In 1991, Wilson Phillips breathed new life into Elton John and Bernie Taupin's soft rock anthem. Carnie Wilson, Wendy Wilson, and Chynna Phillips delivered a haunting cover with beautiful harmonies and a superb sax solo that peaked at number seven on both the American and Canadian Adult Contemporary charts.
"Don't Let the Sun Go Down on Me" has been recorded by countless artists over the years. Each artist has given their unique and beautiful interpretation of the track, but Gloria Estefan's retrospective "Don't Let the Sun Go Down on Me" will make its listeners think. The Queen of Latin Pop originally recorded the track in 1989, but she released it in 1994 for the international editions of her fifth studio album
Hold Me, Thrill Me, Kiss Me
. Mrs. Estefan beautifully infused the Taupin and John track a beautiful Caribbean beat along with a touch of Latin soul.Current
Voice
coach and Oscar and Grammy-winning singer Jennifer Hudson stole the show when she covered "Circle of Life" during A
merican Idol's
third season in 2004. Not only did Ms. Hudson's interpretation blew Sir Elton away, but it remains one of
Idol's
greatest vocal performances.
Countless of recording artists such as Rod Stewart, Harry Connick, Jr., and Ellie Goulding have recorded their rendition of "Your Song." However, Grammy and Tony Award-winning singer Heather Headley, successfully transformed Elton's 1970 simplistic hit into a powerful anthem when she performed it during the 2004 Kennedy Center Honors. Not only did she make Sir Elton weep, but she moved the audience including former First Lady Laura Bush and Angela Basset to tears.
Sir Elton John is considered to be one of
America's Got Talent: Season Three
runner-up, Eli Mattson's greatest hero. The North County, Wisconsin native delivered one of the best interpretations of "Sorry Seems to Be the Hardest Word" that we ever heard. From his spectacular piano playing to gritty vocals, Eli moved the entire
AGT
audience. Also, the best part of the video was watching Eli's reaction then judge Sharon Osbourne revealed that her longtime friend watched the show and "would not be disappointed with that performance."
Haley Reinhart was one of the breakout stars of American Idol: Season 10. Her bluesy renditions of classic tracks made her a fan-favorite. However, it was her cover of Elton John's 1973 hit "Bennie & The Jets" that set her on a path of superstardom with this outstanding performance.
Two of
American Idol
's greatest soul and gospel artists came together during the show's Season 11 finale. Joshua Ledet, who came in third place, sang with "the greatest inspiration of his life": Fantasia and the duo tore the roof off of the Microsoft Theatre. They transformed Elton and Bernie's 1970 rock anthem into a gospel spectacular filled with fiery vocals and sass!
To commemorate the 40th anniversary of Goodbye Yellow Brick Road in 2014, Elton invited several artists to re-imagine his classic hits. Elton's protégé, Ed Sheeran, transformed one of the most important songs in the Taupin-John songbook into a beautiful folk-rock anthem that gave listeners chills.
The Maroon 5 frontman closes out our playlist with his take on "Tiny Dancer." The three-time winning Voice coach has performed the tune multiple times on the show. In 2013, he performed it with his protégé, Will Champlin, at the Season Five finale. Two years later, Adam decided to perform the track for a "Blind Audition." He delivered an excellent vocal performance, but his fellow coaches (notably Christina Aguilera and Blake Shelton) were not amused.