The All Time Strangest Acts Gone Wrong at the Biggest Event!
Grammy Awards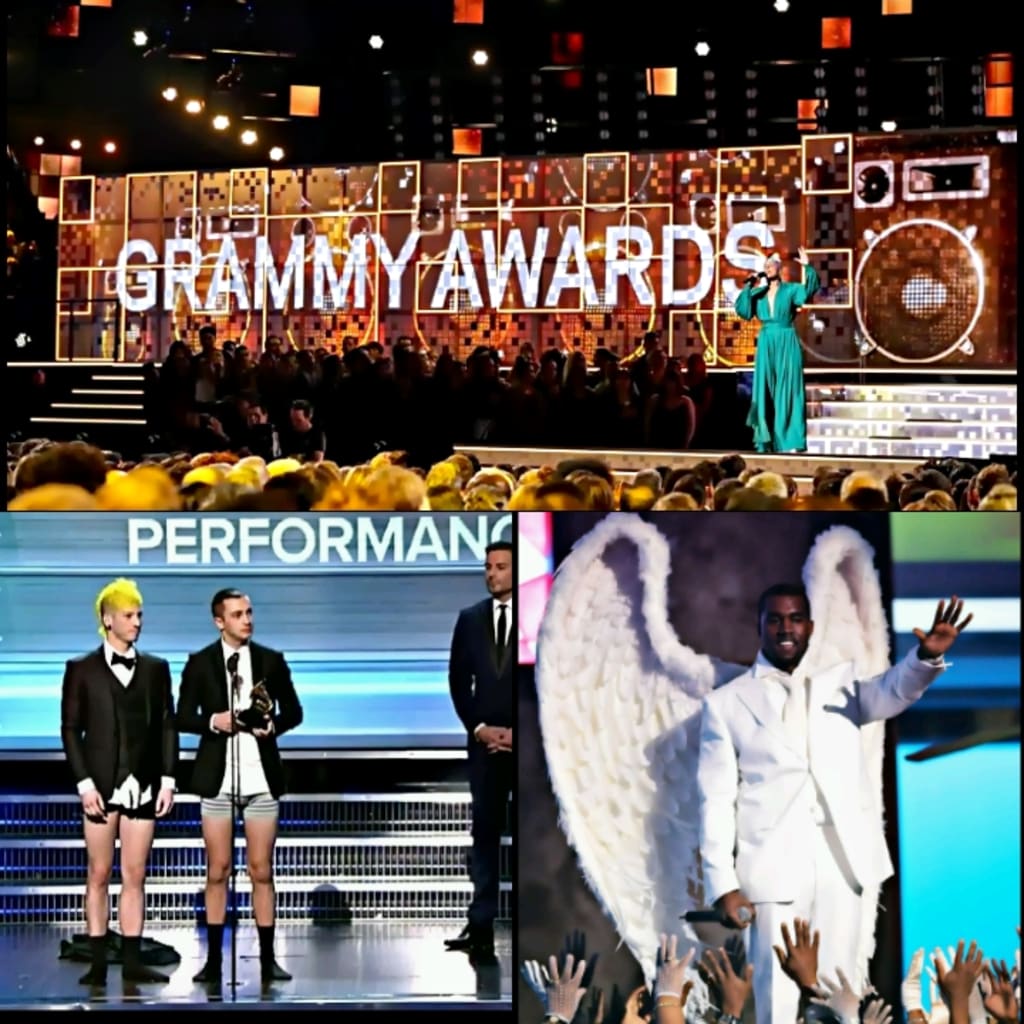 The Grammy Awards always comes with impressive music and various live and electrifying performances. But it is amazing how, at such a large event, several artists announce the opportunity given them with strange acts and performances.
Anyone who carefully follows the Grammy Awards knows there is a fictional term called the "Grammy Moments".
It's about describing unique collaborations and challenging performances that occur every year during the show. And through all these years, incredible and funny incidents have occurred at the same time, given what the acts gave the audience. At such a prestigious music awards ceremony, there is always at least one unforgettable event that will be part of the Grammy Awards.
Over the years of the Grammy Awards, some strange and funny things have happened. In 2017, It was John Travolta's teleprompter problems as well 21 Pilots' boxer shorts. In recent years, we have also seen impractical costumes, scratched our heads with indie rock victories, and watched Kanye West who tried to jump onto the stage.
In all of these unfolding events, have you ever watched the Live Grammy Awards on TV when one of the artists jumped on stage with a short boxer? Yes, these are the craziest times Grammy has to offer every year!
The awards offers lots of fun in all areas. And it's all about beats, instrumentation and vocals, but unique in every way. This is the purpose of the award, regardless of the plaques given. Folks! Welcome to the Grammy World, and get ready for some of the craziest Grammy moments of all time. Let's do five.
1. A Speech in Underwear in 2017
The audience waited anxiously for the winner of the 2017 Best Pop Duo. The excitement continued—then came the winner, 21 Pilots, with smiles. Just when everyone thought they were giving a speech, a strange surprise appeared—the band took off their clothes and showed off their boxers before paying tribute to the days when the duo sat at home and watched the show in their underwear. They said to each other, "One day, we will also be on that stage in our underwear." But besides the strange appearance on this stage, they made a touching speech to please the audience. In an even more unexpected turn, their speech was carefully read, which only showed that their public speaking skills had gone far. Before they left the stage, the applause was even greater than expected, especially when they heard an impressive statement. If you might be disappointed with their stage performance, think again, because they raised it with a soft and lilting speech.
2. The Lousy Performance of Garth Brooks in 1991
Sometimes I wonder if the Grammy's would be interesting without these strange acts. Maybe the Awards ceremony would be dullen without them. As one of the best actors, Garth Brooks had to perform "Friends in Low Places," but unfortunately his high concept show did not meet expectations. That was quite disappointing! Okay, this is what actually appeared on the stage.
He went onstage in his usual cowboy hat and realized that the stage was full of decorative dances, people in formal clothes, and black jackets. He tried to act like a drunk bully in the ball and stumbled to the wrong side as he continued to turn to the guests. But all these did not work. As smart as he was, Garth Brooks needed to change his pace. He thought quickly about his terrible behavior and turned into a bar scene that was too closed and cheerful—that was his most comfortable move, right?
3. The Invasion of Kanye West Onstage in 2015
People wondered if this was a publicity stunt, but I'm pretty sure he had the intention all along. And the Album of The Year Goes to... Beck! Maybe Kanye was not happy with the committee when they handed the prize to Beck. Kanye, who jumped out of nowhere, seemed to be defending Beck's honor. Seconds later, he quickly retreated after thinking again. Some saw in Kanye's step a "fight" for Beyonce, who was highly tipped for the award. Others think it was a funny publicity stunt. That was really funny, especially when Beck himself was surprised.
4. 50 Cent Was Awkward in 2004 on the stage.
The rapper didn't like the idea of​ losing the Best New Artist to Evanescence. Shortly after she received her award, 50 Cents immediately went onstage. He seems to have a second thought, but because all he ended up doing was to embarrassingly go across the stage behind the playing band before quietly returning to the audience. Funny! Right?
5. Adele's Confession Onstage in 2017
Adele was on cloud nine when she received this year's prestigious awards in 2017, including "Record of the Year," "Song of the Year," and many more. She also won the Album of the Year, which is one of the ceremony's biggest awards. And as required by standards, Adele must deliver her speech. And guess what? While the audience stood, welcoming her speech of the night, she threw in a "bomb". She actually spent most of her last speech by saying that it was Beyonce who should have won. "All us artists here, we fucking adore you. You are our light," she said tearfully, proving once again that this was about Beyonce, no matter who won. It was quite emotional!
Wrapping up, the strange stage acts mentioned above are just a few of the many that take place during the most prestigious award ceremony, the Grammys. What struck me most was the moment when Milli Vanilli were stripped off their award for their best trophy for the New Artist in 1990 after it was discovered that players Robert Pilatus and Fabrice Morvan did not really sing on their blockbuster album, "Girl You Know It's True." This clearly shows how authentic the award ceremony is. The slightest of mistakes you make, you'll be found wanting.
Let's see which actions follow the next awards show!