The 2020 QMA's (Quarantine Music Awards)
First Place in 2020 Rewind Playlist Challenge
And the award goes to...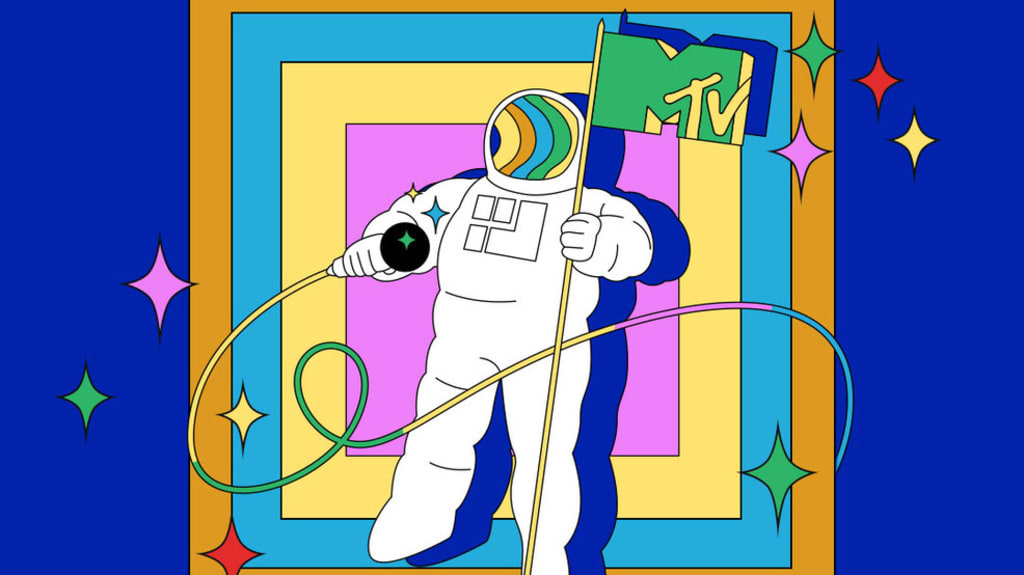 Credit: 2020 VMA's Promotional Poster
Ladies and Gentlemen, Theys, Thems, and everyone in between, welcome to the 2020 Quarantine Music Awards! This awards program is brought to you by me, and will be hosted by yours truly. Also me. So sit back and get ready to delve into the songs that got me through this difficult job-losing-depressing-virus-ridden year.

Award Goes To...
The award for the Best Song for Drinking Wine Alone and Crying goes to Frank Ocean's, "Nights" off his 2016 album Blond.
I should have known the kind of year 2020 would be when it started with me crying on my porch drinking alone. Was I crying over a boy? Probably. Did I drink a whole bottle of red wine by myself? Most likely. But it's okay, because Frank Ocean was there for me. My friend pointed out I should feel better knowing I'm probably not the only one who's cried alone listening to Frank Ocean. And I've so moved on from that dumb boy, so we're all good.
"Nights" is in my opinion one of the greatest songs ever made, if you haven't listened do yourself a favor and check it out!

Award Goes To...
The award for the Most Embarrassing Dad Rock Jam goes to Steely Dan's, "Deacon Blues' off their 1977 album Aja.
It's not that embarrassing to like Steely Dan is it? I'm in my twenties, but my music taste make me look like a dad that only listens to SiriusXM's Yacht Rock Radio.
I consulted The Pudding's A.I. music judge. Let me tell you I got roasted.
The Results...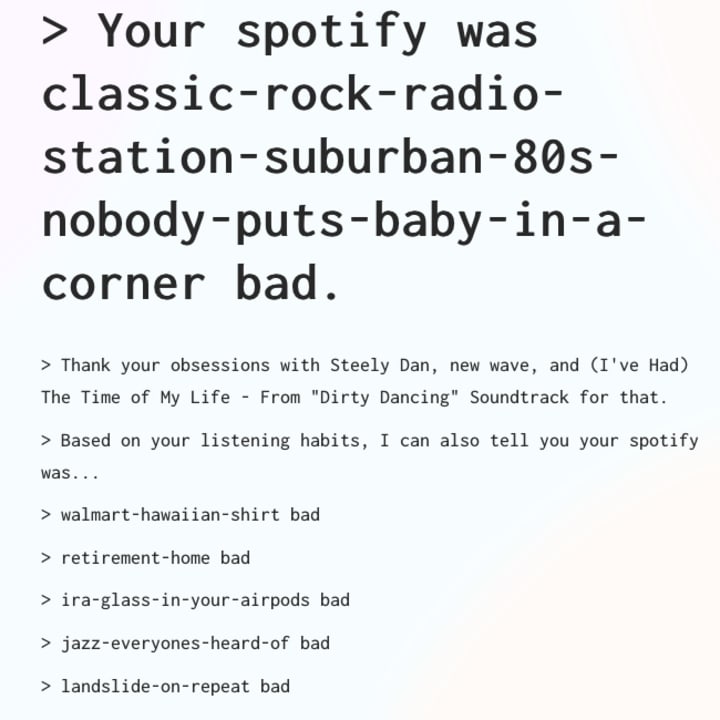 Okay maybe I listen to Classic Rock too often. I'll try to switch it up in 2021. Blame my friend Bryan, he's the one who forced me to like Steely Dan.
Award Goes To...
The award for Best Song for Dancing with Your BFF goes to "Heaven Must Have Sent You", by Bonnie Pointer off her 1978 self-titled album.
Thank God for my best friend Dinah. I don't know how I would have gotten through this year without her in my pod. When quarantine first started I didn't see her for months. Then we made the decision to be in each other's friend pod and now we have sleepovers every week.
Usually this involves drinking too many vodka sodas and dancing in the living room to '70s and '80s music. One of our favorites is this disco hit by Bonnie Pointer.

Award Goes To...
The award for Most Loved Love Song goes to REO Speedwagon's classic 80's hit, "Keep on Loving You" off their 1980 album Hi Infidelity.
I'm honestly shocked this wasn't my most listened to song of 2020. I had a crush on this boy and I played this song on REPEAT for months. My roommate is making fun of me right now singing a very poor rendition of this amazing 80's love song.
Well it didn't work out with that boy either, but at least he didn't ruin the song for me.

Award Goes To..
The award for Best Foreign Song goes to "Baby" off of Gal Costa's self-titled 1969 album.
I am OBSESSED with this song! Gal Costa is a Brazillian artist who's been making music since the '60s. There's two things that always make me think of pure love. One is Chocolove's dark chocolate bar with crystalized ginger. And the other is this song.

Award Goes To..
Award for the Oldest Song on My Playlist goes to Roy Orbison's, "Blue Angel" off his 1961 album Lonely and Blue.
I listen to a lot of old music as you can tell from my top songs of 2020. The oldest track on my playlist was "Blue Angel" from 1961. I listened to this particular track on repeat because of a story I wrote for Vocal back in October.
This horror short is about a young girl in the 60's who likes music a little too much, and Roy Orbison's "Blue Angel" is used heavily in the story. Give it a read if you want to be creeped out!
Award Goes To..
The award for the Newest Song on My Playlist goes to "Ooh La La", off of Jessie Ware's 2020 album What's Your Pleasure?
My friend Bryan who got me into Steely Dan also sent me this song. And I'm so glad, because this song is amazing. This happens to be the only track from 2020 on my playlist. Jessie Ware is a British singer/songwriter and her newest album reminds me of 80's disco music. Please watch the music video, it's incredible!

Award Goes To..
Drum roll please. The award for the Most Played Song of 2020 goes to Christelle Bofale's, "Love Lived Here Once" from her 2019 EP Swim Team.
I listened to this song a total of 44 times in 2020. I am in love with Christelle Bofale, and I want more people to listen to her music. Pitchfork described her music as "guitar chords you could swim in." This song will make you feel all the feels.

Award Goes To..
And the award for the Most Played Artist of 2020 goes to...could it be? Yes, it is! My good people it is none other than Neil Young. He actually won in 2019, 2018, and 2017 I believe.
Neil Young is my favorite singer/songwriter and probably will be until the end of time. He's held the number #1 spot on my Last.fm since I was in high school. This year I listened to him 214 times just on Spotify, not counting vinyl.
Love you Neil <3

Award Goes To..
Last but not least, the award for 2020 Anthem goes to "When Your Life Feels Like A Loss" from De Lux's 2015 album Generation. This song accurately sums up how I felt during this wild year.
And only now I start to realize

That all my hopes and dreams are all in my dreams

'Cause when your life feels like a loss

Living like a failure

Living like a shadow

Give me some light man
This year had it's highs and lows, but the lows really stick out. I had plans that 2020 was going to be the year I would get my life together. Find a job that actually involves my passion, no more food industry jobs. Find a partner. Get a car. Unfortunatly I lost my job and I've been pretty broke and alone the entire year, but there's a bright side!
The past few months I've decided to try to make my dreams work. I started writing on Vocal and winning contests and it's made me believe that I have what it takes to be a writer. Just recently I decided to start my own jewelry business, so I'm very excited to see what 2021 will bring!
That concludes our awards show, I'm so glad 2020 is coming to an end. Happy New Year's y'all!
Check out the full 20 song playlist to see what other songs kept me sane in 2020!