*SOUR* olivia rodrigos album wtf (songs ranked)
god, it's brutal out here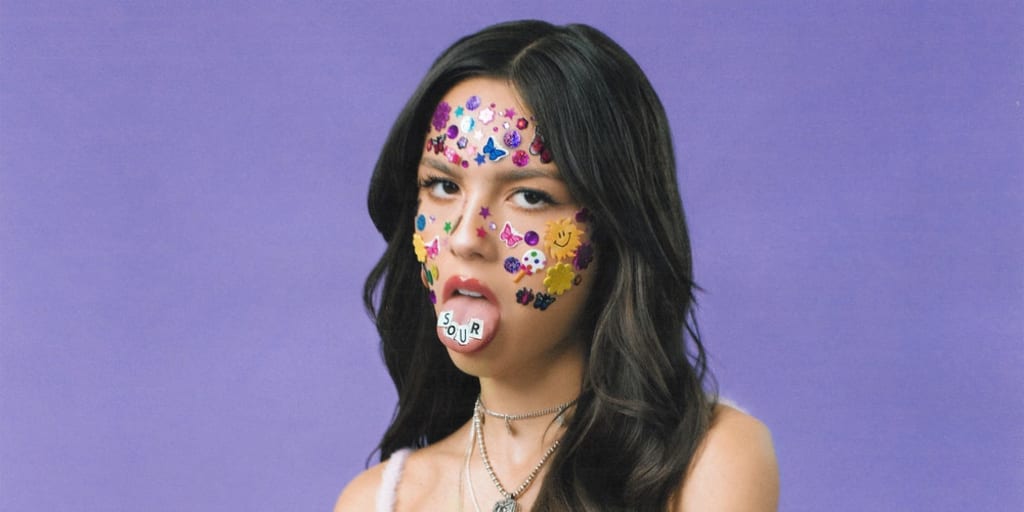 So, Olivia Rodrigo dropped her debut album SOUR on May 21st 2021 and I honestly need to rein in the emotions. Rodrigo does not hold back when it comes to song writing, hitting everyone in their feels. From starting the album with brutal to songs like happier and enough for you, she has really hit the nail on the bat on diversifying her music.
After releasing three singles prior to the album release, Drivers Licence, Déjà Vu and Good 4 u were literal chart toppers with stunning music videos to match. With this new album out, there's no denying her rise to the top.
At only 18 years old, Olivia Rodrigo is setting the bar pretty high. With grossing over 52 million monthly listeners on Spotify alone, her album has fans hooked on every lyric. Whether you're feeling déjà vu, a bit of jealousy or wishing you were someone's favourite crime there is something for everyone on just this album alone.
I will be ranking the songs on Rodrigo's debut album - these are based truely on my own opinions of the music. That can be judged based on personal preference to music and songs that I resonated more to on the album than others. This is honestly the songs I go to the most to listen to on the album, more than others. It was actually really hard and I moved songs around a lot. When looking at them all they are all at such an even playing level, especially because there is only eleven songs, none of them really miss the mark. But without further ado...
Welcome to the unofficial ranking of all 11 tracks of Olivia Rodrigo's SOUR.
----------
11. hope ur ok (click to listen)
"With the courage to unlearn all of their hatred"
I actually feel bad putting this one last as I think it has such a good message and the song is really well done. It just overall is not a song I personally click on a lot when I go back to the album, and will definitely choose other songs over it. It has a really beautiful message and seems like a personal songs to Rodrigo but I didn't connect with it.
10. 1 step forward, 3 steps back
"Like, which lover will I get today"
Out of all the soft ballads on this album, this is probably my least favourite. You can really hear Rodrigo's pain through this song and her own self doubt which is done beautifully and connects to her listeners really well. Again, I feel bad having it so low on this list but compared to other songs, I don't go and listen to this one as much.
"And I know we weren't perfect but I've never felt this way for no one"
Driver's licence is where we all kinda fell in love with Rodrigo's writing and if the song had been released recently with the album I believe it would be higher on the list. Since we have all really overplayed it it feels like it's had its run and her new music is just more intriguing.
"Cause I was goin' down, but I was doin' it with you"
Such a calming backing track to such a hurtful song was done beautifully and adds an edge to the song. As with all of Rodrigo's songs, the bridge is iconic!! It just runs perfectly with the song and adds a certain touch, changing from the originally rhythm.
7. deja vu
"Watching reruns of Glee"
We've had some time to sit on deja vu and I personally really like the song. It upbeat enough to move around to if you want but isn't a 'party' song. The message has a certain edge to it that I really enjoy. Rodrigo showing a different side to her music, along with a unique backing track. It is the only song like it on the album, where you could put her songs in sections like ballad and pop rock, this one stands on its own.
6. happier
"An eternal love bullsh*t you know you'll never mean"
I feel like Rodrigo is saying exactly what we are all thinking in this song. The sadness and pain of a relationship that moves on. She has moments in the song where you feel her pain and others where you feel her anger. I had a hard time between this song and favourite crime but I tend to reach for this sonf more often, especially being right next to enough for you on the track list.
"I wore makeup when we dated cause I thought you'd like me more"
This opening line hooked me from the beginning. It is one of my favourite lines in the whole album and really represents beautifully the kind of relationship she is expressing throughout the rest of the song. The song gives you all the feels, as well as a little hope at the end that you will be enough for someone without even trying.
4. good 4 u
"I've lost my mind, I've spent the night cryin' on the floor of my bathroom"
This is the party song we have all been waiting for from Rodrigo and will 100% be played at every social event I go to from now on. Music video = iconic!
3. brutal
"And I'm so sick of 17, where's my f*cking teenage dream"
This as the opener to the album is everything. I feel like it was just a taste at how diverse Rodrigo's music really is and the range she can go successfully. This song honestly hits different and it is a go to for me when listening to the album.
2. traitor
"God, I wish that you had thought this through before I went and fell in love with you"
Out of all the slower ballads on the album this has to be the most gut wrenching of them all. The lyrics, her voice, the backing track all come together to create such a gorgeous song. And again with Rodrigo's bridges, always something you don't expect and then they become your favourite part.
"Happier, prettier, jealousy, jealousy"
This is the song I feel I could relate to the most to, the pain and jealousy that comes with insecurity was developed so well throughout the song and is the song I go to first every time. It is so well executed that it just brings me back to those emotions and times in my own life as so many of her songs do.
Thank you for reading my ranking of Olivia Rodrigo's new album. I hope you enjoyed, these are all my personal opinions and everyone is free to their own. I'm obsessively listening to this album right now and I know I will be for many many months and years to come. Can't wait to see was Rodrigo has next in store.
amy xx