Singles Reviews
Psycho, Look Alive, 44 More, Love Lies and Gone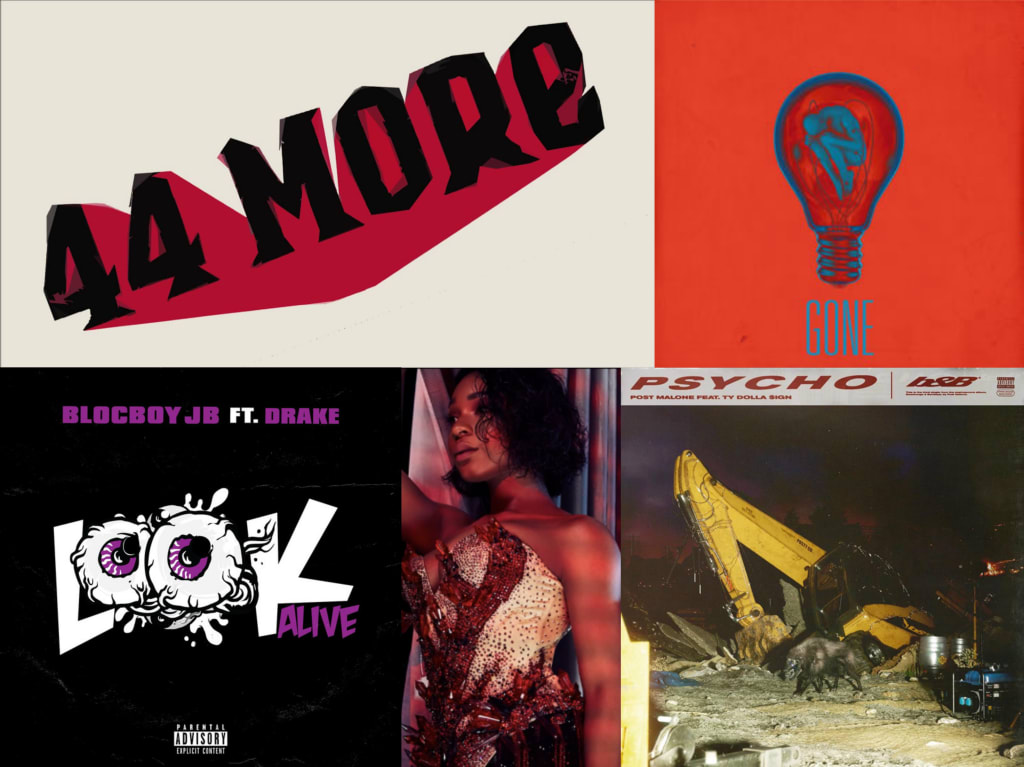 There has been a drought in terms of albums that I want to review, but I've been listening to a lot of singles recently, so here are some of the ones that stood out to me.
"Psycho" - Post Malone feat. Ty Dolla $ign
The newest song from Post Malone you can assume is supposed to lead into Beerbongs and Bentleys, which was coming out soon in mid-November, is basically "Rockstar" but just imagine the chorus below instead of the actual chorus for "Rockstar"
Damn, my AP goin' psycho, lil' mama bad like MichaelCan't really trust nobody with all this jewelry on youMy roof look like a no-show, got diamonds by the boatloadCome with the Tony Romo for clowns and all the bozosMy AP goin' psycho, lil' mama bad like Michael
After that just switch the good job that 21 Savage does with Ty Dolla $ign doing a fine job. This song doesn't get me excited about Beerbongs and Bentleys because it's not different. Stoney, his debut album, was weird. The song "Broken Whiskey Glass" starts off feeling like a western and "Feeling Whitney" is a song that I would ask my crush to dance to if I was in grade eight. So, what I'm hoping is that Post is embracing the trap phenomena to gain listeners but will still have his weird alternative twist in there somewhere.
That said, it's still catchy and a good playlist song. You're going to see this in snapchat stories showing too many people jumping in one room and you're going to see people taking pictures of their radios playing this song captioned vibes. It's good, not great, and not what I would like to see on BB&B.
TL;DR: Catchy but makes me worry about BB&B a little.
"Look Alive" - BlocBoy JB and Drake
What happens when a random rapper with no technical skill and Drake make a song? Drake just makes a Drake song. BlocBoy JB makes some noises while Drake raps and has a verse at the end but this song is good because of Drake. I love the flow Drake has on this beat and I think that this complements the feeling that he's been going for recently.
I don't know why BlocBoy JB is here, I don't want him here, he's like a friend of a friend that you accidentally got stuck at a party talking to. He says things like, "My—my—my weapon be a instrument, I'll blow you like a flute (rrah)," which isn't scary because a flute is literally the least intimidating instrument ever. Then he says, "That—that n*gga brown like cinnamon (cinnamon)," which makes me feel a way that I don't know how to express in words so here's a gif of Ice Cube. If I hadn't been practicing blocking out other people my whole life, I wouldn't listen to the song as much as I do.
TL;DR: Drake is new Drake, BlocBoy GTFO.
"44 More" - Logic
This is my favourite kind of Logic. I love it when he decides to just go in on people. This song is him basically saying to all the SoundCloud rappers "This trap shit, ya I can do it too but I can do it 3000x better.* " These bars below perfectly encapsulate how we should view these new rappers, but for some reason, we don't view them that way.
You in the club throwin' dollars, but I'm savin' mine so my kids go to college (preach)Or maybe whatever they wanna do (preach)Just as long as they never say (preach)"Daddy blew 20 million dollars (ayy)He had to flex to be acknowledged (ayy)
We encourage this lifestyle of spending money on dumb things that these teenagers can't afford and we've been shown many times this isn't healthy. Spending money to have teeth like 69 is actually a terrible idea hygienically because something about him tells me that his tooth care regiment isn't on point. It's also terrible financially because you just gave the bank the right to foreclose on your teeth in two years when you people realize "Gucci Gang" isn't fire anymore.
I'm also happy that this song is actually good. I would've been very easy for Logic to just take an L on this but he doesn't and I'm proud.
TL;DR: I like it when Logic roasts shit rappers because the roasts are better than anything they'll probably ever make.
*not an actual quote
"Love Lies" - Normani and Khalid
This song is on the Love, Simon soundtrack. The movie is about a closeted gay high school boy and I've heard it's sad, so that makes sense with the tone of the song. If you don't know who Normani is, she's from Fifth Harmony and I guess this is her first solo song.
This is a great duet, they complement each other well and you can feel the emotion in the song. It's pretty intense. The chorus is catchy because of how they drag out the end of lies and rise. I just kind of like this song because of the sound of Khalid's voice. I've never been a Harmony fan because they all sing in a nasally way and I just find all of them annoying.
TL;DR: Songs good and its got Khalid.
"Gone" - Bazzi
I don't know who Bazzi is. The genius card thing on Spotify says he's a social media sensation, I've never heard of him, I don't know, maybe I'm getting old. All I know is he made that song "Mine" which got completely destroyed for me by shit memes.
If you asked me if this was a good song I would say good is a strong word. Can I see this being enjoyable to most 13-16-year-olds? Yes. A general rule of mine is if 13-16-year-olds say something is good, it's usually not. I like the production in of but his flow and lyrics are just blah. They aren't exciting or even remotely complex. They're kind of like if Justin Timberlake decided to try and make a trap but his arrogance made him think that he was too good to get any feedback. Oh, wait, I forgot he's got Supply... eye... eyes.
Tl;DR: I see how this song could be popular but I don't think I'm the target audience.
I hope you liked this...
I enjoy doing these because then it makes me feel like there is a purpose to my procrastination so I hope you liked this.
About the Creator
I wanted to be like Indiana Jones until I realized that there were probably mosquitos where he did his adventures.
I like basketball, rap music, esports and books.
Twitter: @amos_calder
Reader insights
Be the first to share your insights about this piece.
Add your insights