She Colored My World
The songs of my mother's youth that shaped me into who I am...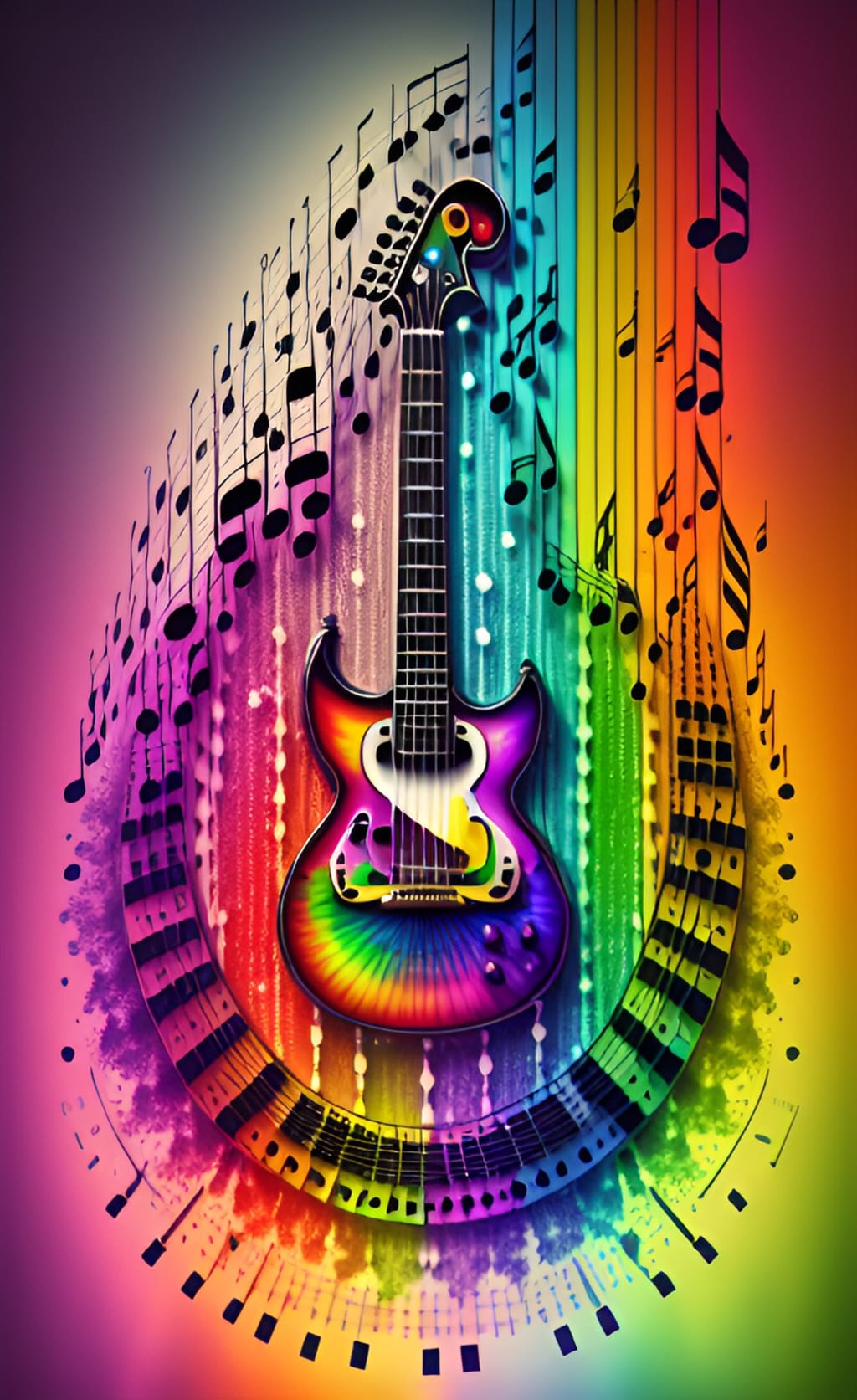 "Color My World" © Lena Folkert 2023. Created W/ Wombo Dream Ai.
Very early in my life my mother introduced to me the necessity of good music. She was a young mother, and so even as we both grew older, our musical interests have never really divided. For a graduation gift, I received tickets to my first concert, featuring Reel Big Fish with Catch-22 and a few other awesome but lesser-known bands, and my mom was right there next to me, skanking it up in her clogs.
Still, though I know I have the coolest mom on the planet who will listen to Ska, Punk, and all the best Seattle Sound bands out there, I will never forget the days of my childhood, sitting in the passenger seat on another long road trip, listening to the music of her youth, and those songs and artists have always stuck with me.
So, even though I grew up in the nineties, when I think of the most influential musical artists in my life, names like Brittney Spears, Backstreet Boys, and even Nirvana do not make the list. And when I hear the initials "J.T.," I do not think of the "Mickey Mouse Club" Alum who brought sexy back...
My musical journey started with the likes of Petula Clark, Tina Turner, Rod Stewart, Foreigner, Bob Seger, John Denver, Boston, Jimmy Buffet, and the original "J.T." That is - James Taylor!
Since music is so incredibly powerful, I truly believe that the music that we are exposed to at a young age can be a huge influence on the sort of person that we ultimately become.
(I could illustrate this with a few potent examples that stick out in my mind, involving Hatchet Man pendants, slinky clothes, black eye liner, and others, but I'll leave it at a somewhat vague suggestion and let you draw your own conclusions.)
Fortunately, I was raised by a woman who had impeccable and vastly eclectic taste. So many artists and genres, so many lessons and opportunities for growth. No matter what music my mother was listening to, there was always a lesson to learn from it.
So, in the form of a playlist, I would like to share the main parts of who and what I am, while giving due credit to the most influential person in my life who was also raised and influenced by these incredible artists. My mother.
*
I Will Always "Shower the People" I Love with Love
I can't tell you a single James Taylor song that I don't know by heart and truly love, and I honestly think that he is just an amazing human and musician. My favorite song by him, and maybe by anyone, is "Fire and Rain," and though I know he wrote it with a very specific event and friend in mind, this song speaks to me on so many levels that it has become my go-to pain-purging, soul-healing song. (You can listen to it HERE)
But in terms of love and the important people in my life, I will always think of the song below, and there is no denying that though some of you might think it's cheesy, I think the sentiment should be the most important in all our lives. It is in mine.
*
I Am Still "Like a Rock"
I'd have to say that I think this song illustrates possibly the most poignant thing that I have learned from my mother: how to Survive. And when I hear this song, I don't instantly think of the truck commercial like the rest of America. I think of the inner strength and fortitude that my mother, life, and this song helped instill in me at a very young age. I think of how my mother raised me to "walk with purpose and hold firm to what I feel is right. Like a Rock."
*
I Just Want to "Roll Me Away"
I can't deny that Bob Seger was probably one of the most regularly listened to artists of my youth, and for good reason. His music speaks to me on so many levels, including his apparent endeavor for freedom. There are not a lot of pursuits in this life that are more important to me or my mother than the desire, the need, to feel free. When one of us is feeling stuck or stifled, we don't have to say a thing. We know what the other is thinking. "Roll Me Away."
*
I'm "A Pirate Look(ing) at Forty"
Speaking of escape, there is not much in this world that I love more than the ocean. I came by this honest. Not only was I born and raised next to the water, but my mother was a deckhand, and she passed her love for the ocean, and her deck-handing skills, along to me. It should really not come as a surprise, then, that we are both huge fans of Jimmy Buffett. Now, don't get me wrong, I'll jam out to "Margaritaville" and "Cheeseburger in Paradise" like any true fan, but we believe Jimmy's magic lies in his deeper, less commercial, and more nautical songs. And these are the ones that speak to my soul. Some might believe in Mother Earth - I believe in "Mother Ocean." And even though I'm a lady, I'm also "a pirate... 200 years too late."
*
Remembering those "Rocky Mountain(s) High"
As much as I'm about as far away from being a landlubber as a girl can get, there's one thing that I love almost as much as the ocean - the mountains. In Hawaii, there are two directions that are most used - Mauka and Makai. Mountains and Oceans. You might wonder what this has to do with the sort of person I am. Well, if you have to ask, I'm not sure I'll be able to explain it to you, but I'm sort of like a locket that breaks in two - I'm just not whole without both. Seeing as how my mother is from Colorado, and we come from a family of Olympic Skiers, it seems only fitting that this John Denver song is another that speaks to my soul and to who I am. Because I've also "seen it rainin' fire in the sky."
*
I Don't Need A Man to "Colour My World"
I remember so many times, lying in the passenger seat with my feet up, singing this song at the top of my lungs with my mom - big smiles on our faces. She was the yellow sun and green grass of my life. Now, I know that I'm straying a little from the meaning of this song, but let's be real here. I was raised by a woman who taught me not to look for my happiness in a man. Thank goodness for that! But... I always loved this song by the awesome Petula Clark, and when I was growing up, I never related it to a man... I thought of it as the love of the people in our lives - especially my mother. Everyone who has come into my life has brought with them new colors, and I am blessed to be able to recognize that. I am so grateful that my mother taught me both to appreciate those who color my world and to be a joyful yellow light in someone else's.
*
Having and Being a "Bridge Over Troubled Water"
This one is just so plainly obvious I think, and honestly, my mom has meant so much and done so much that going into this song too much will make me cry enough tears that you might actually need that bridge. The truth is, though, that we all need people in our lives who are like our bridges over trouble waters, and my mother was this for many more than just my sister and me. Everyone I've ever been friends with or known has come to her for advice and hugs. And now, because of her guidance, I am that person for the people I meet. So, truly, this song is more than just a tear-jerker. It's a way of life.
*
"Better Be Good To Me" - I Deserve It
Aside from learning how to reach down deep inside of me and sing with soul, Tina Turner has a lot to teach all of us, and though I love all of her music, this song, as well as her and my mother's examples have helped me to overcome the childhood abuse of a father who might have led me to think I could survive on crumbs in a relationship and realize that I deserve better, and that the man I love had better be good to me. (He is - most of the time 😉). Side note, if you want to see one of the most awesome things ever - Google Paul Rudd doing an AMAZING performance of this song in a lip sync battle with Jimmy Fallon! Thank me later!
*
Learning to Listen to "The Wind"
Though we have always had very different spiritual beliefs than the incredibly talented Cat Stevens/Yusuf, all of his music - his lyrics, his voice, his playing - has always resonated with us. His musical soul is simply beautiful in meaning and in execution. And his song "The Wind" is one that we can all - should all - embrace and recognize its poignancy to our own search for what's important in our own lives. We all have to listen to the wind of our souls. Maybe our beliefs aren't all that different in the end... I learned this from my mother, and was guided by her goodness, and the goodness of songs like this one.
*
Staying "Forever Young"
I used to joke that my mom was a beautiful, if chaotic, mixture of Peter Pan and Captain Hook qualities. Well, in my older years, I'm finding that I am, too. Rod Stewart's song about remaining young while always learning and growing is so important for all of us. And his thoughts about learning from those with more wisdom than us is so precisely what I've done from and because of my mother. She has taught me (almost) everything I know, and everything that's important, but she also taught me how to be humble and learn from others. More importantly, she taught me how to hold onto innocence and joy even after a lifetime of abuse and hard lessons learned way too early. Because of her, I will always stay young, and I pray she (and YOU) will as well. ❤❤
❤
*****
Art & Words © Lena Folkert 2023. All rights reserved.
*****
❤ Author's final note: Thank you for reading the article above! If you enjoyed it, check out some of my other work below! And please don't forget to hit the ❤ button below and share with your friends!
About the Creator
Alaskan Grown Freelance Writer 🤍 Lover of Prose
Former Deckhand & Barista 🤍 Always a Pleaser & Eggshell-Walker
Lifelong Animal Lover & Whisperer 🤍 Ever the Student & Seeker
Traveler 🤍 Dreamer 🤍 Wanderer
Happily Lost 🤍 Luckily in Love
Reader insights
Outstanding
Excellent work. Looking forward to reading more!
Top insights
Excellent storytelling

Original narrative & well developed characters

Eye opening

Niche topic & fresh perspectives

On-point and relevant

Writing reflected the title & theme
Add your insights