Rise of the Ukulele
Thought to have origins based in Hawaii, the rise of the ukulele surprisingly begins somewhere else entirely.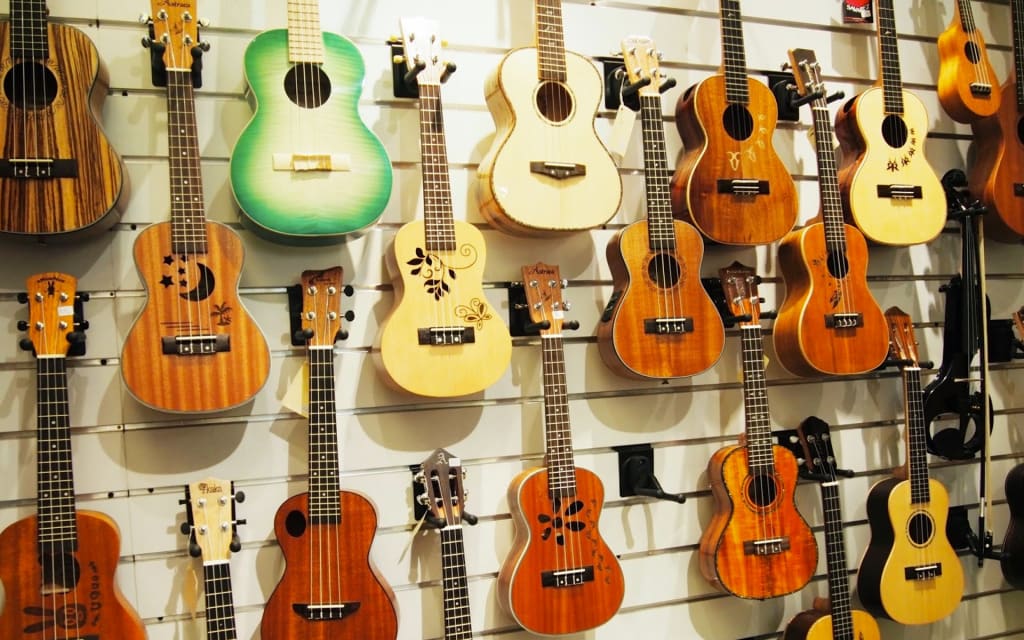 Ukuleles are largely associated with the Hawaiian islands. But they originated from a different island chain-the Portguese Islands of Madeira, based off a similar, small guitar-like instrument known as a machete. In the 1880s, the Portuguese immigrated to Hawaii to work in the sugar cane fields. Ukulele roughly translates to "jumping flea" in English, which is what Hawaiians first thought Portuguese immigrant Joao Fernandez's fingers looked like as they played the four strings on his machete. Once immigrants Manual Numes, Augusto Dias and Jose do Espirito Santo fulfilled their contracts on the fields, they moved to Honolulu to work in their former woodworking professions. Nearly a year later, they had each opened their own stores, where they specialized in stringed instruments.
After its Hawaiian debut, locals quickly adopted it into popular culture. It even caught King David Kalakaua's eye, a reason many credit for the quick rise of the ukulele. King Kalakaua promoted the ukulele as a Hawaiian instrument, using it at royal gatherings to play traditional Hawaiian music.
From Hawaii, to the Mainland, and Beyond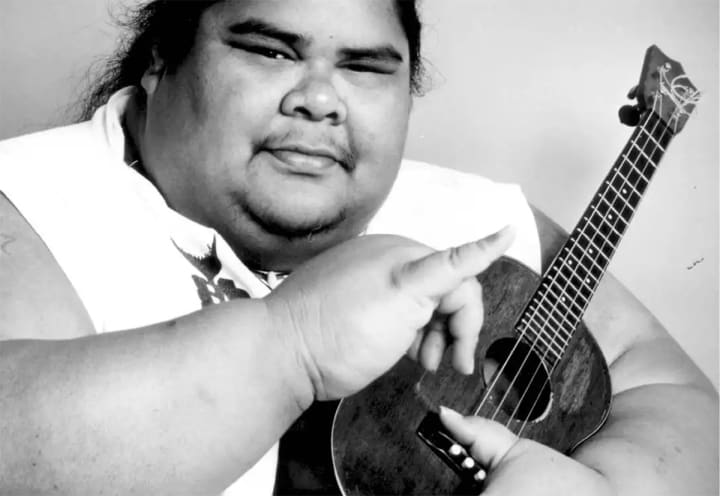 Before Zooey Deschanel, Ingrid Michaelson or Jake Shimabukuro picked up a ukulele, Israel Kamakawiwo'ole did. And the world fell captivated to him. He's best known for his rendition of "Somewhere Over the Rainbow/What a Wonderful World." The first time Hawaiian musician Del Beazley heard Kamakawiwo'ole perform at a graduation party, he recalls the whole room falling silent once Kamakawiwo'ole opened his mouth. He had a soul-soothing voice that captured any awaiting audience, but it wasn't just his voice that captivated. It was the simplicity and beauty of the small 4-stringed instrument that accompanied him.
The ukulele really rose in popularity during the Panama Pacific International Exposition in San Francisco in 1915, which featured Hawaiian ukulele players and won the hearts of fair visitors. Mainland musicians started picking up the machete adaptation, learning Hawaiian music and using it to play other, more popular mainland genres like jazz. It was welcomed as quickly on the mainland as it was in Hawaii, and because of its increasing popularity, instrument manufacturers in the lower 48 started making inexpensive models, making it accessible to anyone. The lute family member soon had a reputation as an ideal beginner's instrument due to its low price, small size and portability - all things that still ring true today.
Once the Great Depression sunk in, the prices of larger instruments like pianos and accordions skyrocketed, additionally aiding in the boost of sales for the ukulele. The uke retained its popularity in jazz throughout the 40s, 50s and 60s, and especially when stars like Elvis Presley or Betty Grable serenaded the country with one. But it was largely forgotten, overshadowed by rock and roll until the 1990s when manufacturers started producing them again, sparking the interest of a new generation. Israel Kamakawiwo'ole played a huge role in the rise of the ukulele in the 90s when he released his medley of "Over the Rainbow/What a Wonderful World," which exploded in films, TV shows and commercials throughout the decade, reaching number 12 on Billboard's Hot Digital Tracks chart on January 31, 2004.
Israel Kamakawiwo'ole bridged Hawaiian and exotic music with more popular mainstream music for that new generation in the 80s and 90s. He had a voice that could melt the hardest of hearts. Listening to his voice and that tiny instrument that accompanied it brought joy to people listening. Singer-songwriter Tift Merritt said, "Sometimes when you're writing on a ukulele, you're in a totally new land, rhythmically or melodically." And that's what the ukulele does - it transports its audience to a peaceful place, whether it's the trade winds of tropical lands or a place in their minds.
YouTube played as large of a role in the rise of the ukulele's popularity this century as San Francisco's fair did in 1915. Today, there are ukulele festivals worldwide, videos of toddlers mastering the instrument and ukuleles in vans or traveler's hands thanks to its portability. One of YouTube's largest uke star, Jake Shimabukuro, with over 15 million views on his rendition of George Harrison's "While My Guitar Gently Weeps," deemed it "the instrument of peace," saying, "if everyone played the ukulele, the world would be a much happier place."
Even Eddie Vedder picked up a ukulele. He reportedly bought one on a whim while on tour in Hawaii and was so impressed with it that he was inspired to make an entire album with one. He said he had $1.50 from playing the ukulele after owning it for seven minutes. Then he thought, "hmmm, this has some possibilities." He was nominated for a Grammy for the album in 2012.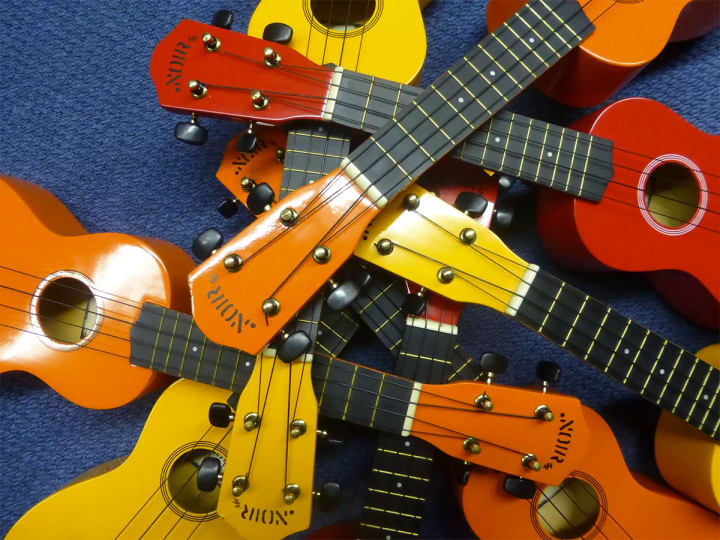 A man who truly knows the ukulele inside and out, Shimabukuro said, "There's something about the ukulele that just makes you smile. It makes you let your guard down. It brings out the child in all of us." The ukulele's easy strum, easy listening and simple, yet real, joy emitted from its sound makes it nearly impossible to play a sad song with it. Songs reflect the artist, much as instruments reflect the culture that built them. The ukulele not only emits joy, but it unifies its listeners through its innocence and pure happiness. The rise of the ukulele can be attributed to its portability, affordability and social atmosphere. But just as importantly, the intimidation that may appear with other instruments or artists, does not exist with the ukulele. "There's no ego when you're a ukulele player," Shimabukuro said. He showed that any song can be played on the ukulele, and by anyone. There's much more of an immediate gratification with it than perhaps any other instrument. It's easy yet beautiful in its melodies and all it represents. With a ukulele in hand, everything becomes possible.
And today, millions of people worldwide continue to contribute to the rise of the ukulele, carrying the legacy of the Portuguese immigrants who introduced the joy of the "jumping flea" to the world all those years ago.
About the Creator
Music student and proud Chipotle fanatic. Playing local shows and writing his own music between classes and burritos.
Reader insights
Be the first to share your insights about this piece.
Add your insights