Revisiting Jay-Z's '4:44': Powerful, Isn't It
Here's the second installment of my miniseries "Revisiting Jay-Z's '4:44.'" So sit, enjoy the binge reading.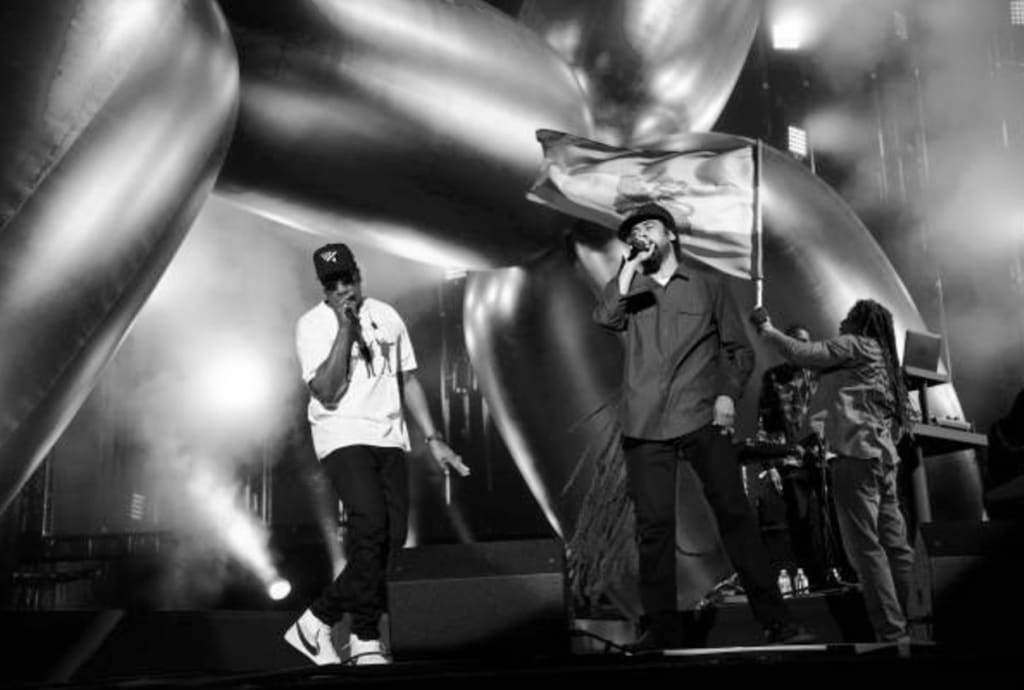 Getty Images | Kevin Mazur
In classic Shawn Carter fashion, it has been almost four months since the release of his thirteenth studio album, 4:44, and we're still talking about it.
"I take writing seriously. The art of writing, the things that work on multiple levels - that's hard to do. You have to take a concentrated effort." - pt.1
4:44 is filled with such dense subject matter and gems-galore, that I've made this a binge worthy miniseries. This is the second piece of six, where I dive into "Bam" and use the Rap Radar interview for support. Click here to check out the rest of the series.
"Allow me to reintroduce myself, my name is..." - Oops, sorry I couldn't help myself.
If you didn't know the difference between Hov and Shawn Carter... well now I hope you do. After killing off his ego in "Kill Jay-Z," Shawn seems to forget his other ego, Hov. "Bam" is where braggadocios and proud side emerges in the album to talk his shit. While the hit song alone is great, the visual for this track speaks on so many levels.
The song itself is the essence of Hov, a raw radio hit, but its visual is humbling to say the least. The video brings us to Jamaica, the birthplace of Reggae. There is a tradition that was, is kept with Reggae. The artists were socially conscious and spoke about issues through their own voice, their lyrics. Sound familiar? Hip Hop was derived from Reggae, and even before that. It's about the tradition and artistry of storytelling, of vocalizing your surroundings, and just making people feel good at the same damn time.
"The prophets in the beginning were musicians. They were the poets, the writers, and that's what we've been tasked with in this life. Shit is…it's actually kind of humbling, you know."
The visual speaks to the sole purpose of artists. It speaks to that need to express one's creativity. To share your art with others and it be so damn good, it lives on past your time. Sampling 1982 "Bam Bam," Sister Nancy herself makes a cameo. After her time, "Bam Bam" will live on. Sister Nancy's daughter will go on to say "That's mommy's 'Bam Bam'." As Jamaica thrives on the traditions of Reggae, our culture should be following suite.
Make sure we're taking care of business. Make sure we're pushing this culture forward. You got in, make sure you leave that door wide open for the next generation. Let's not just get here and blow the whole thing. Before you know it, Rap is like Jazz and its just being played in a small club. We got a big imprint on the world, and with that imprint we can move the whole culture." - pt. 2
The visual highlights how essential music is to a community, to the artists themselves to pass down through generations. Music is hope. Music is life. If today's generation of artists don't step it up, Rap will cease to exist. Thankfully Hip Hop is far from that for now.
"Why do people think that Rap just took over the most important genre? Because of streaming numbers? That's been happen. Rap has been the most important powerful music for 20 years now. That's just a fact. Now people can endpoint to something like streaming, but you're telling us stuff that we already knew that." pt. 2
Jay-Z respects the artistry of Rap, he's never been shy about that. When he won his well deserved spot into the Writers Hall of Fame, he thanked those who came before him and his peers that inspired him. Jay has been using his platform, his position in Hip Hop to "extend the runway and the possibilities for everyone." In the interview, he continues to talk about the different trends of Hip Hop and where it's going.
"It's way more diverse. Cole does what he does, then you have trap music — this conversation of different genres within Rap music keeps coming up. Rap is growing up. It's still one of the youngest genre in music. So no one really knows what its going to be yet. We haven't seen a guy 47 years old put out this sort of album. We haven't seen that. This thing is small, its young. It's gunna grow, it's gunna be wide. It's gonna be wonderful and beautiful, and people are going to be able to coexist." pt. 2
Here is Hov, just making some "good music" and dropping gems that will last beyond his years because of the impact of his lyrics and its visuals.
Go ahead, check out the next visual offering from Jay-Z.
About the Creator
I'm a 20-something year old who's obsessed with music, and sometimes I write about it. I hope you enjoy my ramblings.
IG: @writtenbysade
@thelyricalfixpod
@checkit.openmic
Reader insights
Be the first to share your insights about this piece.
Add your insights