Review of In the Heights
Everything That's Good about America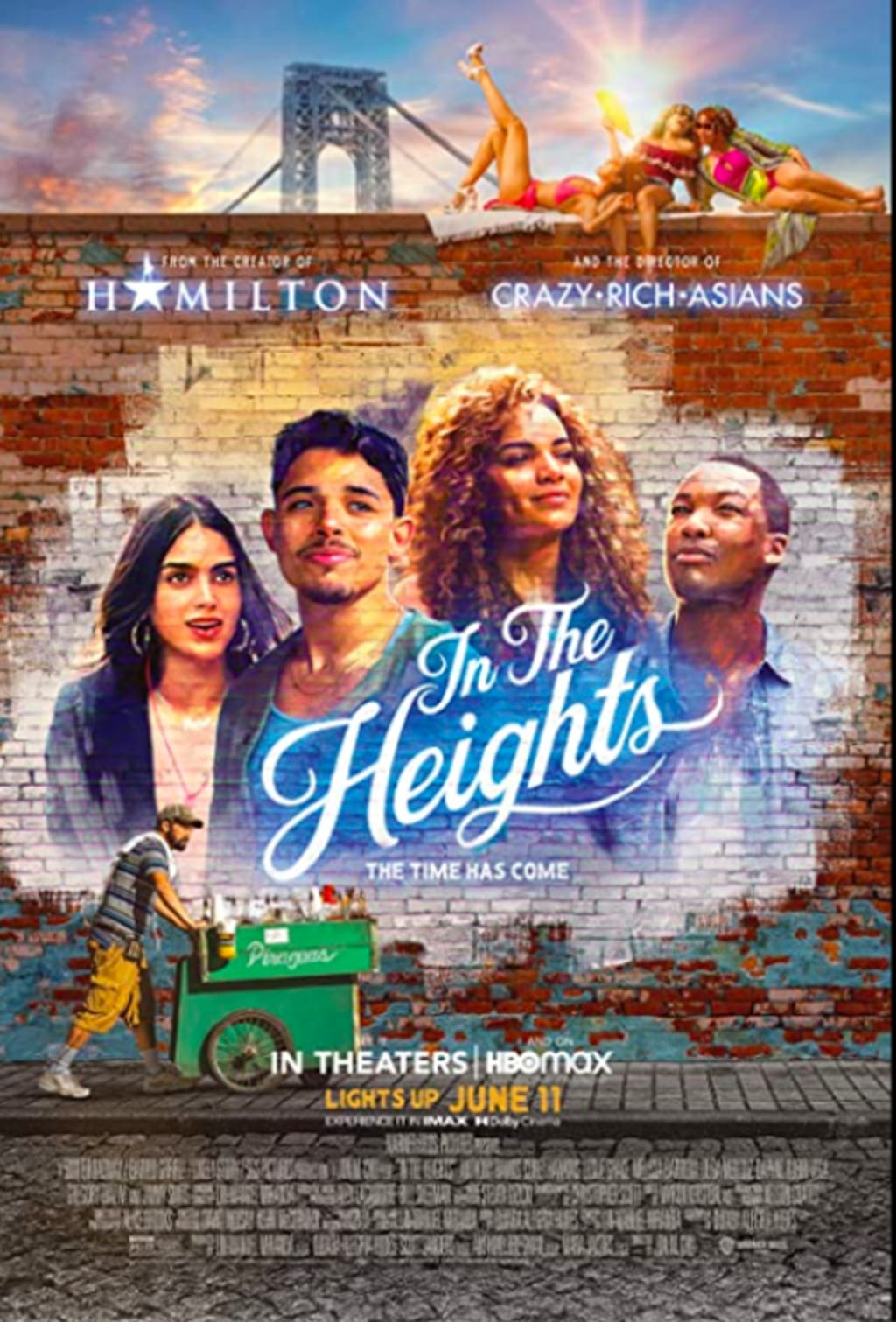 My wife and I saw In the Heights, the Jon Chu movie on HBO Max, based on Lin-Manuel Miranda's musical play. We really loved it. It's a righteous joy of a movie, symbolizing everything that's good about America. That would be that when left to our own devices, we are a land of dreams that can come true.
The story takes place in Washington Heights, a place I know well. I was there a few days a week for a good ten years or so, going to and from my first full-time teaching job at Fairleigh Dickinson University in Teaneck. I didn't drive yet back then, so I got from the Bronx to Teaneck, New Jersey on a train to Washington Heights and a bus from the Port Authority on Route 4. When I had time, I grabbed some delicious Cuban-Chinese food in a restaurant across the street from the Port Authority.
Anthony Ramos (who did a great job on the new In Treatment) is outstanding as Usnavi, doing an especially good job giving voice to Miranda's catchy, soaring, soulful songs, with surging melodies and top-notch lyrics. At times these songs were so good they evoked Cole Porter.
The story was people from the Caribbean struggling to make it in New York, more specifically Washington Heights. What they have going for them is irrepressible energy and incandescent talent. But it's tough surmounting poverty, even when you don't have Trump and his ilk beating you down. Your homeland in the islands is always calling you back ... and I'm not going to say anything more about the plot, except that the ending is a kind of artistic magic, literally.
The movie's Hispanic fabric reminded me of West Side Story, and my wife mentioned Evita. But In the Heights is most demonstrably neither. It's about the people not the dictator. And it's a triumph of life not a Shakespearean tragedy.
Three cheers to Anthony Ramos, Leslie Grace, Melissa Barrera, Corey Hawkins, Jimmy Smits and everyone who acted and sang their hearts out in this movie. Including Lin-Manuel Miranda, whose Piragüero selling flavored ice has what will go down as a classic non-violent fight with Mr. Softee.
movie review
Paul Levinson's novels include The Silk Code & The Plot To Save Socrates; his LPs Twice Upon A Rhyme & Welcome Up; his nonfiction including Fake News in Real Context, The Soft Edge & Digital McLuhan have been translated into 15 languages.
Receive stories by Paul Levinson in

your feed