Review - Eminem ('Revival')
The Next Chapter of Marshall Mathers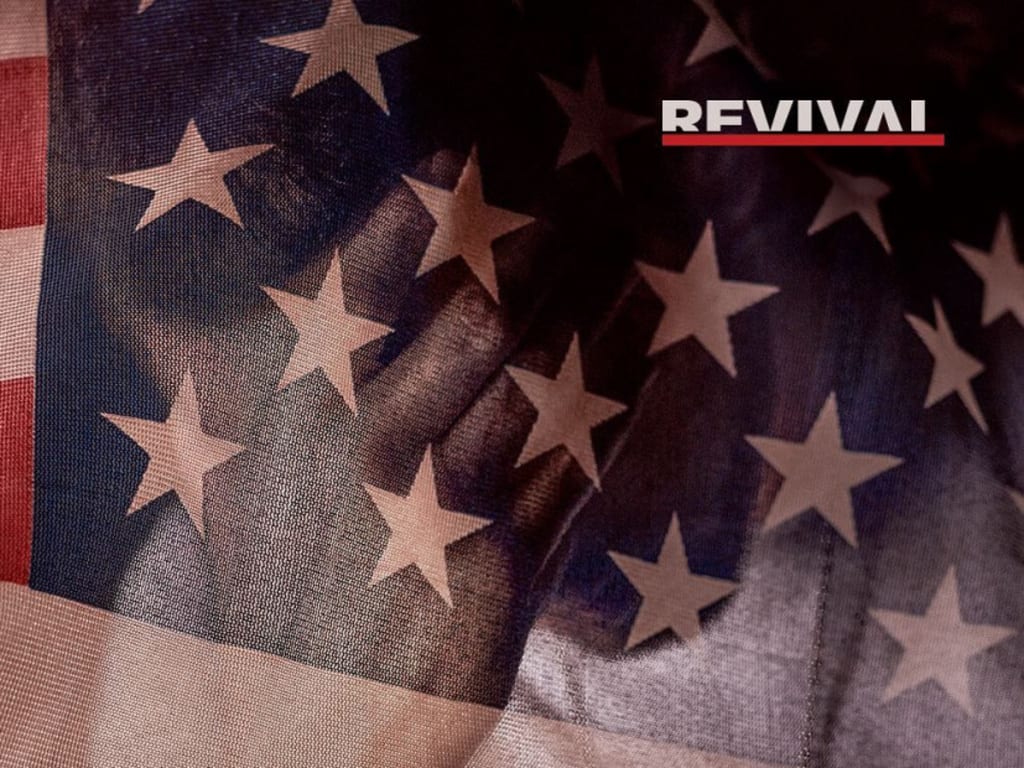 From HipHopDX
Hip Hop legend Eminem's ninth studio album has officially dropped and it's a monster. It's got 19 songs and is one hour and seventeen minutes in length and feature the likes of Beyonce, Ed Sheeran, Alicia Keys, Kehlani, Pink, and more. After stories about his marketing campaign over at HipHop DX, which I think is pretty funny and smart, and it leaked two days before the actual release. Oh, let's also not forget his Trump bashing freestyle he did for the BET awards which, to me, set a base level tone for what this album is going to be about. What you actually get from this project is one of his most polished and innovative albums. It doesn't drag at all because every couple of songs he smoothly changes up the sound. I'm going to be highlighting some tracks that I think have to hit potential and also that stand out because breaking down 19 songs is deathly and frankly, I won't care by the end.
Song Breakdown
The Singles:
Walk on Water feat. Beyonce
This song is a classic, honest, and self-deprecating Eminem song. It shows the struggle he has with the rap game about always having to top himself. It's also quite transparent that he is trying to dispell what he had stated on his last project The Marshall Mathers Project 2, in which he had a song called "Rap God" and in "Walk on Water" Beyonce's chorus is "I walk on water, but I ain't no Jesus, I walk on water, But only when is frozen." Basically, this song is about Eminem showing his rap mortality, that he still struggles to write songs and just how critical he is to himself. This song obviously has hit power because Beyonce has an amazing hook.
Untouchable
This is one of the best songs covering the racial tension in America that I've heard. This is for two reasons. Firstly, he covers both the "white" and "black" sides of this issue and it doesn't come off disingenuous like "I'm Not Racist" did to me. Secondly, like Kenrick Lamar, it's a great song first, then a statement. Kendrick Lamar does make a statement, but he puts it in a medium that is easy to consume. The song "m.A.A.d city" has a very powerful point but it's also a great song. The main element is the heavy electric guitar in the beginning when Eminem is talking in the voice of his "white side." Then about halfway through the song, he switches to the voice of his "black side." They both have powerful lyrics, but the "black side" hits harder because of the more subtle classic hip-hop beat that he is rapping over.
The Rock Samplers:
Remind Me
This is my favorite song on the whole album because of the amazing sampling he employs on this track. He uses "I Love Rock and Roll" by Joan Jett & the Blackhearts but morphs it into exactly what he wants. This is the best use of sampling that I've heard in 2017. This is that most obvious example of how Eminem switches the sounds on this album. I just love this and am putting it on my playlist.
In Your Head
This song samples the Cranberries for the chorus of their song "Zombie," which is another use of how Eminem samples from rock to get his message across. In your head, this is the classic Eminem conflicted rap ballot where he is conflicted. If you listen to this song and you've listened to Eminem's songs, you'll know what I mean by that. It's like a mature version of "Lose Yourself," to me at least.
The Trump Songs:
"Like Home" feat. Alicia Keys
This is the biggest statement song on the whole album. Honestly, I thought that there would be more songs on the topic of a divided America and Trump, but I only caught two. I'm probably missing something. It's a powerful song because it comes from the angle of the loving home and wanting to be proud of where you are from. It's not just a diss track like the BET awards freestyle was. It's motivated by Trump but it's more of a call to action for the American people.
"Heat"
I know this song isn't about Trump but he gets a mention and I make the rules here so that's why this song got shoved into this category. He only talks about grabbing pussy and says that they actually agree on one thing. This song is actually about him wanting to have sex with a woman. Like a majority of Eminem's songs about women, he does some light stalking and uses some graphic imagery. I can safely say this is not suitable for show and tell.
Dishonorable Mention
Skylar Grey's feature on "Tragic Endings"
To me, it was very difficult to listen to because it felt like she was piercing a needle into my ear, but it was also very quiet. I don't know, I just think that in my opinion, this song needed a more powerful chorus. The intensity of Eminem's lyrics was not matched at all in the chorus. That is just my initial impression, though.
Final Thoughts
It's an older Eminem. With that comes better bars, tighter beats, and better sampling and features. He knows what he wants to say and he knows how to say it. The only gripe I have with it is that the slow songs are good and the powerful are at the least overshadowed and at the most out of place. This could have been with my mood coming into my listen, but it starts off strong, then goes from "Like Home" to "Bad Husband," which outshines X Ambassador's feature because you just got Alicia Keys's powerful performance. I think "Bad Husband" could've done better somewhere else on the album. My final rating is 9/10.
If you want to contact me, my instagram is @calder_amoswood.
About the Creator
I wanted to be like Indiana Jones until I realized that there were probably mosquitos where he did his adventures.
I like basketball, rap music, esports and books.
Twitter: @amos_calder
Reader insights
Be the first to share your insights about this piece.
Add your insights