'Open Your Eyes' - Yes Caught at the Crossroads
Which Way to Go?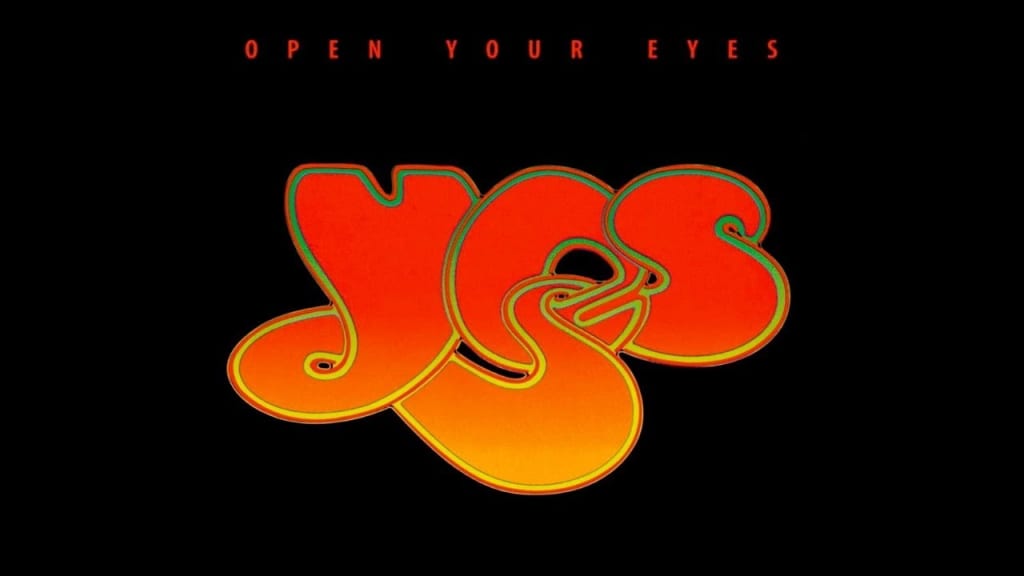 In 1997, keyboardist Rick Wakeman left Yes (again) after being displeased with promotional strategies regarding the Keys to Ascension albums and the lack of communication with Yes management. As a result, some tour dates were canceled. Billy Sherwood, who had been mixing the studio tracks on Keys to Ascension 2, decided to come in and help since he wanted Yes to keep on going. He had known bassist Chris Squire since the late 1980s, and was considered as a potential replacement for vocalist Jon Anderson prior to 1991s Union. Though Anderson's voice replaced Sherwood's on "The More We Live-Let Go," Sherwood's bass playing remained intact. In 1992, he had toured with Squire as part of The Chris Squire Experiment (with Alan White on drums). And in 1994, Sherwood performed with Yes at their shows on the Talk Tour. Plus, in 1995, he sang "Wonderous Stories" on the tribute album Tales from Yesterday. So he wasn't a musician who came from nowhere; he was very familiar with Yes music and had worked with Yes members.
There had been plans for The Chris Squire Experiment to release an album called Chemistry, but Yes took precedence. The Chris Squire Experiment song "Wish I Knew" (which had been performed live in 1992) was repurposed as "Open Your Eyes." And "Man in the Moon" was also based on a track by Squire and Sherwood. Tapes containing early versions of "New State of Mind", "Universal Garden," "Wonderlove," and "Love Shine" were mailed from Sherwood to Anderson, who then added vocals in Hawaii. The tapes were sent back and then mailed to drummer Alan White, who then flew to Los Angeles and added drums. After this, guitarist Steve Howe received the tapes in England. He was not fond of the new material being pop-oriented, but he returned for the album toward the end of its completion. Howe has since expressed displeasure with the lack of his and Anderson's input, but he has also said that he's happy with the tracks from "Wonderlove" onward.
Keyboard duties on most tracks were fulfilled by Billy Sherwood, who also played guitars and mixed the album. He would go on to fulfill rhythm guitar duties on the tour. Toto's Steve Porcaro, who had toured with The Chris Squire Experiment, played keyboards on "Open Your Eyes." Carl Jacobson of the Cakewalk software house brought Anderson's attention to keyboardist Igor Khoroshev, who then played keyboards on "New State of Mind", "No Way We Can Lose," and "Fortune Seller." He also joined Yes on their tour.
Open Your Eyes was released by Eagle Records in the UK and Beyond Music in the US on November 25, 1997, just 22 days after the release of Keys to Ascension 2. The timing of these releases was very unfortunate. Coming out so soon after the studio material on Keys to Ascension 2, it's understandable that Open Your Eyes would feel underwhelming to some. Had it somehow been made and released between Talk and Keys to Ascension (with The Ladder feeling more like a natural progression from the latter), Open Your Eyes might have been better received. It's all about timing. But over time, I've seen (all good) people come to appreciate this album a bit more. It may not be for everyone, but there really is some great playing on these songs.
1. "New State of Mind"
The intro to "New State of Mind" sounds like an approaching motorcycle. The music crashes down, and it is clear that this direction is different from the studio tracks on the Keys to Ascension albums. I really like the opening verse, "Waiting for the moment when the moment has been waiting all the time." It reminds people that they can take action rather than wait for good things to happen to them. The vocal harmonies are very poppy. This truly is "A new perspective, a new state of mind."
Squire's bass certainly has moments to shine on this track. The lyrics "You've got to let it go / You've got to let yourself believe in all that can be" remind me of "The More We Live-Let Go," but the tone of the music is more upbeat. I'm also fond of the words, "Designing the future we're building, the dreams taking flight." There is a moment in the middle of the song where it feels like it's ending, but then the pace picks up again, and it the song continues. Regardless of how the music measures against the Yes classics that people prefer, I'm sure many could agree that this song's focus on cleansing one's mind and thinking positively is very much in the spirit of Yes.
2. "Open Your Eyes"
The Chris Squire Experiment's "Wish I Knew" was already a good song. But once one listens to "Open Your Eyes," the spaces in which lyrics are absent from the original version become very noticeable. Altogether, the words point out how people become complacent with their day to day routines without thinking about what could be. In that regard, "Open Your Eyes" is in the vein of "Owner of a Lonely Heart." Toward the end, the vocals coming from various directions may become overwhelming to some. But overall, "Open Your Eyes" is put together pretty well. Only three songs from this album were performed live on the tour, and the title track was performed the most consistently.
3. "Universal Garden"
It's a bit surprising that Howe has said that he's happy with track 7 onward. The intro to "Universal Garden" sounds very much like the type of stuff that Howe played on classic Yes tracks, and it points to the cosmic and mystical sides that Anderson is known for exploring in Yes music. Perhaps Howe's views are due to the song sounding a bit artificial when it gets to the verses, "Beyond the sun / Beyond the sky / Are where the real questions lie." I actually like how thought-provoking these words are. They really make one think about how big the universe is beyond just our own planet. There are spacey sounds throughout, and the ending reminds me of the end of ABWH's "Order of the Universe."
Sherwood and Squire later formed a band called Conspiracy, and their performance of "Universal Garden" appeared on 2006's Conspiracy Live. And on May 18, 2015, Billy Sherwood released his own version of the song, which sounds really good. I might even prefer it slightly over the Yes version.
4. "No Way We Can Lose"
"No Way We Can Lose" is very laid back and bluesy. Squire is showcased on the harmonica here. The sentiments of "New State of Mind" are echoed through the words "Living for the perfect dream" and "Shaping everything to our design / We'll build a brighter future." The song can sound somewhat repetitive, and it could have been developed further. But one may still find inspiration hearing the words "We can all find a way to resolve our differences." It appears that "No Way We Can Lose" was performed at only two Yes shows, one of which included a choir from Millikan Junior High School, which Sherwood used to attend.
5. "Fortune Seller"
"Fortune Seller" was originally going to be titled "Fortune Teller," but Anderson suggested the final title to Sherwood. A good move since it makes the song title sound less generic. "Fortune Seller" sounds very computerized (if that's the right term) as the opening verses come in. It sounds as though it is intentionally meant to sound artificial, complete with "1-800" at the end. This is a reference to TV psychics with toll-free numbers, but it sounds randomly placed. This is another song that sounds somewhat repetitive and could have used a bit more development. However, I do like the verses, "They say that time is like a river that flows / And where that river ends nobody knows." These words are catchy and bring up the unpredictability of life. The verse "Looking into the future" continues the recurring motif regarding the future. Squire also has some great bass playing throughout this song.
6. "Man in the Moon"
To my ears, "Man in the Moon" does not sound too different from the version that Conspiracy would eventually release. To me, this song sounds a bit cheesy, which is a bit amusing given the old saying about the Moon being made of cheese. We get such lyrics as "Round and round and round I go / When I stop no one will know," which bring to mind "Future Times/Rejoice" and "On the Silent Wings of Freedom" from Tormato, as well as the verses about the river in the previous track. At times, the instruments sound a bit muddled up in the mix.
7. "Wonderlove"
"Wonderlove" is a turning point in the track list. This has more of what people might have been looking for in music reminiscent of classic Yes. It has an elegant, gentle guitar intro. The opening verses are, "I believed that one day love would cast a line / I believed there was something more for me to find," and they are conveyed in an inspiring manner. I admire the brief drumming against "Hoping today / Hoping tomorrow," and I wish that similar verses and drumming had immediately followed these ones.
So I do think "Wonderlove" could have been developed a little bit more, but it does go to interesting places. There is a sharp change in tone for the "It was the very next day..." stanza. The mood is changed for a bit, and I wish there could have been a bit more time spent in that place before reverting back to the more upbeat tone. We do return to this different mood toward the end, but I just wish that it could have been longer. The verses here fit with the recurring motif of going toward a future destination: "Just imagine what you give is who you are and where you're going to / If you're looking for the wisdom of the world / All you've got to do is let it coming through."
8. "From the Balcony"
"From the Balcony" is the shortest song on the album. It is essentially just Howe and Anderson, but I think it works very well with just the two of them. It's a very sincere, romantic song. I like how the pace changes for the following stanza:
"You know that I would be
The one who waits forever
You know that someday we will find
A way to share our love"
And then we hear something like "la-la-love" echoing before the final stanza, which ends with "New state of mind." The line feels like an attempt to tie the album together, but to me, it doesn't feel forced. "From the Balcony" was performed on the tour, though not as frequently as "Open Your Eyes."
9. "Love Shine"
After the gentle "From the Balcony," "Love Shine" feels like an abrupt change of tone. As was the case on bits of "Fortune Seller," the singing sounds artificial. I do like the words, "I won't dream again until I dream with you." But other lyrics such as "1234567 / All good people" give this song a cheesy pop feel. (And now I'm wondering whether there exists a snack called a cheesy pop.) It's difficult for me to take "Love Shine" seriously because it reminds me of "Monster Out of You" from Alvin and the Chipmunks Meet the Wolfman.
10. "Somehow, Someday"
"Somehow, Somday" contains some themes and words from Anderson solo songs: "Boundaries" from Animation (1982) and "O'er" from the Celtic-inspired The Promise Ring (1997). I think that "O'er" has the best lyrics, but the other two have better instrumentation. Since the instrumentation for "Boundaries" and "Somehow, Someday" are stark contrasts, it's hard for me to decide the music I prefer. I do like that "Somehow, Someday" sounds different enough to justify its existence. The opening stanza sounds very much like the beginning of an Anderson solo song, but then other sounds come in to make it clear that this is the Open Your Eyes album. For some reason, I find "Hearts will be chosen" to be very catchy. A song that could have sounded out of place is contextualized pretty well for this release.
11. "The Solution"
"The Solution" feels like a bit of an extension of "The More We Live-Let Go" in terms of its message. The verses "Don't disbelieve / Let your fears go" feel very empowering. We get a sense of the unknown via "The past can haunt your future so / Shadows are falling look out below." I do wish that there could have been more of this and a bit less of the poppy "Giving in, giving out, do the best you can do" section, "Caught at the crossroads, 'Which way to go?'" It feeds into the recurring theme of the uncertain future.
"The Solution" itself is almost five-and-a-half minutes long. And then after two minutes of silence, there's a 15-minute ambient track on which words from various songs on the album pop up every now and then. The first set of words can scare the heck out of someone if they have the volume up high and do not know what to expect. This ambient track could be heard prior to shows on the Open Your Eyes Tour. It's a really odd addition to the CD.
Conclusion
As a sidenote, the album cover for Open Your Eyes is a bit of a missed opportunity to have the Yes logo within the word "Eyes," but that doesn't really matter so much. As mentioned above, I think there are areas where the songs on Open Your Eyes could have been more developed or sounded less poppy than they ended up sounding. To be fair, though, there was a very limited window of time for the band to make the album, and I appreciate Sherwood's intentions to help Yes remain active. It may be perceived as a "lost Yes album," since it was underrepresented on a tour when Yes wanted to focus more on playing the classics. Open Your Eyes may have been underwhelming coming right off the heels of the studio material on the Keys to Ascension albums, but now one can listen to Open Your Eyes without that immediate context and enjoy it for what it is.