'One Man Dog'
James Taylor's fourth album.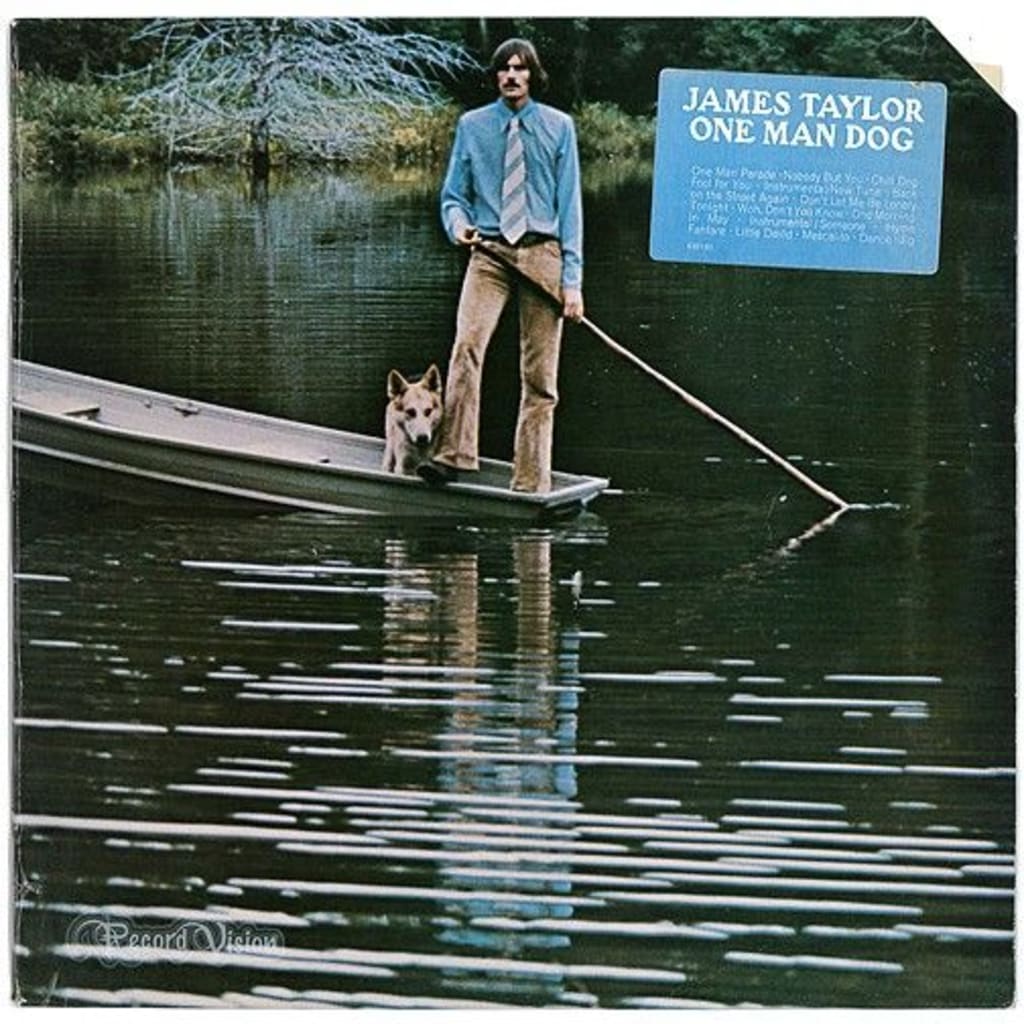 It is perhaps understandable and in retrospect inevitable that after releasing two albums as strong as Sweet Baby James and Mud Slide Slim And The Blue Horizon that the quality would taper off with James Taylor's fourth album. Entering A&R Recording Studio in New York and Clover Recorders in Summer 1972, Taylor and producer Peter Asher certainly had a lot to live up to.
From the looks of the album's construction it seemed Taylor intended to deal with these expectations by scaling back in some curious ways. Of its 18 tracks, for example, 11 clock in below or barely above the 2 minute mark and the album features such descriptive titles as "New Tune," "Instrumental I," "Instrumental II," "Dance" and "Jig." There are also two songs not written by James, along with a traditional tune. And the bulk of the material was recorded not in the aforementioned studios but at James's home studio in Martha's Vineyard, where he was living with his new bride Carly Simon.
While not a horrible album by any means, One Man Dog really only has one truly memorable song and the rest is pretty forgettable, especially in relation to its smash predecessors. The record features the strong backing of the musical group known as the Section and a good number of estimable guest musicians. Without a doubt, One Man Dog has some stellar moments; it might be the brevity of the songs that makes them feel more like song sketches or some other indiscernible factor but the album never really takes hold the way his previous albums had. But revisiting the album does reveal considerable charms.
The album opens with "One Man Parade," which Taylor had been performing in concert. It was to have been the title track of the album but Taylor changed that, possibly as a tribute to his shepherd dog featured on the cover art and mentioned in the song. The song provides a strong opening to the album; it's of a piece with several of the songs on Mud Slide, and it's vintage Taylor but with a light Latin feel with prominent percussion with Danny " Kootch" Kortchmar on timbales as well as electric guitar, Russ Kunkel on congas and Peter Asher on guiro.
The song also features James' siblings Alex, Hugh and Kate Taylor on background vocals along with Carole King, Abigale Haness, and Simon, making her first appearance on a James Taylor album. The song was released as the second single from the album in February 1973 but did not hit the Top 40.
"Nobody But You" is next, a nice song that makes subtle reference to the lyric of his earlier hit "Country Road," and seems to express at a very early stage a confidence that he already wasn't on "top of the world" any more. Now Taylor had gone 19 months between albums (a huge gap in the early 1970s) but "You've Got a Friend" was still resonant, Taylor had yet to fail commercially (as to some extent he would on this album) and his wife Carly had not yet released the smash "You're So Vain." But the lyric here did prove prescient, as for a while he was #2 in popularity in his own family. Musically, the backing is stellar as usual, with Craig Doerge on acoustic and electric piano along with "Kootch" on electric guitar and Kunkel on drums and congas.
"Chili Dog" is a novelty song about the food of the same name. It is rather silly but mercifully short.
"Fool For You" is a song about how love can rearrange the life of a free spirit like James had been over the years; it is presumably aimed at his new wife. Musically the song is mostly a showcase for legendary percussionist Ms. Bobbye Hall on congas and tambourine.
Next is the first of two instrumental tracks on the album, this one reminiscent of his Baby James song "Lo and Behold. It serves as a nice bridge to "New Tune,"which features James on acoustic guitar, Russ Kunkel on congas and cabasa, Craig Doerge on piano and Leland Sklar on bass. A severe contrast to "Fool for You," it appears to be about a faded love and there are clues to suggest it might have been about Joni Mitchell, who played such a key role in Mud Slide.
Next is "Back On the Street Again," an uptempo song written by "Kootch" and driven by his and James's acoustic guitars, Russ's Congas, Leland on guitarone and bass and Craig on piano.
"Don't Let Me Be Lonely Tonight" is the by far the most memorable song on the album and certainly the most successful, reaching No. 14 on Billboard at about the same time as "You're So Vain" hit number one. Among all the short songs and seeming fragments on the album this song seems curiously complete, almost like Taylor was banking on the song to ensure that the album had at least a bit of commercial potential.
The members of the Section (Kortchmar, Lee Sklar, Doerge, and Kunkel) acquit themselves admirably on the song, but the most notable aspect of the song musically is a tremendous saxophone solo by jazzman Michael Brecker of the Brecker Brothers. Brecker would later record the song on his 2001 album Nearness of You: The Ballad Book, inviting none other than James himself to reprise his vocal performance. Taylor would win the Grammy for Best Male Pop Vocal Performance for that rendition, a very useful device for keeping James in the public eye as it had been over four years since he had released his latest album Hourglass.
"Don't Let Me Be Lonely" was the only One Man Dog song to appear on a Taylor compilation, most prominently on his Warner Brothers Greatest Hits album, which was a huge hit in 1976. The song was also widely covered over the years. In addition to Brecker, the song is available in versions by the Isley Brothers, Isaac Hayes, Eric Clapton, Joe Cocker, Johnny Mathis, and a hit version by jazz saxophonist Boney James.
"Woh, Don't You Know" is a minor song that self-references earlier Taylor tracks. The credited to Taylor, Kortchmar and Sklar, all of whom play on it.
"One Morning in May" is an effective recording of an old folk song, recorded at Clover Studios and featuring background vocals from fellow Peter Asher client Linda Ronstadt.
Instrumental II provides another showcase of the Section's instrumental prowess along with Ms. Bobbye Hall on bongos, shaker and bells.
"Someone" is a song by John McLaughlin, who plays acoustic guitar on the track.
"Hymn" and "Fanfare" together formed the B-side of the "One Man Parade" single and start off an album-closing suite that falls a bit short of Abbey Road's close but has its strong moments. The two songs feature Barry Rogers on trombone; Art Baron on bass trombone; Randy Brecker on piccolo trumpet, trumpet and flugelhorn: and Michael Brecker on tenor and soprano saxophone.
The sub-1 minute ditties "Little David" and "Mescolito" quickly follow after which comes "Dance," a song that features John Hartford (of "Gentle on My Mind" fame) on fiddle and banjo, Dash Crofts (of Seals and Crofts) on mandolin, and frequent Wrecking Crew collaborator Red Rhodes. The album concludes with "Jig," an upbeat tune that features a lot of brass and percussion from Bobbye Hall as well as flute from Michael Brecker.
Looking back at this album for this review, I came away more impressed than I had been previously. It's difficult to say whether the album was an act of ambition on Taylor's part or a result of some kind of creative block that wouldn't allow for construction of the solid songs on the album's two predecessors. But repeated listenings show One Man Dog to be the work of a substantial artist, though it seems destined to forever be one of his lesser known albums.
70s music
Writer, Drummer, Singer, Percussionist, Star Wars and Disney Devotee.
sclifeonthespectrum.wordpress.com
Receive stories by Sean Callaghan in

your feed