October Evans on Patreon
Why support me on Patreon? Read on to learn more, and how it not only benefits me, but benefits you as well.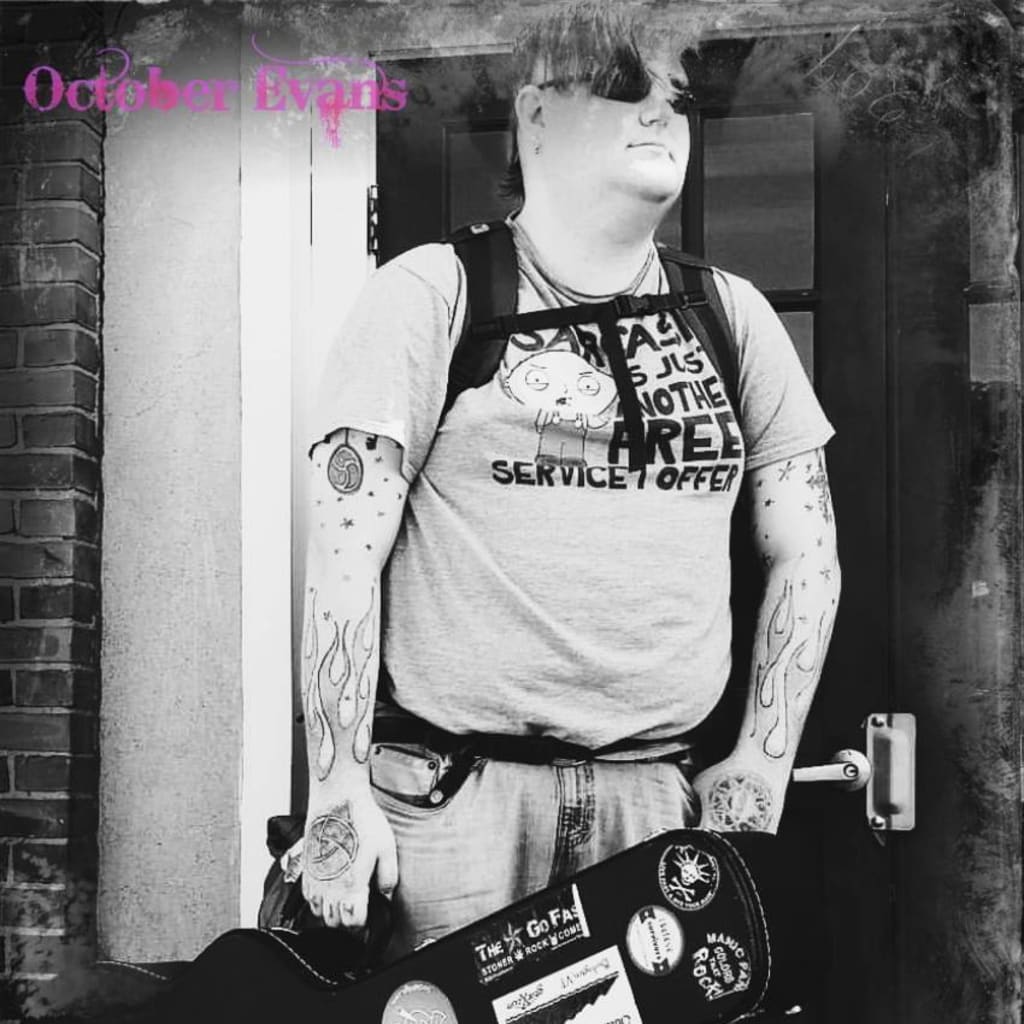 Hello, my name is October Evans. I'm a musician/singer-songwriter, among other things that I do or have done in my life professionally and personally. I'm a transgender/genderqueer woman, a multi-industry entrepreneur, writer, blogger, poet, vlogger, activist, filmmaker, model/actress, etc. I'm also considered to be ahead of the curve, as a Mad Genius revolutionary among my peers, who said this to me and other people they've crossed paths with several time or more in my life for 30 years here on Earth. But most importantly, I've been in the music scene for a little close to 20 years, having started my first of several bands at only 13-years-old. I'm 30-years-old now and have been everywhere in the world and in my life, sharing the stories and what I've been through over the years.
And whilst the landscape of the music industry has changed, and an independent music revolution has begun in the last decade, it's been brought to my attention that my story, my journey, my indie music industry career, it's not being amplified enough and not being told enough. Mostly because we're in such a saturated world nowadays and corporations who run those major record labels are making it difficult for struggling indie musicians, songwriters, singers, bands, rappers to actually garner some sort of following in real life and digitally. With much of social media censoring the aforementioned indie artists and making it difficult for us to promote anything of worthy music consideration, there are still tools made available that has allowed a musician/singer-songwriter such as myself to make some sort of name digitally and in real life via the means of digital distribution platforms like ReverbNation, DistroKid, etc.
But it's still not enough. What I need next is more fans and new listeners to subscribe and follow me, spread the word far and wide and keep doing what I have loved doing for the last 20-ish years in the music industry since I first picked up a guitar and learned to play the piano at the mere age of five, and starting my first band at 13 back home in a small town hell hole somewhere in Texas. One of the many ways to do so is to continue to have a sustainable source of monthly income/revenue so that I can do more for you, my fans, on a daily, weekly, monthly and yearly basis.
For those who are familiar with the likes of Patreon and Bandcamp, it is a online membership/subscription platform whereas I share many of my behind-the-scenes content, vlog episodes from the studio or during tours on the road, release homemade demos and never-before-released songs that weren't on previous albums that I released over the years with my band (and now as a solo artist), give the fans more opportunities to win free gear/goodies, free concert tickets, free VIP/meet-n-greet passes, give out discount codes to use at my official merchandise store to buy new merch at insanely affordable prices, launch official music videos and lyric videos at least one day before it's posted everywhere else, get an opportunity to write fan-mail letters to me, win rare spots to be a part of future fan-made music videos or an extra/guest in one of my videos, watch live shows and acoustic performances and so much more that I can offer and have been offering for a little close to two years now on Patreon (and of course on Bandcamp, which you can find here).
But now is the time to amplify the story that I've been telling on previous social media platforms (Facebook, Twitter, Instagram, YouTube, Ello, ReverbNation, SoundCloud, etc.) and take it one step further to cement my online and real-life presence on the internet and share more of my music with the rest of the digital world. What I offer is a very rare thing, mostly because of the fact that not many bands, musicians, solo artists, rappers, rap groups, etc., on any level of the music industry (both mainstream and independent alike) have offered something like this before. The last time I checked, I know I'm the only one offering such an insanely affordable deal for new potential music listeners to become permanent fan-club members on Patreon and follow me.
It sounds crazy, I know, but imagine this, if you can:
First, many of the incentives I've offered in the past on other social media platforms whenever I'm promoting it is included in this special deal, and more incentives are coming soon in the new year.
Secondly, this kind of deal is so rare, that it's probably got you thinking I might be crazy enough to pull it off. But it's a really good deal, which I'll explain in a few moments.
Thirdly, you'd be gaining a new musician to listen to and with this kind of deal, you'd want to tell all your friends, co-workers, musician buddies, family members, loved ones (and if you're a content creator, musician, artist, writer, poet, entrepreneur like me, your fans) all about this deal.
I don't see any of you as a threat or competition to my career I give fans this amazing deal, I will give musicians of all walks of life a fair and equal opportunity to be heard and promoted on my Patreon fan-club platform too. I host podcast/vlog-style episodes promoting other musicians, bands, rappers, solo artists, etc., because we're all in this together and we stick together. So whenever I'm not promoting my music, I take an opportunity once a month, maybe twice a month to set up a podcast episode or vlog video/episode to promote your band, your music, your art, your side/solo projects and so much more. I even give away free fan-club style care packages to the musicians who gets promoted on my Patreon fanclub platform. Trust me—you'd wanna tell your fans to subscribe today and join me; this way, they all get to know who you are. I even host interviews on those kind of episodes and have everyone listen to you and watch you perform, talk, etc. about your music too.
And finally, not only am I a musician, singer-songwriter, multi-instrumentalist, vocalist/MC-rapper, lyricist, etc., but I am also the owner, CEO, founder of a small indie record label known as Uprising Music Collective and I run a decent recording studio space called Chiaroscuro Music Studios. I also do other things in my life as a multi-industry entrepreneur, such as being a vlogger/blogger, being a writer, poet, an activist for really good causes that I believe and support in, giving back to my community and helping marginalized/oppressed people. I am an indie filmmaker, director, producer, screenwriter in my own indie film/television production studio company (known as Gone Sovereign Films) and more. So this Patreon fanclub platform is a way of getting everyone in the industry to be truly heard and promoted enough. This is why you should be subscribing as well...
Now, are you ready for what I'm about to reveal next? Okay, sit down, relax, get yourselves something to eat and drink and keep your cool. Don't jump off at the edge of your seats and go running around naked in a Red Skull mask (kinda like what Corey Taylor of Slipknot/Stone Sour fame—among other things—did in a certain book he wrote) loud enough that the neighbors next to your home(s) or apartment(s) would have to call the police. Let's avoid that, if we can. Anyways, here goes nothing.
I offer everyone this opportunity to join the fan club platform on Patreon, and not only that, but you get all the aforementioned incentives that I listed earlier plus more in a membership tier level (the only tier level that I have available on Patreon, by the way) called the Ultimate VIP Fan club Experience tier for only $1 a MONTH.
Have everyone started freaking out yet? Okay, is everyone calm now? Yeah? Good, let's continue on.
That's fucking right—you heard me; ONE FUCKING DOLLAR A MONTH.
"Now, hold on here just a fucking second, October! You mean to tell me that I get all that and more for literally just ONE FUCKING DOLLAR a month?!?! Are you pulling some kind of sick joke here, woman?!"—actually, no. I'm not joking here. This is the real deal.
Now, you're wondering why the fuck would I charge all my fans/subscribers just $1 a month on Patreon when I could be making so much money per month. Well, it's a simple answer, really, and it has to do with marginalized communities and poor folks.
For a long time now, the US government and its corporate stooges, along with its oligarchs, fascist Nazi wannabes and its rabid right-wing voters who continue to believe the bullshit that both the Democratic and Republican parties has fed them.
(We all know now that both parties are really just one-party oligarchy and has been this way secretly for the last 40-ish years or so since the 1960s with the help of the CIA, FBI, corporations, etc. Until recent years, they revealed their true selves and their true intentions behind closed doors—in every single government/federal building all across this fucked up, not-so-great country we once knew and loved so many decades ago before it went to hell after FDR and after JFK.)
While really sharing the same bed they made when they sold the inalienable rights and freedoms of the American people by entering Forever Wars, polluting our environment and clean waters, making it so difficult to afford our groceries, bills and rent that they would continue to keep us on corporate-inspired welfare benefits like Food Stamps, Medicaid and SSI/SSDI when we should've been making $25-$30 an hour on minimum wage.
(Had we kept up with the economy over the years, we'd be making that much by now instead of $7.25 or less or that whole $15/hour political campaign that many political/non-profit activist organizations have been advocating for the last four to six years or so.) Even getting to the point that much of our materialistic desires and consumer consumption is actually killing the economy, our planet and wildlife/sealife animals, etc. Who the fuck needs three or five of everything, huh? Anyway, let's get back to the point here...
As I was saying, while the U.S. government, its oligarchic corrupt politicians, its corporations, banks, chain outlets (like Walmart and Amazon, etc...) have been harming our country and the rest of the free world for decades, it's made things so difficult for musicians, bands, rappers, solo artists, etc. to even get the word out about their projects, tours, albums, new singles, etc.
Mostly, because it's driven a lot of our so-called fans to digital piracy and stealing our music, content, films, and even porn illegally to the point where many of us go out of business. Even certain famous recording studio facilities and record labels went out of business as well at some point. There's still new emerging artists, bands and rappers signing rip-off deals and contracts with those evil corporate record labels, while we get the scraps and breadcrumbs, driving more of our diehard fans away from the music listening/concert-going community altogether.
There are even fans who love what we do but can't always afford the concert tickets, backstage/VIP passes or even get an opportunity to afford to meet their idols/heroes of the music world at a meet and greet event or autograph signing. They often have to save up to try to buy ALL of our albums, merchandise, and work like, three to five different day jobs just to travel hundreds or thousands of miles to see us perform at really big festivals like Download or SxSW—every year during the touring/festival season(s). They can't even afford their fan club subscriptions every year or every month. So that's where musicians like myself, who are ahead of the curve, are thinking long term when it comes to looking at the bigger picture for our fans and how we can continue to include them in our everyday aspects of our lives as musicians in the studio, at home, on the road and everywhere else we go, come in.
I offer $1/month subscriptions on Patreon (while some of my well-off/richer fans purchase membership subscriptions on my Bandcamp platform at much higher monthly prices) and include all those aforementioned incentives and more because the marginalized communities (LGBTIQA+, Muslims, Immigrants, Native Americans, Deaf/HoH, People of Color, Queer/Trans People of Color, etc.) and poor folks. Even those with disabilities or mental health issues, can barely afford to do all those things with us on the road, at home, everywhere we go, and experience all the cool things that we do for the fans. So, I made it literally just $1/month and it's exclusive on Patreon and nowhere else on the Internet.
"Is $1 a month really enough for you to afford to tour/perform live shows, manufacture merchandise, distribute new singles/albums, make official music/lyric videos and more?" Simple answer: YES!
How is it possible for me to survive on $1/month? Well, let's do some math here real quick. I'ma rap with you a bit and show y'all some math on how this works for me and for you...
Let's say I have 1,000 fans, okay? They're all on Twitter, Instagram, YouTube, Facebook, ReverbNation, Spotify, iTunes, etc., Alright, and they're loving what I do and want more of it. They even want to go behind-the-scenes with me to see how a song or an album is done from the second or day that my pen hits the pad all the way to post-production/distribution and beyond. Now, all that stuff I offer as part of their membership subscriptions is included, and 1,000 fans = $1,000 a month. That's right—I actually generate close to $1,000/month, because I had 1,000 fans pay $1/month to be a part of my Patreon fan club platform.
See where I'm going with this so far? Good, moving on.
Now, if there's over 10,000 people on the Vocal platform who's most likely reading this right now (I'm just going with a hypothetical number here—I don't know how many people are using this platform anyway), and y'all all joined me on Patreon, guess what? I'd be making $10,000 a month, give or take, and it'd be fucking awesome. I could afford to do all the things that I do as a indie musician/singer-songwriter, make more merchandise, sell more albums, get y'all to watch my videos that I create with a kickass production team and more. But when it comes to performing large gigs, there's always going to be some venue owner and/or promoter asshole who'll try to jack up the ticket prices and tell me that my fans gotta pay this much money for tickets just to see me play live. But do not worry; I have a solution for that as well.
As part of your subscription plan on Patreon, you'll get discount codes to buy tickets, VIP packages/passes, meet and greet passes and more at nearly 50-75 percent off.
I also host/run monthly giveaway contests to lucky fans/winners who get all the cool passes/tickets to see me. So basically, you'd still be saving a lot of money on travel, concert, festival expenses to see me play some amazing music live and experience the journey with me. For those with disabilities or are socially awkward or just afraid to go out, I offer you all the opportunity to watch my concerts live and stream it live on my Patreon fan club platform with their YouTube channel and Crowdcast features they've implemented as part of my deal to promote more content, music, videos, etc. to you all.
So, even if you can't make the shows, you can still watch it live. And even after it's stopped being streamed live, the videos will be archived on my official website so that you can watch it over and over again for years to come.
So, does all this sound too good to be true? Well, it's actually the truth and it's really happening right now.
This is your chance to be true fans, and to the musicians, bands, rappers, artists out there, this is also your chance to shine and finally be heard among the masses on my Patreon fanclub platform. Since I mentioned that I host podcast/vlog episodes promoting your music too once or twice a month I'll invite y'all to be interviewed on the show as well. So what are you waiting for? Join me today for just $1 a month!
You can visit the Patreon fanclub platform by clicking on the highlighted link right here.
Thank you for reading this, and my name is October Evans, coming to you live from Colorado on the Vocal platform. Thank you for giving me the opportunity to share this with you all. Have a good night, drive safe, happy belated holidays and new year's, everyone!
Namaste, Talk Hard, Rock On and Never Let the Music Stop, October Evans
Musician/Singer-Songwriter
Multi-Instrumentalist/Lyricist/Rapper-MC/Vocalist
Owner/CEO/Founder of Uprising Music Collective
Owner/CEO/Founder, Executive Producer/Engineer and Studio Musician at Chiaroscuro Music Studios
Activist
Multi-Industry Entrepreneur
humanity