Nothing Was The Same
A look at Drake's third studio album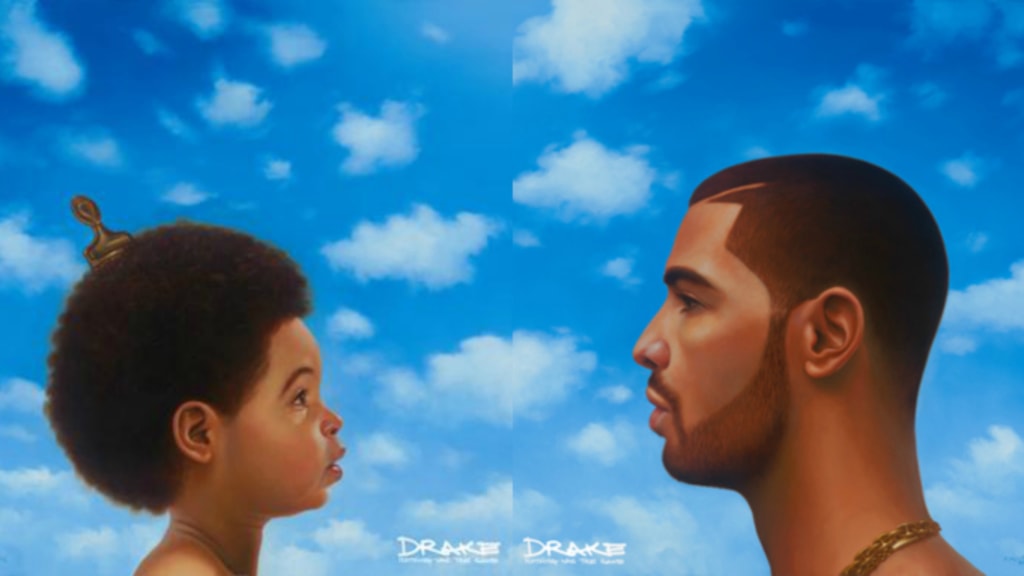 Both covers for Nothing Was the Same
As we wait for the overdue arrival of Certified Lover Boy from Drake, I will be highlighting some of the discography of the greatest artist of my lifetime, starting with Nothing Was the Same. Many consider this album to be the best of Drake's discography, and they have a point. While it isn't my persona l favorite, I can certainly understand the critical acclaim. This album is the height of both the singing and rapping Drake.
While the album does open a little slow with "Tuscan Leather" and "Furthest Thing", this doesn't take away from the impact these songs have. Really, these two songs are 3–4 songs in one as both have flow switches and are over 10 minutes in length, combined. The first is Drake rapping for nearly 6 minutes with no chorus and speaks on the lifestyle he lives and what it took to get there. It is essentially telling the audience that he is here and here to stay. It is, truly, a full look at Drake's rapping ability that often goes underrated, as some just see Drake as a singer. The latter song finds Drake providing some introspection as he seems to be in purgatory, stuck between two different lifestyles. The opening verse shines some light on this:
Somewhere between psychotic and iconic

Somewhere between I want it and I got it

Somewhere between I'm sober and I'm lifted

Somewhere between a mistress and commitment
The song title, "Furthest Thing", refers to how far not only Drake, but everyone, is from perfect. Before the third verse, there's a beat switch; thereby, signaling the change of mindset. Here, Drake embraces the lifestyle that he formerly felt guilt or apprehension about. This will open up the theme of celebration of the past and the present, in addition the conversation of that lifestyle and its effects.
In one of the most recognizable songs from the early 2010's, "Started From the Bottom", speaks on the upbringing of Drake and his crew and how they climbed their way to the top. It is often a talking point that Drake didn't necessarily start from the "bottom" due to his acting career. While this is a valid point, according to Genius, he only made about 50k a year, while having to take of his mother and sick grandmother. Regardless, the bottom, in this sense, is the low of his life compared to where he is now.
Next is "Wu-Tang Forever", one of my favorite songs. Calling to several Wu-Tang Clan verses throughout the song, Drake is claiming his stake in the rap game with this song. Most prevalently, he says "it's yours" — an homage to the rap group's "It's Yourz". With the stake of the rap game claimed, it is evident that everyone in your life will want a piece. However, for Drake, those that were closest to him are drifting farther away as he gains more and more success. Reminiscent of his past, the women he is with bring back the the nostalgic memories and his path to success. The 'it's yours" theme will carry over to the next song.
And nowadays when I ask about who got it

They say it's yours, nobody else's

Yeah, this shit belong to nobody

It's yours, nobody else's
In "Own It", the meaning of "it's yours" is flipped. Rather than applying it to himself, Drake gives the moniker to the woman he adores. Meaning, his love and heart, it's hers. While the first verse is lighthearted, the second is a bit more serious as he confronts the woman, claiming she doesn't call or check up on him enough, despite not having a reason not to. Despite this friction, it still hers.
Skipping ahead to "From Time" which features Jhene Aiko, Drake and a woman (Jhene Aiko in this case) go back and forth on the chance for recommitment. The woman says that despite what Drake has been through, she is willing to look past these things and love enough for the both of them. The love she has for him and herself is so strong that it'll be enough for the both of them. Meanwhile, Drake considers the proposal while reminiscing on times he used to have with her along with other women like Courtney from the Hooters on Peachtree. With advice from his father over Corona and weed, and his mother, he too believes they should hash it out like adults. Though, it may not happen with Drake's inability to commit for one reason or another.
Taking a break from the rap heavy songs, we are presented with "Hold On, We're Going Home". This song is a lighthearted appraisal of love and this woman. Despite what is being said about this woman, she knows deep down that she is a good person and worthy of love. Drake pleads to the women to just hold on and wait for him, as their love — the ultimate destination — is on it's way and they're almost home. Home, a multifaceted metaphor, can refer to both the safety and comfort you feel when at home, or it is the embodiment of wither of the lovers. Regardless, this song radiates comfort and love.
After the break from braggadocio, it is in full effect in "The Language". The song is nearly 4 minutes of straight flex, describing the lifestyle he lives everyday at any given moment. The language, in this case, is money and power — two of the most coveted things in the world. They provide everything Drake flexes about in this song: money, women, jewelry, sex, and drugs. Drake gives credit to the "number 1 stunna", aka Birdman. This connection proved fruitful with the connection to Cash Money and Young Money and most importantly, Lil Wayne — whom Drake credits a majority of his success to.
With a feature from underrated artist Sampha, "Too Much" takes us back to a Take Care type of song. A beautifully melancholic chorus is countered with vicious bars from Drake. The theme of this song is the pressure to be perfect and the resulting anxiety this provides from celebrities. This is evident even in the composition of the song: the chorus is slow and urges to not think too much whereas the verses rap about a multitude of questions, worries, and desires. The rapid pace in which he raps staunchly opposes Sampha (who seems to be singing to Drake), which creates a sense of controlled chaos — the epitome of anxiety.
We close out with the consensus best song on the album, "Pound Cake/Paris Morton Music 2". Many consider this to be Drake's best song and even one of the greatest songs of all time. Featuring Jay-Z, this song certainly has a case. The song includes several samples, the most important being the C.R.E.A.M sample (another Wu-Tang shoutout) in the chorus. The first song is the ultimate worship of money as a way of life. Jay-Z even claims he's made more millionaires than the lottery has.
Then there is a shift, the second half of the song, "Paris Morton Music 2" — an infamous followup to "Paris Morton Music". At first Drake is speaking on his haters and how they say he should be doing this and that differently, as if his success hasn't spoke for itself. Usually he expresses these thoughts with Paris, however, he decided to share for the whole world this time around. After mentioning Paris, he speaks on her life and their relationship. Obviously, this woman has had a major impact on his life. This also serves as a segue to a humorous story to how Drake came to sign with Lil Wayne and how, unfortunately, Wayne probably wouldn't remember that story. That would lead to his success and as the album name suggest, nothing was the same.
Only real music is gonna last

All that other bullshit is here today and gone tomorrow
Originally published on Modern Music Analysis and Medium