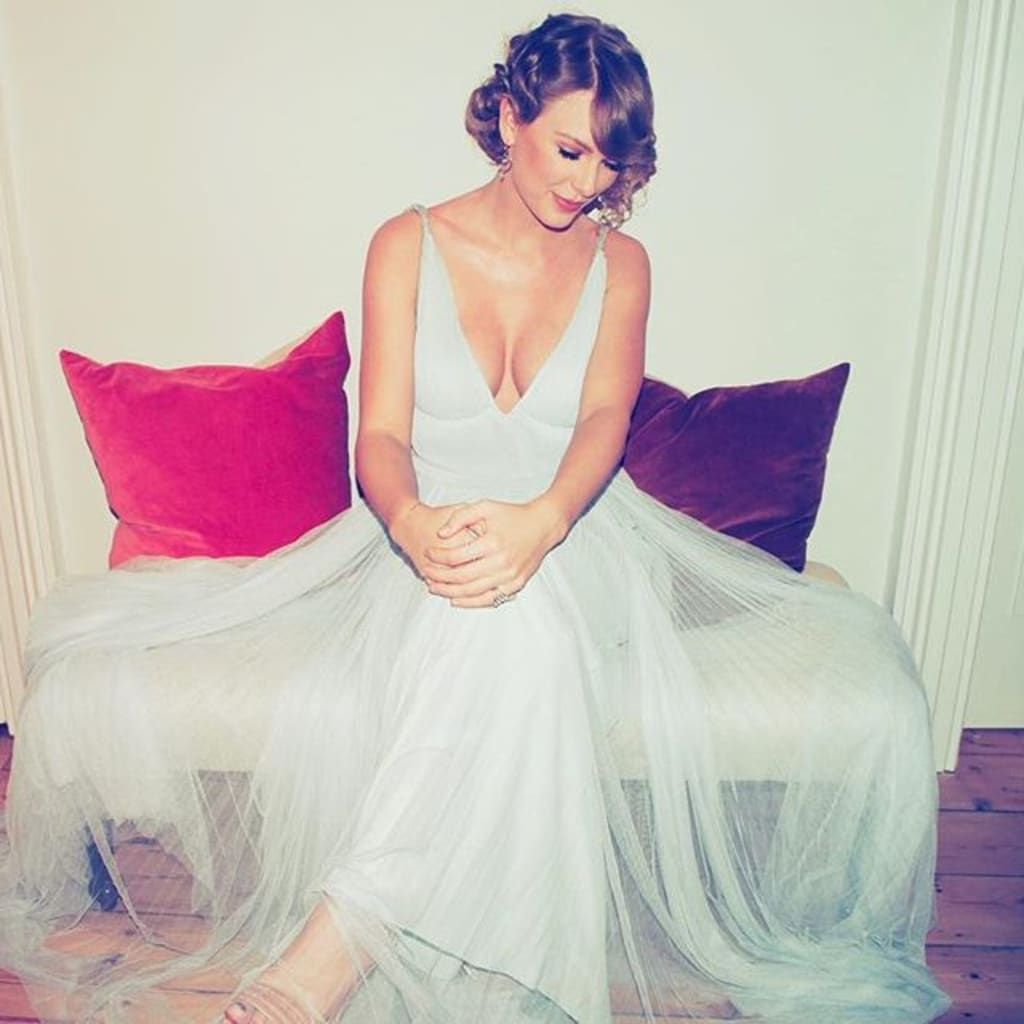 So again, dear readers, this is meant to be as close to approximate chronological order as possible, not a measure of quality by any stretch of the imagination. And amazingly the split between Part 1 and Part 2 sees us start the 1989 Era after #12 Stay, Stay, Stay & #13 Sad Beautiful Tragic were my 2 Entries from the Red Era.
The 2nd 13, CD Disk 2:
#14 Welcome To New York: I always associate this song with the NFL Draft oddly enough which is what gives this song so much staying power in my list. Ironically enough, the NFL Draft itself switched from being always hosted in New York from 1965-2014 to rotating around the country, and ironically still to Philadelphia in 2017 and Nashville in 2019. So because the last NFL Draft in New York occurred the April before the Song Dropped I doubt too many people make this association even amongst us weirdos that would, haha. I do enjoy the rotation though, and hope I can afford Green Bay's Turn when it comes around. But still if the Big Apple were still doing it every year, it would've been nice to have WTNY replace that damn 'I'm a Man, I'm a Man' Song ESPN played to death in either 15 or 16.
The best lyrics that kind of fit my association here are:
"Everyone was someone else before. And you can want who you want."
"Everybody here wanted something more, searching for a sound we hadn't heard before."
Sounds a wee bit like transitioning from a College Career to an NFL Career to me, and the ESPN NFL Draft Chime is an Iconic sound we all should search for except when the Bears, Cowboys, or Vikings are on the Clock, hehe. Preferably not the Lions, Texans, Broncos, or Patriots either, but you know, tough to survive a year in Canada without that Signing Bonus to be Picky and/or John Elway/Eli Manning the Draft. #GoPackGo, #BoomerSooner.
And while yes everything about the song also can represent the basic, moving to the big city challenge. It's funny how well my NFL Draft Association Fits. Unfortunately Tay's Diet Coke Sponsorship is holding her back from the Pepsi Super Bowl Halftime Show, and she missed prime opportunities to make hometown appearances around the NFL Drafts hosted in Phily & Nashville. We'll always have the 2010 Kickoff Concert though.
#15 Wildest Dreams: As a Guy I probably don't have to explain my enjoyment here too much. In the macro the song probably is a personal story, but in the micro it's kind interesting. Like is Tay admitting our celebrity crush on her is okay if we stay in our lane; probably putting too much thought into it. It's a simple, great, iconic song.
#16 How You Get The Girl: There's a part of me that's really annoyed this song didn't come out until after I met my wife. Like this would've helped a lot more Tay if I'd had it a World Cup Sooner, haha. It's really sage advice my fellow Guy Swifties.
#17 I Know Places: Part of the fun for me with I Know Places will always be Leicester City's Miracle Premier League Title Run of 15/16 at the tale end of the 1989 Era since Leicester are 'The Foxes'. European Soccer teams don't have official nicknames like American Sports Teams, but plenty have them in song and club culture. My Club, Manchester United, are the Red Devils, Newcastle are the Magpies, Cardiff are the Blue Birds, to name a few of the easy to remember ones.
Not to mention I am a Geography Nerd, so I like 'Knowing Places'. It's a real chicken and the egg thing as did Soccer fuel my love of Geography & Maps & Flags? Or was it always going to be there? Considering I've been kicking a ball since before I could walk it's an unsolvable puzzle. We got to have a stint in Germany when I was a toddler, so that necessitated a lot of my Map learning early.
And the song itself being about a doomed or difficult, challenging love fits perfectly with the difficult roller coaster of Sports Support and Fandom.
#18 You Are In Love: So when I said Speak Now had the most with 5 Entries, I forgot that was a tie with 1989. You Are In Love is like How You Get The Girl's Twin Sister describing the feel of true love for those afraid of shifty characters and false conditional 'lovers' who fall short of delivering on their promises and commitments. It can be a real interesting book end story listening to How You Get The Girl & You Are In Love back-to-back. And both are extra special since the beginning of the 1989 Era was my courtship days with my wife.
#19 Ready For It: So I loved Ready For It as a song to begin with, but here the Music Video takes it to another level like the Music Video for You Belong With Me does. Love the Sci-Fi angle as a Trekkie. And the whole kind of Android/Tron build up can only lead to fuel for my tipping her for Star Trek: Voyager's 7 of 9 if we ever do the 24th Century in the Kelvin Timeline or the like. Or possibly just an actual android given how Picard Season 1 Turned out, haha. But I digress again. Hell all the Blue Lighting is like the Supergirl Villian: 'Limewire' which also circles us back to Tay as Supergirl, haha. Just an amazing bop with an Iconic Video.
#20 Don't Blame Me: Also a song that relates to Sports Fandom Hard, as clearly Soccer Results do make me crazy. And at times our teams do 'waste my time'. Sports 'Love does make you crazy', and if 'it doesn't you ain't doing it right.'
#21 Dress: As perhaps my wife's favorite, it's got a natural boost there. And I do have to ask myself how I'd feel differently otherwise as earlier tracks exploring sexuality like Treacherous are near the bottom of my queue just from wanting Innocent Tay in that time. However given a few eras and maturing as a person I think I'd love this song regardless. It's an honest and dare I say positive confession of intimate love. And positive representations of healthy sexual relationships are few and far between in our repressed culture which makes this song special and important to many people.
#22 Miss Americana & The Heartbreak Prince: So this song you surely can't blame me for seeing and feeling Sports in with lines like "I saw the scoreboard" and "My team is losing". Even if Tay's use here is metaphor.
The track always reminds me of the Anger and Pure Dismal Frustration from #ThatNightInTrinidad when the USMNT, United States Men's National Team, failed to qualify for Russia 2018. I guess I hold on to the anger and bop with it hoping the players and everyone use the anger to grow and improve to new heights even if frustratingly little has changed and we've got the looks of a Golden Generation coming through that we'd better not waste!!
#23 Soon You'll Get Better: Much more personal, real, and important here as my mom has had a diabetic foot amputation and this song speaks to anyone going through a friend or family member's difficult medical battle. And when mom first struggled with it starting in 2012 it was the first time I really confronted my parents' mortality. Thankfully the skill and miracle of modern medicine and lots of prayer saw her get 5 More Years with her foot before amputation was necessary. Now she's on the difficult road learning to walk with prosthetics.
#24 The 1: As an awkward teenager and young man way back when it's hard to picture too, too many girls, maybe a couple, thinking about me with this song, yet it's a great outlet for those feelings. It's honest and helpful in admitting it's an unhealthy look back 'digging up the grave another time.' Yet as I said, it helps get those feelings out. Having met my wife online it's kind of a spooky lyrical coincidence just like living on '16th Avenue' with So It Goes, another underrated track. Always fun, haha.
And perhaps more crucially it's a reminder how much being picky about the little things: 'if one thing had been different' can change your entire life. That 'one thing' with me and the mutual high school crush I had that I voluntarily left unexplored was that her fraternal twin sister went through a Texas Longhorn Phase during Junior High and the Vince Young Years. An understandable deal-breaker at the time. Yet Irony is a Cruel, Heartless, Merciless Total Bitch as both wear Crimson & Cream and live in Norman now. I almost got over it in High School, too, when the allegiances were more vague, but sometimes one dance is all you get. Then you find out fate had a better fit for you down the line, but it still hurts.
#25 Seven: As a unique track about Elementary School or Innocent Young Friendship Lost and given 7 is an Elementary Age it could be argued that this song adds to Fifteen & 22's Legacy of Songs about Ages in Life. Although not too much of that is actually at play here explicitly, but perhaps alluded to.
And with Five for Fighting's 100 Years being one of my all-time favorite songs and the line: "15: there's still time for you, 22: I feel her, too. 33: I'm on my way, every day's a new day. Ooooh, Ooooh, Ooh." I've got a certain perhaps unrealistic expectation that Tay's due to have a Song Titled: 33 or Thirty-Three in a another World Cup Cycle or so, haha.
Having mentioned 7 of 9, shortened at times likewise to simply Seven, from Star Trek: Voyager and Tay's fit to possibly play the character twice now, if either party wanted it that is, I'll briefly mention that the song, especially the tragic aspects, fit her character well. Although you could argue the song fits the character she replaced on the show, Kes, just as well or perhaps more so but that's a minefield full of weeds for us to avoid in this forum, haha.
I think we all remember and cherish some of those lost elementary school friends and you get annoyed that you can't even remember their faces. For me the first girl I played house with, and my first best friend in my Germany toddler days.
#26 Invisible String: Not sure if Dress or Invisible String is my wife's official favorite anymore, but in any case this one is very special to both of us. Once you're in True Love it's that feeling it gives that make it feel that it was Inevitable. And you naturally do the calculations of hey we were in these same places sometimes, maybe we saw each other without ever realizing it. And it truly 'is beautiful to think there was, an invisible string tying [me] to [my wife].'
Bonus Tracks that could've made the Runners Up:
Beautiful Eyes: These 1st 2 I honestly forgot about when coming up with the list, but were extremely important to me at the time. Like messages stuck in bottles of a simpler time. Beautiful Eyes is an amazing, unique song sorta trapped in a unique development hell limbo from being the Title Track of Tay's only EP Short Album. It's also unique in looking at love in a future tense of imagining and dreaming of life through your future true love's eyes. It's a very captivating track when given a chance. And it even has a forgotten Music Video showing off Tay's 18th Birthday Party.
My need to include a shoutout to these extra songs both before and after this countdown reminds me of George Strait's 50 #1s & 22 More Hits Compilation Albums that have kind of this sort of same vibe. And Tay's got every chance to be that long-lasting and iconic although maybe not with that many number one hits since King George's Album Drop Average Clip was much, much faster than our girl Tay's tendency to wait 2+ Years per Album Era. Yet, you never know. Knowing you can get this feel now and knowing she's only 30 should give all Swifties Goose Bumps. Come to think of it, it brings the full on talked about total in this series to Over 40 Songs with layer references to still yet others along the way. Truly a majestic, magical joy of a career, Taylor Swift; Thank You!
Forever & Always *Piano Version*: People forget how superior the alternate piano version of F&A is. It's amazing and raw! And just a total emotion trip.
Better Than Revenge: Better Than Revenge might not quite fit the underappreciated theme as it was arguably the underdog song of Speak Now. Still it's Tay at her very best!
Getaway Car: Love this one and knew it was getting left out just from it being my leaving-work-for-a-weekend track and not wanting to unnecessarily think about work, but still felt it's a great way to send off our expose here and got over it. Stay Strong & Long Live my fellow Swifties!! The ?My Lover's Folklore? Tour will be here before we know it. Just gotta take it one day at a time, survive, and advance! Love you all and thank you for reading.
Reader insights
Be the first to share your insights about this piece.
Add your insights