My Essential Albums: 'Innuendo' by Queen
Released: February, 1991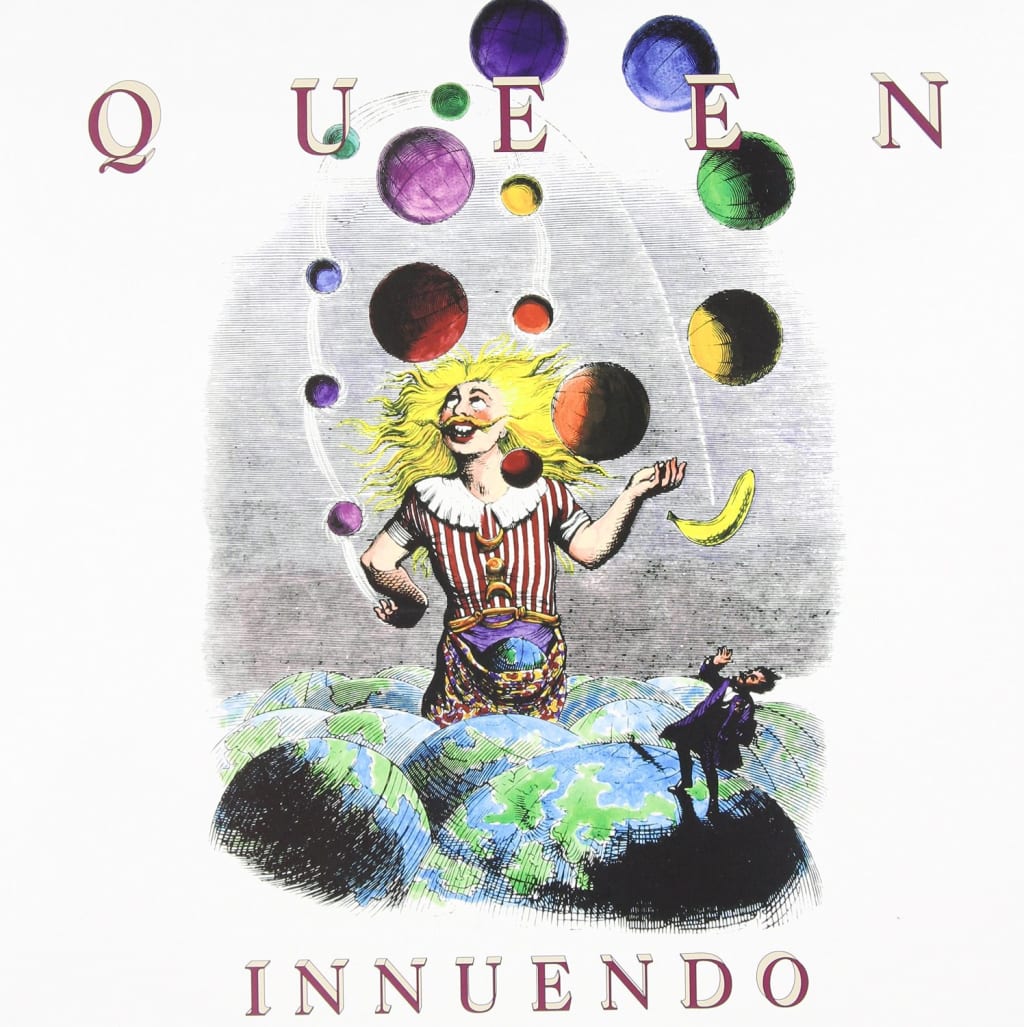 This is by a flying mile my favourite Queen album and I have to say, though I'm not really that into Queen as it's a bit after the period of music I normally listen to—I do like this album a lot because of its intense drama. The album has served to be an iconic reminder of the demise of the band's lead singer, Freddie Mercury, known as one of the greatest male vocalists to have ever lived. The album also serves as a reminder of the brilliance of dramatic, hard progressive rock music—and the fact that even though the 90s came around, it wasn't about to die.
The album was recorded between March 1989 and November 1990, the latter date only being one year before the lead singer would succumb to his illness. It is a reminder that just because you have the flu, you literally have no excuse for staying in bed. This album is purely magical and though we won't be going through every song, I do want to show you why this album is one of the most celebrated albums of all time.
"Innuendo"
Track One is one of the most dramatic rock songs you'll ever hear if there was one. It is an incredible blend of that hardcore early Queen atmosphere with the lyrics and raw vocals of Freddie Mercury. Sick as he may be, he is still a better vocalist than most every single person in the industry.
The song opens with that amazing drum roll which echoes the drawing on the album cover and the music video's atmosphere. Then, when it opens, we get this overtly dramatic introduction before the lyrics come in:
"While the sun hangs in the sky and the desert has sandWhile the waves crash in the sea and meet the landWhile there's a wind and the stars and the rainbow'Til the mountains crumble into the plain"
The last line of this verse is so damn satisfying to listen to and has a brilliant close to it as the song approaches the chorus. And, like a lot of songs before it by other artists, this song changes halfway through and drops its dramatics for a softer and more mellow tune before it picks up again.
"Through the sorrow all through our splendorDon't take offence at my innuendo"
Though this song may make little sense, the way it has been designed is brilliant—it gives room for the vocals to come out and of course, after these lines have been sung comes the amazing guitar solos that remind you that yes, this is hard rock.
The most satisfying part of the song being the end when Mercury shouts the lines in an incredible harmony:
"'Til the end of time!"
"I'm Going Slightly Mad"
This, if there is one, is my favourite Queen song ever. The reason is mainly because the music video is a masterpiece. It's incredibly clever and very funny indeed. But, the song itself is a work of art—it's dark and humorous and fits in with the album's style entirely.
The song opens with a very strange sound, which matches the themes of the song and the first lines give rise to this madness:
"When the outside temperature risesAnd the meaning is oh so clearOne thousand and one yellow daffodilsBegin to dance in front of you, oh dear..."
The lyrics basically are meaningless but the way the vocals fit with that amazing backing track and those drums—well, there is no question about why this song sounds so damn good.
The height of this line:
"You're missing that one final screw"
is something brilliant to listen to seeing as the lead singer is basically months away from dying. The way his voice can move really comes through on this song. It's smooth rather than raw which we see on other songs we'll look at on this album. He proves he still can do it and better than everyone else as well.
Just go ahead and try this. Compare the tone of the lines:
"I'm one card short of a full deck, I'm not quite the shilling"
and
"This kettle is boiling over, I think I'm a banana tree"
I think you'll be pleasantly surprised. This is all from the same verse and yet the harmonies of the vocals are so incredibly different. He starts off damn low and then, by the end he's notes higher—but it's so smooth that you don't even realise he's doing it. Something that cannot be matched.
"And there you have it."
"Headlong"
This is where this album begins to change itself. Headlong sounds more like it belongs in the 1960s than the 1990s. I always found it cool how this song uses the word "groovy" but not ironically in the 90s—only Freddie Mercury would get away with that. The song uses a very quick beat with some lyrics that belong in a Broadway Musical—it really is a blend to be admired. Check this out:
"Now you've got soup in the laundry bagNow you've got strings, you're gonna lose your ragYou're gettin' in a fightThen it ain't so groovy when you're screaming in the nightLet me out of this cheap 'B' movie!"
The fact that those last three lines sound like they're done in one breath should remind you as to why he's one of the greatest male vocalists of all time. It's a brilliant blend between rock and roll and hard progressive rock music with a huge focus on the lyrical, storytelling aspect of the song. Something that seems to be a theme of the album.
It may not be as brooding and pensive as Innuendo and it's not as crazed and dark as I'm Going Slightly Mad, but on its own it stands as a brilliant but light-hearted and yet dramatic song that belongs on this very album.
The opening to the song is almost iconic. The steady and fast guitar and the building drums to the first chorus is a brilliant way to introduce the story of the "girl with a hotdog stand." This song, though I don't see many people speak of it, is a legendary Queen song.
"I Can't Live With You"
This song, though again I don't see many people talk about it, is brilliantly written. The poetry of this song is really quite something and Freddie's emotional voice matches perfectly with the themes. I was quite surprised to see this song on this album since it isn't as dramatic as the previous three, but it still fits as a really emotional, hard-hitting song.
I would first like to share the brilliance of these lines, which are my personal favourites from the song:
"We're stuck in a bad place, we're trapped in a rat raceAnd we can't escape,Maybe there's been some mistake, we're trying to make a high scoreWe're walking through a closed door,And nobody's winning, we're just sinning against ourselves"
It is true that when Brian May writes a song, he does it properly because we all know he wrote this one. I may not have a lot to say about this song and the music (purely because I was initially confused about how this song made it on to the album at all), but the lyricism of the song is amazing—it seems to capture the image of confusion and the emotion of wanting to do something without hurting someone, but then not wanting to do it at all—a complex human feeling, absolutely perfectly.
That is just pure poetry, and I really do love the fact that it got put on the album. It adds a different sound to the whole thing. From out of the drama, the craziness, and the fast heartbeat—we get this. It is showing us that Queen can still do what they do best—everything in progressive rock music.
"These Are the Days of Our Lives"
For some reason, everyone likes to believe that Freddie Mercury wrote this song when it was actually the blonde bombshell, Roger Taylor. If I ever want to hear poetry as song, I will always return to this. Not only do you cry at the music video, but the sound of this song is absolutely perfect. It adds a third dimension of drama to this album. Drama in the subtle sense—it only makes all the difference when Freddie Mercury sings the song. It will never sound any good from anyone else's vocals. I have not, to this day, been able to praise the perfection in design of this song enough.
The song opens with the increasingly iconic:
"Sometimes I get to feeling I was back in the old days, long ago"
I am not going to lie, but those lines should—if you're a rock music fan—send shivers down you.
The amazing opening to the song has this light air about it before the vocals come in and the guitar begins. The introduction fits the album's dramatic feel in a way that gives it a whole new feeling—slightly melancholy, nostalgic, and echoes the days of old Queen music, perfect for the album's sound.
But it will always be this part of the first chorus that will stun vocalists for centuries to come:
"Those days are all gone now but one thing is trueWhen I look and I find I still love you."
I would wager any singer today to do that with their voice—it is an amazing note and adds this incredible soothing sound to the song. It's almost like Freddie Mercury is trying to sing you to sleep.
This song, I hope, remains iconic for hundreds of years because it is so perfectly designed, written, and harmonised.
"The Show Must Go On"
This song has since, though written by Brian May, become a metaphorical situation for Freddie Mercury's illness. Though Mr. Mercury was suffering badly at the time, the song shows us the raw vocals and incredible efforts of perseverance he put into his very last album. I'm not here to discuss that, though. I'm here to discuss the brilliance of the last song on the album.
Fun fact: I used to work at a theatre where the lyrics to this song were etched into the backstage walls in red and white chalk and so I have a special appreciation for this song.
I think almost everyone loves the introduction to this song, the dramatic opening which echoes the start of the album to end it. It is like coming full circle and closing it the way they started. Innuendo has a dramatic start beat and so does The Show Must Go On—both as incredibly designed as each other, both amazing additions to the album and perfectly spaced out.
The opening line:
"Empty spaces, what are we living for?"
is a very dramatic way to start the lyrics of the song. It has a sort of rhetorical nature to it—almost like it's trying to be ironic since Queen have never performed to "empty spaces" (in a Queen concert, I don't believe there would be empty spaces in the slightest).
I think these are the lines everyone remembers seeing as Freddie Mercury sang them at that time in his life:
"Inside my heart is breakingMy make-up may be flakingBut my smile still stays on."
Let's give you the chance to imagine that he hardly took a breath between these lines and sang them so smoothly that they almost blended into the backing music—it is a perfect harmony between vocalism and musicianship—and there are very few people who can achieve that.
But this line:
"I can fly my friends!"
This is the ultimate line. It is the raw vocals coming out of their shell to give the final blow to the end of the song. The amazingness of this is astounding and again, I would wager any other vocalist to try it because they will not be able to. The absoluteness of the vocals and the perfection of the way he gets higher and louder can only be achieved by Freddie Mercury himself.
And these are the lines that are the most satisfying in the song:
"I'll face it with a grin!I'm never giving in!On with the show!"
He is never giving in, and other singers just cannot match it—they can't hold a candle to it.
Conclusion
I love this album because of its versatility and endurance. I feel like it's going to end up as one of those albums in about 50 years that we look back on and say, "Yes, that was back when rock music was great." For now, the album remains a not-too distant memory to most and quite recent for others. It is drama, it is high-tension, it is theatre, it is performance, it is progressive, it is nostalgic and most importantly, it is an absolute classic.
I really hope you enjoy this album as much as I do.