Musical Digest: Taylor Swift "folklore"
the album that went back to its preliminary roots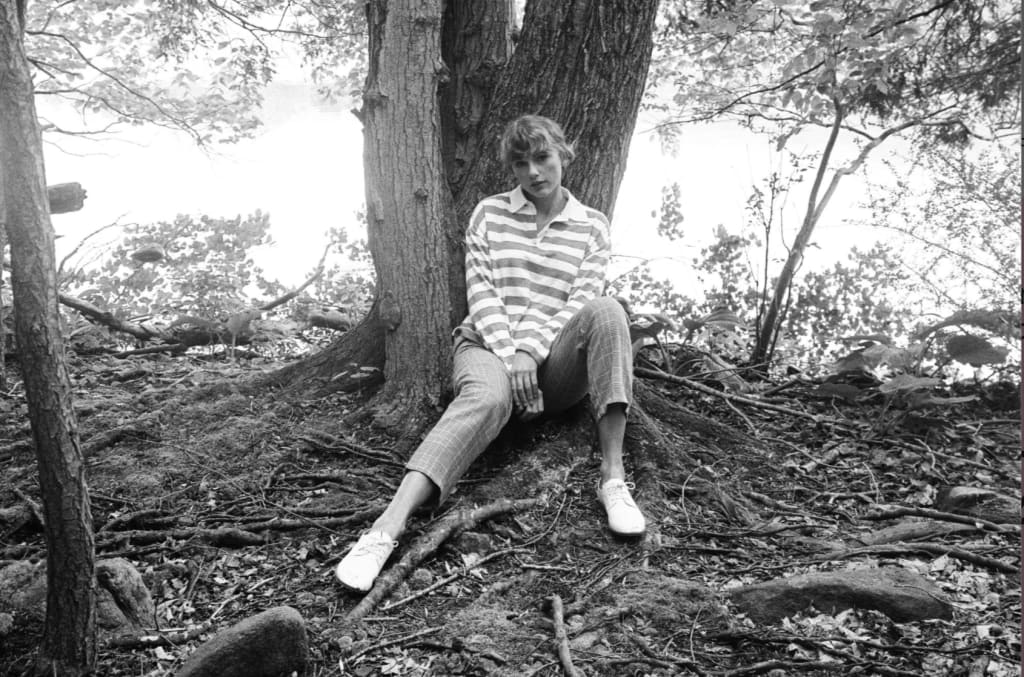 photo credit universal music
Alright. I have a confession.
While I'm notoriously known for frequenting night clubs, jamming to house music, going to underground raves and fully immersing myself in the electronic dance music scene, I have a soft spot for other genres as well.
I secretly think that all music enthusiasts to some degree would agree that their emotions, like a free floating boat carried by the currents, determine what they're going to listen to next. Unlike the real thing, emotions can be powerful and their direction can be inherently exhilarating.
While I've listened to other Taylor Swift songs and albums in their entirety in the past, they've never quite hit as hard as folklore.
This album brought me back to a much humble, tranquil place in my mind. One where I sit silently cross-legged with a hot mug of tea in my lap, listening to rain drops or thunder or sirens outside my window. One where I feel myself being the protagonist of a narrative I haven't fully been acquainted with yet.
folklore is Swift's eighth record and contrary to her previous albums where she dropped "easter eggs" for fans to be able to decipher the meaning of her previous alludes, this one was just delivered...like a fresh bouquet of blue roses, beautiful and unexpected. The black-and-white woodsy aesthetic is reminiscent of something pop stars do quite often. They enter the record label offices and say,
"I've said what I need to say. I got everybody up on the dance floor, we threw glitter, drank champagne and left red lipstick stains on the collars of hot guys visiting from abroad. We danced, we laughed, we created and it was great. Now, I'm ready to go back to my roots."
In Taylor's case, I don't think she needs permission to do...virtually anything. She's built enough brand equity where she can call the shots.
And of course the dialogue I mentioned above is purely imaginative and something I'd probably say to my record label, but this album is far more intricate than that. I think this album is an incredibly meticulous rendition of reuniting with old instruments, preliminary simple inspirations that conceived a powerhouse of an artist we know now.
In collaboration with Aaron Dessner and Jack Antonoff, the album is a combination of classical, acoustic, and folk instruments with soft undertones of electronic (which is why it may resonate and speak to me on a molecular level). The story of the album is by and large a memorandum of lessons learned from old, disseminating friendships, long lost lovers and melancholic moments.
The songs that moved me most don't have a particular order. I was super excited to find Bon Iver's name on "exile" because I've been a huge fan for years. He didn't disappoint. In fact, he complimented Swift's vocals in a way where it conjured a romantic picturesque love story between two lovers who are no more.
"cardigan" and "august" are the two songs part of a love-triangle rendition each meant to give a different point of view, but my first impression of "cardigan" had nothing to do with love.
I perceived this to be a stamp of what fame and Hollywood had shaped her to be. It starts of painting an image of a girl with
"vintage tee, brand new phone, high heels on cobblestones When you are young, they assume you know nothing

Sequin smile, black lipstick

Sensual politics

When you are young, they assume you know nothing"
in which others responsible for her public image decided what was best for her. But a reunion with the simplicity of pianos, candles burning, secluded settings that are meant to heal her heart from "a friend to all [whose] a friend to none", the press and other potential detractors that brought her back to basics. This reunion reminded her that she is beautiful the way she is, she is right where she is supposed to be as an artist and a musician. Her former musical style is intrinsic, it's innate. It emphasized that
"And when I felt like I was an old cardigan

Under someone's bed

You put me on and said I was your favorite"
Because we all need to regroup sometimes and whether it's an old cardigan, a cup of tea or an old chest full of old black-and-white pictures that helps us to find inspiration to feel whole again, it strips us naked to accept ourselves as we are.
"august" is a ballad about what perceived to be the start of a romantic endeavor, but as fate would have it was only one-sided. The hook of this song is an embodiment of how love can sometimes feel like a mildly altered mindset, a quick wine buzz
"But I can see us lost in the memory

August slipped away into a moment in time

"Cause it was never mine

And I can see us twisted in bedsheets

August sipped away like a bottle of wine

'Cause you were never mine"
I found myself subtly tearing up at the bridge when there was a brief realization that the boy she fell for was never hers to lose and belted out the bridge nearly every time it came on.
Call me a sucker and a Swiftie-in-disguise and I'll shamelessly deny it. However, that'd make me a hypocrite because folklore has once again reignited the secret love I have for her music.
It reminded me of the time I went to see Taylor live at Solider Field during her Bad Reputation tour, I had floor seats and was getting decently tipsy on a frozen margarita amongst all these teens and tweens, every so often catching a glimpse of a fellow millennial across the way…we'd make eye contact and telepathically communicate, "I know you're here and you secretly love it, but do your friends?"
*slurps margarita*
If you've ever been to a Taylor Swift concert, you know it's not just a concert. It's an experience. It's a performance out of this world. High energy. Beautiful lights. Fans singing across the entire arena. Stage props galore.
I'm sitting two feet away from one of the stages and like never before, the space in front of it clears. So I take this opportunity to come up and just stand there and dance.
And then Taylor makes her rounds to kind of intermingle with fans, high five them, and the works. At this point, the teens and tweens have gathered around my personal bubble, but I wasn't about to just dip. I'm telling myself to keep my composure, stay calm, be cool. I'm an adult. I shouldn't be up here.
Don't do it. Don't do it.
Taylor appears and is basically two feet away from me at this point and I lose my shiiii. I'm screaming and reaching out and forgetting the fact that I'm in my late twenties. In the midst of this chaos, she waves in the direction of me and some girls and starts handing out guitar picks.
I still have it.
I'd imagine that once we are able to enjoy concerts again, folklore is going to bring us a completely different feel. I'm hoping that there will be a series of shows in small venues to provide that warm, classical and intimate feel. This album is like a hug for the soul.