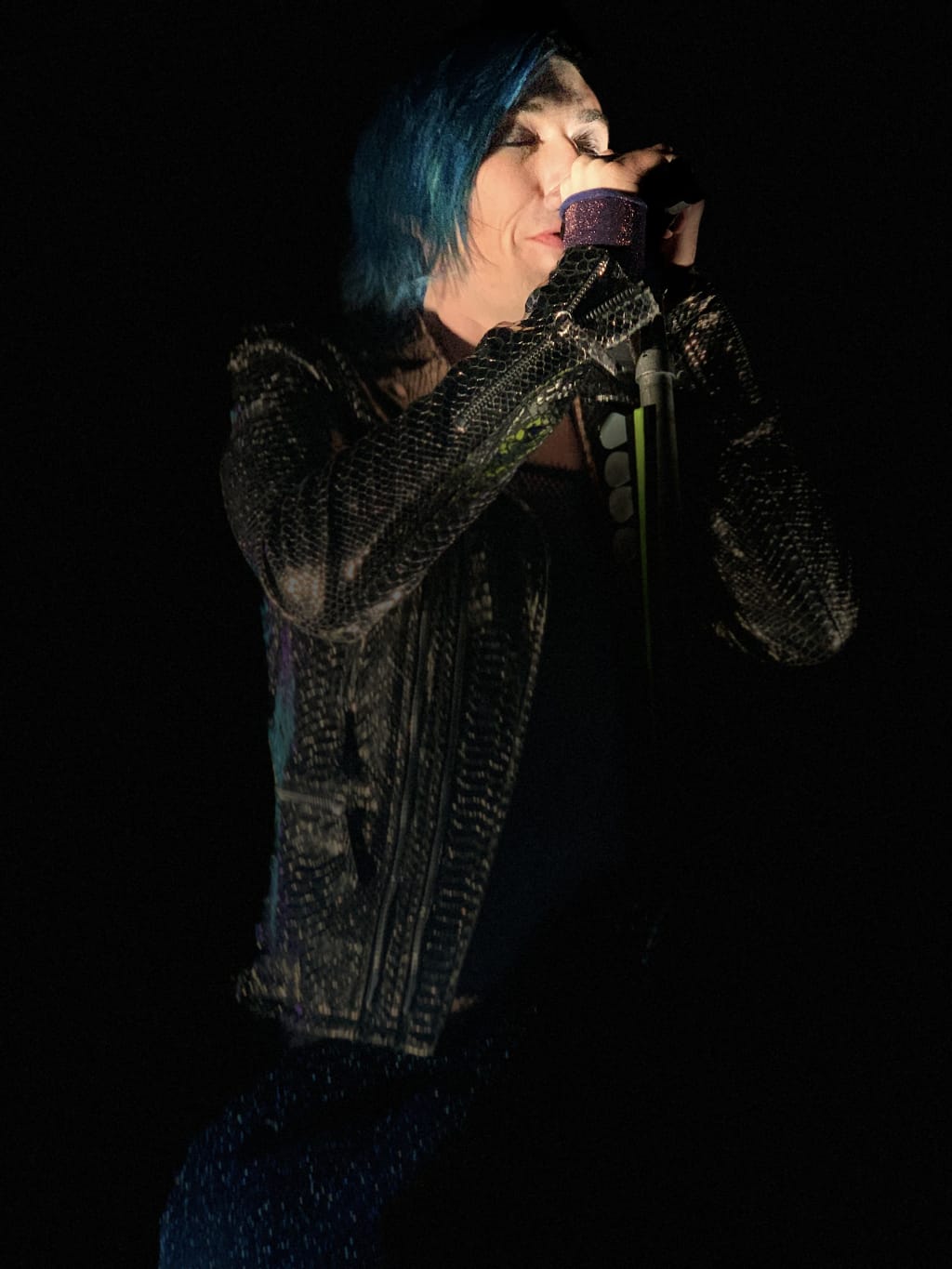 Charlotte, NC: Marianas Trench
I couldn't even imagine picking just ONE photo, especially with all the concerts I go to. But pictures can speak 1000 words, even with the simplest of actions.
You ever go to a show and leave wanting to go back for more? Or just never be able to walk out those venue doors again? That's how I always feel when I'm at a concert. Music saves lives. It is a community formed that helps people all over the world come as one and unite. You go to shows to watch your favorite band play on that stage. You meet people in the crowd who share such similar interests. I mean, after all, why would they be there if they didn't listen to the music?
Bands/Artists have such an impact on everyday life. They may not realize it, but the simple songs they spend hours working on can mean a handful to a lot of people that is outside of their inner circle. What they think reflects them as a group, doesn't always mean it stays in the band.
We all know the phrase "when words fail, music speaks". Honestly though, it's a given truth. Sometimes the best form of expression is through music; whether it goes back to just playing the instruments, producing the content, or creating the lyrics. Music can speak to anyone and everyone, no matter the language. The words will always be there for you to sing along with and relate.
Now, I know what you're thinking. Why am I talking so much about basic music? Why do I keep ranting off about bands?
It's what I love. It's who I am.
Without music, I'd still be this little shy girl who was constantly bullied in school for unsure reasons. Music helped me through my worst days. These bands spoke the words I couldn't ever tell anyone. I related so much to them and got through avoiding self-harm and worse. Bands are there for you through their music.
You're probably wondering why I chose this random lead singer of a band for my mobile memory. Well, when you have over 11,000 some pics and videos from concerts you've attended in your phone library, it kind of becomes difficult to even find "A" photo. So, here's what you want to know about this guy.
His name is Josh, and he's the lead singer of Marianas Trench, a Canadian band that tours but not so often in the USA as one would like/hope for to happen. That night, or well, I guess I should start from the very beginning of that entire day, huh?
Ok, so 11am hits and I'm second in line at the venue, but I found out I happened to be first for the VIP line because I had the meet and greet package. But yes, your typical fangirl waits extra crazy hours just to be as close to the stage as possible and being that it's a general admission show with a venue capacity of about 750 people, you definitely do everything possible to "fight" (and no, I don't mean physical fighting - although, that hasn't stopped fans of the heavy metal genre from doing it) for that barricade spot. Anyways, back to this event, so I sit and wait and hangout with random other fans who join in on the line and we talk about anything and everything. Some of the fans have previously met the guys with VIP, I honestly never have. I met these guys before or after shows; so I never actually knew what their VIP involved (because you know, every band has their own way about vips). So the day rushes by, the vip meet and greet happens inside; you go through a quick little song session and then the band answers questions fans ask for a bit before moving on to the photo opportunity. So I jump out of the Q&A while they're still talking and start the line for the photos because I know this will guarantee me a spot front and center for the concert. And it did, I took my group band photo, although I was pretty mad my favorite member wasn't by me and I had no real choice to switch it up because they stood in a certain order. Which is besides the point of my photo here...
Ok for real, so the vip is over with and we're back in line to wait another hour before getting inside. Once doors open, we're quickly rushed through scanning tickets, being checked for over 21+/under 18, and bag checks/body checks - you know the usual security routine. I quickly get to the spot I want; right in between the lead singer Josh, and my favorite - the guitarist Matt (who isn't photographed obviously). Fans start to get all pushy and squishy, squealing and screaming, even though we have openers to sit through first before Marianas Trench even hits the stage.
As the time flies, the music continues and bands are turning tables on that stage (and by tables, I mean changing the stage sets quickly as possible). Marianas Trench finally comes on, around 9:30pm, and you'd think I'd be tired from standing all day long, you're wrong to an extent...(it is tiring but so worth it).
How did this photo happen? This was just, pure luck really. I snap like 1000 some pics in under the 2 hours they're performing on that stage while also recording my favorite songs at the same time. But for this photo, I was messing around with the Portait mode on the camera. I started to branch out with my iPhone and it's filters that it provides but I've been a fan of Portrait mode the best. So it's nothing special or edited anything like that. I literally switched my camera mode from "Photo" to "Portait" and messed around with the different filters portrait mode gives. I've taken various shots using the different Lighting that portrait mode offers; but the one pictured is the "Stage Light" effect. And it happens to be my favorite no doubt when I get lucky capturing band members on stage that is.
Stage Light offers the photo in which it cuts out the main subject and places them against a darker background, making it look a lot more dramatic than one would think. It is pretty cool especially if the singer is playing a song that's emotional - like for Marianas Trench, they have songs such as: Fallout, Haven't Had Enough, One Love, I Knew You When, The Killing Kind, Who Do You Love and so many other ones.
This is the original photo - no editing involved at all - just the use of Portrait Mode - Stage Light - in the camera. And I mean, why filter something THAT good? I guess you could if you were a photographer and edited in ways which I never would really understand myself because I'm only using my iPhone and don't really feel filters are needed for every single picture I've taken of bands.
It wasn't an easy photo to capture, mind you, I was barricade at the concert and portrait mode requires you to be 8 feet away, it'll give you a "Move Closer" or "Move Farther Away" to the subject warning. Being barricade and trying to do these shots wasn't the easiest thing, I'd have to either stick my phone out all the way towards the stage or bend my arms back, as if my elbows were going to hit the person behind me just to take a photo of the lead singer. Least to say, taking this photo was awkward as it can ever get!
And you can't forget the lighting; bands use all sorts of different lightings during their sets, so to be able to get it without using flash was just as fun of a challenge as being 8 feet away from the stage. It literally was one of those, at the right moments, kind of picture snap - I know I couldn't have timed that right for many photos I have from that night; like seriously, it's near impossible to get a photo of a band member without something causing it to be difficult (unless you're like one of the photographers with those photo passes).
There's just something about Josh that photos of this guy are emotional. It could be the song he's singing but what band doesn't go on stage and leave their hearts out on that floor?
Music saves lives. Hence, why I named this article the way it is. I mean, if it weren't for our favorite bands releasing music and touring the countries to hear these songs live versus off a disc or digital player, then what is life handing you? Music has played such an important part in so many ways for so many people. It has helped those who felt they were at their worst regain their strength. It opened up opportunities for people who never thought they'd hear something as simple as they could do it. Music has been a guide to figure out who you are as a person.
Lyrics speak when words fail.
Band members have conversations with you to understand why you're a fan of their music.
The world would be silent, boring, lonely.....without music.
About the Creator
Just a girl who enjoys concerts, reading, writing, and all things mythical & magical
Ignore the small errors please, typing on an iPhone late night without realizing the corrections will do that lol!
Reader insights
Be the first to share your insights about this piece.
Add your insights