Miley's Search for Meaning
On her seventh studio album, the former Disney star tries her hand at classic rock, with mixed results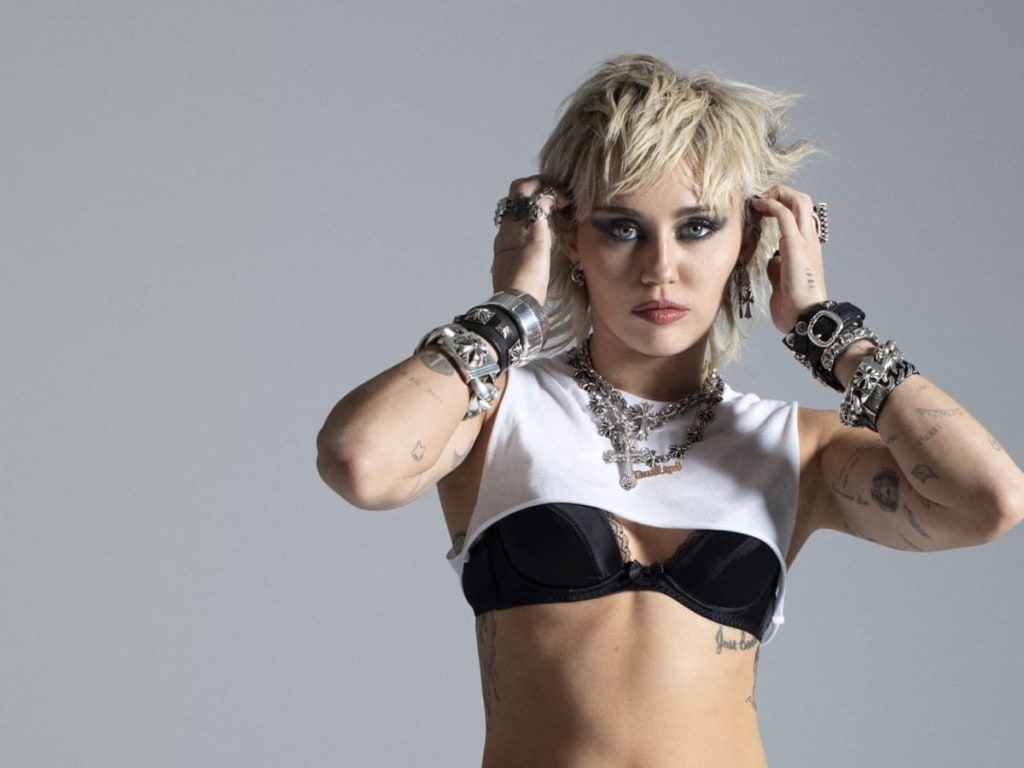 Ever the chameleon, Miley Cyrus has never been a fan of labels.
The genre-spanning star has experimented with a range of genres, from the pop-rock sound of her first post-Disney album Breakout, to rap and RnB on 2013's Bangerz, which coincided with her controversial image overhaul.
Two years later she made a foray into the world of psychedelic rock, collaborating with The Flaming Lips for Miley Cyrus and Her Dead Petz, which was released independently.
Attempting to distance herself from this provocative persona, 2017's Younger Now saw her returning to her country roots, but received mixed reviews from critics who called it "safe and overly sanitised" and criticised its "bland production".
Fresh from her split with Cody Simpson, Cyrus returned to the music scene with the sensational electro-pop single Midnight Sky in August 2020 which, in total contrast to the subdued sound of Younger Now, received critical acclaim and drew comparisons to Edge of Seventeen by Stevie Nicks.
She followed this up with Prisoner, a disco-pop duet with Dua Lipa that no doubt delighted both their respective fan bases, and I was expecting her upcoming album Plastic Hearts to be filled with the same up-tempo tracks that fans had been craving since 2013.
Arriving in late November last year, the album boasted collaborations with rock legends Billy Idol and Joan Jett, along with her much-loved covers of Blondie's Heart of Glass and Zombie by The Cranberries, and as as someone who firmly believes that Breakout is Miley's best album, I was excited about a return to that pop-rock sound my teenage self couldn't get enough of.
It starts out well enough with glam-rock stomper WTF Do I Know, in which Cyrus takes aim at her now ex-husband Liam Hemsworth, but try as it might with its Bowie-inspired guitar hook, title track Plastic Hearts failed to thrill me, as did the acoustic sound of Angels Like You.
The pace picks up from there, and Gimme What I Want quickly established itself as my favourite track on the album. With elements of industrial pop, this ode to casual encounters deserves to be played at full volume in a sweaty basement club.
Next up was Night Crawling, a dead ringer for Idol's 1982 hit White Wedding in the best way, with a sublime combination of 80s-style synths and electric guitar.
Sadly, this new-wave masterpiece is followed by yet more acoustic tracks that hark back to Cyrus' country roots, though with Dolly Parton as her godmother, it would be a crime for her not to pay homage to the genre.
There's no doubt that High and Hate Me provide some Self Reflection and an insight into the psyche of one of the most talked about public figures of the last decade, and Golden G String sees Cyrus reflecting on her state of mind during the Bangerz era.
Sonically however, they just don't seem to gel with the rock sound she had been cultivating in the run up to the album's release, and even Bad Karma, her collaboration with Joan Jett, falls a little flat.
Tacked on to the end of the album, her covers of Zombie and Heart of Glass feel like an afterthought as opposed to the central theme of the album, and I wish she'd incorporated more of this pop-rock sound throughout Plastic Hearts.
A reworked version of Midnight Sky featuring vocals from Stevie Nicks also made the cut, and it's this track which provides a glimpse of what could have been if Cyrus had decided to dive right into the world of classic rock instead of just lightly dipping her toe into the water.
Her decision to work with pop producer Louis Bell - who has worked with Selena Gomez, Camila Cabello and Taylor Swift - and Andrew Watt - best known for collaborating with rappers Future, Juice Wrld and PartyNextDoor - could be seen as an attempt to keep her pop-loving fans on side, but the fear of alienating a core part of her audience leaves little room for experimentation.
And so I find myself drawn back to Breakout, which has more classic rock elements running through its production than Plastic Hearts, despite also being marketed as pop-rock.
Singles 7 Things and Fly on The Wall successfully merge the worlds of commercial pop and classic rock and both topped the charts.
It's one of the rare albums where every track is excellent, but my favourites continue to be The Driveway, Simple Song, These Four Walls and Full Circle.
Much like Plastic Hearts, the lyrics on Breakout deal with breakups and coming of age, and yet there's a far more personal feel to this collection of tracks which, thanks to the production, have a timeless feel while still appealing to Cyrus' younger fans.
Even the albums she released as Hannah Montana pack more of a punch than Plastic Hearts, and I have fond memories of playing my physical copy (!) of Hannah Montana 2 / Meet Miley Cyrus on repeat throughout the mid-2000s.
Nevertheless, Cyrus has shown that she's not afraid to take musical risks, and regardless of the results, it's an approach that will always keep fans wanting more.
About the Creator
bad bitch with an iPod ♏️🏳️‍🌈✨💅🏻 (she/her)
twitter: @limegreensunset
music blog: http://www.musing-and-lyrics.com/
Reader insights
Be the first to share your insights about this piece.
Add your insights