Memories of Old and AM Gold (Part 3)
The age of television variety shows, Panapets, and Columbia House record club.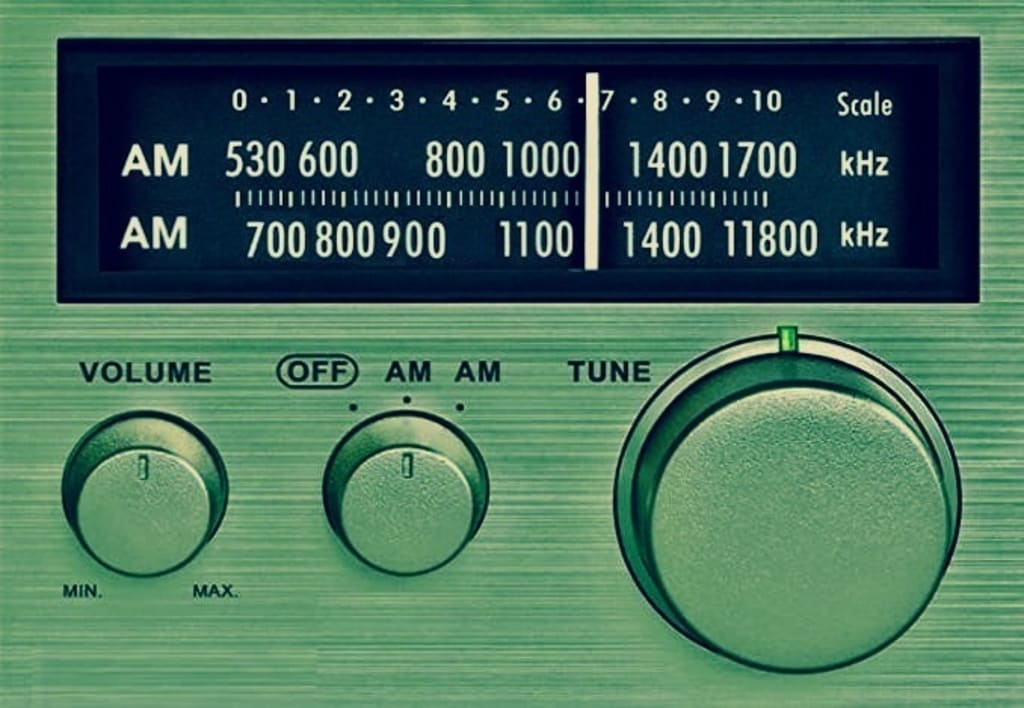 Often reflecting back upon the days when AM radio ruled the airwaves with infectious bubblegum earworms and Casey Kasem's weekly American Top 40 countdown, I remember prime time television also provided a moderate source of musical entertainment with series such as The Sonny & Cher Comedy Hour, Tony Orlando and Dawn, Donny & Marie, and The Marilyn McCoo and Billy Davis, Jr. Show. Additionally, late night programming provided the rock-oriented Midnight Special and Don Kirshner's Rock Concert for the hard-core music enthusiasts who were dedicated to stay up past midnight.
I recall waking up on Saturdays, bleary-eyed after my late-night concert viewing sessions, eager to seek out selected musical programming. I'd tune into American Bandstand, Solid Gold, the Grand Ole Opry Live, and Dolly, which starred Dolly Parton, whom I became enamored with during my early boyhood days while watching The Porter Wagoner Show with my dad. He was initially upset Dolly Parton had replaced "pretty little" Norma Jean, but I was immediately won over Wagoner's new talent discovery and became a lifelong follower of Dolly's illustrious career. This humorous point of contention is something I frequently remind my father of and bring to his attention.
Variety shows and musical broadcasts of a bygone era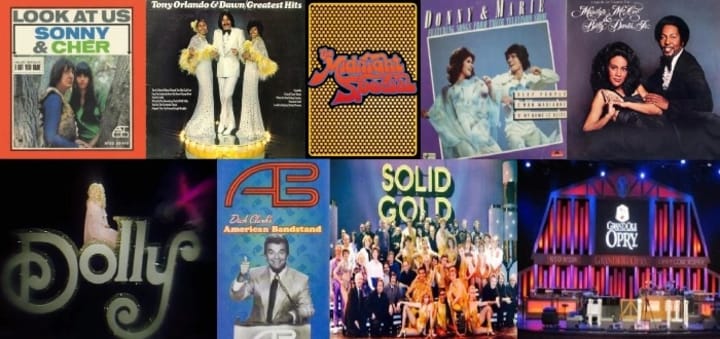 The succeeding key source of music for me during this time was my trusty Panasonic Panapet transistor radio. Remember, there were two types: the one which formed a circle that would twist apart while the other style was a round ball with a chain and two silver tuning knobs that looked like eyes. I had the latter in bright, sunburst yellow. I'd wanted the green or blue one, but you never knew which color was inside until you opened the box. It was completely by chance whether you'd procure white, red, yellow, blue, or green. I eventually grew accustomed to the robust yellow and took it with me everywhere I went; in the car, riding my bicycle, walking to 7 Eleven, trips to the beach, or just playing in the yard. Nowadays, it's hard for me to imagine something that required a 9-volt battery and only had the capability of playing music through a small monaural speaker could bring me so much joy, but boy did I love it. I lived and breathed that silly little thing as if my life depended upon it.
Life was a ball with my beloved Panasonic Panapet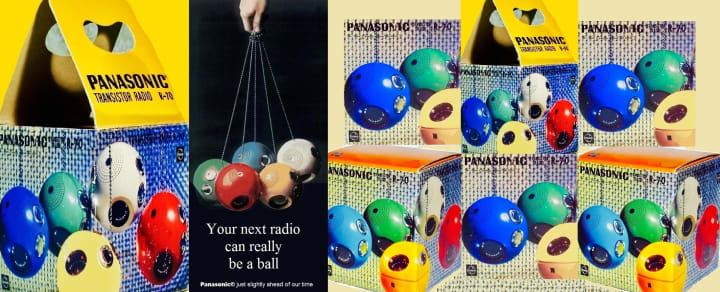 As I grew older, my focus gradually shifted to collecting vinyl records. During my early teenage years, I readily eschewed all things I thought of as "kid stuff" and began collecting my favorite radio hits on 7-inch 45 rpm. To this day I still associate many of my favorite artists with their related record company labels. Hearing Elvis Presley or Dolly Parton vividly recalls spending hours watching Nipper spin 'round and 'round, as well as the multi-colored butterfly perched upon the big "E" on the labels of my Carly Simon and Queen records. Just as I perpetually see the rainbow label spinning in my mind's eye whenever I listen to Elton John, or the spectral colors and palm trees of Casablanca while listening to KISS' Destroyer or Donna Summer's Live and More or Bad Girls double albums.
You spin me right around baby
Deliberately, I began to shift from 45s to LPs, and the timing couldn't have been better as my commencement of responsibility and commitment arrived in the guise of the Columbia House record club. Remember the ad in the newspaper or TV Guide boasting of getting 12 record albums for a penny? Many people considered them the bane of their existence and the epitome of money scams, but if you were savvy enough, you could beat them at their own game. Anyway, they served their purpose and suited my needs just fine. This was long before I could drive, so being able to shop from home and have records delivered to my door was a real lifesaver. I can still remember the thrill of receiving a box full of LPs in the mail. Not only did I get a big, fat, pile of albums, but I didn't even have to leave my house. I can't count how many times I joined and re-joined that club, making sure to carefully fulfill my minimum commitment so I could cancel my membership, only to re-join and receive another stack of wax. This cycle continued for years, slowly building into an impressive music library, most of which are still in my collection.
8-tracks, LPs, and commitment... oh my
This day and age, the change of seasons often decrees my daily playlists, as well as sets me adrift down memory lane to re-visit the musical memories of my youth. Of course, I've adapted to the modern technologies of digital downloads and streaming, but I regularly enjoy crate digging excursions to dig up old and new treasures. While I'll readily admit I appreciate the convenience and instant accessibility of the digital age, there's still nothing that thrills me as much as pulling out a piece of vinyl and watching it spin as it reels me away into a world of sonic phantasia.
About the Creator
I'm a music journalist, blogger and crate digger. I began writing about music during college and again as a freelancer. Links to my published pieces can be found on my music blog at: popmartzoo.com and/or follow me on Twitter:@popmartzoo
Reader insights
Be the first to share your insights about this piece.
Add your insights