May Pang Reveals a Love Story in The Lost Weekend
New Documentary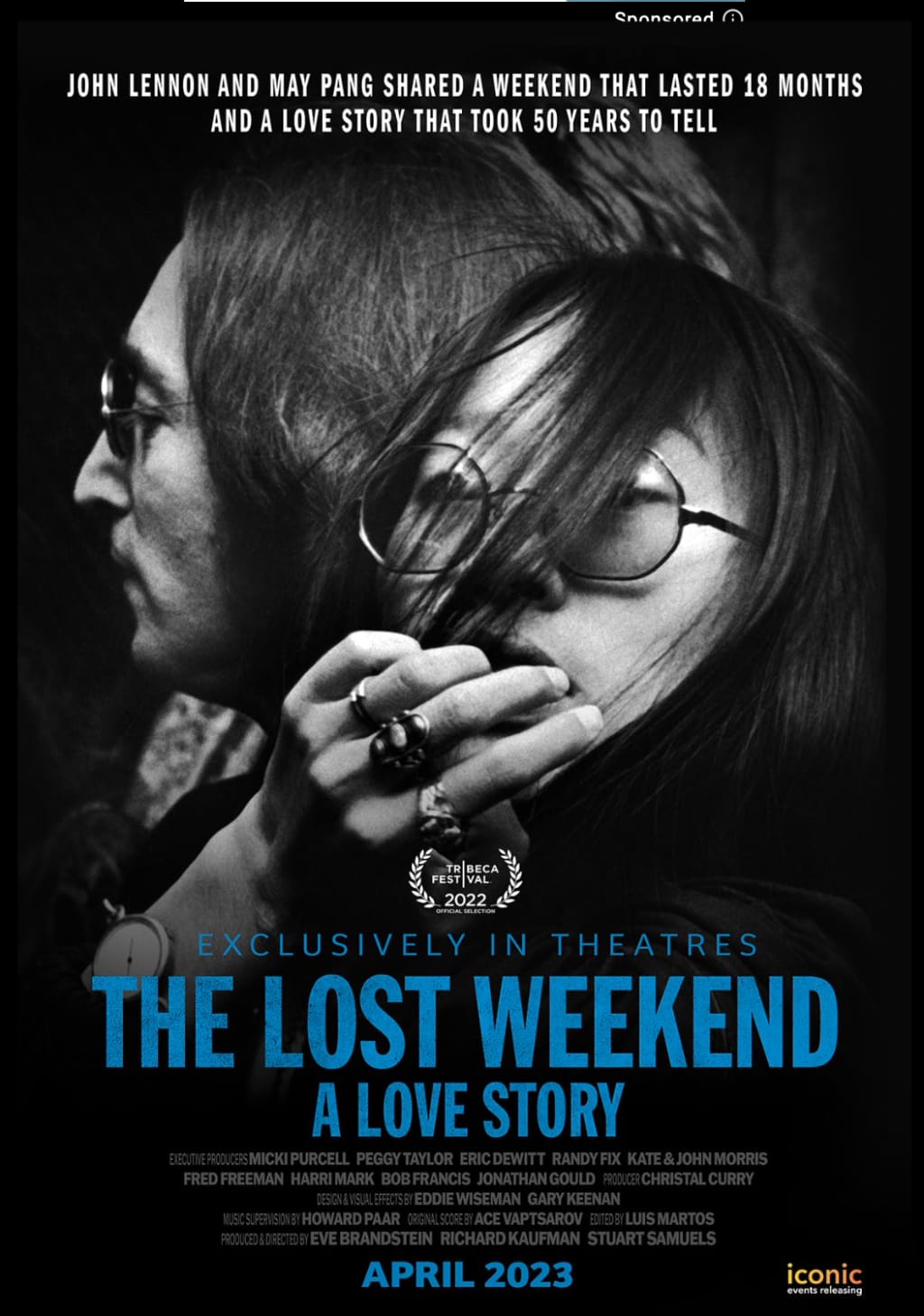 If you're even remotely aware of the actual ballad of John and Yoko, you know that the pair had a split in the early 70s, and John referred to the hiatus as The Lost Weekend. A burst of drugs, alcohol and woman is assumed, and likely succumbed to the standard operating procedure of the typical rock star. But the headline does not tell the story, according to the woman at the center of the decades long misconception.
Not a weekend romance, clarified May Pang, "It's a love story," and the 18 month relationship is the subject of a new documentary that intends to set the record straight.
The Lost Weekend : A Love Story just opened and finally does what history has been unable to do. "A lot of people don't realize what happened," she said. "It's misunderstood."
Of course, the story for Pang began the same way it did for everyone else. Long hair, screaming girls and mesmerized by the sound and charisma on February 9, 1964, she had Ed Sullivan on too. "That changed my world," she assured.
Actually, that was actually to come. Eager to get into the music business, Pang put herself out there, and serendipity did the rest. "I just happened to walk into a place and got the job," Pang beamed.
Apple Records being the place, her first thought was do the Beatles ever come here, and not long after, she got a resounding answer. "No," Pang was told by a coworker.
One day that changed, though. "Suddenly, in through the doors walked Ringo," said Pang, who grew up in Spanish Harlem.
George Harrison came next, and after Paul, John and Yoko became regulars. "The office manager told me, they need people, and you're one of them," Pang revealed.
In this, the young woman was doing all manner of outreach, administration, and public relations. Then her role as personal assistant abruptly took on a whole new meaning. The couple's marriage had come on hard times, and Yoko sprung the sea change on her employee of three years. "You should go out with John," Pang conveyed Yoko's words from 1973.
Not sure what Yoko was up to at the time, Pang eventually came to realize that the matchmaking was a ploy. John would engage in a brief affair, and then come running back.
Either way, Beatlemania had not taken hold to the degree Yoko may have thought. "I don't care if it's John Lennon," she explained, and the worker just wanted to go on doing her job.
John wasn't so amenable to the idea at first either but changing his tune didn't alter hers. "I told him, 'stay in your corner,'" the 72 year old remembered.
Nonetheless, Lennon's charm eventually got the better of the 23 year old, and the story began. "We did fall in love," she assured.
Still, a detailed account is already out there, because Pang wrote Loving John in 1983. Even so, the misconceptions have prevailed, and long ago, she deferred the opportunity to redirect the narrative for a wider audience. Eve Brandstein, who is one of the Lost Weekend's directors, wanted to option the book, according to Pang.
As it were, happenstance again played its part. Brandstein mentioned to Pang that she was doing a documentary, and the author had her inciting incident. "I just turned around and said, 'that's what I want to do,'" Pang recalled.
The director was onboard and quickly had more people in mind to get the project off the ground. Second director Richard Kaufman came on with the cinematography duties, and Stuart Samuels was brought in to track down the visual history. "An archivist and a historian, he just came off doing Ron Howard's documentary on the Beatles touring years," Pang revealed.
Still, there's plenty of imagery where no search was required. "I took intimate pictures of our time together, and John loved what he looked like through my lens," said Pang.
John playing with the cats, swimming or just relaxing like any other person are the most rewarding. Not to be overlooked though, she took one of the last photos of John and Paul and captured the moment John signed the dissolution of the Beatles. But a picture worth a thousand words, a narrative for the film still had to be put together.
So Pang obviously conveying her account, she also relinquished control. "When you're too close to a story, you're not going to see it objectively," she said. "It's going to be two one sided."
So the leap of faith taken, Pang accepted the story that the directors came back with and was informed that they wanted her to narrate. Here, she did make a few minor alterations. A line that sounded out of place or didn't sound like her voice, the filmmakers granted her requests.
As for other voices, Julian was glad to be part of the film, and was crucial because all three lived together. Paul and Ringo were in and out of the couple's lives too but not on any consistent basis. So they are not interviewed. Not that she wouldn't have welcomed them, the former Beatles aren't simply a phone call away. "They have busy lives," she asserted.
At the same time, there's no news from Yoko's camp either. That said, any ill will is instead directed at all the people who have inundated the icon with a sea of negativity. "When jokes hurt people, I never like it - especially when it's not fair," said Pang. "Then I feel like saying, what are you hiding."
Nothing on her part and she takes seriously the responsibility of her unique vantage point. "I vowed when I did this I was going to tell the truth," Pang stated succinctly.
50 years now passing, people still ask her why she can't just let all the misconceptions go. "How could I when everyday I hear a Beatles song," she countered, and it was no ordinary person she was involved with
So now is her time. "It's my turn because I'm the first person," Pang concluded.
Originally Published in Script Magazine
Reader insights
Be the first to share your insights about this piece.
Add your insights