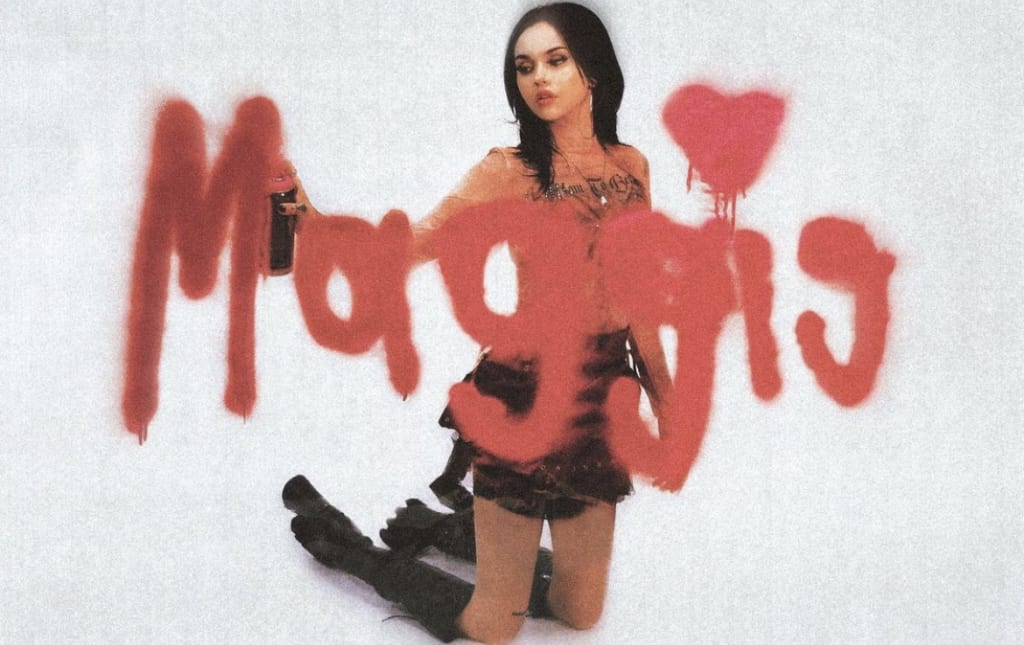 Maggie Lindemann.
22 year old who is a popular influencer on instagram with about 4.5 million followers, and known for her female pop anthem "Pretty Girl" that has garnered over 150 million views on youtube. Maggie is all over social media, best known for her beauty and egirl style, but that was as much as I knew about her until recently. A few days ago I was on youtube and was recommended her song "Knife Under My Pillow" and later encountered her album Paranoia.
Paranoia is a pop rock album that is very reminiscent of late 2000's and early 2010's pop punk music and the scene crowd. Most of the songs have heavy Paramore and Avril Lavigne influences, one song is a screamo trap metal song, and there's a sappy acoustic love song. All 8 songs on the album are really good, and Maggie fits this alternative sound a lot, but at the same time I was very confused. Last time I listened to a Maggie Lindemann song was "Pretty Girl" that came out in 2016. "Pretty Girl" is completely different from Paranoia, it is a generic chill pop song, and it got me asking how did we get here? How did Maggie go from the pop box to pop rock? So I went down a Maggie Lindemann rabbit hole, and there is so much down there, but let's start from her beginning.
The Beginning - Somber Alt Pop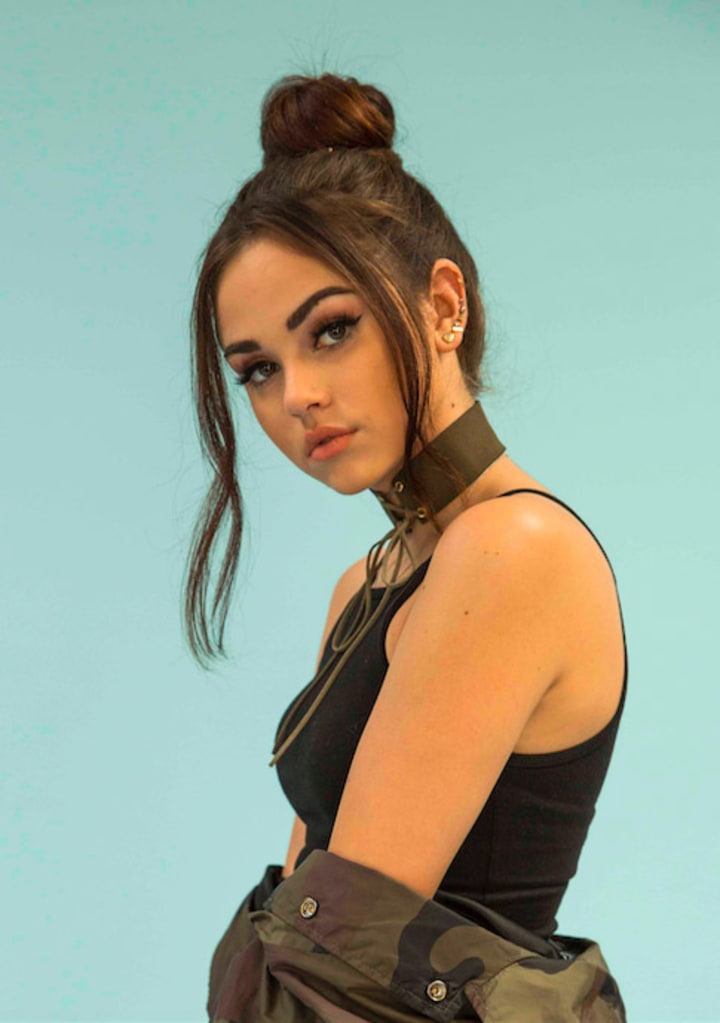 Maggie started posting on social media around 14, on sites like Instagram and Keek. She started gaining traction for her singing videos and being very pretty, but in 2015 she released her first song called "Knocking On Your Heart" at around 16 years old.
"Knocking On Your Heart" is a somber ballad pop song that reminds me a lot of Lana Del Rey Born To Die era. "Knocking On Your Heart" is about missing someone and wanting them to come back. Maggie wrote the lyrics herself, and it is a heart wrenching song, and it is surprising that this is her first song because of how vulnerable she is on this track. Many influencers' first song nowadays are very one layered, and made to just be a money maker, while Maggie took a very honest and raw approach in her first song. Then in her next song, "Couple Of Kids" she again takes an honest and raw approach.
"Couple Of Kids" also reminds me a lot of Lana Del Rey with the somber ambience. It has themes of young love, growing up, being childish, and knowing things will change. It is a sad and very open song about love at a young age, and again it is a bit surprising that one of her first songs was so heartfelt and sad.
Then the next song she released was "Things". A love song that has a ghost like element in the production, and makes it a very calming yet a chilling song. It reminds me a bit of Melanie Martinez and Billie Eilish's sound. It is a very soft song that has this eeriness to it, especially in the bridge where the beat goes a bit darker and Maggie has this one powerful line "Put my love on top". It is a cool and haunting song.
In the beginning, Maggie seemed to be going for somber, alternative pop tracks like Lana Del Rey or Melanie Martinez, and was very open in her lyrics. Then suddenly she shifted in 2016.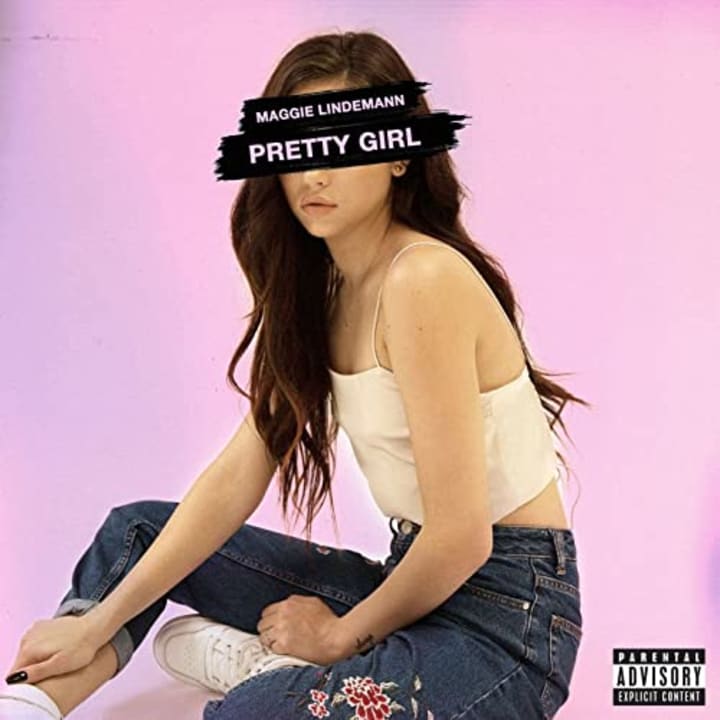 The New Pop Girl
Maggie started with this haunting dreamlike pop sound that is a bit dark but then did a 180 with "Pretty Girl." In september of 2016, "Pretty Girl" was released, then in March of 2017 the music video was released. The song gained a lot of attention with "Pretty Girl" with it's feminist lyrics about girls doing what they want and being more than just their looks, and it being a chill pop song that was a popular genre during 2016 such as hits like "Closer" by the Chainsmokers.
"Pretty Girl" in my opinion is an ok song, the lyrics are great but overall it is just your average generic 2016 pop song. Also it was a weird shift for Maggie. Her first few tracks were leaning into alternative pop with sad or eerie ambience, but then she took this pure chill pop route with "Pretty Girl", which is a bit jarring. Not as jarring as her next song.
After the huge success with "Pretty Girl", the pressure was on to create another hit. So she then released "Obsessed", a song that follows the Chainsmokers trend with it being a chill pop song, with it having a summery feel to it. Again a generic pop song, and in the music video it is quite evident how Maggie doesn't fit with this genre.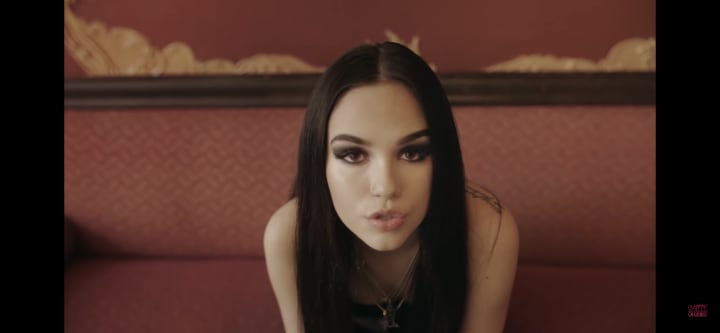 Maggie in my opinion appears a bit awkward in the music video, and she is not really into the song. Plus this is when she started dressing how she wants, a bit darker and starting to lean more into the egirl/alternative look she is known for. With this bubbly generic pop song, she looks so out of place in the music video.
Maggie was trying for this new pop girl image with "Pretty Girl" and "Obsessed" but this image was not working. Maggie didn't seem to be fully into those two songs, and looked out of place in the "Obsessed" music video. Maggie then switched her genre again, and released "Human" and "Would I"
Back To Alt Pop And Dark Ambience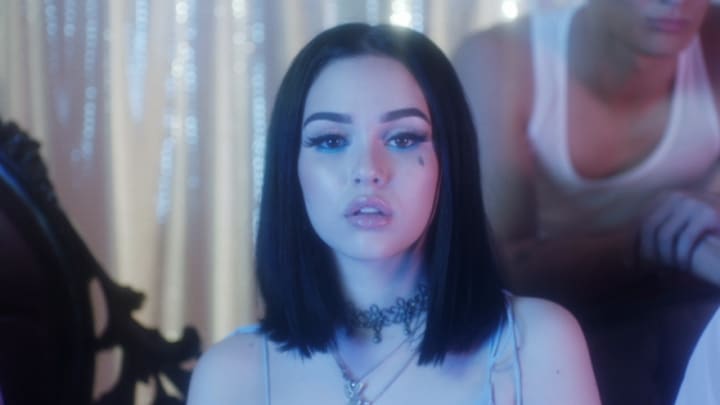 In 2018 Maggie released "Human" that went back to her earlier sound of alternative pop, eeriness, and dark and sad ambience. It is reminiscent of Melanie Martinez, Billie Eilish, and reminds me a little of Johnny Goth too. It is slow yet chilling, having themes about not feeling like you belong and feeling disconnected from others. It also is sad with some of the lyrics saying, "I've been tryin' to drink away all the nights I can't forget" and "I wish that I could say shit like you did". This song is a bit vulnerable, overall dark, and falls back into the alternative and haunting pop Maggie started with.
Afterwards, she released "Would I", which is actually one of my favorite songs by her. It is about dealing with depression, insecurities, pressures of fitting in with the crowd, asking if she should follow her friends, and feeling like she is never enough. It is a vulnerable song that is again reminiscent of Melanie Martines and Billie Eilish. Another chilling alternative pop song, and she fits so well. Still, these songs doesn't show Maggie full potential yet, and I guess for Maggie she wasn't full happy with this sound, so she changed it again.
Friends Go - Experimenting With Pop and Punk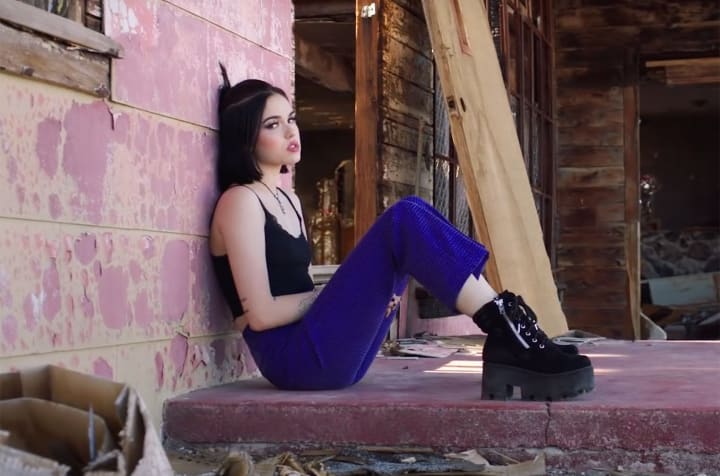 Maggie's next song was "Friends Go" which is a swanky pop song full of brass and trumpets, and reminds me a lot of the band AJR. The song is about friends leaving and ending up being alone, a sad theme juxtaposed by upbeat instrumental. I am not a fan of this song, but then Maggie released the remix featuring Travis Baker, which is a totally different song.
Maggie and Travis changed it into more of a pop punk song, with bouncy drums and guitars, kind of similar to late 90s and early 2000s' pop punk music. It is a fun listen, and although I am not a big fan of the "Friends Go" remix either, "Friends Go" is a huge stepping stone for Maggie.
With the original and remix, "Friends Go" was a way for Maggie to try pop and pop punk, and see which one she liked more. Having a song with the same lyrics and almost the exact same rhythm, Maggie was able to see which one she fitted in more, which genre felt more authentic to her, and soon it would appear Maggie preferred pop punk. Plus with releasing two versions of "Friends Go" whether she goes pop or alternative, it wouldn't be too jarring for her fans or casual listeners because her previous song had a pop and alternative version. Whether you hate one or both versions of "Friends Go", "Friends Go" is an important stepping stone in Maggie's musical evolution, and the start of her true self.
Paranoia - Pop Punk, Screamo, Acoustic, and Authenticity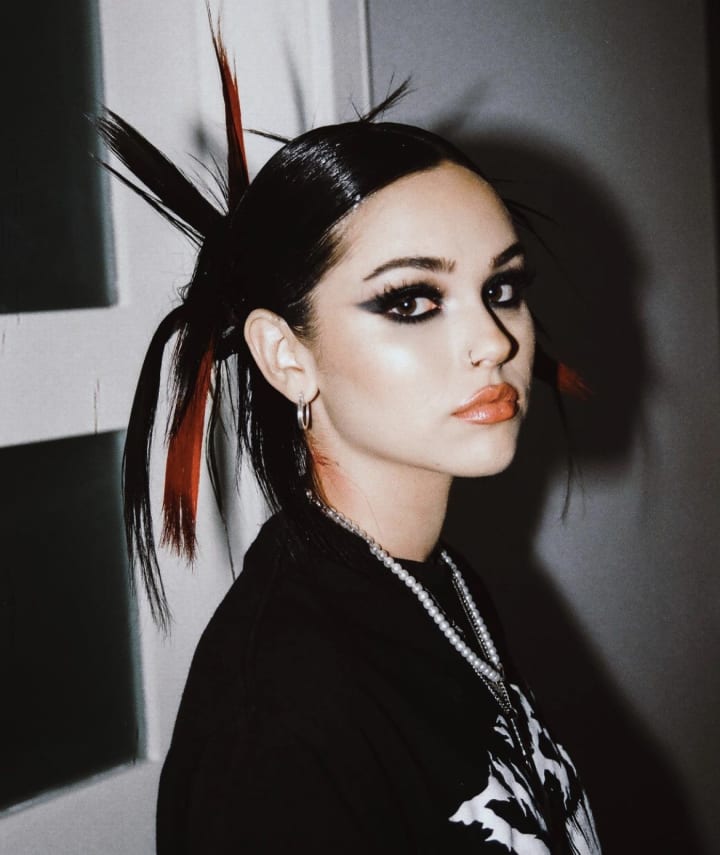 In January of 2021, Maggie released her project Paranoia, the start of Maggie's true image. Maggie went full throttle into pop punk, and even dipped her toes into screamo trap music with "GASLIGHT". Paranoia is a great project with 8 amazing tracks, reminding me a lot of Paramore and Avril Lavigne, and is a great start for Maggie.
Paranoia is only 20 minutes, but every minute in amazing. Maggie sings about being scared when she's home alone in "Knife Under My Pillow", being powerful and strong in "GASLIGHT," being in love in "Love Songs" and being lost and wanting to be somewhere or somebody else in "Different". This project is up close and personal into Maggie mind and life. Exploring feeling strong to feeling sad to feeling scared, Paranoia is honest and so authentic to herself.
From 2015 to now, Maggie had an amazing journey of finding herself. She tried many different sounds, and it appears Maggie found the sound she likes the most and she feels very authentic to herself. Although she has been in music for a while now, it feels like she just came into the music scene. Paranoia is Maggie's debut for her true self, singing music she enjoys and not feeling out of place at all. Paranoia is a great project, and I hope Maggie stays with this sound, because she fits so well with pop punk, but with how many times Maggie changed her sound she might surprise me. For now though, I am enjoying Maggie's new sound, and it seems she's enjoying it as well.
Reader insights
Be the first to share your insights about this piece.
Add your insights