Lil Eazy
Saudi Rapper and Social Change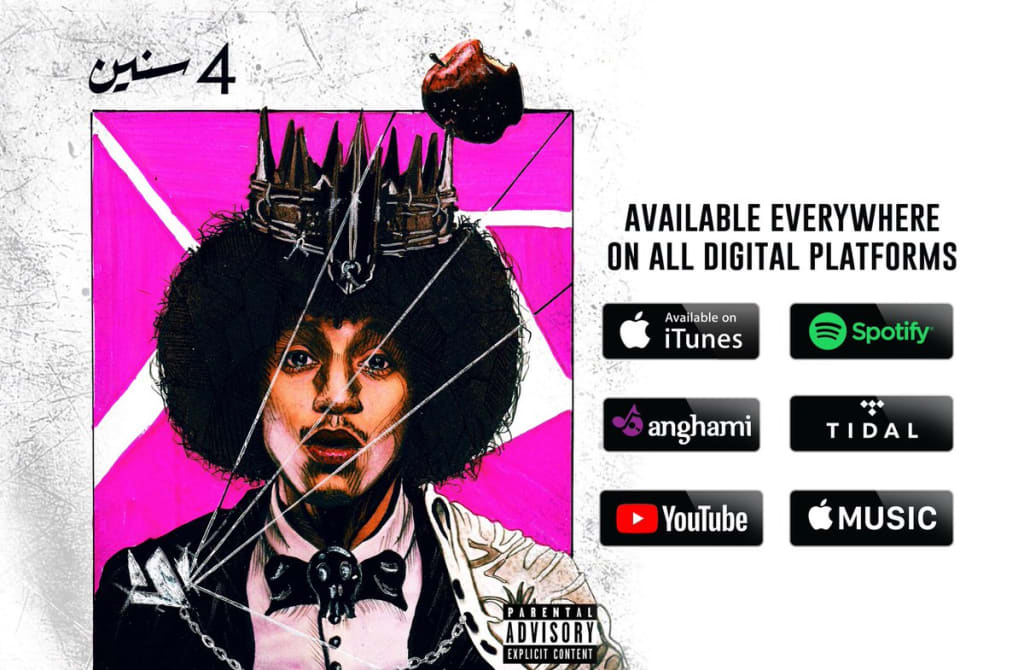 Rap and hip-hop began as unique means of expression that depicted the stories and culture of African Americans. They have since then become prominent genres in music and pop culture and have spread all around the world.
Rap is now again a platform for shattering stereotypes and misconceptions and challenging social norms. Abubakar Al Jilany, a.k.a. Lil Eazy, a Somali rapper born and raised in Jeddah, Saudi Arabia, is starting to make a name for himself as a talented young rapper, rapping in Arabic and in English.
Lil Eazy, born in 1991, released his first single when he was 17 years old. Known for his afro and his unparalleled style, Lil Eazy signed a contract with Jeddah Legends in 2014 then with Outlaw Productions in 2017.
His album 4 Years has nine songs. His music tackles topics such as race, perseverance, sports, and just talks about his life. He speaks to those who feel like they are different. He says don't worry what others think about you; just follow your dreams. The album 4 Years is available on YouTube, iTunes, Apple Music, and Spotify.
His latest song "Mathaher," or "Appearances," addresses stereotyping and judging a book by its cover. He talks about "the world that judges based on appearances." He lists labels given to people such as African slave, Asian, or comes from a corrupt family. He goes on to say he does not care what people think about him because he knows who he is.
One of Lil Eazy's lyrics say (in Arabic), "judge me by my heart, not by the color of my skin or how I look." The powerful song reached #1 trending in Saudi Arabia and had almost a million views within ten days of its release.
This year, Saudi Arabia made it to the FIFA World Cup for the first time since 2006. Lil Eazy was chosen, along with Saudi Arabian singer Aseel Omran, to feature in the Saudi Arabian version of Jason Derulo's World Cup song "Colors."
His most popular single, "Millionaire," has reached over three million views on YouTube and counting. In it, Lil Eazy raps in Arabic with a few English words sprinkled in. He talks about cars, life, and of course, money.
Lil Eazy has worked with many other Arab rappers and artists such as Slow Moe and Muslim in the song "The Strangers," and Flipperachi, Daffy, and Dr. Slim in the song "Race the Stars."
The song "The Strangers" features multiple Arab artists including Saudi Arabian youtuber Omar Hussain. The video tackles multiple issues.
The video depicts a story of a biracial couple trying to date only to be criticized by the people around them. At the end of the video it shows that they have built a life together and created a family despite what everyone around them thinks.
Another story shows a schoolboy being bullied. He learns to ignore his bullies and be successful in his studies.
The last story portrays a woman who has been a victim of domestic violence. She trains to get stronger and learns to fight. By the end of the video she is teaching a class of young girls how to defend themselves.
The video, along with the lyrics, send a powerful message that addresses important issues and breaks the social stigmas around these issues through art.
"Race the Stars," was filmed in Bahrain. This English and Arabic song combines the talent of three artists, Lil Eazy, Flipperachi, and Daffy, in a playful video about race cars and the culture around them. Flipperachi and Daffy are both artists from Bahrain who often appear together in other songs.