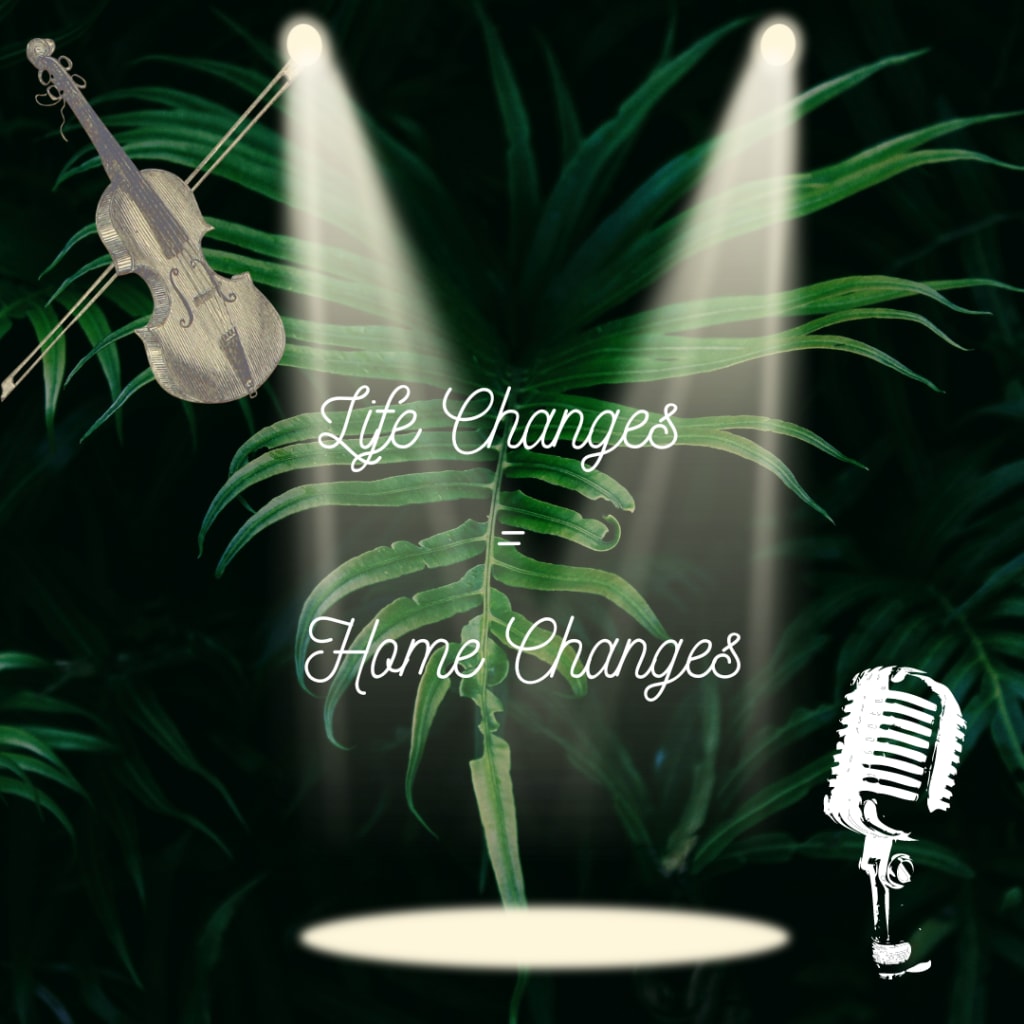 One of my earliest memories from home is learning a song on a car ride. We had the windows down, the wind blowing, and the radio blasting a sad song. "Lo Busque" by Ana Barbara or in English, "I searched for it", it's about a person longing for someone that is gone. At that time I was young and didn't know what the song meant but I remember the guitar playing, the singer's soft voice, and my out-of-tune voice singing with all my heart. It is hard to explain but that sad song makes me smile every time. To me, it is a memory of my childhood, when everyone was well and I was home.
Another of my beloved memories is my living room concerts. I was a big fan of Selena Quintanilla. We had a movie CD that had her most famous songs at the end. I would sing all of them from beginning to end. I would get up on the couch for the happy songs, sit on a stool for the sad ones, and show off my dance moves for the fun ones. My favorite one was Bidi Bidi Bom Bom. I loved its fun beat and wordplay. The song made me feel confident, happy and made me love music even more.
I have always been captivated by music and when I was offered to learn how to play the violin, I was overjoyed and agreed in an instant. Right before I began classes, we moved to the U.S. With all the changes, I slowly forgot about it until the following school year. The teacher gave us a slip that said "Learn to play an instrument". I could not believe it. I could learn to play the violin after all! After translating the paper to my mom, I begged her for permission. Despite it being a bit out of our budget, she made it work and I began my violin classes. The most exciting part was learning new songs. Since music notes look the same in all languages and there were no lyrics, it made it less frustrating to learn. With music, I could get better with practice and technique, whereas learning a new language was a bit more challenging. My favorite song was "Aurora Borealis" by Michael Hopkins. We played this song in eighth grade. It was not the most challenging, but to me, it was the most beautiful. The melody was like an echo that began on one side of the room and continued on with everyone else. Whether it was at practice or in the concerts, I always took deep breaths hoping it would stay with me just a bit longer, and it did. As the years passed I would hum the melody whenever I was nervous, bored, or sad. It was both soothing and comforting, the two things I needed when feeling down.
My dad has always been my rock. During my sophomore year, he took a second job to afford to celebrate my quinceaera. Thanks to him, Cheap Thrills by Sia was the highlight of my high school. I was learning, choreographing, and teaching that song for months. I knew I wanted to dance it for my quinceaera after I saw Brian Esperon, a great choreographer dance to it. His movements, facial expressions, and dance steps made me want to try it myself, it reminded me of my living room concerts and I was eager to recreate those feelings. During the performance at my party, I had so much fun. I was excited to show my family what we had been working on, and I even got my shy cousin to dance along. I have a big family and we all live in different places. We all have never been together, but this party is the closest we've gotten. Cheap Thrills talks about enjoying the moment and not worrying about anything, and that is exactly how I felt at that moment. I was happy to have people from home and the U.S. in one place celebrating together after not seeing each other for many years. Whenever I think about that day I always feel loved and am very grateful for all the work everyone did to make that day happen.
Four years later I was in college. My sophomore year in college was tough, to say the least. I was grateful to have the opportunity as a first gen college student but the competitive environment, financial uncertainty, COVID, clashing with professors, feeling isolated from my classmates, and family problems all contributed to this awful time. It got to a point where my anxiety got terrible and I had a hard time going outside of my room. While I was listening to random songs on YouTube, I suddenly heard a cover by BTS. They had not caught my attention before but for some reason this time they did. After listening to the cover, their song "Life Goes On" played next. Thanks to the subtitles, I understood what they were saying, and I could no longer hold it in. I cried and cried until I had no tears left. I realized that school, family, and life, in general, were taking a real toll on me and I was having a hard time managing it all. I then listened to as many songs as I could from them, and watched their videos which were a combination of funny comments, stories, and encouraging words. Even though I was not interested at first, after getting to know them more they brought the comfort that I was looking for and helped me get past that rough patch.
Throughout my whole life, I have always liked tropical music. Reggae, Reggaeton, Salsa, Merengue, and Bachata have been in many memories. It is always joyful and makes me want to dance even when the lyrics are sad. The thoughts that come up when I hear "De qué me sirve Amar?" or "What is the use of loving?" by DAAZ & Lex are like the song itself, bittersweet. It has a sad name but the music is actually about moving on, enjoying the little things, and realizing that the only way to move forward is to let go. The beat is mellow with a bit of drums and ukulele that add the perfect tropical touch. I listened to this song a lot when I no longer wanted to be sad. It made me feel okay with myself for leaving things and people behind. It also reminded me of home. I imagined being under a hammock eating sugar canes, coconuts, and mangoes. I no longer live there, and it is technically no longer my home. I will not forget where I come from but I also will stop shutting out my new home. I have come to terms that things change and what I longed for is no longer there, so I am allowing for better things to come and see what song comes next.
About the Creator
I enjoy learning, reading, and sharing information to ease people's work lives as much as possible.
Reader insights
Be the first to share your insights about this piece.
Add your insights