LGBTQIA+ Music Icons Shaped My Life
A Playlist of the LGBTQ+ Music Icons That Shaped Who I Am Today.
I've grown up with a love for classic music.
Although I was born in 1999, I've been told by many that I'm living in the wrong era. My love for 70s music in particular stemmed from my introduction to the band, Pink Floyd as a kid. After my obsession with Pink Floyd grew, I expanded my taste in music to reach other 70s artists and bands, as well as some older artists from the 60s. Music has always been an escape for me. Growing up in and out of hospitals, I was able to put my headphones in, turn up my music, and disappear from the crazy life I was living; even if it was only for a little while. I don't know if it's just me, but I feel like the lyrics behind some of the classic 60s and 70s songs have a deeper meaning than the lyrics of most songs today. Maybe my obsession with finding my own meaning within songs has contributed to my love for classic music.
A little over a year ago, at 20 years old, I came out as pansexual and nonbinary. At the time, I was halfway through my college education, struggling to figure out my own identity, my passions, and my path in life. While the endeavor of determining where my future may have led was a constant battle, I again, found comfort and a form of escape from my love of classic music.
LGBTQIA+ artists from the 60s, 70s, and 80s not only provided me comfort in such a stressful time, but they helped lead me to become who I am today. The messages in their songs instilled in me; determination, love, dedication to pursue my passions, and most importantly; acceptance of my true self. I will be highlighting some of my favorite artists on my LGBTQIA+ Icons Playlist and their songs that have greatly influenced my path in life toward the better.
Lesley Gore - You Don't Own Me
I'm young and I love to be young

I'm free and I love to be free

To live my life the way I want

To say and do whatever I please

And don't tell me what to do

Oh, don't tell me what to say
Lesley Gore was a true lesbian icon who used her music to speak for queer, POC, and women's rights. While many believe her 1963 song, You Don't Own Me was a feminist anthem, its meaning was actually so much more.
Lesley Gore had noted in an interview in 1991,
"But, for me, it was not a song about being a woman. It was about being a person, and what was involved with that. Of course, it got picked up as an anthem for women, which makes me very proud."
John Madara, co-writer of You Don't Own Me, said the sentiment of the song was shaped by his childhood in a multiracial Philadelphia neighborhood and his participation in the civil rights movement.
"That is literally the haunting of 'You Don't Own Me' — all of the ways in which systems of patriarchy continue to reveal themselves in our everyday lives." - John Madara
You Don't Own Me is an anthem for all of those that aren't represented under a patriarchal society, and that's exactly the message that I got from it. Lesley Gore's song shaped me into who I am today by enforcing the message that I am able to live my life the way I want and I don't have to conform to a patriarchal society.
Janis Joplin - Kozmic Blues
Time keeps moving on,

Friends they turn away

Well, I keep moving on

But I never found out why

I keep pushing so hard a dream
Janis Joplin's music has forever been my favorite to listen and sing along to, to get my feelings out. Her song, Kozmic Blues held a great significance in my life while I was in college. While I was questioning my identity, I lost some friends, and gained some new ones. At first, I struggled with losing friends that I had known and grown up with for years, but I later realized that life moves on and those friends moved on with it for a reason. If those "friends" didn't want to accept who I was, so be it. I had made some new, amazing friends that stood by and supported me, no matter what.
Kozmic Blues hammered home that message for me. Life keeps moving on, so you should move on with it, accept change, and pursue your dreams.
David Bowie - Life on Mars?
It's the freakiest show

Take a look at the lawman

Beating up the wrong guy

Oh man, wonder if he'll ever know

He's in the best selling show

Is there life on Mars?
David Bowie has been one of my most-listened-to artists. While he was known best for his obscure songs, Life on Mars? has been noted as the most cryptic song Bowie had written. I think that's the beauty of cryptic songs. They instill in each listener a different meaning. This song held a deep meaning to me when I was questioning myself and where I was at in life. When listening to this song, I was able to pick up a message of someone not being accepted by society, wondering if they could escape to another planet where they could hopefully be accepted as they were.
This is exactly how I felt when I was in college, trying to determine who I was and where I was going. My struggle with coming out was understanding that I would not be accepted by society. This resistance of society is ultimately what held me back at the time. I wanted so badly to be in a society that accepted my sexuality and gender identity and I knew that it wasn't going to happen.
Elton John - Goodbye Yellow Brick Road
So goodbye yellow brick road

Where the dogs of society howl

You can't plant me in your penthouse

I'm going back to my plow
If I were to meet Elton John right now, I'd probably cry. I have forever loved him and his music; so much so, that I have a tattoo that references him (I'll get back to that later). I have so many favorite songs of his, but Goodbye Yellow Brick Road is the song I catch myself singing daily. This song by him became more significant to me in my college life. I was fearful of coming out, but it was ultimately Elton John and this song that told me that I didn't need to conform to society. I could be myself and still be loved by so many.
Recently, I got a tattoo of Elton John's iconic star-shaped glasses. I love when people ask me about it because it has a very special and emotional meaning. As a child, I fought cancer and came close to death, but survived. At 18 years old, I had a surgery that didn't go so well and came close to death again, but survived. At 20 years old, I ultimately overcame the fear of coming out because of Elton John and his music. Elton John's music has been with me on my life journey from the moment I was diagnosed with cancer, to the moment I came out, and beyond. I wanted to get this tattoo to signify Elton John's influence on my life and to be a permanent reminder that despite all that I've been through; I'm Still Standing.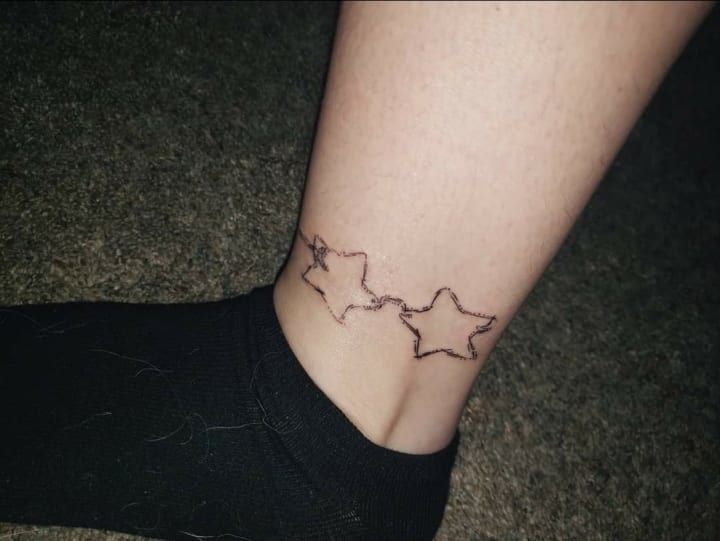 All of these artists have ultimately shaped me into who I am today. Their music gave me the confidence to accept my true self and be openly out with the world. Since I've come out, I've gained more confidence to speak out about the need for justice and human rights. I've attended protests, interned with an organization dedicated to erasing global poverty, and even started a support group for the LGBTQIA+ Community within my small town. I owe a lot to these artists for leading me to where I am today. I truly love where I'm at in life and I continue to pursue my passions for activism and advocacy while continuing to fully accept my sexuality and gender identity.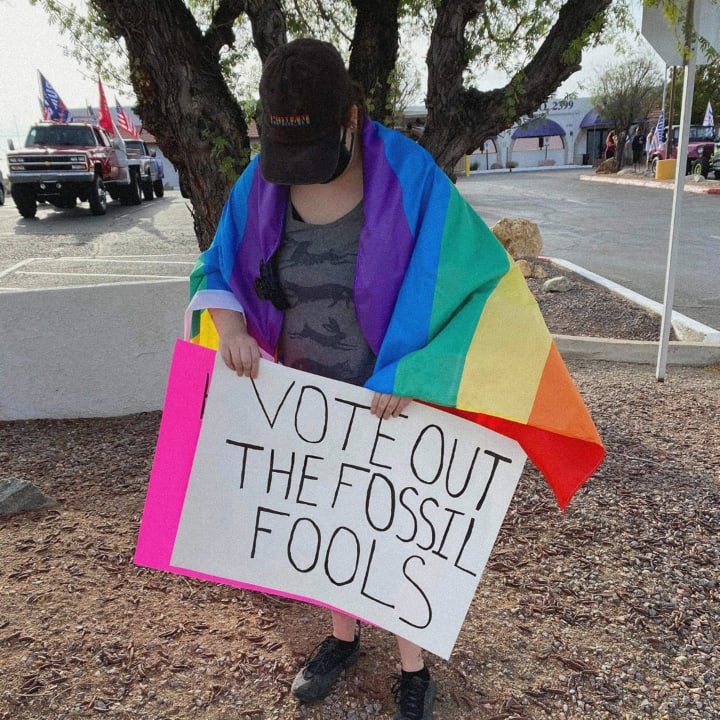 You can view and follow my whole LGBTQIA+ Icons Playlist on Spotify that has plenty of classic LGBTQIA+ artists and bands such as Joan Jett, Tracy Chapman, The B-52s, Queen, The Kinks, and more.
playlist
About the author
Nature Lover | Activist | Cancer Survivor | They/Them
I am a queer writer from Arizona sharing my journey and thoughts with you! My writing focuses on my mental health, love of nature, and everything in between!
Reader insights
Be the first to share your insights about this piece.
Add your insights