'Leather Jackets'
The nadir of Elton John's career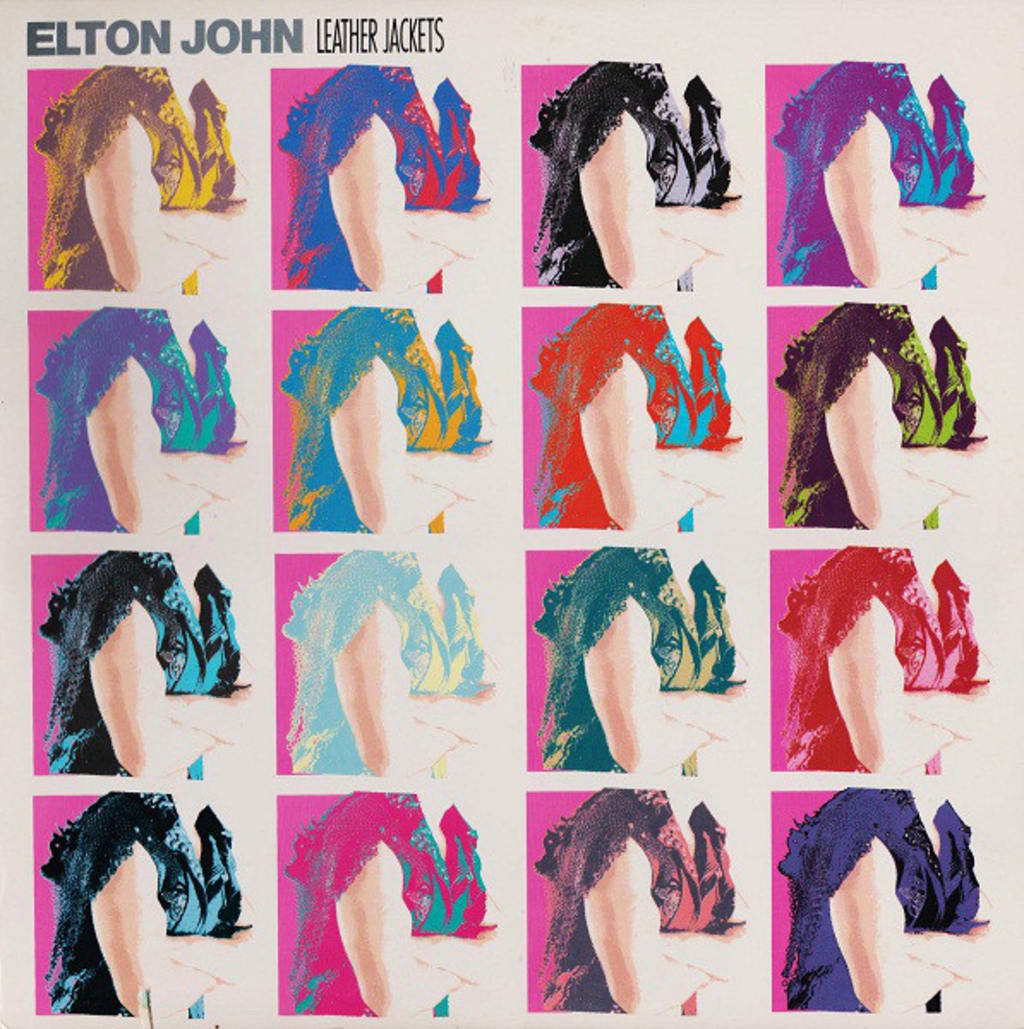 Released in 1986, Leather Jackets is considered by Elton John himself to be his worst album — "about as close to an unmitigated disaster as anything I've ever released" according to his autobiography . Producer Gus Dudgeon said it was a mad hassle to produce, Elton was in the thick of his cocaine addiction at the time and it was the first Elton John album since Tumbleweed Connection not to yield a top 40 hit charted the worst and probably an album everyone involved in making it would rather forget.
It was recorded at Sol Studios and CTS Studios in England and Wisseloourd Studios in the Netherlands. The cover is an Andy Warhol-style collage featuring then-current Elton John Band drummer Charlie Morgan's arm. The nadir of Elton John's career.
First is the title track which sounds like an over-synthesized 80s relic — really not a great introduction.
Track two "Hoop of Fire" is described by Elton in his memoirs as "pretty classy, especially compared to the company it was keeping." It is refreshingly piano-driven and features backing vocals by Alan Carvell, Davey Johnstone Paul Wingfield and Katie Kissoon.
Third track "Don't Trust That Woman" was co-written with Cher, though on the track Elton is credited as Lady Choc Ice as though he was so embarrassed by the song he refused to put his name on it.
"Go it Alone" is another synthesized mess. It features Alan Carvell, Davey Johnstone and Shirley Lewis on backing vocals. Davey also provides prominent electric guitar. Graham Dickson plays electric drums, Keyboardist Fred Mandel adds sequencer and a Roland J8-XP There is some of Elton's acoustic piano trying to break through but its sound is diluted by all the synth elements.
"Gypsy Heart" is another piano-based break from the synthesizer-laden previous tune and is actually not too bad in this author's opinion with the acoustic drums by Fairport Convention's Dave Mattacks sounding like a breath of fresh air.
Slow Rivers is a duet with Cliff Richard and features an orchestra conducted by former Elton John Band keyboardist James Newton-Howard.
"Heartache All Over the World" was the first single released from the album and is considered by Elton in his memoir to be "A song so lightweight you could have lifted it up with your little finger."
Angeline features the band Queen's rhythm section of John Deacon on bass and Roger Taylor on drums. Unfortunately, that is not enough to save it. Background vocalist Alan Carvell is given a writing credit on this song for coming up with the "Oh-Oh-Oh" vocal parts at the beginning and end of the song.
"Memory of Love" continues the mediocrity. It features Gordon Neville, Davey Johnstone and Alan Carvell on backing vocals. Fred Mandel adds Yamaha DX-7 and Roland P-60 synthesizers.
"Paris" managed to get some radio play in 1986 and was played in Elton's '86 US Tour.
The final track "I Fall Apart" is another song that Elton claims to actually like in his autobiography Me and claims it is "another example of Bernie's uncanny ability to put words in my mouth that so perfectly expressed my personal situation, I might have written them myself."
This would be the last album produced by Gus Dudgeon who sadly passed away in a car crash in 2002.
Shortly after the album's release during a tour in Australia (which yielded the Elton John: Live in Australia with the Melbourne Symphony Orchestra album) Elton discovered he had cysts on his vocal cords. Soon after the completion of the live album, Elton underwent surgery to remove the non-cancerous cysts. The surgery was successful but it also lowered the tone of Elton's voice and cost him his falsetto range, but he said that he preferred his new, more mature and more powerful voice.