Lasers at Dawn: As Good as Therapy
How Rave Culture Inspired Me To Break Free
You've probably heard a lot of different things about rave culture— eccentric people wearing wild outfits dancing in darkened rooms filled with booming bass, lasers, and ardent drug-fueled energy... as much as there is to be said about stereotypes in how the scene is depicted by mainstream culture, that's not the story I'm here to share today. I'm here to share the story of how the admittedly eccentric but often misrepresented scene made a lasting impact on my life journey.
Back on a hot Saturday night in July 2020, my fiancée and I stayed up all night watching Insomniac TV's livestream on YouTube. It was the weekend we were supposed to attend Beyond Wonderland PNW music festival in Washington State, but like so many other occasions during the pandemic, all we could do was live the moment vicariously. We sipped on iced drinks, I broke out some shuffling moves I learned over the summer to Malaa's groovy Virtual Rave-A-Thon house set, and when the last bits of my late-night boozy energy wore off, we sat back reminiscing about the "before times" of the pandemic. It was bittersweet imagining how in this exact moment, in some other reality, we could just as easily be kicking back at camp or lounging around a hotel room with our squad after a night of dancing our souls away at a festival. I could see a light glint of blue creeping through the tapestry covering our living room window, and I felt a flutter in my stomach: An oddly familiar twist of anxiety and excitement. "This is just it's-way-too-late and-I-have-to-be-a-human-tomorrow anxiety..." I thought to myself as I scooted away to bed knowing I'd be kicking myself in the morning.
It would be a question for another time.
Fast forward one year. After what felt like a lifetime of waiting for the impossible, festivals slowly began returning to the US, and it looked like the rave gods at last responded to my prayers: I secured a spot at Bass Canyon, the first major EDM festival to return to Washington state. Armed with pashminas, glitter, and a thirst for ground-rattling bass music, my crew assembled from around the state at the Gorge Amphitheatre to soak up three days of head banging, waking up in baking tents, and napping on grassy hillsides between sets. My body would beg to differ, but man, I missed the beautiful chaos.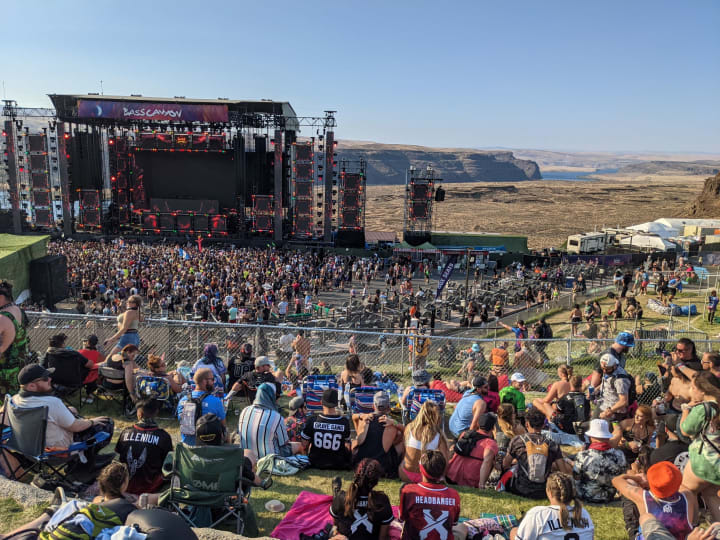 Sunday night—or rather Monday morning, a few of us stragglers stayed up chatting and riding out the final hours of the festival at our camp. The GA campground was mostly quiet save for a distant afterparty sending bass house and dark techno beats pulsing through the crisp air of the night. As I sat listening to the music, I saw purple-pink light start to creep up across the sky.
There it was again. The rush. No work to report to in a few hours, nowhere to be but exactly where I already found myself. What was it about this 40-something minute long period of transformation between night and day that just felt so…intense?
Through this simple moment of pause, I found myself piecing together the story of how music became a transformative power in my life: A power capable of healing pain rooted deep in my past and of opening my eyes to a vision of life I didn't know I had been seeking for nearly two decades.
Back in Time
Watching the sunrise often accompanied some of the most raw experiences of my life. I remember a crisp April morning in Colorado, 2002. I was eight years old, my mom and I just landed in Colorado Springs after a long journey from Italy, the place I then called home. My Colorado-native mom resided in Italy as an expat for several years. My dad on the other hand was a local, and we lived in a small community on the Amalfi Coast where he worked as a tour guide. My mom's family all lived in Colorado, so we usually made an international trip about once a year to visit them. This time though, I knew it was no ordinary visit to the States— Christmas holiday and summer vacations were nowhere near the horizon. My grandfather lay in a hospital bed, and as soon as we arrived at his bedside, it was clear he would not be returning from there. I couldn't imagine what would come next.
As I watched the sky begin to glow behind the pine trees outside the family home, I braced against the coming day and whatever unpredictable changes were coming with it. Little did I know this was about to be the first day in my unexpected journey to start a new life in the United States. Just a few months after my grandfather passed away, my mother chose to stay in the United States— permanently. This meant the end of my parents' marriage, and the end of my childhood as I knew it.
To this day, the memory of that first dawn in my grandfather's house (which became my own childhood home) lives on as a memory of a moment that forever changed my life. From that point forward, I lived with my mother in Colorado during the school year and spent my summers in Italy with my dad. I muddled for years through long, often confusing and difficult transitions, searching for a sense of belonging and identity amongst wave after wave of changes. Adapting to life in the US was just the beginning of the journey; after that came adapting to my new family structure, navigating school, and muddling through the awkward world of pre-teen and teen social life— all while coping with emotional dysregulation and additional anxiety of undiagnosed ADHD.
Tune in, tune out.
I often found respite from my messy external life by immersing myself in whatever virtual realities and niche subcultures caught my attention: The paranormal, movie fandoms, video games, history, you name it. This became a hallmark of my eccentric personality, which I came to view as my defining trait. I passed from interest to interest until I consumed every last bit of gratification I could squeeze out of it, and with that, I always found myself searching for something new. As I evolved into the person I am today, I came to realize that many of these interests served as distractions from the challenges of my life during a particular period, and many faded as life moved on. On the other hand, there was always one exception to the pattern of interest-drifting that persisted through it all: Electronic music.
It began when I first heard Tiesto's iconic track "Insomnia" when I was eleven years old. Captivated by the pulsing energy and bright yet haunting synths of the trance classic, I fell in love with the sound and found myself searching for more like it (you can listen to a version of the track here.) Thanks to the dawn of the YouTube era, I discovered not only a whole new universe of music, I also discovered the strange, colorful, and fascinating world of raves. I was far too young to attend legal shows and not nearly bold enough to try to sneak into events by any other means, but my fascination with the culture persisted.
I first dipped my toes into the real life rave scene in high school. The Denver edm scene was at the time just starting to pick up momentum with the likes of Rusko, DaDa Life and Bassnectar headlining at the now phased-out Skylab electronic music festival and NYE staple Decadence. Light shows, pounding bass, intoxicated masses...it was all good fun, albeit being a rather sheltered teen, I felt a little out of my depths. I often heard people talk about how a certain show or festival changed their life. I took these bold claims as exaggeration— I mean, how can a few hours of dancing in a crowd really change a person that much? The rave scene stayed in the outer orbit of my life until my mid-twenties as college and looking for work took center stage. It however wouldn't be long after I began exploring the scene again that it became a transformative piece of my life.
Flip the script.
I remember the desert glowed orange and red against the sapphire-colored sky. Dawn at EDC Las Vegas 2019. It's a memory burned in my brain like a stamp on a postcard: My friends and I sat on the pavement outside the Motor Speedway huddling under our pashminas in the cold morning wind as we waited an inconceivably long time for our Uber to take us back to our Airbnb. It sucked. Yet, as I watched the streaks of sunlight paint the desert red, then orange, then yellow, I couldn't help but get lost in the beauty. I marveled at how the view before me looked the same as the night before when we walked through the gates touting "All are welcome here" at sunset, yet there and then I also felt I stepped into the outside world as a different person. I didn't know what yet- but something changed in me that weekend.
I felt incredible freedom and joy dancing among the most colorful people I'd ever seen. I marveled like a wide-eyed child at mind-bending life-size art installations, flying acrobats, dazzling laser light shows, and colossal stage productions—a kaleidoscope of light and sound that literally brought to life the stuff of fairy tales. Then there was the sense of pure joy and love of the moment emanating from the whole crowd. It was as if 100,000 people blended into one rejoicing hive mind. Pure, unconditional happiness and connection. For weeks, then months, I couldn't stop thinking about this indescribable experience and the deep questioning it inspired.
How could I forget such a sense of wonder ever existed?
Was it possible I deserved to feel that free and happy, even if I hadn't somehow earned it?
Why do I even need to "earn" joy?
Two years and a global pandemic later, I found myself watching another sunrise at the Gorge Amphitheatre campgrounds. I sat in my camp chair bracing the same stomach-fluttering feeling I felt in my living room on that morning in July of 2020— the same feeling I discovered that cold morning at EDC. Time itself seemed to stand still, as if all the events and frenzied energy of the night leading up to that point bled together into a glowing sense of bliss. Pink light pooled under some clouds in the distance, signaling the arrival of the new day. Every minute, it came closer yet also remained a distant mirage, like a lonely sailboat on the horizon. darkness dissolved into light, lines between end and beginning ceased to exist. Nothing but sky, techno bass pulsing through the air, and an immense sense of peace.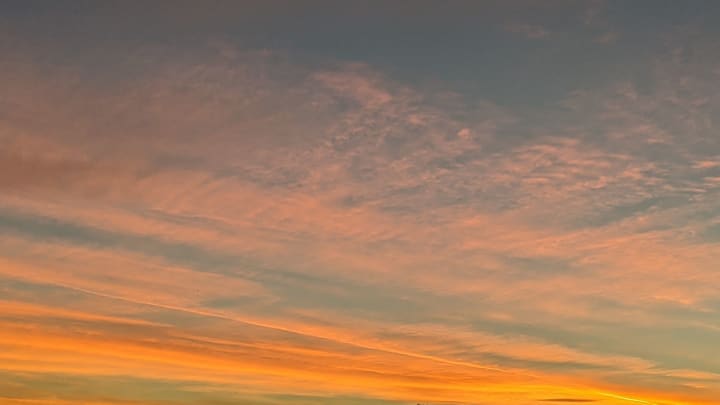 This is where I truly understood why these fleeting but powerful experiences hold such a special place in my heart. It's moments like this through which I found —or rather reconnected with a sense of careless joy and wonder I hadn't experienced since I was child. A feeling buried under anxieties and insecurities I co-opted as my "normal" for years. Moments like these allowed me to release the illusion that holding on to pain and living in guilt and shame was somehow good for me.
They also showed me how a new experience has the power to turn something painful into something beautiful. The cold desert morning at EDC, the late night DIY rave in my living room, the sunrise at Bass Canyon— all these moments transformed my memories of sunrise from memories of pain to those of joy.
Sometimes, healing enters our lives in ways we least expect. I've sought answers and support through many avenues in my life: Therapy, life coaching, thought work, meditation. All these tools proved useful, but the liberating environment I found in the rave scene is what ultimately allowed me to break fee of my insecurities. The love, freedom and acceptance I've felt dancing the night away among thousands of strangers at raves is an undeniable testament to the healing, unifying power of music. For this, I will always cherish the rave scene for teaching me that joy is always free.
festivals
Writer and electronic music junkie with a passion for challenging the status quo and never being afraid to walk through the world in wide-eyed wonder.
IG: @thabluesparrow
email: [email protected]
Receive stories by Federica Brandi in

your feed