'Kamikaze' Klapbacks
Responses to Eminem's New Album: 'Kamikaze'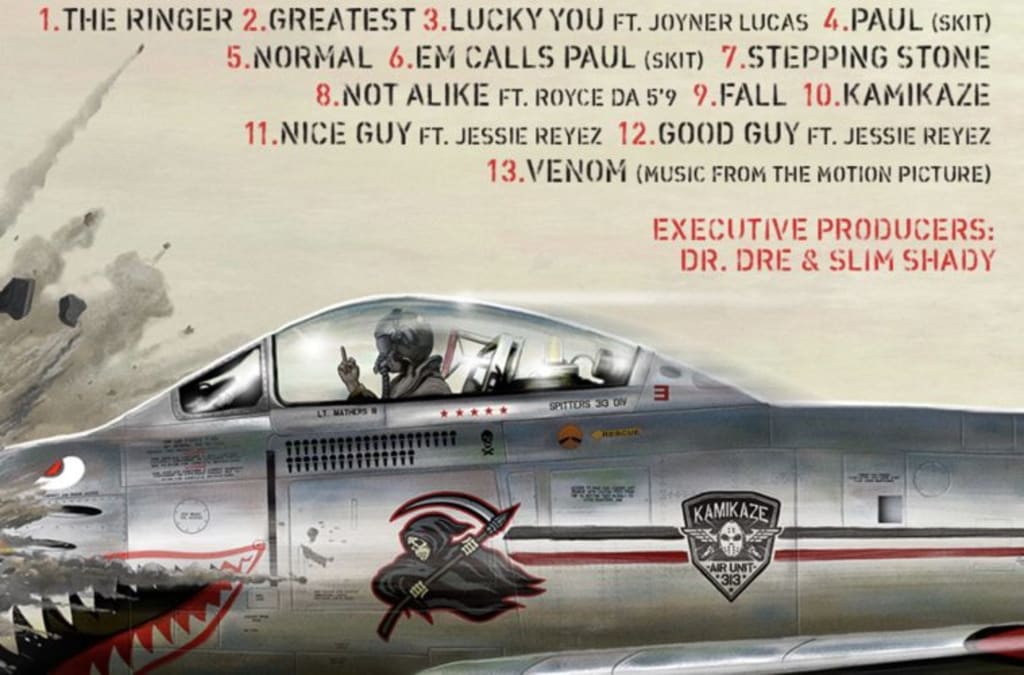 Last Thursday night famous rapper Eminem dropped his new sneak album Kamikaze. He dissed a lot of artists, new and old, and even cracked on our president.
What were some of the responses to this new controversial album?
Em made a crack at Ja Rule on his new album.
They have some old beef, back in 2002 Ja Rule made a diss on Eminem's daughter, Hailie, who was 7. The line that started the beef was, "Em, you claim your mother's a crackhead. And Kim is a known slut. So what's Hailie gon' be when she grows up?" The pair went back and forth with disses and Eminem's song "Bully" calls him out.
Em had this line on his track "Greatest" to remind everyone of his diss track aimed at Ja Rule from the early 00s:
God forbid I forget, go and jump out the window, somebody better child-proof it. 'Cause if I lose it we can rewind to some old Ja Rule shit. And I can Remind Motherfuckers I'll do shit.
Ja tweeted, "Guess that Halie line must be starting to hit home… 🤣," in response.
Eminem aimed a nasty verse at another famous rapper, Machine Gun Kelly, on his track "Not Alike."
But next time you don't gotta use Tech N9ne if you wanna come at me with a sub-machine gun. And I'm talking to you but you already know who the fuck you are, Kelly. I don't use sublimes and sure as fuck don't sneak-diss. But keep commenting on my daughter Hailie.
MGK obviously ignored the Rap God's warnings by coming out with his own diss track "Rap Devil." He calls Eminem a bully and calls him out on his diss album. Kelly looked up to Eminem until a controversial tweet about Em's daughter caused beef between the two rappers. I don't think MGK understands he was commenting on an underage young girl, and I can't wait to see how Em responds to this diss track. After all, anyone would defend their daughter underage or not.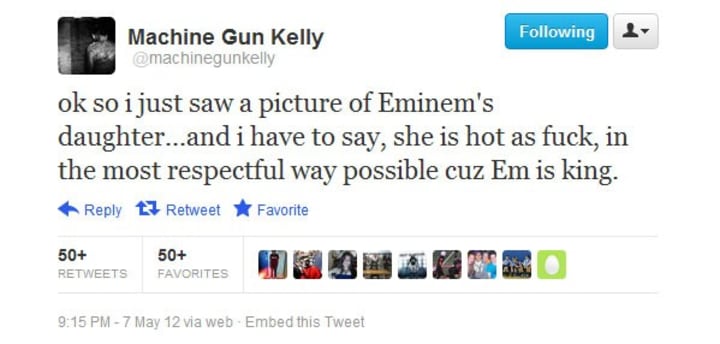 Em made some disses on mumble rap and some mumble rap artists such as Lil Pump and Lil Xan.
Lil Pump, Lil Xan imitate Lil Wayne I should aim at everybody in the game, pick a name.
Lil Pump actually took the diss and respectfully accepted it, stating that he deserved it.
Lil Xan made a comment stating, "Diss or not, it's legendary."
Eminem made two diss references to Charlamagne Tha God.
Charlamagne gonna hate anyway. Doesn't matter what I say. Give me Donkey of the Day. —The Ringer
You'd swear to God I've forgot I'm the guy that made 'Not Afraid.' One last time for Charlamagne. If my response is late, it's just how long it takes. To hit my fuckin' radar, I'm so far away. —Fall
Charlamagne didn't really take it as a dis and takes a minute to say:
I don't hate I tell the truth. That's not hatin' me sayin' 'Revival' was wack 'cause clearly Eminem thought 'Revival' was wack too. That's why he gave us this sneaky album called 'Kamikaze'. He thought 'Revival' was wack. He knows it was wack.
The release of this album is almost like a throwback to Slim Shady and caused a lot of positive fan reactions as well. Em gained positive feedback, neutral feedback, and negative feedback from the release of this album; however, Eminem knows what he was doing with this diss album. He wanted to stir the pot and let everyone in the game know he isn't done yet. He stirred up some old beef, created some new beef, and poked at some ongoing, every one. All this is gonna do is create publicity, rap battles, and a race back to the top.
rap
About the author
Reader insights
Be the first to share your insights about this piece.
Add your insights