'Jump Up!'
Elton John's 1982 Album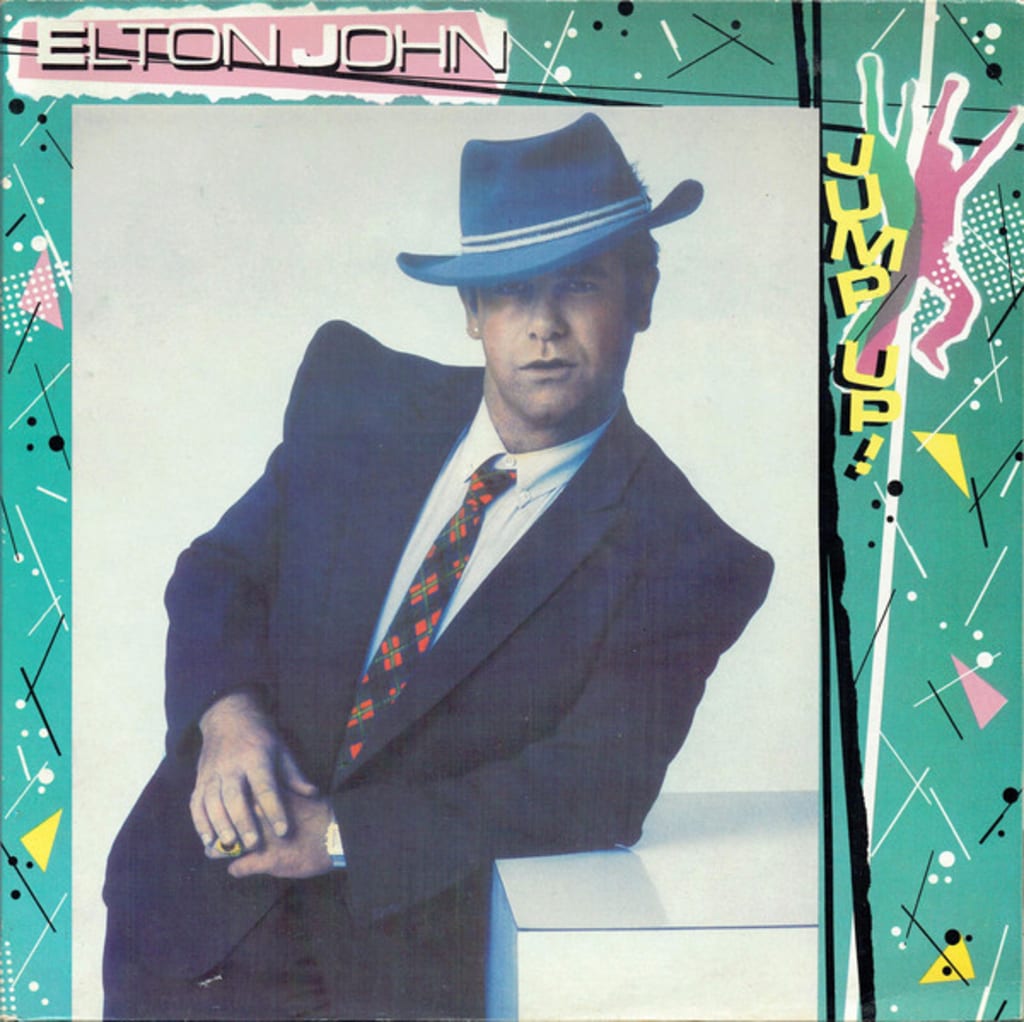 Elton John's sixteenth studio album, Jump Up!, was released on April 9, 1982. It was the first Elton John album to be fully produced by Chris Thomas, the Abbey Road technician who worked on the Beatles' White Album and was responsible for supervising the mixing of Pink Floyd's The Dark Side of the Moon. Thomas produce most of Elton's work through the better part of the next two decades, all the while working as well with acts including Roxy Music, Pete Townsend and The Pretenders—not to mention David Gilmour and Paul McCartney of the aforementioned Floyd and Beatles respectively. The album also saw five tracks that featured lyrics by Bernie Taupin, the most he had contributed since Blue Moves in 1976 (The next Elton John album, Too Low for Zero, would feature only songs with Taupin lyrics.).
Most of the album, of course, was overshadowed by the huge success of the single "Empty Garden (Hey Hey Johnny)," Elton's heartfelt tribute to John Lennon. Even though the song was released a full 15 months after Lennon's assassination on December 8, 1980, it predated all the other popular Lennon remembrance songs, narrowly ahead of George Harrison's "All Those Years Ago," which featured Ringo, Paul and Linda on backing vocals and was coproduced by former (and occasionally future) Elton John band member Ray Cooper. It was well ahead of Paul's "Here Today" and Paul Simon's "Late Great Johnny Ace."
The album that spawned this classic tribute was otherwise undistinguished, as was the pattern for many of Elton's 1980s album. But that's not to say the album was by any means bad; sparks of Elton's melodic genius were certainly in play, though he still seemed far less in control of his gifts than he had in his heyday. But there are certainly moments that match anything anyone else in music was doing at the time.
Like its three predecessors, Jump Up! features primarily studio musicians. It's one of the rare albums that features longtime associate Davey Johnstone not at all; drummer Nigel Olsson is also absent, though bassist Dee Murray is on every track. The production is the best for an EJ album since Captain Fantastic, though some may cringe at some of the more blatant 1980s synthesizer touches.
The album opens with "Dear John" a co-write with lyricist Gary Osborne, an uptempo track with an undistinguished beat and lyric. This and all the tracks on the album showcase the drumming of Jeff Porcaro, a legendary session drummer and member of the band Toto. Jeff had drummed on classic albums by the likes of Steely Dan, Pink Floyd, Boz Scaggs and many others. Sadly, Porcaro passed away in 1992.
Next is "Spiteful Child," written by Bernie Taupin, which highlights the instrumental work of Bassist Dee Murray and guitarist Richie Zito in addition to Porcaro. The song is a soft rocker, again fairly undistinguished, but certainly no worse than many filler tracks on EJ albums of the period.
"Ball & Chain" (co-written with Osborne) features Pete Townshend of the Who on acoustic guitar and was released as a single in the US in September of 1982. It's chorus is somewhat reminiscent of Neil Diamond's "Crunchy Granola Suite" of a few years earlier, and it's curious that Townsend is used in service of this fairly simple song. What's most notable about this song, and maybe album opener "Dear John," is the adoption of a midtempo percussive beat that foreshadows much of John's future work, which he would use to best service on his next album for the perennial John favorite "I'm Still Standing."
"Legal Boys" features lyrics by Tim Rice, already famous for writing the lyrics for Jesus Christ Superstar and other Andrew Lloyd Webber productions. Rice would eventually be hired by the Walt Disney Company to finish the late Howard Ashman's work on Aladdin and Beauty and the Beast—and most relevant here, writing lyrics for Elton John's songs for the Disney megahit The Lion King, The Road to El Dorado and Aida.
Next up is "I Am Your Robot," one of Bernie Taupin's self-admitted worst lyrics. Taupin has publicly disparaged the entirety of the Jump Up! album, save for "Empty Garden," as a "Terrible, awful, disposable album."
That characterization probably casts an unfair light on the next track, a rather sweet love song written with Gary Osborne. "Blue Eyes" is probably the most enduring of the John/Osborne collaborations, and almost definitely the biggest hit single. A quintessential Elton ballad, James Newton-Howard's synthesizers and string arrangement heightens the emotion of the song perfectly and Jeff Porcaro's brushes expertly lay down the backbeat.
"Empty Garden" follows this up in chilling fashion. Elton initially felt that doing a tribute to Lennon would be perceived as "clumsy" before seeing Taupin's lyrics for the song. The title is a nod to New York's Madison Square Garden where Lennon had famously appeared with Elton to perform three songs on Thanksgiving night 1974 (available on the expanded version of Elton's live album Here and There). For many years in fact, Elton would only play the song when performing at Madison Square Garden, claiming that it would be too upsetting for him to play it anywhere else. More recently though, the song was part of Elton's Las Vegas-based "Million Dollar Piano" show.
On the studio track, Elton plays a Yamaha CP-70 Electric Grand Piano as well as a harpsichord on the track. Richie Zito plays acoustic guitars with Dee Murray on bass and Jeff Porcaro on drums. Three additional percusssion instruments (Castanets, Maracas and tambourine) are audible on the track. It is unknown if these were overdubbed by Jeff Porcaro or an uncredited additional percussionist.
"Princess" is another co-write with Osborne, who joins Elton and Dee Murray on backing vocals on this track. The track is particularly heavy on James Newton-Howard's synthesizers, which cement the song in the 80s.
Next is "Where Have All the Good Times Gone," a string-laden Taupin co-write. The title, though not the song, recalls an early hit by the Kinks. This is unusual for a Taupin track—the only other instance I could think of was "Don't Go Breaking My Heart," in which John and Taupin used a Burt Bacharach title—and pseudonyms Ann Orson and Carte Blanch—in service of a hit duet with Kiki Dee featuring string arrangements by James Newton Howard. Howard does the honors on this track as well, and in some ways in similar fashion. However, nobody will be doing karaoke to this one anytime soon.
Closing the album is "All Quiet On The Western Front," a song probably inspired by the World War I-inspired novel of the same name. This is yet another example of Bernie Taupin's lyrical storytelling and is a moving, strong adjournment to anyone who has made it this far. It could very well be the most underrated Elton John song.
Despite strong moments like this and two very successful singles, however, Jump Up! continued Elton's decline in the eyes of most critics. However, that decline in fortunes would begin a slow reversal on his next album.
80s music
Writer, Drummer, Singer, Percussionist, Star Wars and Disney Devotee.
sclifeonthespectrum.wordpress.com
Receive stories by Sean Callaghan in

your feed