Joshua Tree
Seek and ye shall find, a part of what you're looking for.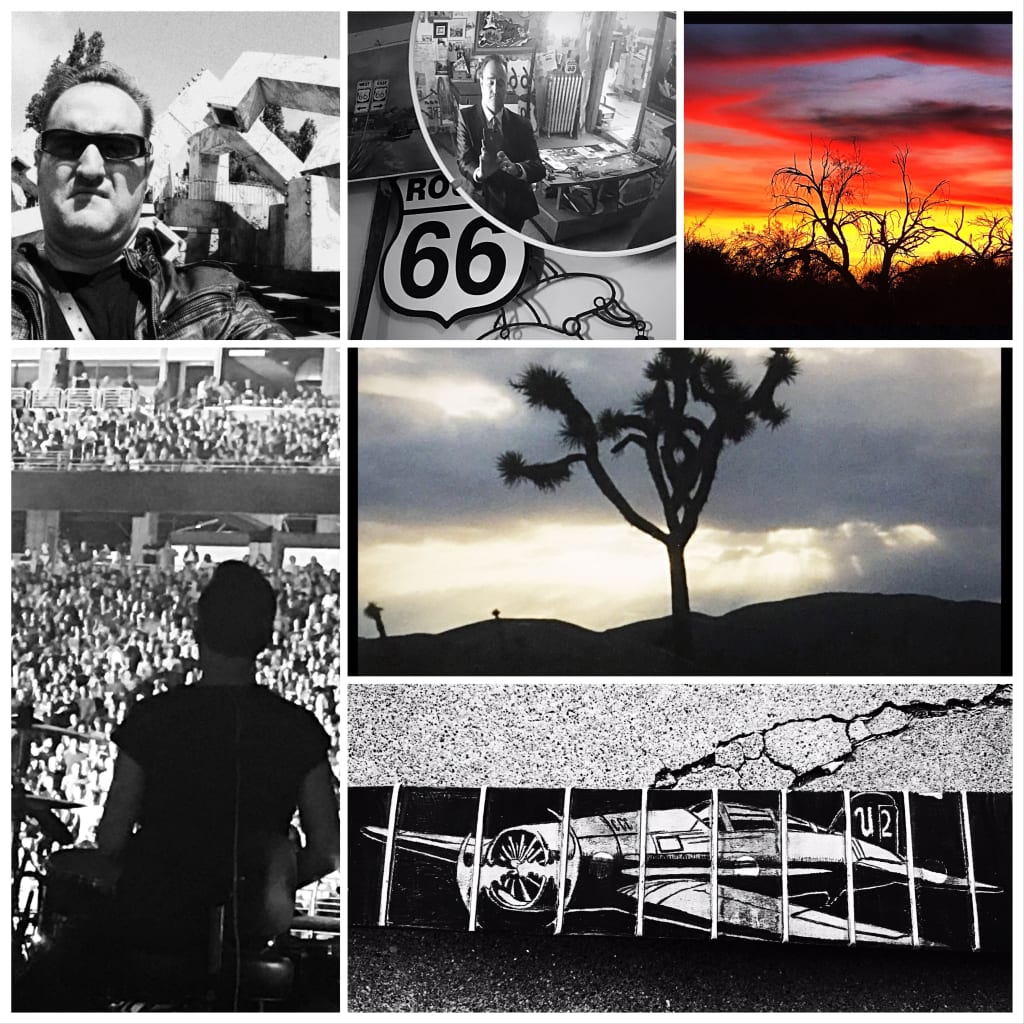 All photos credited to Justin Harris Photography. 
It was a week after my youngest child's birth. A very special time birth is, a new beginning not only for the child but for all of us. Baby's mother wanted time to bond with the little one. So we pack up some things and leave for the day.
I had been looking at charts and online maps for months to find the place where one of my favorite albums had a portion of its genesis. We will drive past the Sierra Nevada mountains turning at a great deposit of saline in the desert.
From there, it becomes tricky. I know that we go east taking a southerly route which bends again, like a snake, in an eastward direction. Then off into the desert; two desert washes and then left and back one wash, or was it three? Well, we'll have to find out when we get there.
The maps are ready, I've put a child's car seat in the back for our daughter, snacks for the boys, and spending cash in case of emergency. Looking again, I've found photos online strewn along our path. I've assembled these into a visual scavenger hunt for the drive. Nineteen long hours through the Arizona and California deserts respectively.
We begin to see the large furry trees as we drive through Barstow, California. It's quite exciting, but we're still only halfway into our trip. The kids have already found many of the landmarks that were on their lists. We stop at one point for "The World's Best" beef jerky. We look at a statue of a very tall woman. There is time for the children to stand by old broken down structures that give character to the pictures we take. The oldest boy is only a few years younger than I'd been when my journey to find this place began. The prints from the digital negatives will be "rustic." An old school-desk, a pocket mirror, a painting of an American Flag on the side of a run-down building, old mining structures left in the sand, all of these become the landscape of our adventure.
We've been driving for hours and at what should be the end of our journey, it seems that we, alas, can not find the place we are looking for. We've driven to and fro, and still no luck. The children are small and, despite good intentions, are unable to help with navigation. But I'm sure I'm on the right highway. It's the 265, right? Or is it... no. Everything here looks like the black and white grainy photos that I've peered at for decades. But it also all looks the same. Am I in the wrong place? Is this a hopeless search? I've driven so far to find what I'm looking for. I can't give up now, nor can I sacrifice the well being of my children. But how can I when I know we're so close?
This is simpler than you're making it. You've followed your maps, you've attempted to pin down the desert and mountain scapes. None of that works. So do what you do best. You're an artist, you're a photographer, you're a musician, you were born in the desert, you're linked to this landscape in more ways than one. So stop trying to find this spot with your brain and start trying to find it with your heart. The eyes are the windows to the heart.
And then I remember the pictures in the tour program. It's all there, all you have to do is open your eyes and see. We drive back along the route that we've driven multiple times already today. And then, there it is! The exact mountainscape that I've been looking at since I was given that cassette tape in 1992.
The bus was returning from Flagstaff and a friend hands me a tape and says, "Listen to this." He's a guitarist, I'm a guitarist. As I listened to the notes of crystalline and the singer's mournful falsetto incanting the lyric, "With or without you, I can't live," I knew that my life had changed. And now it will change again as I find a part of something that I'm looking for.
"Boys, it's out there!" I say to my sons pointing off toward where I think it should be. They shoot off into the desert. I unbuckle the little girl and hold her in my arms. She's two. As we as a pair start away from the vehicle, I hear, "We found it, Dad, we found it!" What joy to hear the announcement from my children. And so they did.
Poses are made, pictures are taken, an F-16 flies over on its way back to Edwards, Air Force Base, seemingly congratulating us for completing our quest. The sky is a bullet blue but the pictures that are taken will remain black and white, as it should be. This is a rebirth for me, and some day as the baby at home with his mother comes of age, he and I will return, making another pilgrimage to this place.
Music expands our minds and pushes us to search for the things that we believe in and that we know to be out there. If it hadn't been for beautiful, soul wrenching rock 'n' roll, and a black-and-white photographer's grainy vision, I never would've found this part of what I was looking for. But I continue to search and the adventure never ends.