It Wasn't a Phase, Mom!
How convenient that I have a playlist titled "7th grade."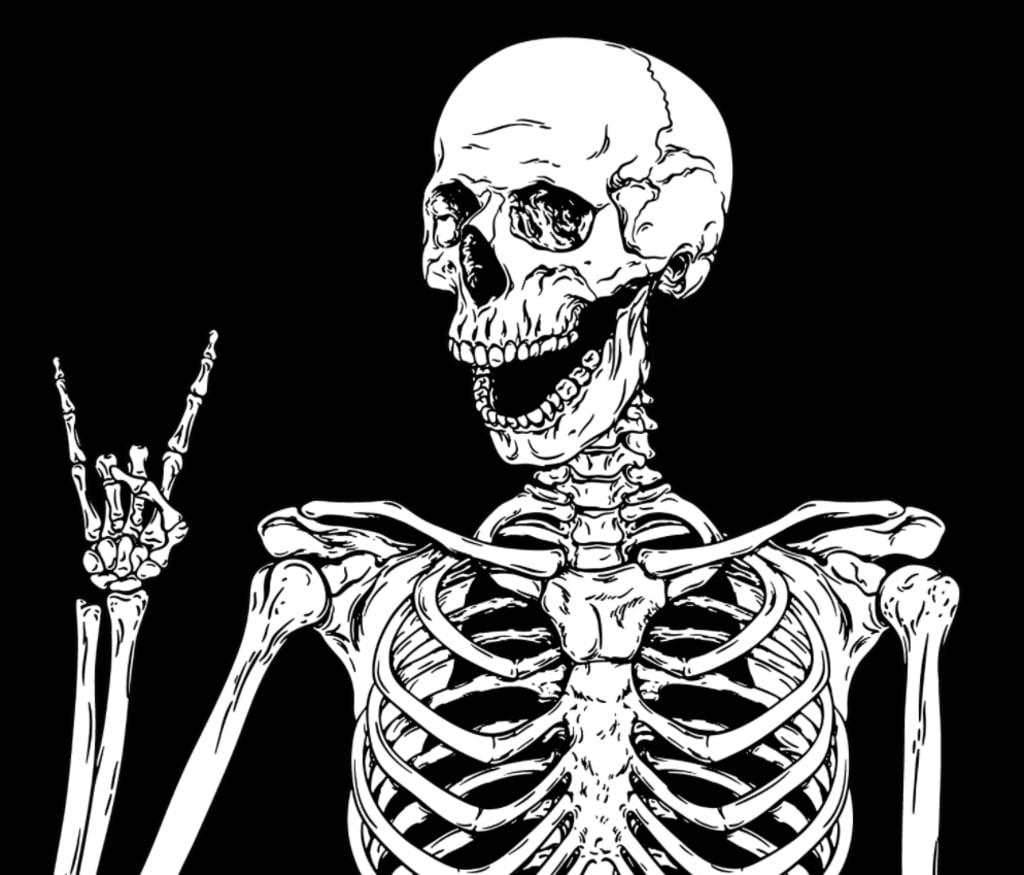 From Original DNA Plus on Society6. Rock isn't dead.
I wasn't exactly liked in my early years. I don't quite know why, but who knows if there was ever a reason for the bullying. Kids can be cruel, and I was an easy target: weird, awkward, bookish, and sometimes blunt. Hell, I'm still like that. When middle school came along, I was desperate for a place to fit in. The fateful moment my 6th grade teacher played a Paramore song in class, I remember looking them up at home and going "Isn't that some emo band?" And yes, yes they were. I listened to more songs, more bands, and I found somewhere where I wasn't left out, where I wasn't the weird one, because everyone else was weird, too. The 2014 emo scene was where I finally found where I belonged. My music taste has since evolved, but I never truly abandoned my roots. How could I, when it made me who I am? I have a long list of songs I love from that era, but I've narrowed down my early teenage years into four songs for your convenience.
Brick by Boring Brick- Paramore
I was an ugly kid with only one or two friends, and my own self-worth was based on my "gifted" status. I clung to the fact that I read at a high school senior level in 4th grade just because it meant that I was special. That meant something, right? I built walls around me with books, with art, with the fact that I was "different." There are still remnants of it, but that first brick that got taken out was devastating. However pathetic it may be, it was because I got a failing grade on a math test. My armor was gone, I felt naked and exposed. I felt like I was a fake, a liar. I realized that my life wasn't that great, but I think I knew that all along. Paramore was my first "emo" band, my first favorite band, and Hayley Williams was my gay awakening. This song in particular, I remember listening for the first time and feeling seen. It's still my favorite Paramore song to this day.
Well, you built up a world of magic
Because your real life is tragic
Yeah, you built up a world of magic
Famous Last Words- My Chemical Romance
As a sad little teenager, I really didn't think I'd live past 18. I was wrong, of course, I'm about a month from my 19th birthday. I was afraid of what would come: high school, college, then whatever would follow. And I'm still scared, the concept of the future- the unknown- is indiscernible, but I knew that music would stay. Music wouldn't leave. My angsty young self felt power in lyrics; the concept of someone telling me that I shouldn't be afraid to keep living was something I had never heard before. Especially when that someone was My Chemical Romance, the main subject of my emo obsessions in middle school. And guess what, they still bang.
I am not afraid to keep on living
I am not afraid to walk this world alone
Sophomore Slump or Comeback of the Year- Fall Out Boy
After realizing that my "gifted" status wasn't all it cracked up to be, I felt a little lost. It was as if my high school career was either going to be the best of me or the death of me. Turns out it was more of the latter. I destroyed my mental health junior year just to keep my grades above an arbitrary standard I had set for myself. One time I almost went to one of my teachers to see if they could raise my grade to a 95 from a 94, before my friends told me I was being a dumbass. I was, and I admit that, but at the time it felt like my entire future depended on that single point. Though the bullying had let up since middle school, I couldn't help but feel so alone and outcast despite having a group of real friends. Art and my grades were the only things I knew I could control, so I tried to keep them afloat so I wouldn't sink, wouldn't fail, wouldn't become what I hated.
Are we growing up or just going down?
It's just a matter of time until we're all found out
Take our tears, put 'em on ice
'Cause I swear, I'd burn this city down to show you the light
Disasterology- Pierce the Veil
Okay, I admit I became just a little bit self-destructive at one point. I was in the process of learning how to not give a single fuck, and I ended up giving too much of a fuck. The loneliness I felt haunted me, so I tried to make it a part of me, as if being alone was a personality trait. Forming friendships with the people around me just to destroy it and keep my own self-perception in check. Even when I had friends, I felt distant and detached, like something was missing. This was around the time I began getting into heavier music, namely metalcore, and the intensity was like catharsis. Pierce the Veil was a gateway to the genre, so of course I can't forget to include them.
Can we create something beautiful and destroy it?
Nobody knows I dream about it
This is my imagination
If every living thing dies alone
What am I doing here?
I'm still a teenager, so these songs are from my earlier teen years despite me ascribing some to my latest years. I still listen to most of these bands occasionally, although most of my music nowadays consists of gnarly screaming and face-melting breakdowns, The emo in me never left, it just aged like fine wine into the metalhead-goth hybrid I am now. I'm still quite agnsty, but I embrace the darkness and wear my heavy black eyeliner with pride, because fuck anyone who says otherwise. I'm not interested in being cool anymore. I don't care if people passing by think I'm weird. It's a low bar, but one I couldn't cross for a long time. If my middle school self could see me now, I think she'd look up with awe, and that's all that matters. Because, no, mom. It wasn't a phase.
Other songs I love from my emo "phase:"
The (After) Life of the Party- Fall Out Boy
Disenchanted- My Chemical Romance
Off With Her Head- Icon for Hire
Reader insights
Be the first to share your insights about this piece.
Add your insights