Isolation Music Station: The UK Music Festivals Going ONLINE
Virtual festivals are SO 2020!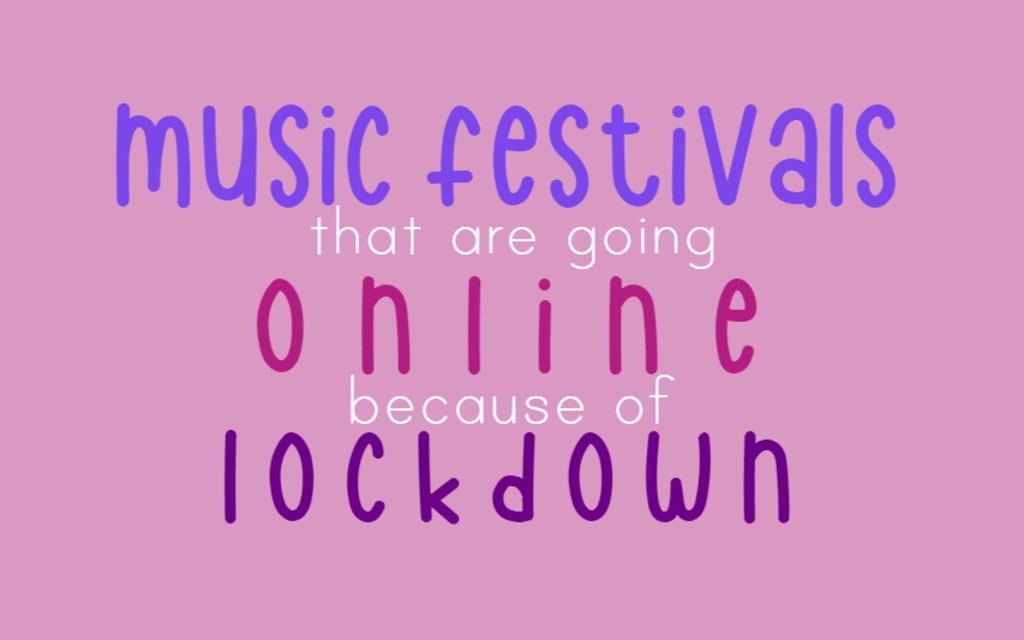 Some might say the UK is legendary for having such a variety of popular music festivals. From Glastonbury, to the Isle of Wight Festival. Or from Download to the Reading and Leeds Festival. All across the country, from May to September, festivals become the main focus of a lot of peoples lives.
Who needs a stadium or fancy venues when you can have a dodgy tent, a tonne of unhealthy food (and drink!), and a stage that's in the middle of nowhere.
From the 60's - when the Isle of Wight Festival first headlined Jefferson Airplane - the UK has been the birthplace of wacky, yet beautiful, music festivals. The 90's were the beginning of Glastonbury, and since then festivals have grown and grown until there has been a festival for every type of music genre.
This year, COVID-19 has royally messed up everyone's plans. After the announcement of cancelled and postponed festivals, some may say this summer is RUINED. BUT, do not give up hope yet my lovely festival goers, because I'm here to tell you all about the music festivals that are going ONLINE this summer!
Let's kick off with BBC Radio 1's Big Weekend. This festival was meant to be taking place in Dundee on the weekend of the 22nd-24th May. Unfortunately, the physical festival was cancelled, but it is being moved online over the same weekend. So, if you're looking to enjoy a festival that features the likes of Harry Styles and Dua Lipa, but you still want to chill out in your PJ's until noon, then you can access five virtual stages on the BBC website!
For you heavy metal fans, Download Festival is currently preparing something they're calling "Download TV" in order to have a virtual festival. It'll take place vis their YouTube, Facebook, Twitter and Instagram channels on 12th-14th June. They will be releasing old content and exclusive live content so you can enjoy everything you love about Download, without even being there!
However if you're more of a hip-hop fan and love urban music, Wireless is currently in talks of having a "virtual edition" of their festival coming to your screens very soon. Fans, you're still going to have to hold on to further updates for dates I'm afraid. Until then, I hope you all get to experience 2021's comeback!
Those who enjoy Capital's Summertime Ball can celebrate on the 16th May, where you can relive the last 11 years of the UK's "biggest summer party". Capital is bringing the Wembley Stadium performances straight to your home. Find it on Global Player, Sky One of Capital's YouTube channel!
Another festival that's happening on 16th May is the Let's Rock festival ! They're having an 80's Lockdown Fest from 7pm, streaming on their YouTube and Facebook pages. So if you like old 80's classics then this is the place to be!
Although other festivals aren't holding virtual editions, they are coming up with creative ways to stay in touch with their fans. Kendal Calling, which is usually held in the Lake District, has created social distancing playlists on their Spotify, and occasionally stream old performances on their Facebook and YouTube. To keep up to date on new streams check out their Instagram!
The Y Not festival, a place for the indie music listeners, has also been creating daily playlists for their fans and have also been releasing other fun projects like a pub quiz night!
One festival that I feel needs an honourable mention is the Lovebox festival. Although they aren't going online to stream music, they are using their online presence to sell t-shirts, whose profits will go straight to the NHS! Half of the money raised goes to those on the frontline, and half goes towards making PPE for those who need it in the NHS. SUPER COOL!
Additionally, some festivals like Brighton's Land Beyond festival, are happening later this summer so are temporarily holding off from cancelling/postponing to see if they can continue to proceed with this years festivities. Keep an eye out if some of your faves haven't announced anything yet!
So, although Reading and Leeds isn't happening, and you'll have to wait till 2021 for Boardmasters to come back, I hope this has helped! Enjoy your music and stay safe!